Oga's Cantina Reservations Now Available For Advance Booking at Disneyland
For those of you wanting to have a fantastic beverage from Oga's Cantina in Star Wars: Galaxy's Edge at the Disneyland Resort, you've only been able to make your reservation day of, while at the park. But today, there's a brand new option! Guests can, not only make their reservations online, but they can now make reservations for this popular bar up to 14 days (originally it was 60 days and I suspect it will go back to 60 days in the future) in advance via the Disneyland App! For those looking to make their reservation online, they can still do so by visiting Disneyland.com/Cantina.
In looking earlier today, I was able to see that reservations could easily be made, even if I wanted to visit today. I suspect with the ease of making these reservations now though, it may be a little more difficult to obtain a coveted time slot. Of course, only time will tell.
To make your reservation using the app, you need to click on "Reserve Dining".
From there, select the date you are looking to visit Oga's Cantina and the times available for dining will show up.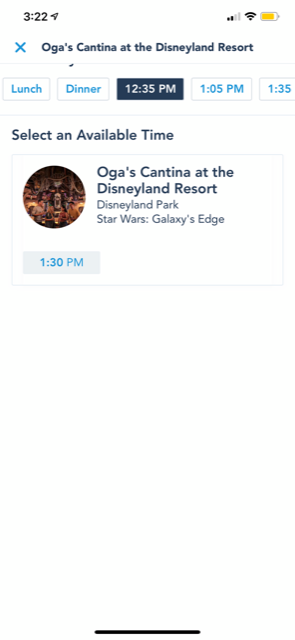 If for some reason you cannot make a reservation online for Oga's Cantina, walk-ins may be available, but they will be extremely limited.
A similar reservation system will soon be rolled out for those looking to build a lightsaber in Savi's Workshop.