The Best Seat at Oga's Cantina
During my recent visit to Galaxy's Edge at Walt Disney World, I paid a visit to Oga's Cantina and happened into the best "seat" in the house. (I say "seat" in quotes because there are no stools for this "seat".)
Let me back up for a second. The day I went to Oga's they were holding Extra, Extra Magic Hours in the morning, with Disney's Hollywood Studios opening at 6:00 a.m. I arrived at the park at about 6:45 and went directly to Galaxy's Edge. I wandered around for a bit and then decided I was hungry.
Reservations are strongly recommended for Oga's Cantina, but given the early hour and the fact that I was alone, I decided to try for a walk-in spot. I was lucky enough to be admitted after a wait of less than ten minutes. I'm sure the early hour and my status as a solo guest (alas, not a Solo guest) helped with my ease of entry.
The hostess directed me to a standing spot at the bar, with DJ Rex immediately behind me. From here I could:
Hear the DJ Rex music clearly.
See what all the other guests' drinks looked like.
Watch all the drinks being made.
Easily get my bartender's attention.
Get served quickly.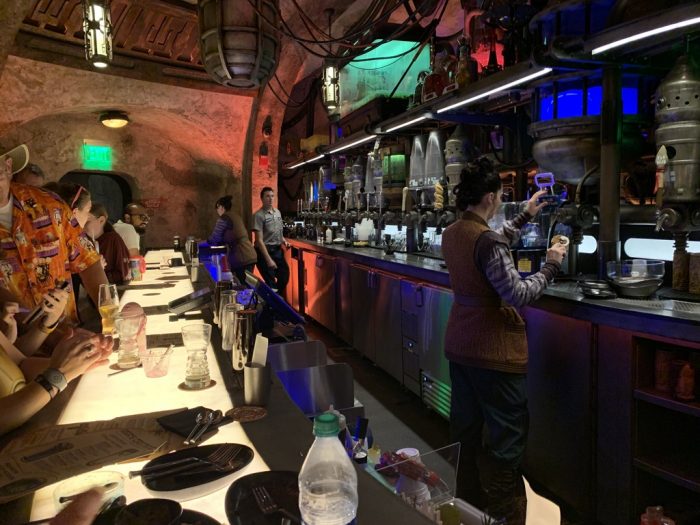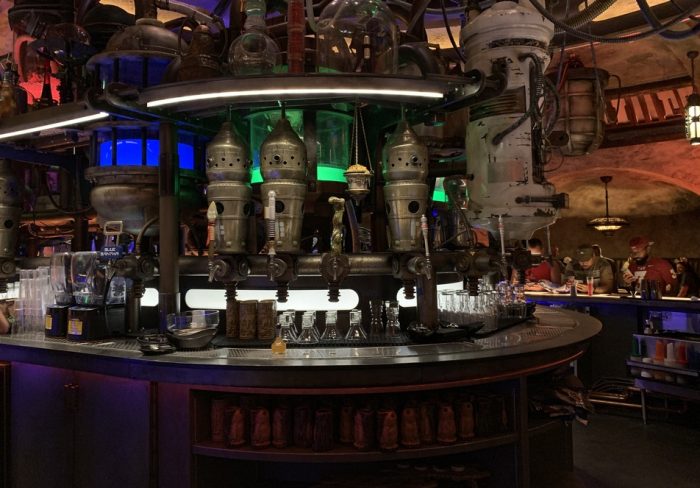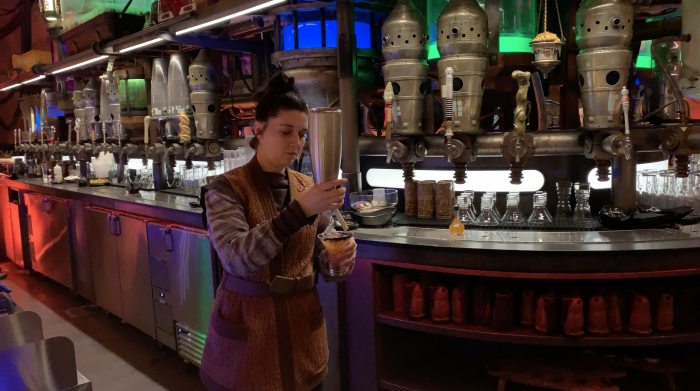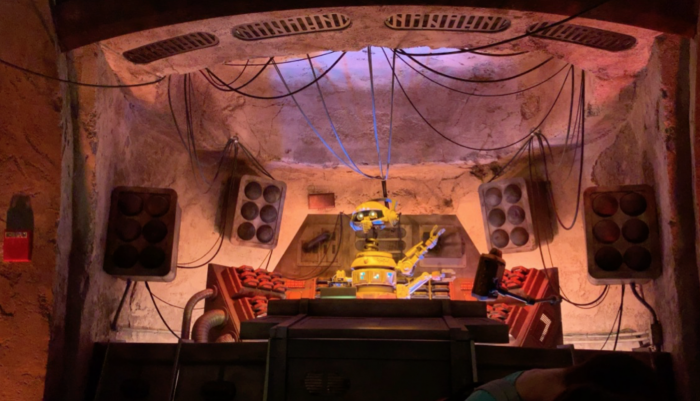 The Cantina is not large, but after I finished my drinks I took a walk around the entire venue to take photos. There are tables for larger parties and some stools along the wall for singles and couples, but none of these options allow you easy sightlines to the drink assembly or ease of communication with your server. There are standing spots on the other side of the bar that do allow you to easily order and chat with the bar staff, but they don't have a view of DJ Rex.
Given the popularity of the newly opened Cantina, you may not have much of a choice about where to sit or stand, but if it's not busy, or you don't mind waiting, you may want to try for a space at the bar.