PHOTOS: A Tour of All the Pools on the Wish, Disney Cruise Line's Newest Ship
Depending on how you count, Disney's Cruise Lines' newest ship, the Wish, has about twice as many pools as fleet's older ships. Here's a tour, along with the rules related swimming on the Wish. Before we get started, here's an screenshot of Wish decks 11-15 so you can see the overview of pool locations (the light blue areas). All the pools on Decks 11 and 12 have views of the FunnelVision screen that shows Disney movies throughout the day.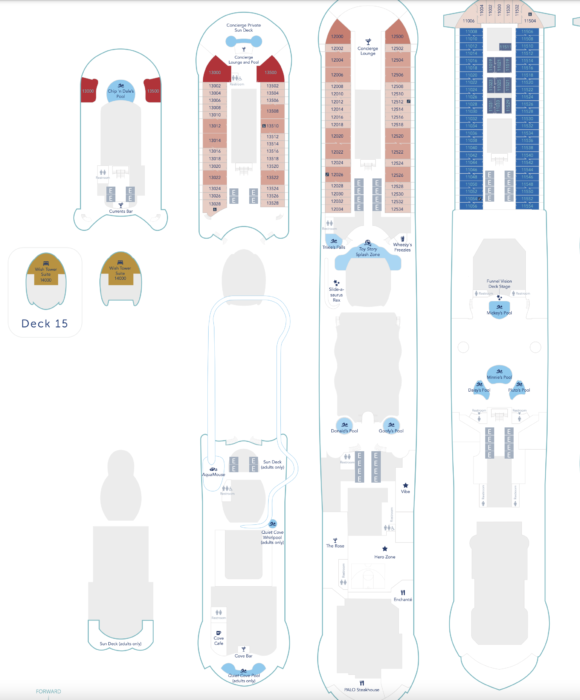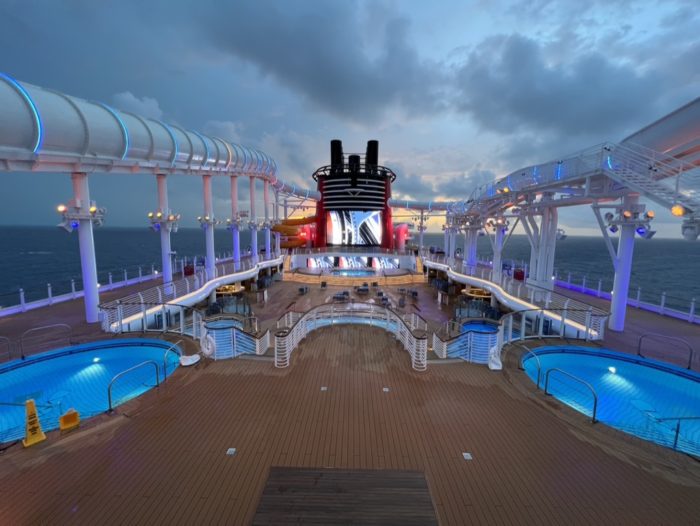 There are life vests available to borrow at several locations on the pool decks.
The Toy Story Splash Zone is only water location available to guests who are not potty trained. Swim diapers are not allowed in the regular pools.
While Disney and the deck plan indicate that pools are on a particular deck, several of the pools are located in intermediate zones between decks – see the Minnie pool photos below, for example. Guests with mobility issues may have issues accessing the pools that are surrounded by stairs.
In all pool locations, you may wear googles that cover your eyes, but swim masks that cover your nose or mouth are not permitted. You may not use floats, rafts, noodles, or snorkels in the onboard pools.
Most of the pools have sturdy covers that are moved over the water in the evening. The covers may act as a stage area or guest viewing area during nighttime performances on deck.
Note: Pool hours vary. At least one pool is typically open as early as 8:30 a.m. and at least one pool is typically open until 9:00 p.m. Pools openings and closings are staggered. The netting shown on some of the pool photos below is put in place when the pool is closed to guests.
Mickey's Pool, Deck 11
Located closest to the FunnelVision screen, Mickey's pool is 2 feet deep throughout. It has a maximum capacity of 50 guests. There is a substantial shallow lip before the depth increases.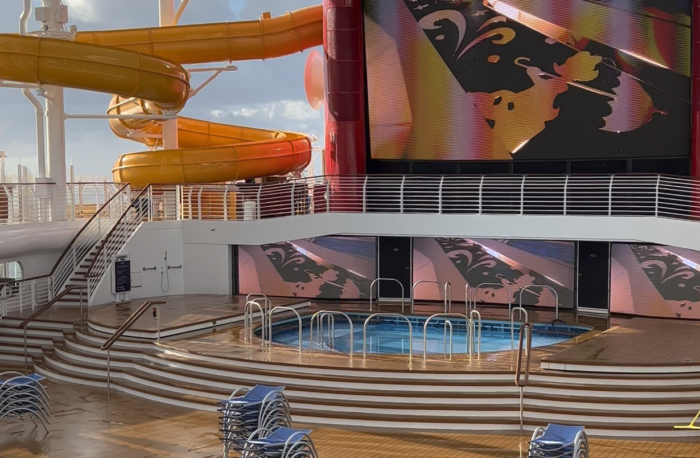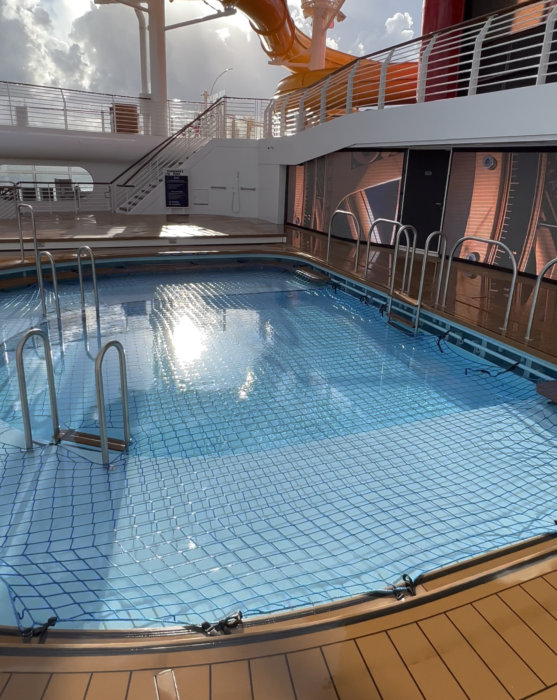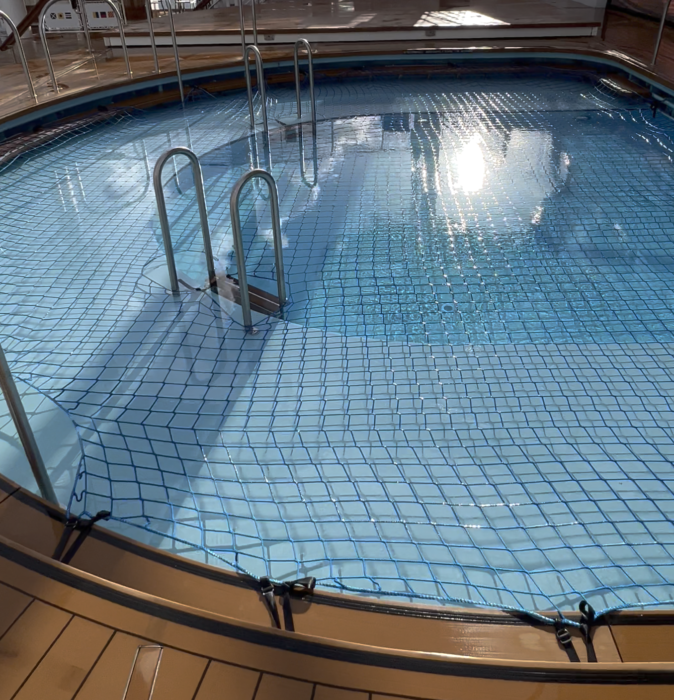 Minnie's Pool, Deck 11
Minnie's pool is located in the center of Deck 11. The water depth is 2″ throughout. This pool has a maximum capacity of 63 guests.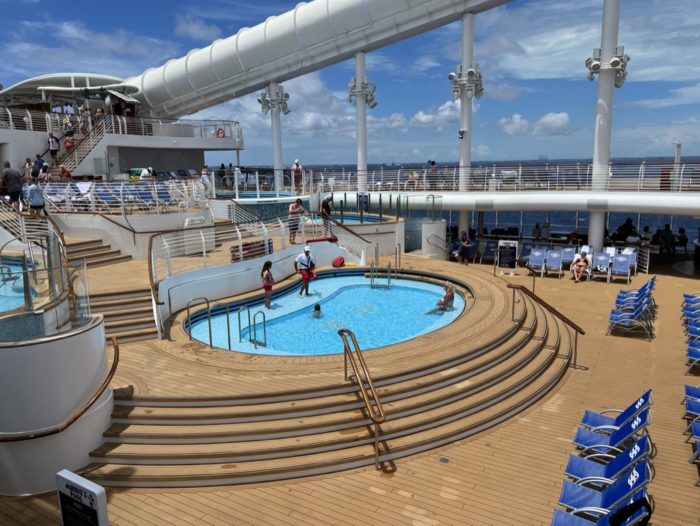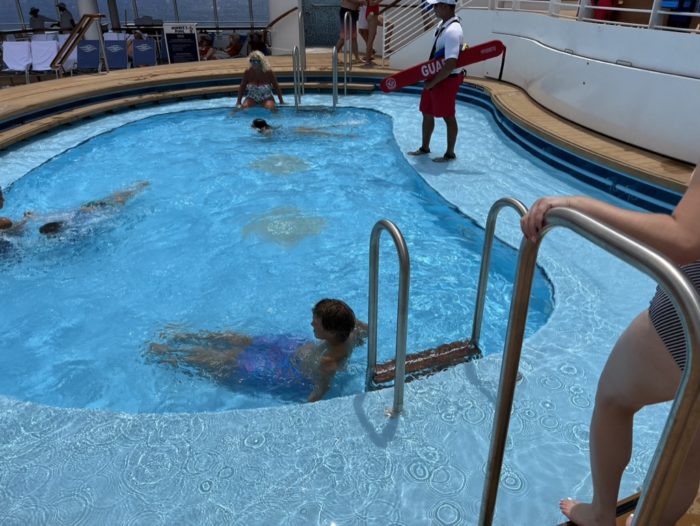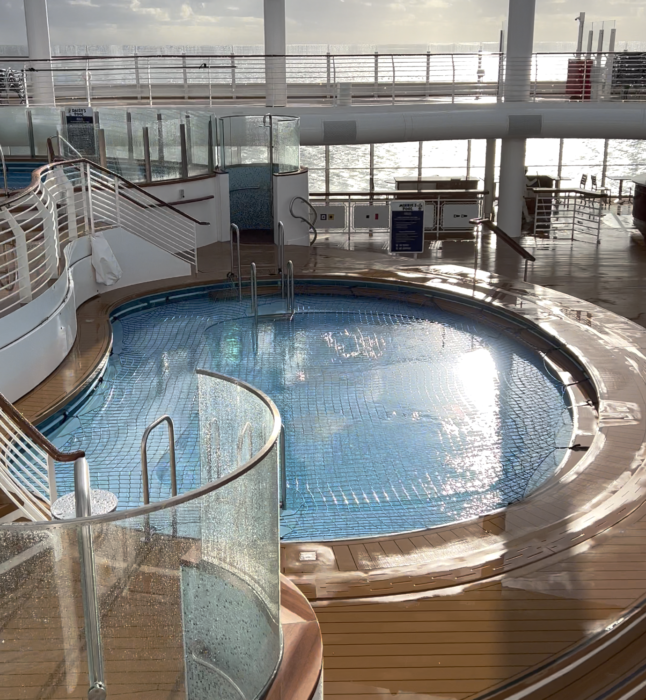 Daisy's Pool, Deck 11
Daisy's pool is 6″ deep, just enough to cool off your feet. This pool has a maximum capacity of 35 guests.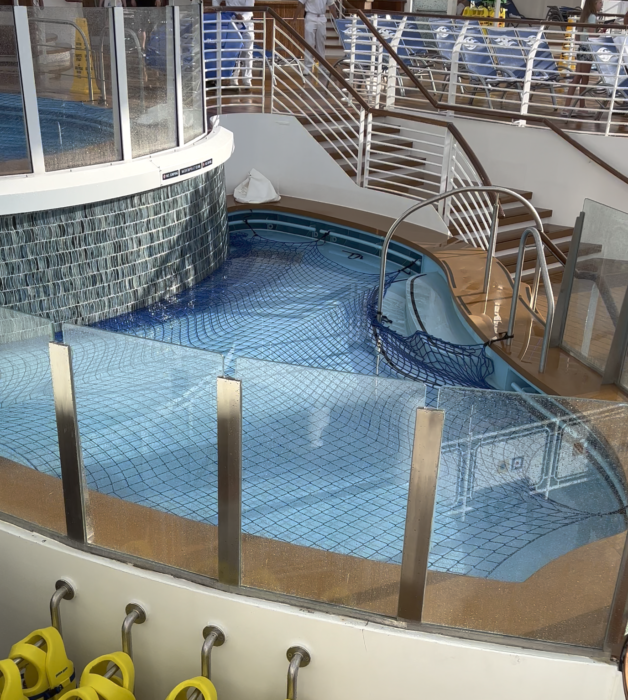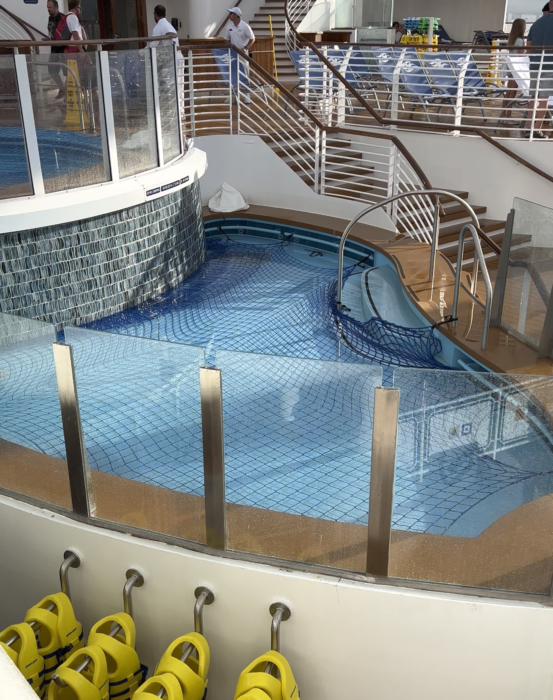 Pluto's Pool, Deck 11
Like the Daisy pool, Pluto's pool is 6″ deep, with a maximum capacity of 35 guests.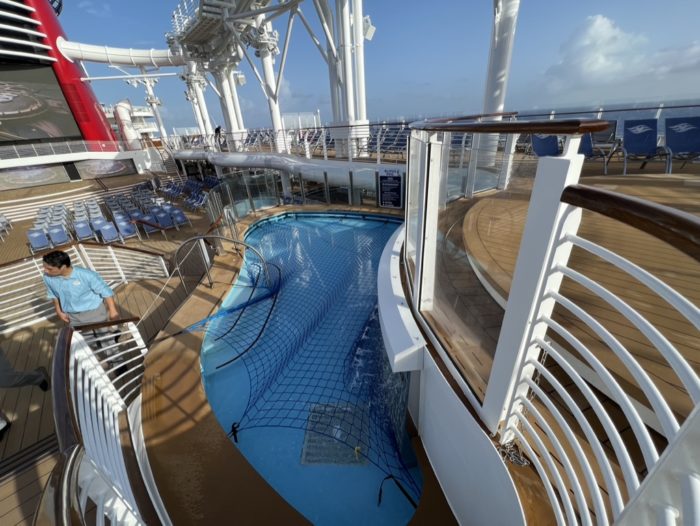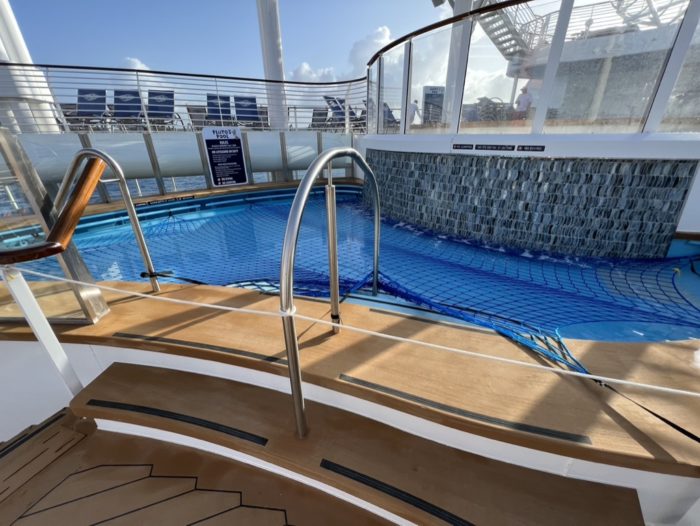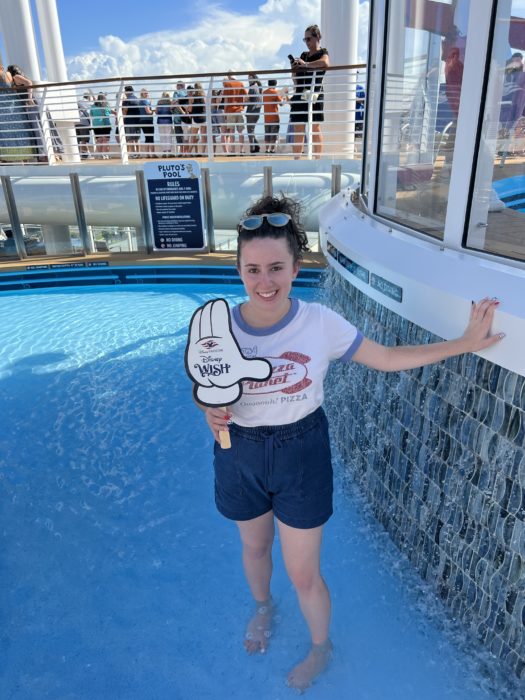 Trixie's Falls, Deck 12
Trixie's Falls is located near the Toy Story Splash Zone. The water is 6″ deep, with a maximum capacity of 68 guests. There is a small fountain in the center of the pool. The back wall has a gentle waterfall feature.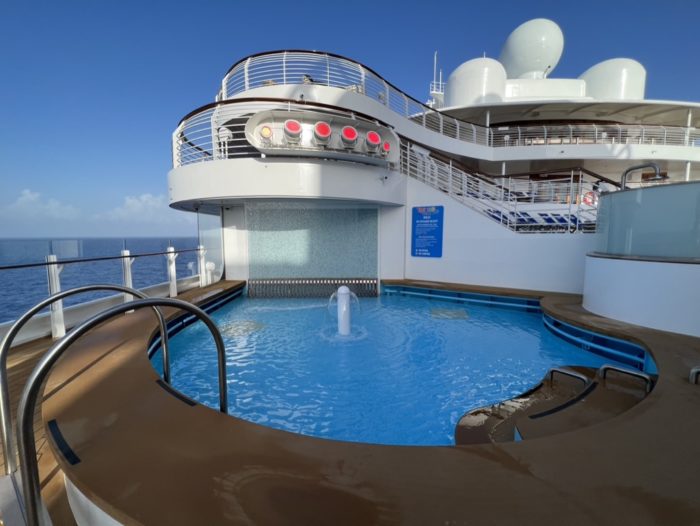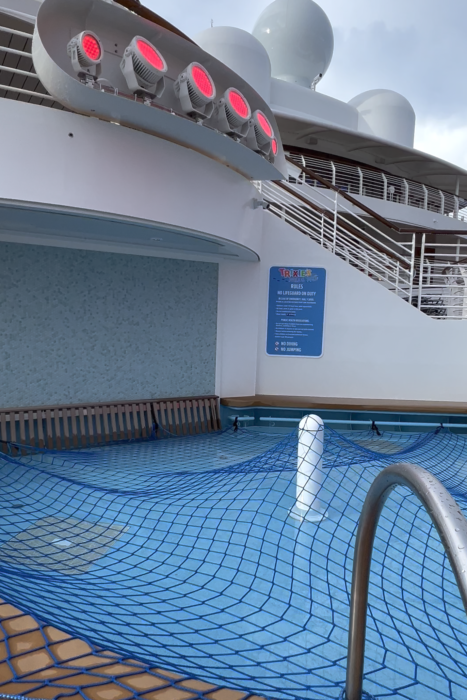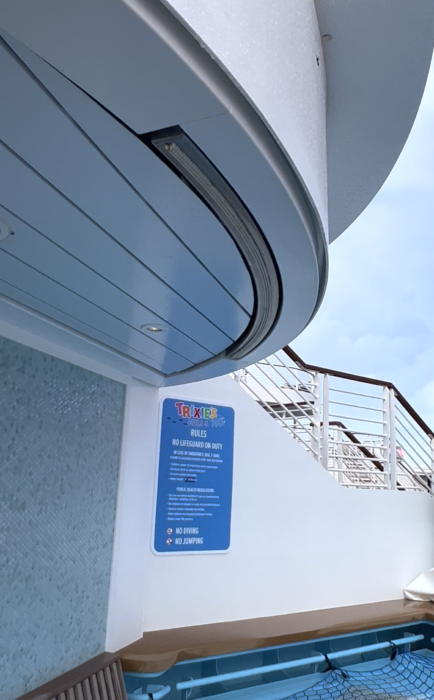 Donald's Pool, Deck 12
Donald's pool is 4'6″ deep with a maximum capacity of 45 guests.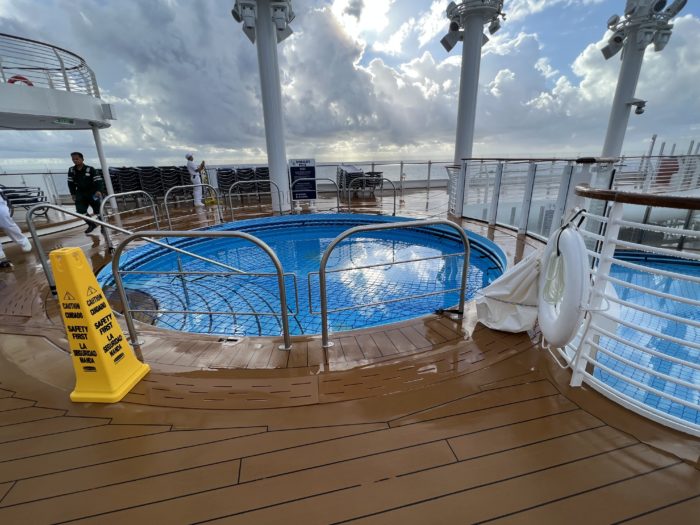 Goofy's Pool, Deck 12
Goofy's pool is a mirror of Donald's pool. It is also 4'6″ deep and has a maximum capacity of 45 guests.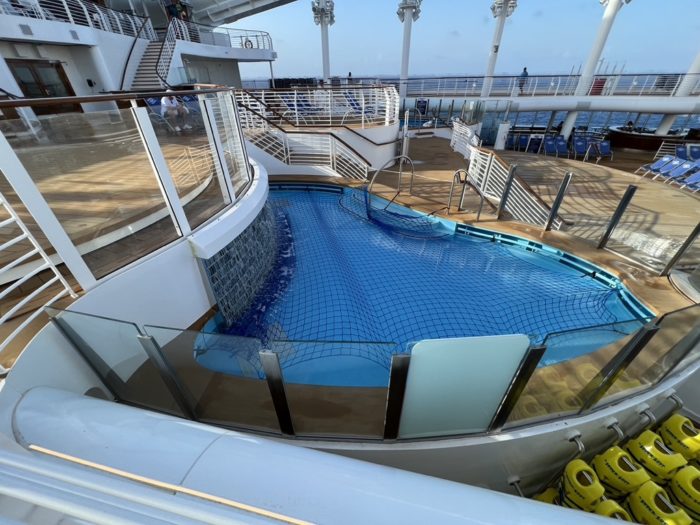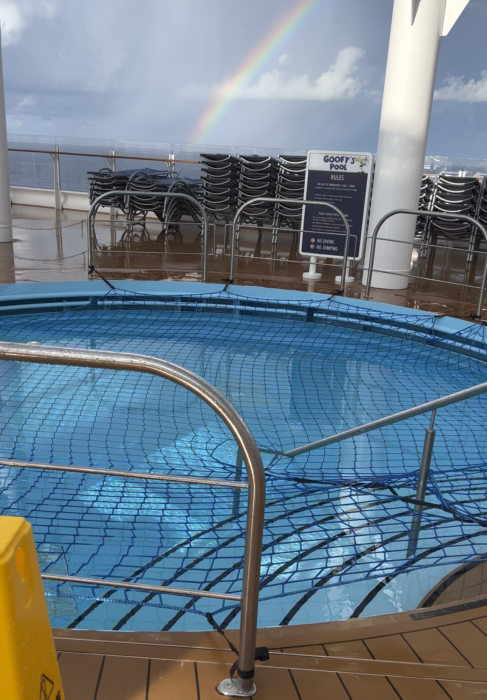 Toy Story Splash Zone, Deck 12
The Splash Zone is for guests under the age of six. It has a maximum capacity of 20 guests. Children who are not yet potty trained MUST wear swim diapers.
There are toddler-sized slides on both ends of the Splash Zone, separated by a variety of oversized Toy Story character heads that squirt water. Additional water elements squirt from the floor.
The Wish Tower Suite is located directly above the Splash Zone.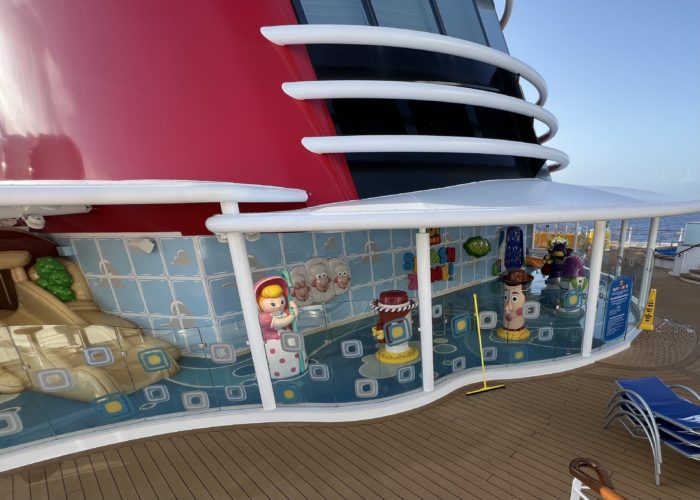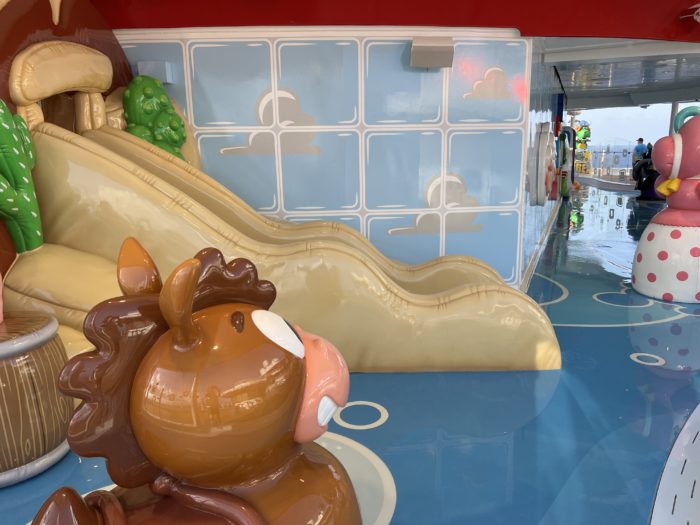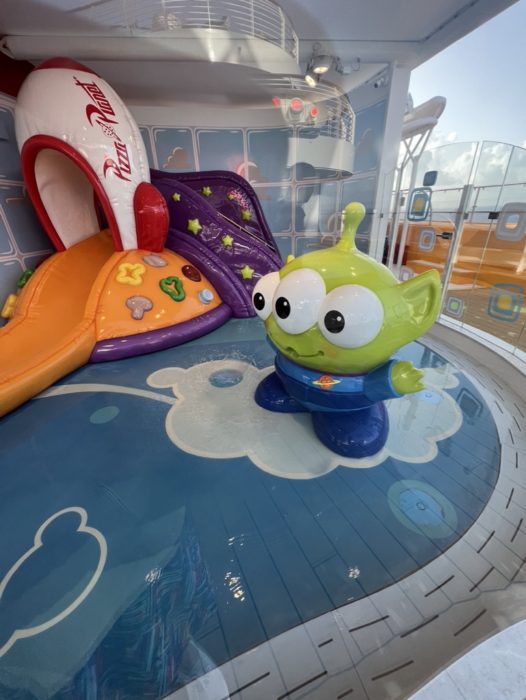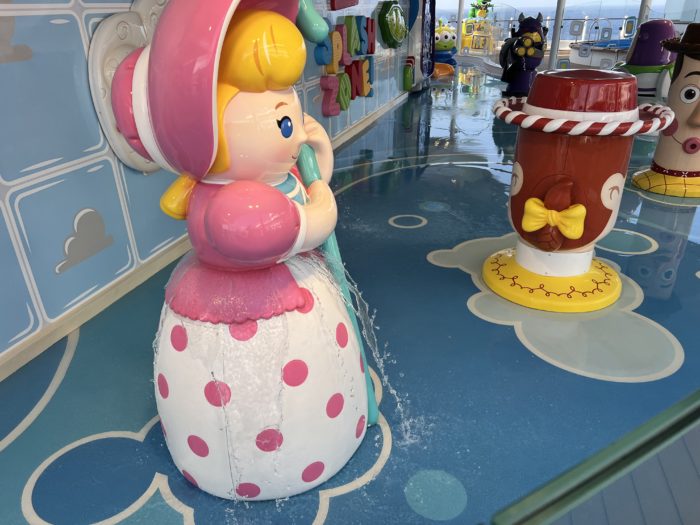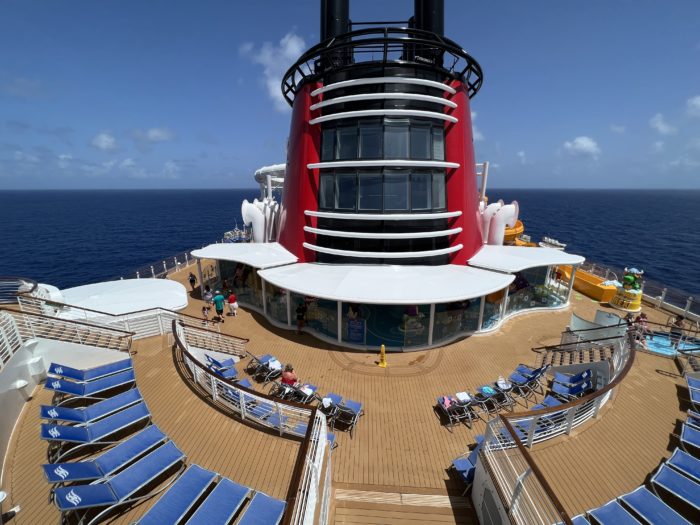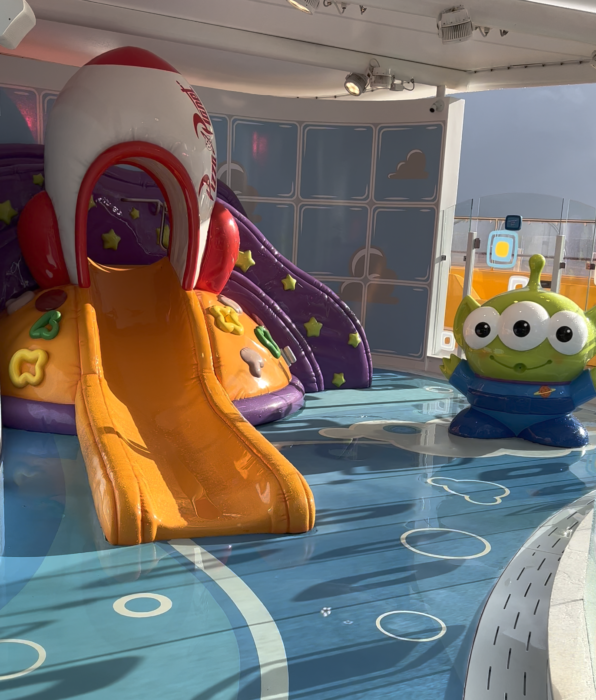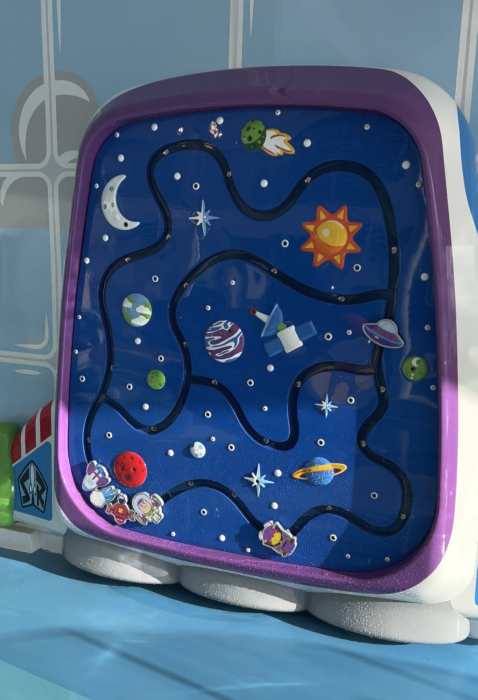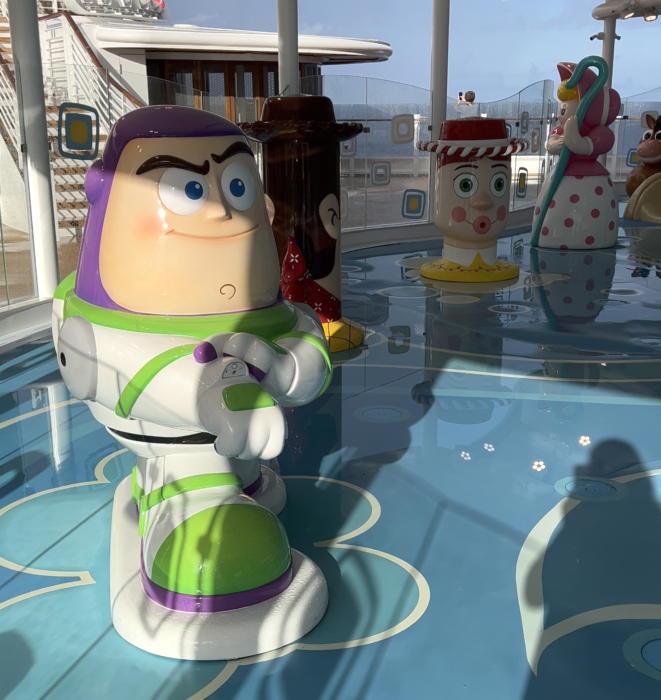 Quiet Cove Pool, Deck 13
The Quiet Cove pool is 6″ deep and has a maximum capacity of 13 guests. The pools in the Quiet Cove area for adults 18 and up only.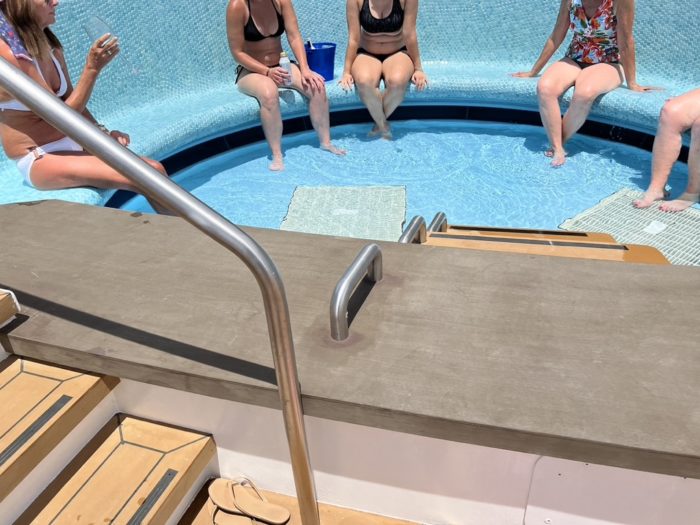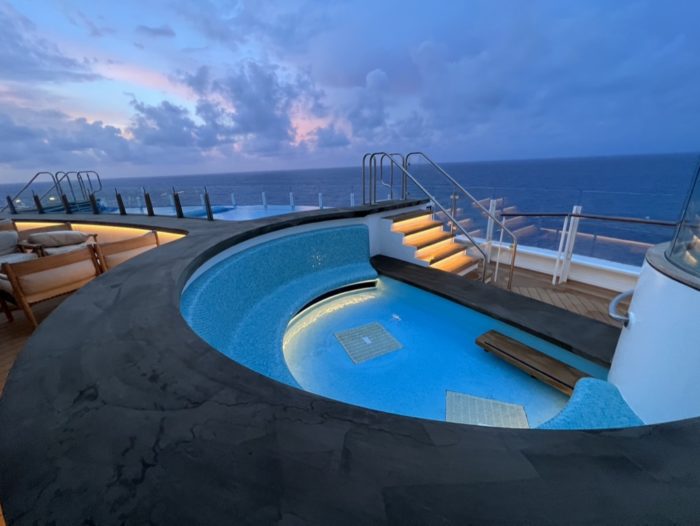 Additionally there is a Quiet Cove infinity-style pool. This has a depth of 3'3″ and a maximum capacity of 26 guests.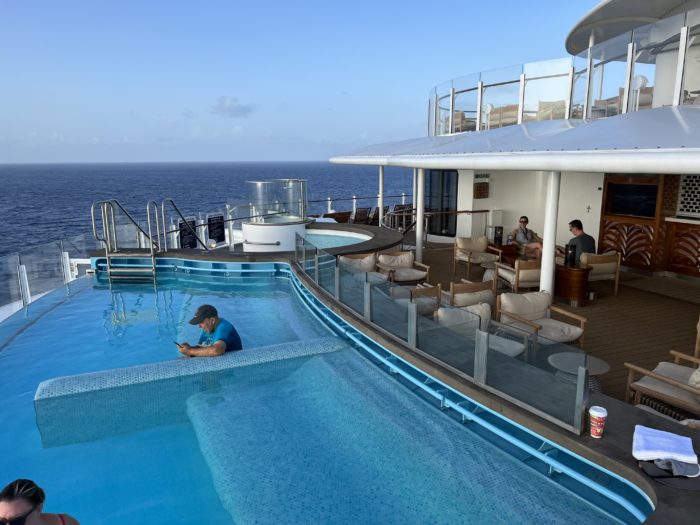 There is also a whirlpool spa nearby that is heated to a maximum temperature of 104 degree Farenheit and has a maximum capacity of 7 guests.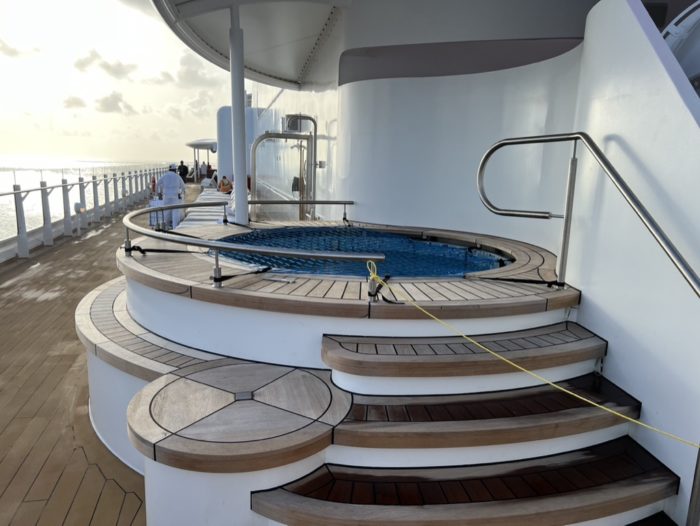 Chip & Dale's Pool, Deck 14
Chip & Dale's pool is the ship's designated "quiet pool." It is removed from the main water areas, with less noise from the FunnelVision and fewer guests nearby. Guests with sensory overload issues may find this pool particularly appealing. It 2′ deep and has a maximum capacity of 60 guests.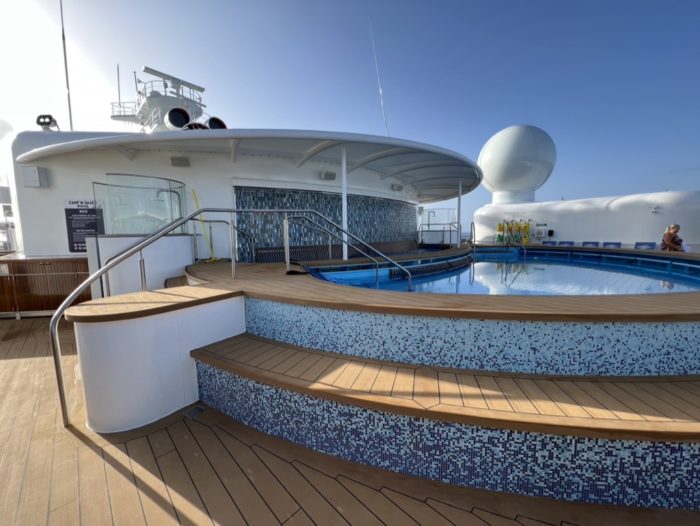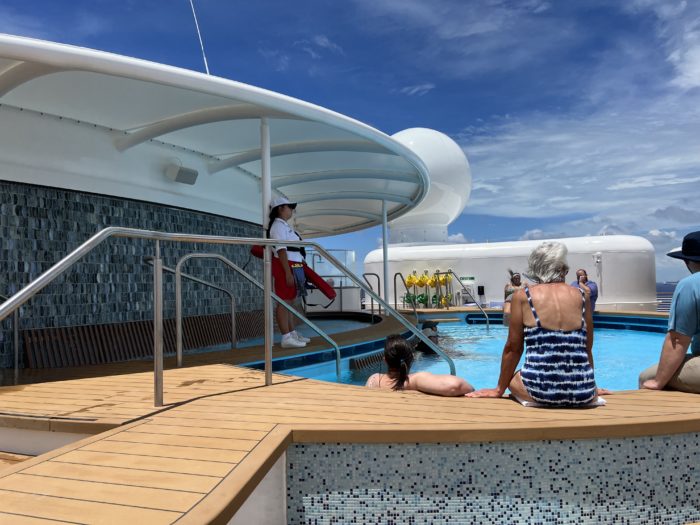 AquaMouse, Entrance on Deck 13
The AquaMouse is a 760-foot "watercoaster" that circles the exterior of the ship. Guests ride in rafts. Each raft is capable of holding two people, though you are welcome to ride alone. Posted signage states that single riders may have to wait longer, as groups of two per raft are prioritized.
During the ride, one of two Mickey Mouse cartoon shorts (either "Scuba Scramble" or "Swiss Meltdown") plays on a series of video screens embedded in the walls of the ride tube. Intermittent squirts of water spray on you during the ride. A portion of the ride tunnel is clear, allowing guests to see the outdoors, but most of the ride tunnel has white walls.
Guests riding alone must be at least 48″ tall. Guests must be at least 42″ tall to ride with someone else. People under age seven must be accompanied by a guest age 14 or older.
Wheelchair or EVC users must transfer to the raft to ride. A posted warning states, "For safety, you should be in good health and free from heart conditions that could be aggravated by the adventure. Expectant mothers should not ride."
Loose articles such as sunglasses, cell phones, and cameras are not permitted. You are also not allowed to wear swim gear with any exposed metal such as zippers or rivets. I didn't see cast members particularly inspecting anyone's clothing (though you may experience something different) – the idea is that they don't want you wearing anything that could puncture or otherwise damage the rafts or ride tube.
Floatation devices and vests are not permitted on the AquaMouse.
You enter and exit the ride at the same location, you do not have to carry your raft.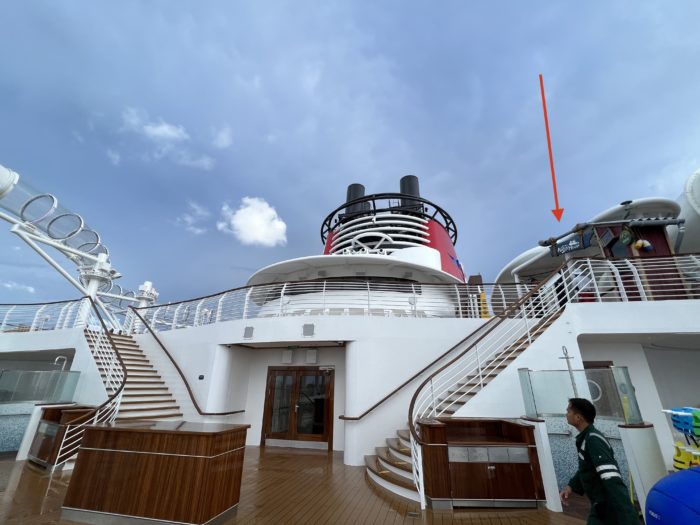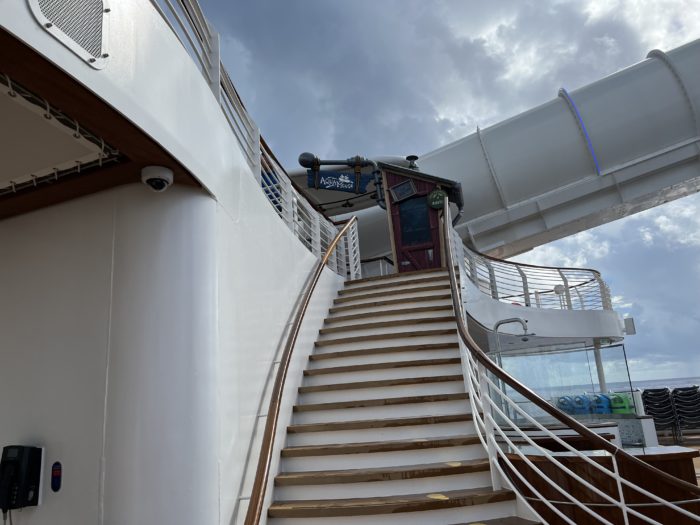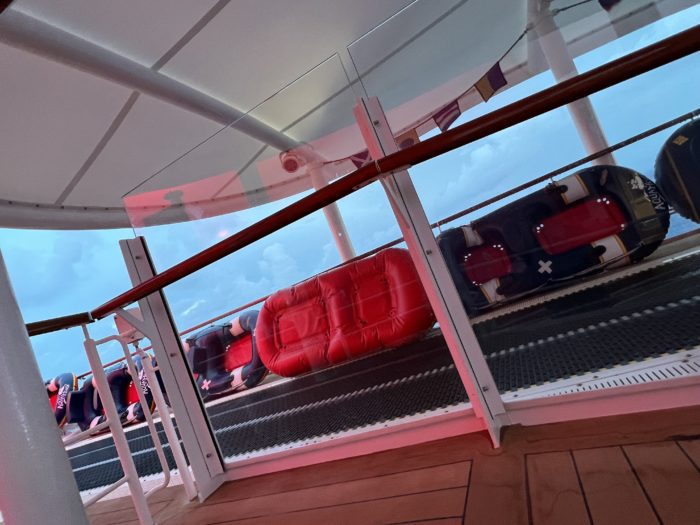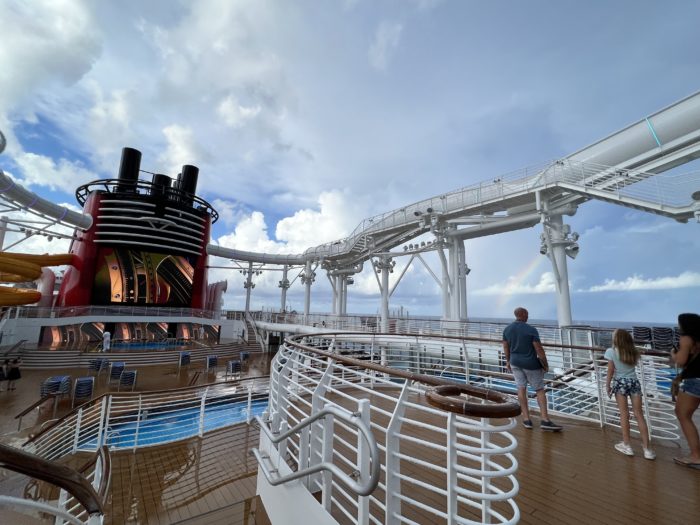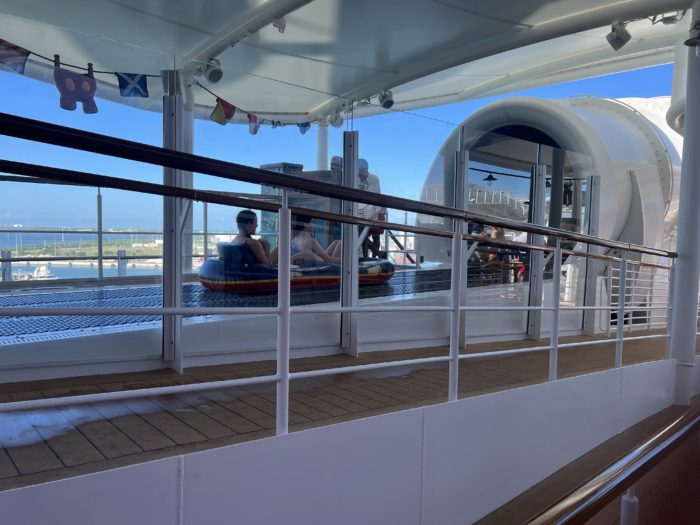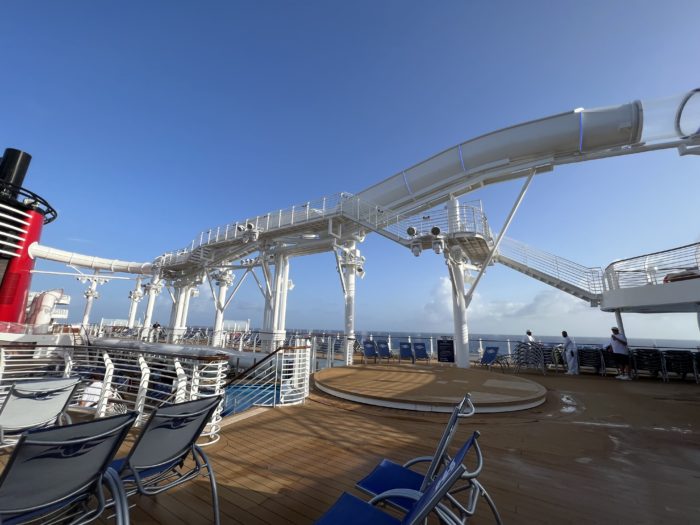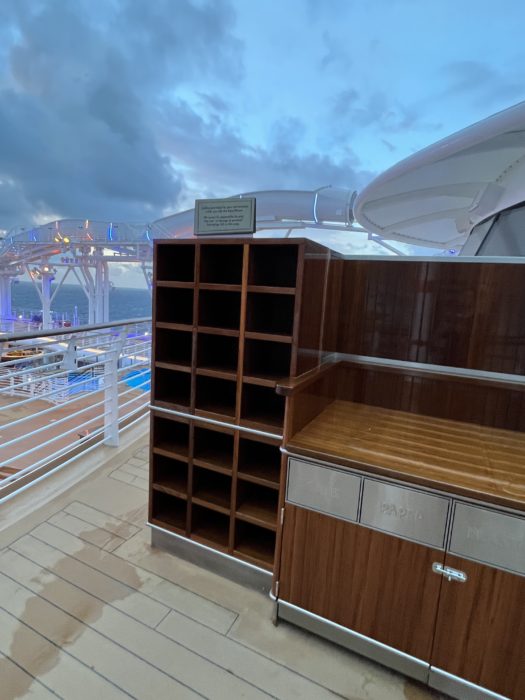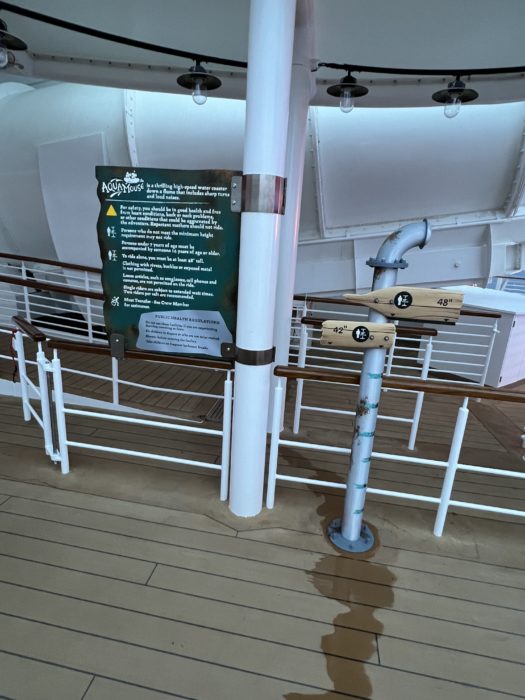 Slide-a-Saurus Rex, Entrance on Deck 12
The Slide-a-Saurus is the bright yellow slide located under the AquaMouse. Guests must be at least 38″ tall to ride. Only one rider is allowed on the slide at a time – no lap sitting or tandem riding is permitted. Guests must slide feet first, lying on their back.
The slide access point is located near the entrance to the Splash Zone. Guests must climb a flight of stairs to get to the top of the slide. Wooden cubbies are available for guests to leave belongings such as hats or glasses, which are not permitted on the slide.