Ranking the Offerings at Green Eggs and Ham
My personal, perhaps unhealthy, love for the items at Green Eggs and Ham is not a secret. I love pizza tots. I proclaim often that they are better than pizza fries, the HHN staple. However, I have many friends that proclaim another variety of tots at this location are better. Of course, I have other Universal Orlando friends that have never tried the tots at Green Eggs and Ham.
The question was raised: Which tots option is the best one at Green Eggs and Ham? Over last several weeks, I have been conducting small scientific and some unscientific evaluations of this burning query. If you are unfamiliar with Green Eggs and Ham, I will attempt to bring you the basic details needed.
In 1999, when Islands of Adventure opened, so did Green Eggs and Ham in the Seuss Landing area. This location was not well received by guests for several reasons. The main reason was the very low-quality menu. The largest offender in terms of awful food was the Green Eggs and Ham sandwich. I will not need to describe the problem. Let me show you a picture of this abomination…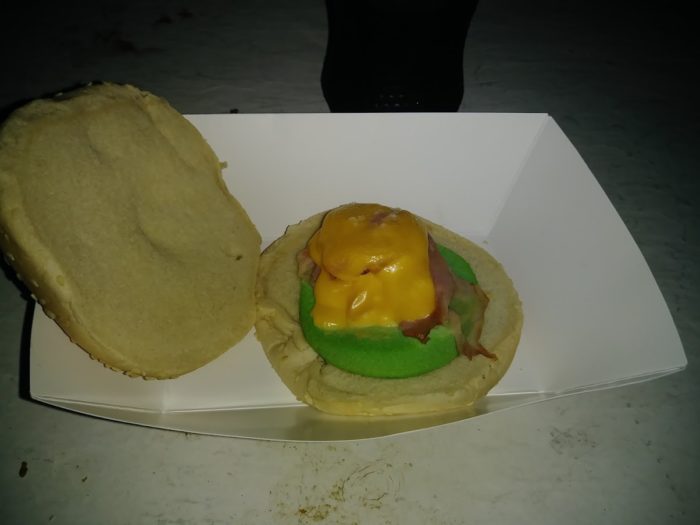 Most likely because of poor sales, the Green Eggs and Ham location was rarely open in Seuss Landing. Until the last two years, a vast majority of annual passholders (and theme park media) had never seen the place open.
Fortunately, late in 2019, Green Eggs and Ham opened with a brand-new menu. The core of the menu was tater tots covered in scrumptious goodness. The menu has changed slightly but currently has five items:
Pizza Tots – Pepperoni, sausage, mozzarella cheese, tomato sauce over tater tots
Green Eggs & Ham Tots – Green eggs, diced ham, white cheese sauce over tater tots
Buffalo Chicken Tots – Chicken tenders, mozzarella cheese, ranch, and buffalo sauce over tater tots
Brisket Philly Tots – Shaved brisket, onions, peppers, and white cheese sauce over tater tots
Who Hash – Corned beef, onions, white cheese sauce, scallions, and tater tots in a Who Hash can
What do most people prefer from this food location?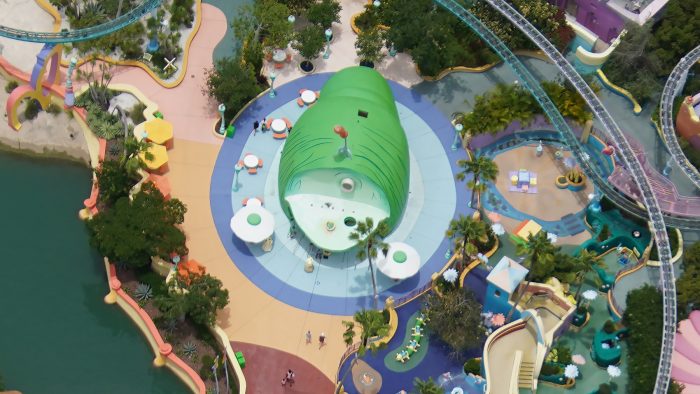 #5 Who Hash Tots
Personally, this is my least favorite choices at Green Eggs and Ham. It appears most theme park visitors do not enjoy the corned beef, onions, and scallions combination as much as other offerings. The taste is fine over the tater tots but may not settle well before one prepares to take on the VelociCoaster. These covered tater tots are normally served in the collectible can. If you choose to order this, then you can get the item in a bowl so your collectible can will stay clean. I have witnessed many guests trying to wash out their cheese covered collectible can in the restrooms (which does not work well). Now, this is the only menu item that comes with a collectible can. This menu item is also $5 more which we assume covers the price of the well-themed can.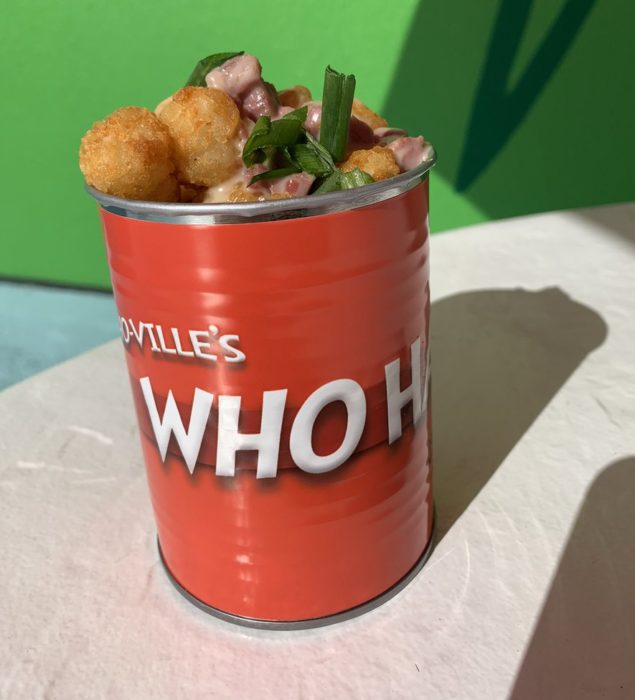 #4 Green Eggs and Ham Tots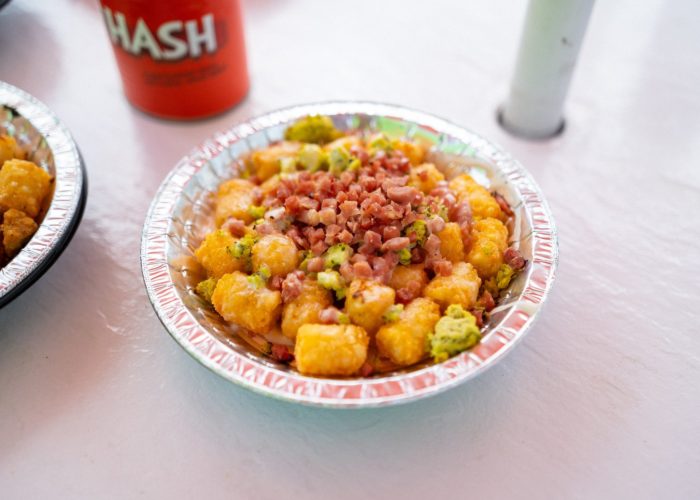 This is where the legitimate disagreement starts regarding choices at Green Eggs and Ham. The great news is this version of green eggs looks and tastes better than the original version. Several guests told me they really enjoy this dish as a late breakfast/early lunch option. This is a solid choice, but the flavors are not as distinctive as top three options. If you are sharing with small child, then this could serve you well. In my opinion, the dye for green eggs and overall texture keeps this option from ranking higher.
#3 Philly Brisket Tots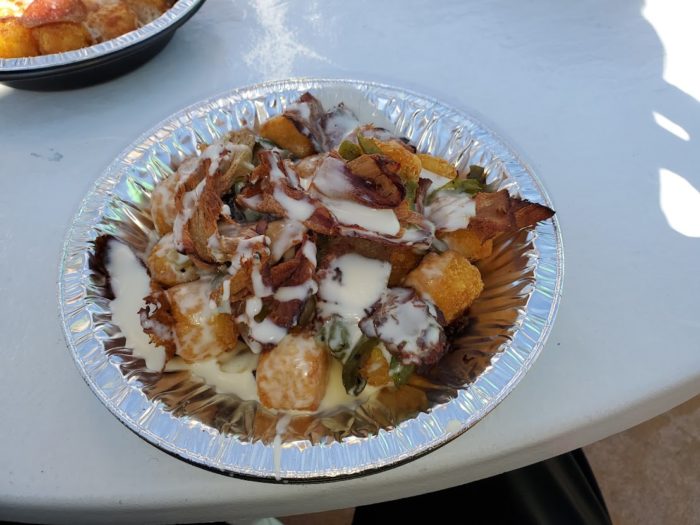 This is the newest addition to the menu lineup. Technically, this replaced the Smores Nutella dish. That dessert offering did not use tater tots but graham crackers. Though many people enjoyed that dish, it was tricky to keep hot enough. I assume that is why Philly Brisket was added. The brisket is good but can sometimes be dry. The white cheese works very well. The strength of this dish is potentially the major weakness also. The balance of onion and peppers to give it the desired flavor is well done. Still, especially if wearing a facial covering, this combination demanded some breath mints for your own safety.
#2 Pizza Tots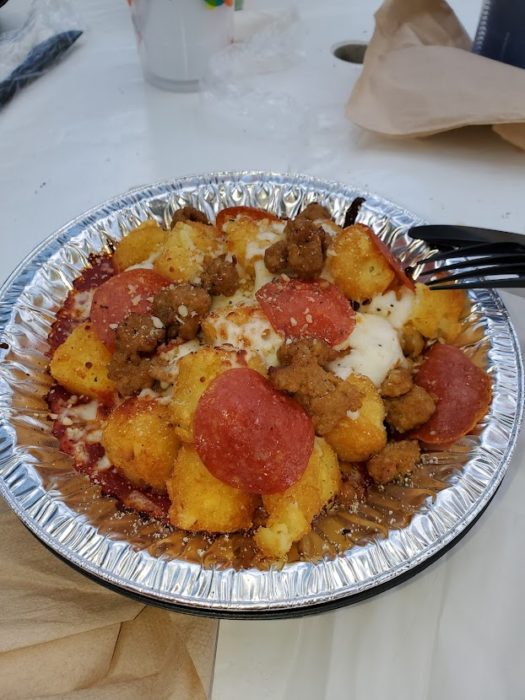 This article is intended to empower you to know which options here get best reviews by the most people. Even though, like so many of us, I want to make it all about me, pizza tots did not win. In fact, they are not even a close second. Based on my devotion to Pizza Tots, I would like to point out that the top two choices are far and away selected favorably over the other three. If you are a Halloween Horror Nights fan, then these tots are for you. These tots have all the flavor of pizza fries with a far better texture, taste, and crunch. Currently, these are also 50 cents cheaper than the seasonal offering of pizza fries. People who enjoy these tots speak about the merging of flavors of the meat and sauce. The weakness of this item is various people have different opinions of what pizza should taste like. In fairness, I have never heard anyone say these tots were bad. I have heard that about the lower three options sometimes
#1 Buffalo Chicken Tots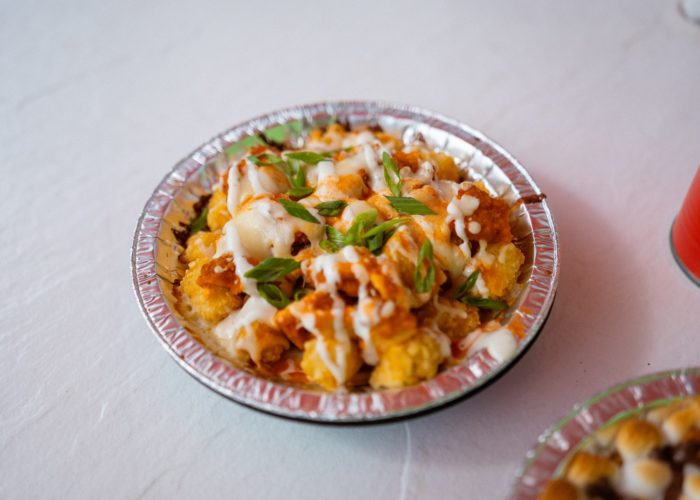 This is the most divisive of the menu choices. The minority that disliked these said they were potentially worst theme park items ever. People who enjoy these speak of them as life changing. Now, both are exaggerations. Yet, the combination of flavors on this dish matches the tater tots very well. If you enjoy buffalo chicken flavor, this dish fulfills that astonishingly well. There is similar negative about breath after enjoying this dish, especially if wearing a facial covering afterwards. As much as it hurts me, this option is seen as best at Green Eggs and Ham.
Now, I will be sticking with my pizza tots. On your next visit to Islands of Adventure, give this food stand a try. With most entrees being $9.99, your wallet might thank you.
Do you have a favorite form of tots at Green Eggs and Ham? Let us know in the comments.