Resort Rundown: Disney's Port Orleans French Quarter
Immerse yourself in the fantastic world of the New Orleans French Quarter. On the shore of the Disney-created Sassagoula River stands Disney's Port Orleans French Quarter Resort. Colorful Gothic-style buildings and lamppost-lined walkways create a romantic atmosphere. As part of Disney's Port Orleans Resort, with the Riverside as its neighbor, French Quarter offers lots to enjoy. 
Location 
Disney's Port Orleans French Quarter is a Disney Springs area resort, with Epcot not too far away either. Its location on the river creates a relaxing atmosphere and convenient boat ride access to Disney Springs. As a Moderate level resort there are some great amenities, though no major attractions within walking distance. Thankfully being part of the two hotel complex of Port Orleans Resort allows for a lovely walk next door to Riverside, when one desires to expand their horizons.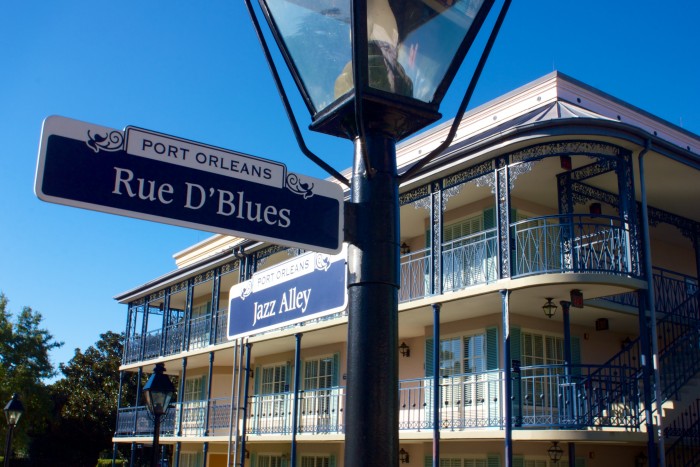 Rooms
The grandeur of the French Quarter is carried into the guest rooms. Intricate scroll work and detail on the dark wood furnishings add interest to the room. The rooms are more subdued as a result of a recent refurbishment. Soft mint green walls create a calm tone and crisp white linens make for a brighter and perhaps more sterile atmosphere. One nice feature of most guest rooms in the Moderate level resorts is the double sink that is separate from the bathtub, shower, and toilet. This vanity area has a privacy curtain so that guests using the sinks can have a partition from the rest of the guest room. Two queen beds are standard, and one king is available in select rooms. A table and two chairs offers a place to eat, or a place to work if needed.
There are four view types: Garden, River, Pool, and Standard. Many fans of French Quarter recommend requesting a corner room which provides two windows instead of one, making the room feel more open. Speaking of views, you can use the awesome TouringPlans Room Finder to help you narrow down the exact room location you would like. You can plug in your preferences and find rooms that match your needs. Then when you make your reservations and check in you can request your desired rooms. This tool is free to use.
Go for a tour through a refurbished Garden View Room at Disney's French Quarter in this video:
Dining
It's hard to compare French Quarter to the other Moderate-level resorts because the category has become a little inconsistent with the major changes at Disney's Coronado Springs Resort and Disney's Caribbean Beach Resort. The dining at Disney's French Quarter is limited to one counter service location and two lounges. The counter service is a small food court with a dining room covered in fascinating decor. 
The Sassagoula Floatworks and Food Factory  is modeled after a warehouse in which Mardi Gras parade floats are designed. The decor used to be full of larger than life components and props of parade floats, but has since been toned down. Cajun inspired dishes and classic American fare is offered. Outside by the pool is Mardi Grogs, offering a few specialty drinks not found at other Disney pool bars, like All That Jazz and Nola Cola. Cold sandwiches and salads are available here too.
Inside, just off the lobby is Scat Cat's Club, considered to be a hidden gem by many. Live jazz music is offered at 8PM Thursdays – Mondays, adding some authentic N'awlins sound to this resort. Lively libations are paired with small bites like Chicken and Waffles and Crawfish Etouffee.
If you're in need of more dining options there is an on-site pizza delivery or you can take a stroll next door to the Riverside resort. Of course, Disney Springs and all its glorious dining options are just a beautiful boat ride away.  
Pools
Disney's French Quarter is much smaller than Riverside, giving it a more intimate feel. This also means there is just one pool. The fun decor and theme of this feature pool makes for great photo opportunities. The waterslide lacks in thrills but makes up for it by being themed as a smiling sea serpent. Doubloon Lagoon is a family friendly pool that is a splashing good time for kids, especially with the new water playground that was added in 2016.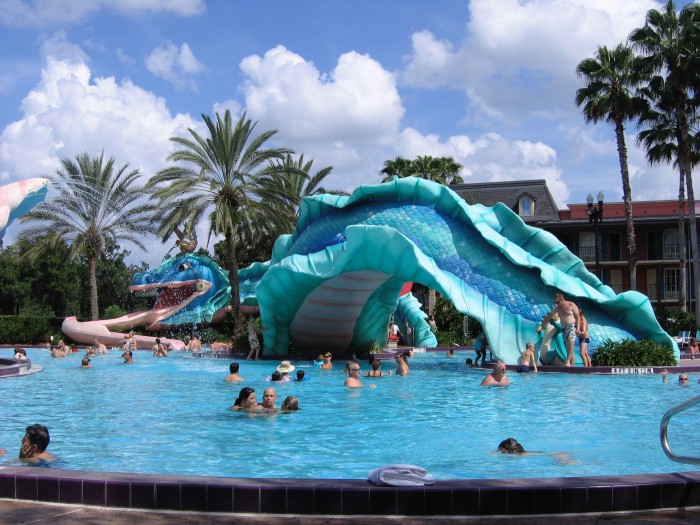 A short walk over to the Riverside resort will grant you access to an additional feature pool. Ol' Man Island is an impressive 3.5 acres of fun. A waterslide, kiddie pool, and even a fishing hole make for a good ol' fashioned good time. Port Orleans guests are welcome to, and encouraged, use the pools at both French Quarter and Riverside.
Recreation
It wouldn't be a Big Easy-themed resort if there wasn't big fun to be had. Runners and joggers love the jogging trail here that encompasses both French Quarter and Riverside. Movies Under the Stars and the campfires are great features here because it is usually not too crowded thanks to French Quarter's small size. A playground and an arcade help keep the kids entertained. 
Come take a morning walk with us and tour the entire Disney's French Quarter Resort in this video:
Transportation
One of the most loved features of this resort is the boat transportation to Disney Springs. It is shared with Riverside so it does take just a few extra minutes, but the ride is scenic and soothing. Port Orleans guests are dropped off at Disney Springs Marketplace, and are picked up here when they're ready to return to Port Orleans. Disney buses are available for all theme parks and the water parks, and Disney Springs if the boat transportation is not available. There is only one bus stop for French Quarter, but buses are often shared with Riverside.
Other Information
Check out our Top 5 Reasons Why We Love Disney's Port Orleans French Quarter in this video:
We sure ran through a lot of information about Disney's Port Orleans French Quarter Resort, so here's a handy-dandy infographic that sums it all up: