Resort Rundown: Disney's Port Orleans Riverside Overview
Along the banks of the Sassagoula River resides a resort that is beloved by many. Disney's Port Orleans Riverside resort ranks among the top Disney hotels for lots of guests. It is a resort that both exudes Southern sophistication as well as approachability.
Location
Disney's Port Orleans Riverside is a Disney Springs area resort, with Epcot not too far away either. Disney Springs is just up the river. Its location on the river creates a relaxing atmosphere and adds a lovely ambiance throughout the resort. As a Moderate level resort there are some great amenities, though no major attractions within walking distance. Thankfully being part of the two hotel complex of Port Orleans Resort allows for a lovely walk next door to French Quarter when one desires to see what's just around the river bend.
Rooms
The charm of the South is carried into the guest rooms. There are two types of buildings: Southern manors and backwoods cottages. The decor of the rooms differs between these two building types. The Magnolia Bend rooms have oak wood furnishings with elegant accents. The Alligator Bayou rooms have a rustic feel. One nice feature of most guest rooms in the Moderate level resorts is the double sink that is separate from the bathtub, shower, and toilet, and has a privacy curtain so that guests using the sinks and vanity area can have a partition from the rest of the guest room. Two queen beds are standard, and one king is available in select rooms. A table and two chairs offers a place to eat, or a place to work if needed. Some rooms called a "fifth sleeper room" have new murphy beds that pull down to reveal a scene inspired by "The Princess and the Frog" ( a theme that is sprinkled throughout the rooms).
In addition to the two different themed buildings, there are the Royal Rooms. This rooms are simply perfect for anyone who is a fan of Disney princesses. These rooms are ornate in every sense of the word. Disney details are everywhere. A favorite feature of the Royal Rooms are the enchanting headboards will glowing fireflies and fireworks.
And you can tour a Royal Room with us in this video:
There are four view types: Garden, River, Pool, and Standard. Many fans of Riverside recommend requesting a corner room which provides two windows instead of one, making the room feel more open. Speaking of views, you can use the awesome Touring Plans Room Finder to help you narrow down the exact room location you would like. You can plug in your preferences and find rooms that match your needs. Then when you make your reservations and check in you can request your desired rooms. This tool is free to use.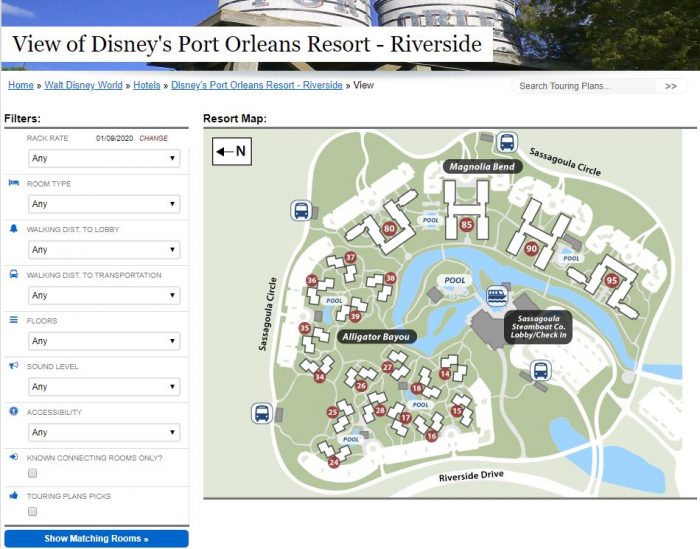 You can tour a renovated room in the Alligator Bayou section here:
Dining
As a Moderate resort, Riverside offers one table service dining location, one counter service location, one lounge, one pool bar, and on site pizza delivery. The table service location is considered to be a hidden gem by many. Boatwright's Dining Hall offers Southern-inspired cuisine that envelopes the theme of this resort through its flavors. Open for dinner only, this restaurant is a nice choice if you want a relaxing evening back at your resort. Sometimes reservations can be hard to catch at Boatwright's, so check out our free TouringPlans Dining Reservation Finder. 
Riverside Mill is the resort's counter service food court. This interior dining area features the moving gears and mechanics to power the water wheel on the outside of the building. It is quite a unique dining setting. There are six different stations offering a variety of food, with a focus on Southern flavors. And don't forget you can use the Mobile Order function, so you can order food while in your room or on the bus on your way back from the parks and pick it up when you arrive.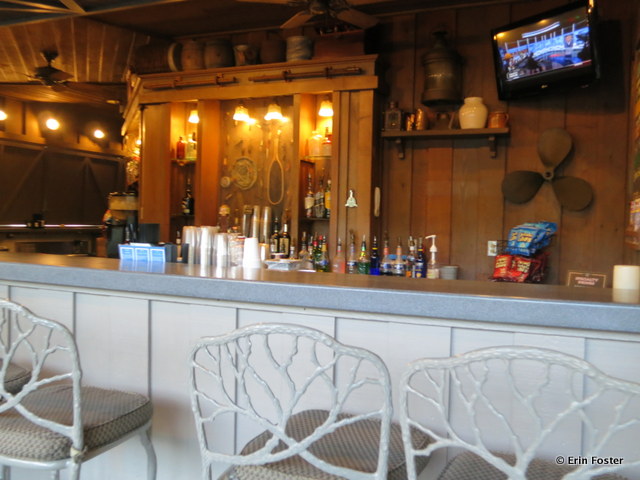 Muddy Waters pool bar offers the standard pool bar menu, plus a few resort specialty drinks like the Nola Cola and Front Porch Freeze. Finally, River Roost is one of the most loved resort lounges. The drink menu and appetizers are solid, plus there is live entertainment on certain nights of the week from Yeehaw Bob.
If you're in need of more dining options, there is on-site pizza delivery or you can take a stroll next door to the French Quarter resort. Of course, Disney Springs and all its glorious dining options are just a beautiful boat ride away.
Pools
There are lots of pools for splashing around at this waterside resort. Ol' Man Island is the feature pool in a three-acre recreation destination. A waterslide and a real fishing hole add to the fun. There are also small leisure pools at each collection of guest room buildings, five pools total. A water playground is lacking at Riverside, but French Quarter has one that was added in 2016.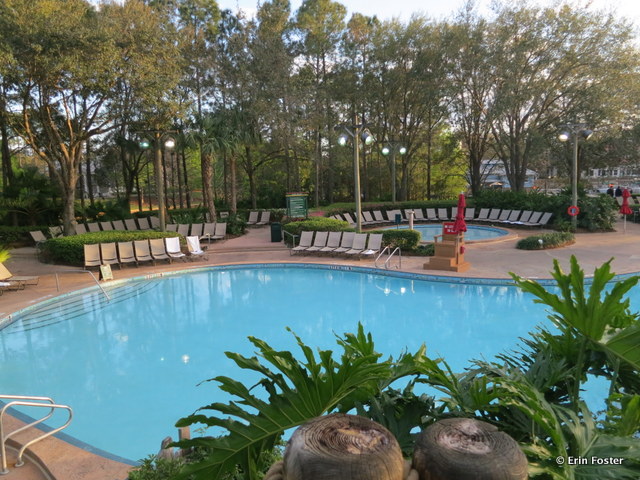 Recreation
There is a lot recreation throughout this riverside retreat. Runners and joggers love the jogging trail here that encompasses both French Quarter and Riverside. Movies Under the Stars and the campfires are great features. A playground and an arcade help keep the kids entertained. Fishing, bike rentals, and even horse-drawn carriage rides round out the fun.
Transportation
One of the most loved features of this resort is the boat transportation to Disney Springs. It is shared with French Quarter so it does take just a few extra minutes, but the ride is scenic and soothing. Port Orleans guests are dropped off at Disney Springs Marketplace, and are picked up here when they're ready to return to Port Orleans. Disney buses are available for all theme parks and the water parks, and Disney Springs if the boat transportation is not available.
Other Information
Disney's Port Orleans Riverside is a dog-friendly resort.
Want to learn more about Riverside? Check out our overview video here:
We sure ran through a lot of information about Disney's Port Orleans Riverside, so here's a handy-dandy infographic that sums it all up: