REVIEW – Bar Riva Is an Ideal Outdoor Bar Along the Disney Skyliner Route
The one year anniversary of Disney's Riviera Resort has arrived, and it's the perfect occasion to revisit Bar Riva. This outdoor bar, near the resort's pool, is a popular spot among hotel guests and regular guests alike. I decided to visit Bar Riva for the first time a few days ago, and I fell in love.
Located near the feature pool, on the outside corner of the resort's main building, Bar Riva is an ideal setting for a relaxing round of drinks and a lovely lunch. When I arrived a little after lunch time the weather was blissful. I much prefer outdoor dining venues these days. There is seating inside the main bar area, and it is covered, but the entire front is open, bringing in lots of fresh air. The décor is bright, with tranquil, rich blues and an oceanside feel.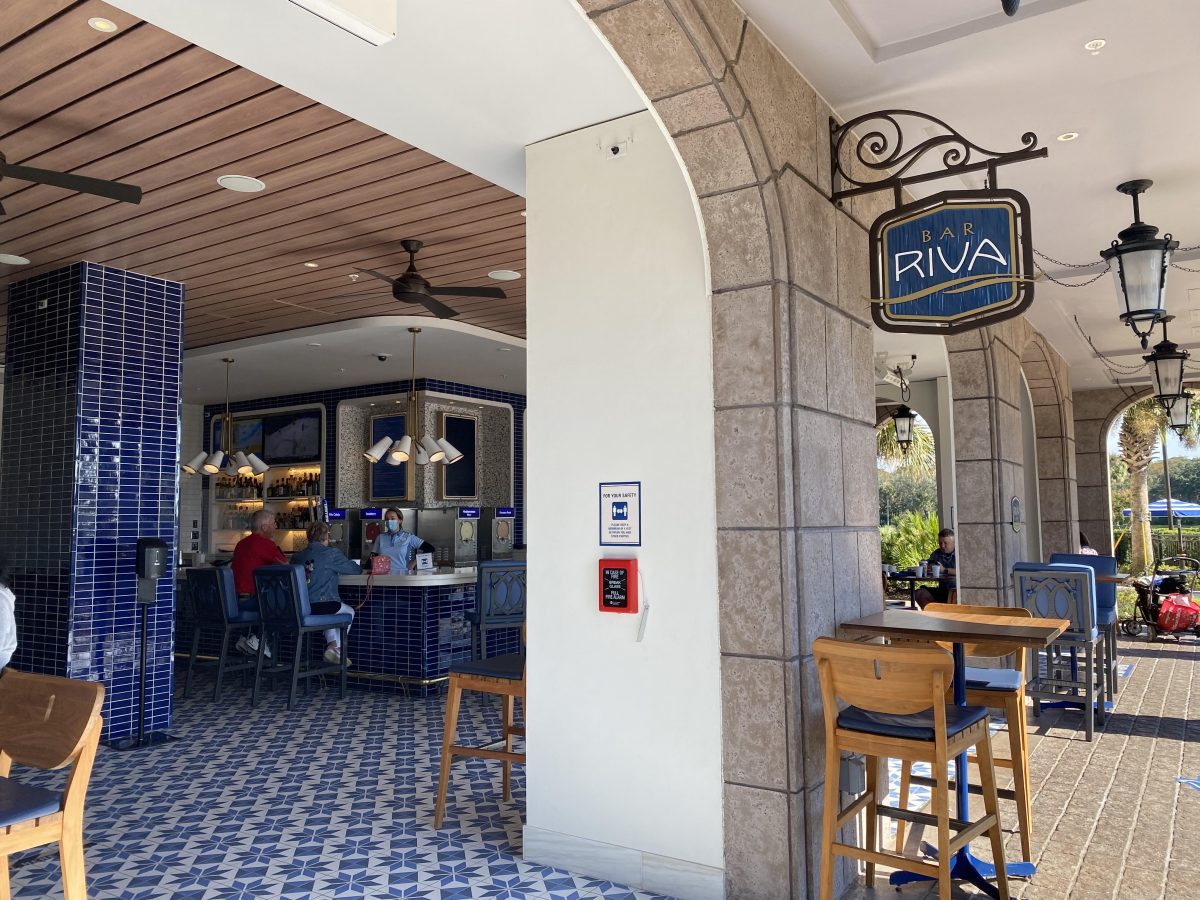 I did not linger much in the main bar area, as a high top table outside was available and I didn't want someone else to snatch it up. A mild disappointment came when there were no seasonal drinks or foods on the menu. I selected the Italian Sangría Blanco. Making a choice among all the handcrafted cocktails was not easy, but I wanted something light. And the $13.00 price point makes it slightly lower priced than the average Disney cocktail.
With La Fiera Moscato, Caravella Limoncello, and Apple Juice the sangría satisfied my desire for an easy-to-drink cocktail. The apple juice brought a slight fall flavor that helped make up for the lack of seasonal cocktails.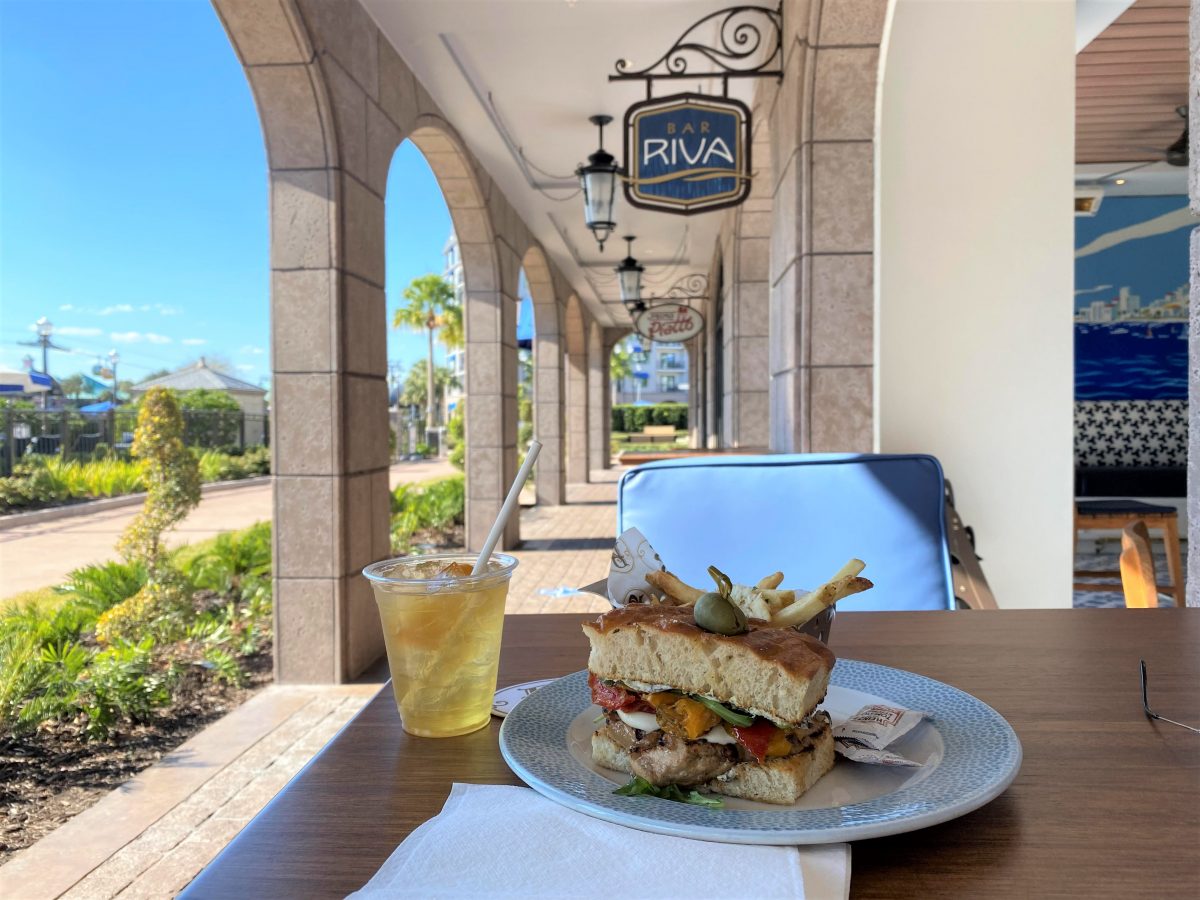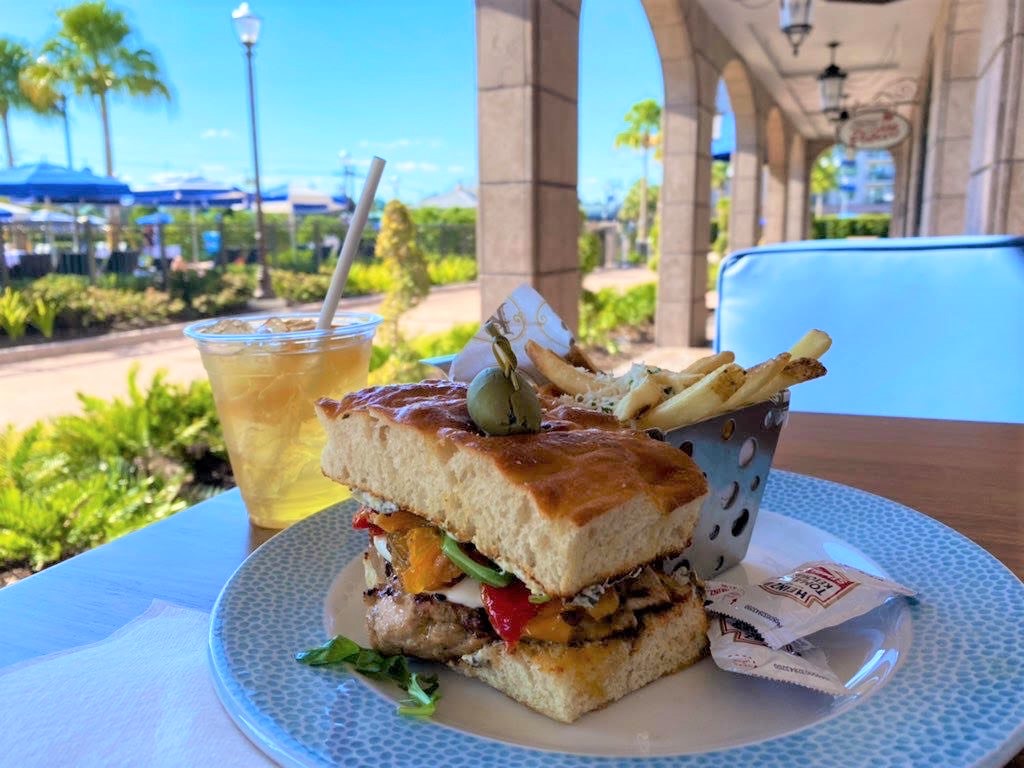 For my meal I could not resist the Grilled Chicken Sandwich. Normally, I am not one to be drawn to grilled chicken sandwich, but the Roasted Tomatoes, Mozzarella, Spinach Artichoke Spread, and Toasted Focaccia drew me in immediately. When the sandwich arrived I couldn't wait to tuck in. All the wonderful flavors melded together.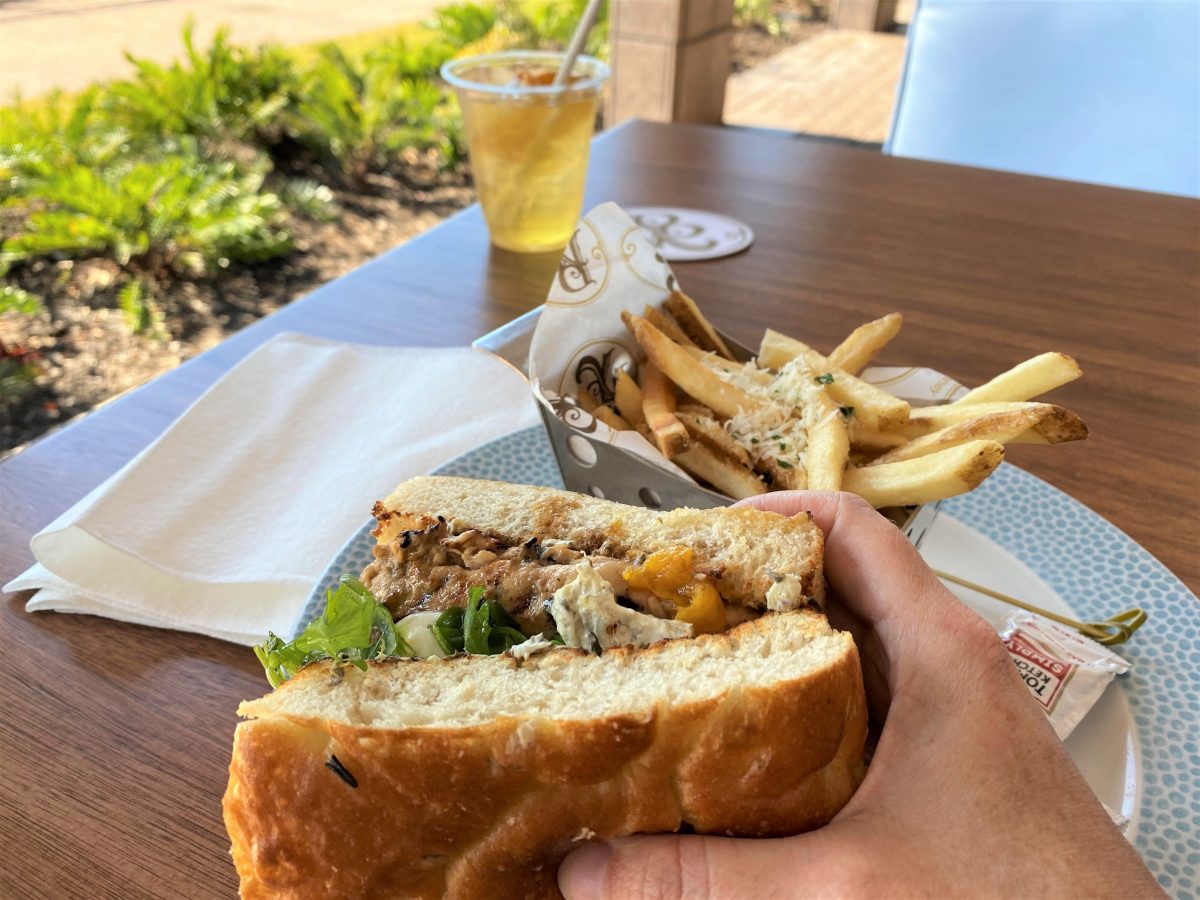 The one downfall of this sandwich is that it fell apart. The grilled chicken breast was quite thick. The focaccia did not stand up to the weight of it all. If I could offer a suggestion for how this sandwich is prepared it would be that the chicken be sliced to make it easier to eat. Otherwise, I was very pleased with my selection and would order it again, this time wearing a poncho for the inevitable food fallout.
Our readers give Bar Riva a 93% thumbs up rating, and it is ranked number 30 out of 107 Walt Disney World bars. It certainly won me over. It is easy to get to from the Disney Skyliner, so you can enjoy this delightful outdoor bar even if you're not staying at Riviera Resort.
Have you ever visited Bar Riva? What did you think of it?