Step-by-Step: How to Ride Guardians of the Galaxy: Cosmic Rewind
When Guardians of the Galaxy: Cosmic Rewind opened at EPCOT on May 27th, it didn't have a standby line. If you're going to Disney World and you want to experience this attraction, you'll need either a Virtual Queue Boarding Group or a paid Individual Lightning Lane Reservation. Below, we'll walk you through the process no matter which option you choose.
Click on any of the links below to skip directly to that section, and know that you can click on any image to enlarge it.
Getting an Individual Lightning Lane reservation for Cosmic Rewind 
Getting a Boarding Group for Cosmic Rewind 
Using Disability Access Service (DAS) with a Cosmic Rewind Boarding Group
Frequently Asked Questions
What You Need to Get Started:
Whether you're looking for an ILL or a Boarding Group, you'll need the following before you can begin.
The My Disney Experience App
Updated Family & Friends List on the My Disney Experience App
You and everyone who wants to ride with you will also need:
Valid Park Admission
A Park Pass for EPCOT on That Day or a Park Pass for a different park and a Park Hopper ticket or Annual Pass.
(Note: for a Boarding Group you will almost certainly need a Park Pass; don't rely on reservations still being available when Park Hopping begins at 2 p.m.)
Getting an Individual Lightning Lane Reservation
The good news is that making an Individual Lightning Lane (ILL) reservation for Cosmic Rewind is exactly the same as the process for booking any other ILL. If you've ever done it before, you already know how to do it.
Guests at eligible Disney resort hotels can begin booking at 7 a.m. All other guests can make ILL reservations for this ride when EPCOT opens for the day. You do not need to be inside the park to make an ILL reservation. GotG: Cosmic Rewind ILLs have been frequently selling out before park opening; if you're not eligible to book at 7 a.m. you shouldn't rely on getting one as part of your touring strategy.
Getting Genie Ready
You'll want to set up Genie in advance of your eligibility time if you're planning to get an ILL for Cosmic Rewind. You can begin from either of two places: the MDE Home Screen, or through the Hamburger Menu.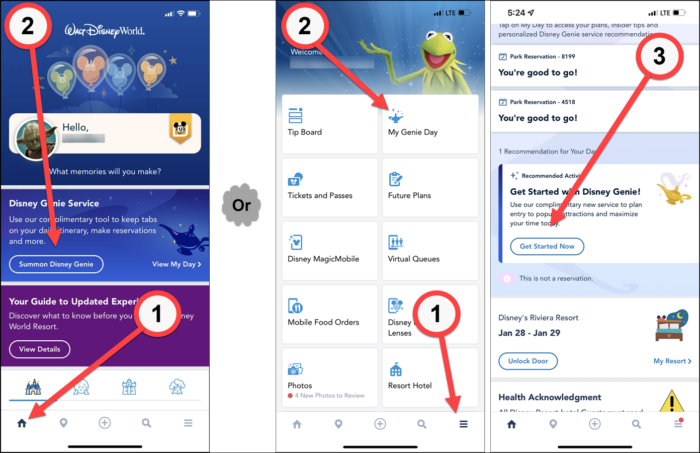 In the next few screens you'll select your park and the date, and indicate who you'll be touring with.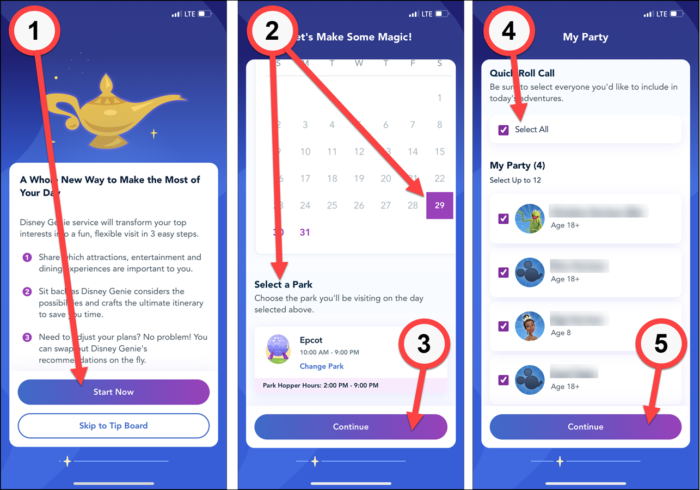 The order of the screens after the steps above can vary a bit, and you may or may not be offered the opportunity to purchase Genie+ as part of the sequence. Don't worry, if you click it away here you'll have another chance later.
Most of these screens are self-explanatory (and you can go back and change your choices later), but one that isn't so obvious is the Top Picks screen. Make sure to select Guardians of the Galaxy: Cosmic Rewind if you can. You might not be able to select it if your Park Pass is not for EPCOT, but this will put the listing for Cosmic Rewind right at the top when you're using the Tip Board later. Those few seconds of scrolling you'll save may count for a lot when trying to make your ILL.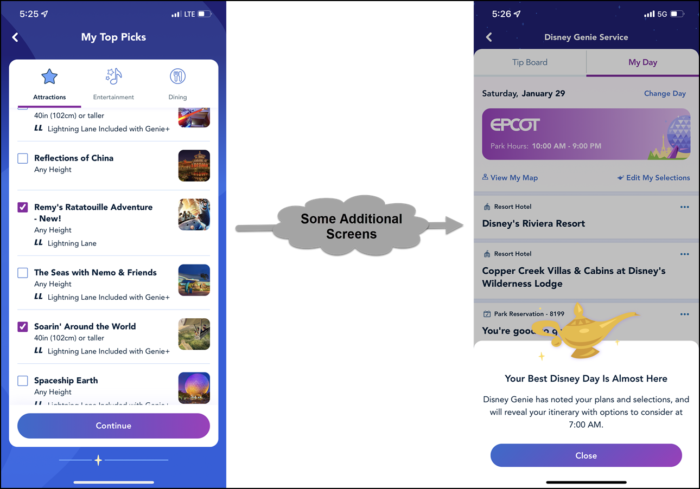 You can set up Genie for days in the future, and if you are trying to get an ILL for Cosmic Rewind we recommend setting it up before you are eligible to reserve so that you'll be all ready to go.
Booking Your ILL
On the day of your visit, just before you are eligible make sure that your Tip Board is showing EPCOT. As soon as your window opens pull down hard on the top of the screen to refresh the Tip Board, then click the panel for Cosmic Rewind. For an ILL reservation you can select the time, but if reservations have been booking up quickly you may not want to take too long browsing for the perfect time. As usual, you can select to include all or only some of your group.
On the Review Details page, make sure to check the time of the reservation; it's not uncommon for it to be different from what you selected. If the time is wildly inappropriate for you, you can go back and search for a different time — but if reservations have been booking up in only a few minutes, know that going back might cost you your chance to get one at all.
After clicking purchase you'll see a confirmation screen, and clicking through will bring you back to Genie where you'll see your reservation in the "My Day" section.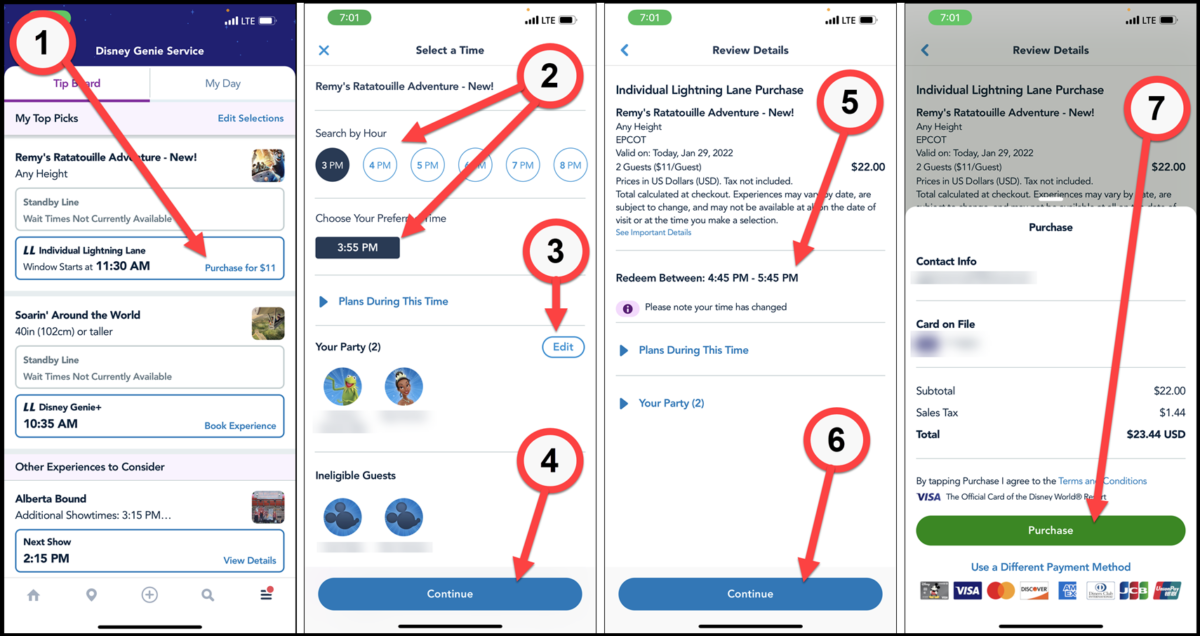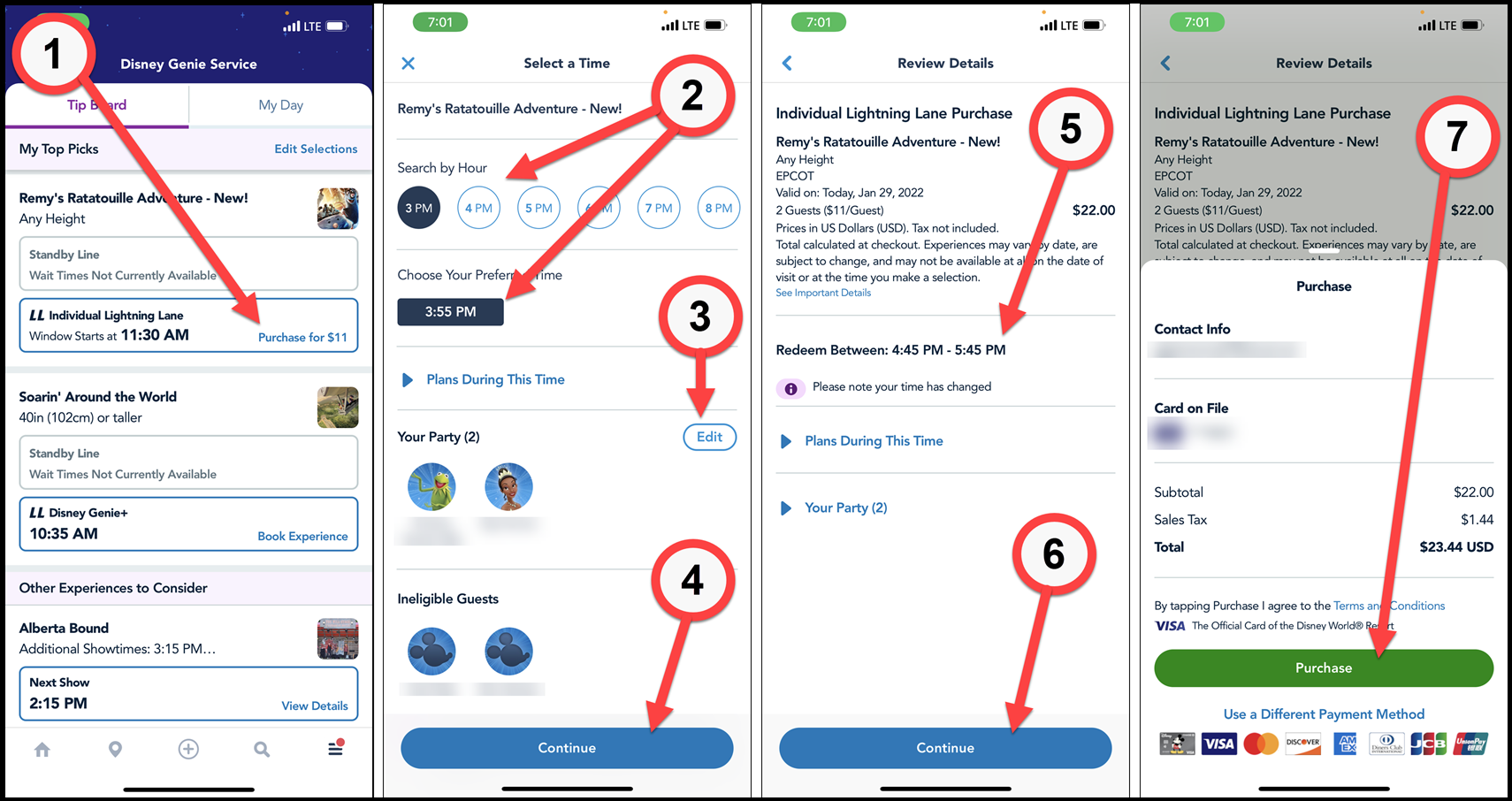 If your park reservation is not for EPCOT, you'll only see times later than 2 p.m. when booking an Individual Lightning Lane.
Using the Virtual Queue to Get A Boarding Group
The process for getting a Boarding Group is very similar to previous Virtual Queues that were in use for Rise of the Resistance and Remy's Ratatouille Adventure. There are a few changes and tweaks, but if you've used those before you won't find much that's different in the booking process.
Boarding Group Rules
Rule #1: Boarding Groups are only available to book TWICE per day for riding during regular park hours.
The first chance for booking is at 7:00 a.m., and you can book from anywhere.
The second chance is at 1:00 p.m., but you must be inside of EPCOT to be eligible. (This is according to Disney's information: in practice we've found that you only have to have entered the park earlier in the day to be eligible).
Rule #2: You can only get one Boarding Group per day during regular park hours. If you got a group at 7 a.m., you can't get another at 1 p.m.
Note: It's technically possible to get a Boarding Group during regular park hours if you don't have a Park Pass for EPCOT. Your challenge is that availability from the 1 p.m. drop has to last long enough for you to tap in at 2 p.m. when Park Hopping starts. Two months in, we do see that happening with some frequency, but it's far from a guarantee.
Rule #3: If you are eligible for EPCOT's Extended Evening Hours, there is a third chance to book a boarding group at 6 p.m. on EEH days. You can book at 6 p.m. even if you've already scored a boarding group earlier in the day. For these EEH groups, everyone who will be in your party needs to be eligible for EEH.
Getting a Group
From MDE, click the hamburger button on the bottom right, then select Virtual Queues. On the next screen, select "Join Virtual Queue".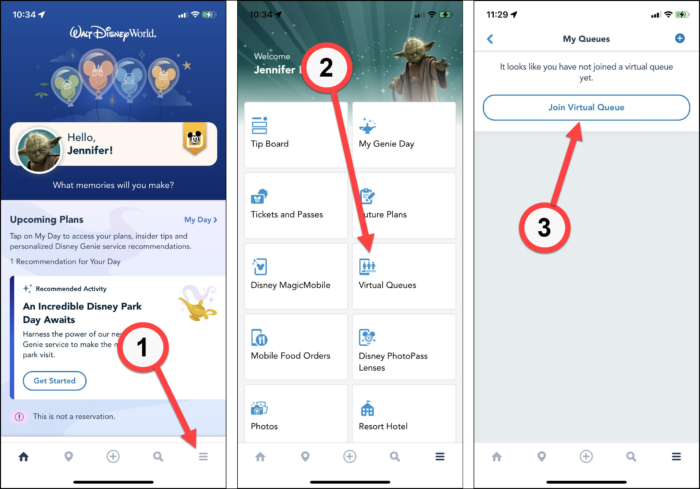 If you aren't automatically directed to the queue for Guardians of the Galaxy: Cosmic Rewind, select it from the available options. Even if the queue isn't available yet, you'll be able to confirm your party so that you'll be ready to join the queue when it becomes active.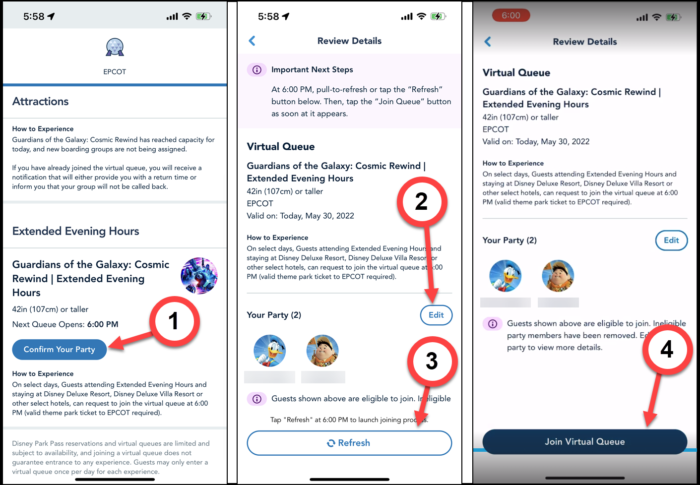 Very important: if it isn't time for the queue to open yet, you'll see a Refresh button at the bottom and not a button to Join Virtual Queue.  This will not automatically change when the queue opens: you MUST refresh. So just a second or two before 7 a.m. or 1 p.m. (or 6 p.m.), begin clicking the refresh button repeatedly and be ready to mash that button as soon as it comes back lit up. You can also refresh by pulling down hard on the top of the screen, but the advantage of using the button is that you can be mindless: no matter whether it says "Refresh" or "Join Virtual Queue" when it becomes active again, you're going to want to push it as fast as possible!
With luck, you will be rewarded with a screen that looks like the one below: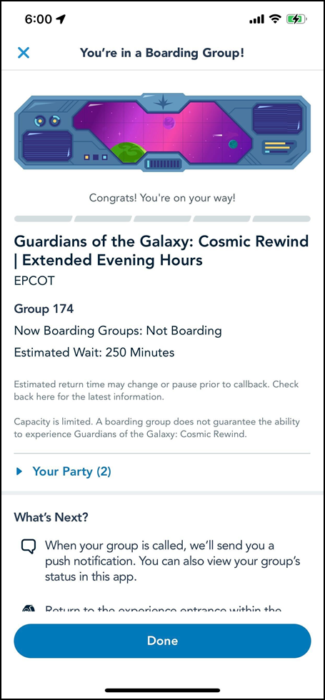 There are varying opinions about whether it's better to use the park WiFi or cell service, but one super-important tip is that you can have multiple people trying for a group at the same time. If you're touring with 4 people, having all four try for a boarding group increases the probability that someone will get one so that everyone can ride.
Don't forget!! Assuming you do get a boarding group, check the time periodically throughout the day.  It's very common for the time to move forward or back from the original estimate. Having a spot in the queue is not the same thing as having a reservation – the time can change in either direction, and if your boarding group number is very high you are not even guaranteed that it will get called.
Using DAS With A Boarding Group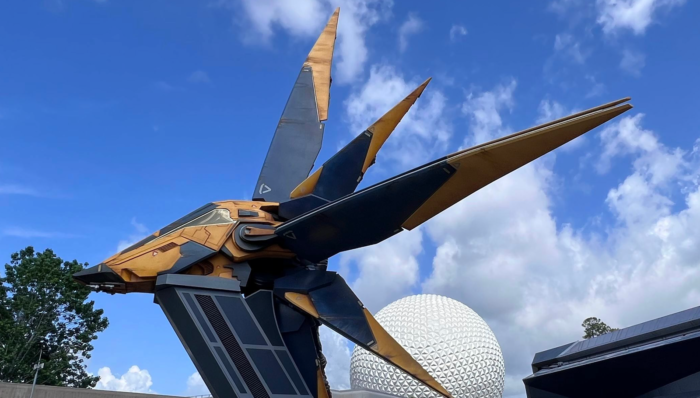 If someone in your party is eligible to use the Disability Access System (DAS), you will still have to join the Virtual Queue and get a Boarding Group using the regular procedure.  However, Boarding Passes are treated like DAS start times — you can show up any time after your group has been called.
Frequently Asked Questions
Can you get a Boarding Group and an ILL for Cosmic Rewind in the same day?
Yes. You can also get a Boarding Group during regular park hours and one during Extended Evening Hours (if eligible).
Can you get a Boarding Group for TRON and Cosmic Rewind in the same day?
Possibly. It will depend on crowd levels and a few other things. See How to Get a Boarding Group for Tron and Cosmic Rewind in the Same Day for more details.
I got a Boarding Group, but I need to add or remove someone.
See the Guest Services team at the blue umbrellas and explain your situation.  They will usually be able to help out.
Does everyone need to be in the park at 1 p.m. to be eligible for the Virtual Queue?
According to Disney, you need to be in the park at 1 p.m. to be eligible and yes, everyone who wants to ride needs to be there. However, our test team has found that you do not need to actually be in the park to be eligible for the second queue as long as everyone in your group who wants to ride has entered EPCOT before you try to join. If you were in EPCOT earlier and left for lunch, you don't need to get back by 1 p.m.
How long will Cosmic Rewind use a Virtual Queue?
We're not psychic, and we can't give a definitive answer. Rise of the Resistance used a Virtual Queue for over two years, but it was … an interesting two years. Remy's Ratatouille Adventure used a Virtual Queue for only a little over two months, and Web Slingers at Disneyland used its Virtual Queue for a little over five months. We're on record as guessing that Cosmic Rewind's Virtual Queue will last for 4-6 weeks, but we could easily be wrong.
Do I need to buy Genie+ to make an ILL reservation?
No.
What time can I begin making Genie+ and Individual Lightning Lane reservations?
All guests who have purchased Genie+ can begin making Lightning Lane reservations at 7 a.m. for their park day. Onsite guests of Disney hotels can also begin making Individual Lightning Lane reservations at this time. At park opening, all guests are able to make Individual Lightning Lane reservations for that park's attractions.
Can kids or teens purchase Individual Lightning Lanes?
Yes, minors who are old enough to have their own MDE accounts can buy ILLs, but they'll need to enter a payment method at check out instead of using stored payment information. See more details here.
Is it easier to get a Boarding Group or an ILL?
We don't have enough data yet to answer this question, but Boarding Groups are free and ILL's cost money.  That typically means that Boarding Groups fill up before ILL reservations run out for attractions that are using both systems. That said, if you're not staying at a Disney Resort hotel you should definitely expect that it will be easier to get a Boarding Group during the ride's early days, because the Individual Lightning Lane reservations are likely to sell out before the park opens.  Need help booking an onsite stay so you can have a shot at the ILL?  Our friends at TouringPlans Travel can hook you up.
July 20 update – so far we're seeing that Boarding Groups are going very fast at 7 a.m., but are available for anywhere from 15-45 minutes or later at the 1 p.m. drop.  ILLs are often available until midday. This isn't a guarantee of what will happen on your day in the park, but it's a reasonable expectation.
Are you excited to ride Guardians of the Galaxy: Cosmic Rewind?  Which team are you on, Virtual Queue or ILL? What's your bet on how long the Virtual Queue will be in place?  Let us know in the comments!