REVIEW – Big River Grille and Brewing Works Is Back With Pub Favorites and Fresh Brewed Beers
The only microbrewery at Walt Disney World is back! Big River Grille and Brewing Works is welcoming back guests for the first time since last year's closure of Walt Disney World. This family-friendly microbrewery is the only one of its kind at Disney, located at Disney's Boardwalk. For many Disney fans it's a hidden gem because of its classic and relatively affordable food, and its fresh beer brewed on site. I visited a few days ago for a lovely lunch; here's why I am so glad Big River is back.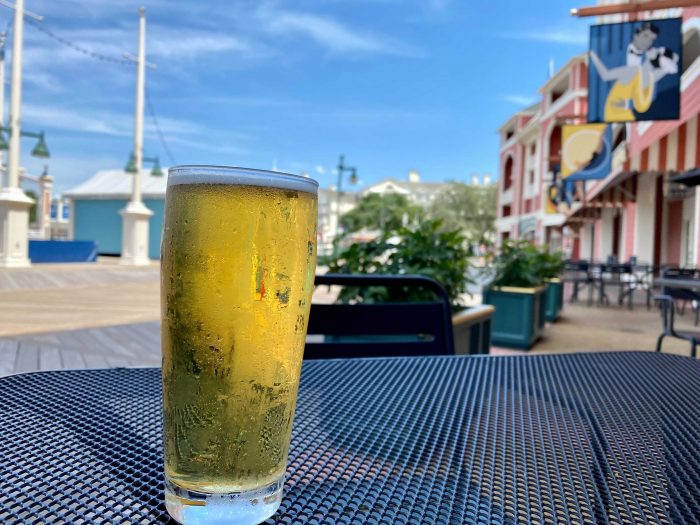 I need to start off my declaring my own biases. I have enjoyed many visits to Big River over the years. I worked in the Boardwalk resorts area and would often stop by after work for a cold draft beer and a salad or burger. So I have fond memories of time spent here. I also absolutely adore the music of the Boardwalk Resort and I love to sit outside to be serenaded by 1930s and 1940s jazz. So, during this week's lunch at Big River, I felt some nostalgia for returning to this spot I've enjoyed many times in the past.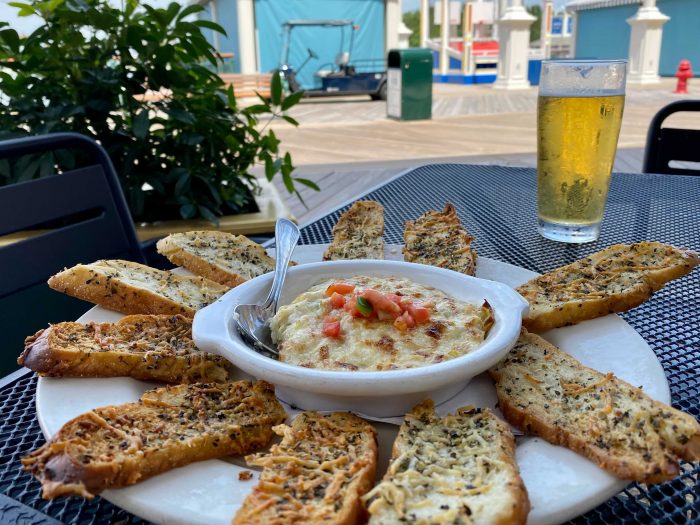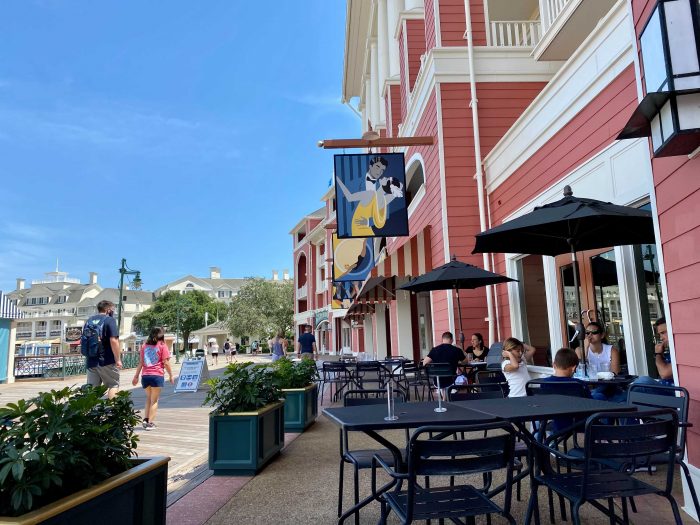 Seating took a while since I specifically requested an outdoor table. I'm waiting for my vaccine to be fully effective before I feel okay about dining indoors. At this location, as long as the weather is pleasant, I would still choose outdoor seating. The interior is decent enough, but it's very basic, no different than your own neighborhood American pub or sports bar, aside from being able to see the brewing equipment. The outside dining allows you to be enveloped by the beauty and charm of the Boardwalk resort area as Friendship Boats travel along Crescent Lake and guests pass by on the wood walkway.
Here's what I ordered for lunch at Big River Grille and Brewing Works
Southern Flyer Light Lager – $6.99
Asiago, Artichoke, and Crab Dip – $13.99
Greenhouse Salad with Salmon – $17.49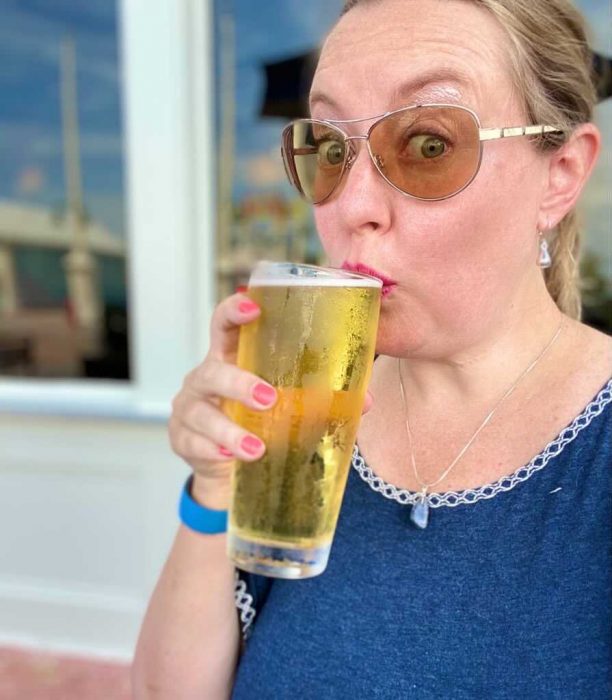 I tend to prefer wine over beer, but I absolutely will grab one of the beers brewed here whenever I visit Big River. They brew a selection of craft beer in-house, and offer a variety to fit every taste. The Southern Flyer Lager is the lightest beer in color and alcohol. It is a great lunch beer because it is crisp and smooth, and won't derail your day. I also enjoy the fact that it is a low-carb lager, yet it is very flavorful, with a slightly sweet edge. It's also a nice touch that the beer glass is chilled. Despite being outside, the beer stayed pretty cool throughout my entire meal.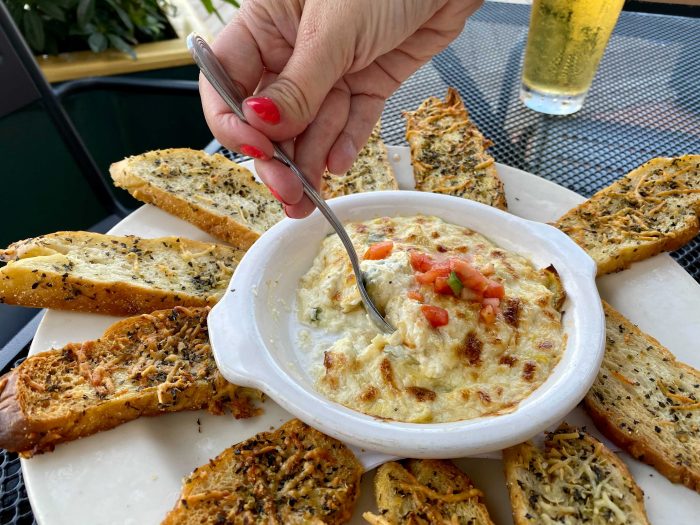 Paired perfectly with the Southern Lager, the Asiago, Artichoke, and Crab Dip is a new favorite indulgence of mine. Think of this dip as crab au gratin marrying a classic artichoke dip. The creaminess was decadent, and the bright, tangy flavor of the artichoke breaks up the creaminess, adding balance. The star is the crab, mixed in throughout, I detected the sweet crab in every bite. My one complaint is the Dip to Toasted Crostini ratio is off balance. Some of the crostini was a little overcooked, but with cheese and Italian seasoning, it added even more flavor to each bite with the dip.
With a heavy starter, I wanted to balance out my meal and went with the Greenhouse Salad, and added Salmon. Mixed greens were topped with Roma Tomatoes, Carrots, Cheddar Cheese, Sunflower Kernels, and Croutons. The piece of salmon was cooked perfectly! Bravo, Big River! The portion was a tad on the small side, but it was only $5.50 more to add the Salmon to the Greenhouse Salad. Next time I will ask for the cheese on the side, it was a little heavy for my liking. The amount of cheese and croutons somewhat negated the healthful value of the greens, tomatoes, and carrots.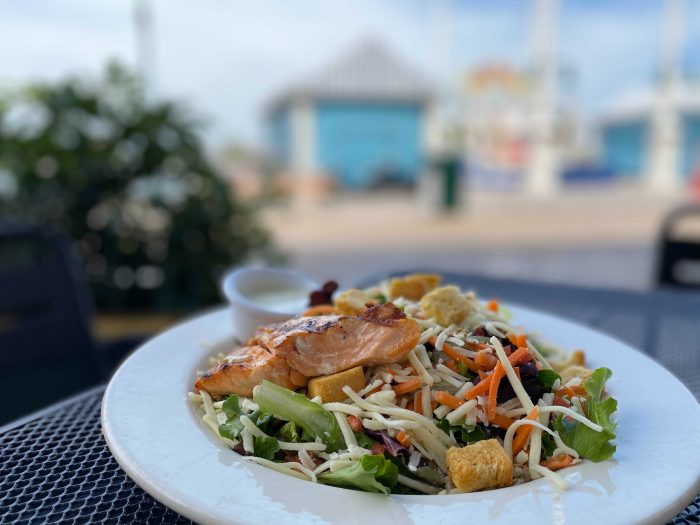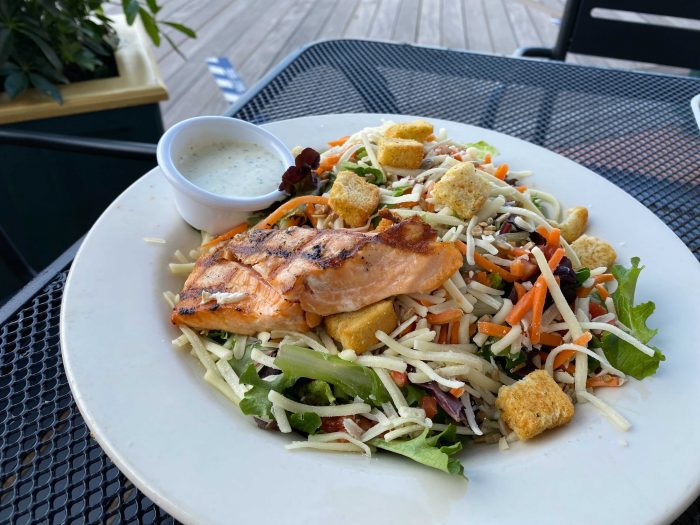 Other highlights of the Big River menu are hearty sandwiches and burgers (priced around $15.00) and entrees like Cajun Pasta, Baby Back Ribs, and Fish Tacos (average around $22.00). Kids meals are $8.49 and are very generous with a drink, a side, and a dessert. The food at Big River is priced about 10 – 15% less than similar meals at Disney-owned restaurants. In addition to slightly lower prices, there is also a 10% discount for Disney Vacation Club Members and Annual Passholders. Big River Grille and Brewing Works is operated by a third party company, SPB Hospitality. This is one of the reasons the cost of food and drink is not as expensive as similar Disney table service restaurants.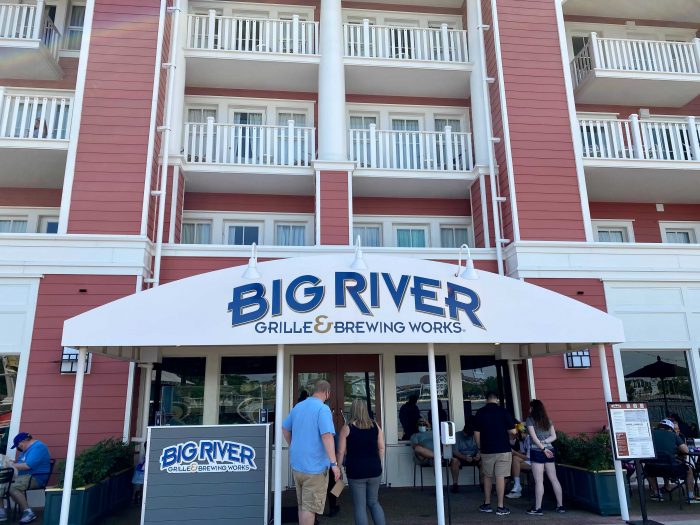 Overall, if you opt to dine at Big River it won't be the most memorable meal of your Walt Disney World vacation. We have ratings and rankings for every Walt Disney World restaurant. From over 500,000 surveys in the last few years, our subscribers give Big River a 72% thumbs up rating, and it is only ranked #95 out of 105. I personally feel it could be ranked higher, but see why most table service locations at Disney World outshine it.
It is a strong fit for any finicky family or friends traveling with you. Walt Disney World offers a diverse array of cuisines. I will eat practically anything and so I do typically go for more diverse options, but still it is nice to know there is a relatively affordable spot to grab lunch or dinner within walking distance of EPCOT and Disney's Hollywood Studios, and accessible via the Friendship Boats. Plus, it's usually pretty easy to get last minute reservations through Open Table.
It's great to have Big River back. There's still a significant amount of restaurants that have not reopened at Walt Disney World. Although it took a while at the start, service during my meal was friendly and helpful. And being back on the Boardwalk sipping a fresh, cold beer is hard to beat.
Have you ever dined at Big River Grille and Brewing Works? How was your experience? Let us know in the comments!