REVIEW – Chefs de France is Disappointing
It's a restaurant at Walt Disney World that some people have on their Disney bucket list. Les Chefs de France is an iconic table service restaurant at the France Pavilion of EPCOT. Chrissy and her family headed to this classic restaurant for an early dinner earlier this week, and sadly they were let down.
The atmosphere of Chefs de France is an idolized French restaurant setting that isn't fully authentic, but generally satisfies any craving for a French affair. One drawback of this venue in the current times we're in, is the lack of any outdoor dining. However, the dining room itself is very airy with lots of natural light. Once seated, the server brought out a small baguette and a large pat of butter. The good news is, they will keep bringing it throughout your meal upon request.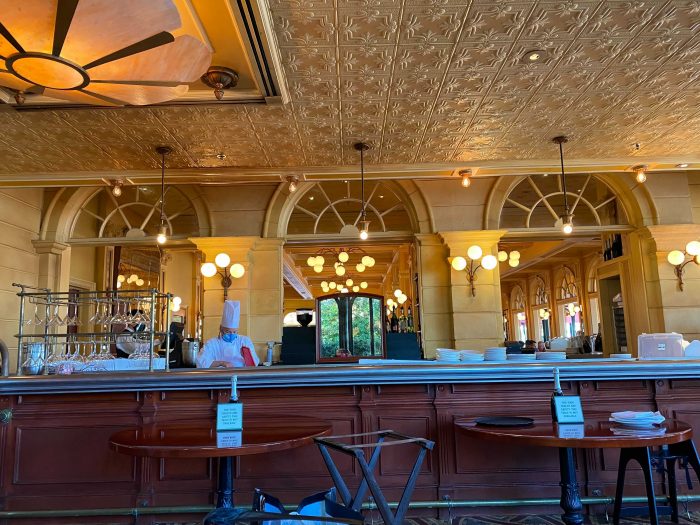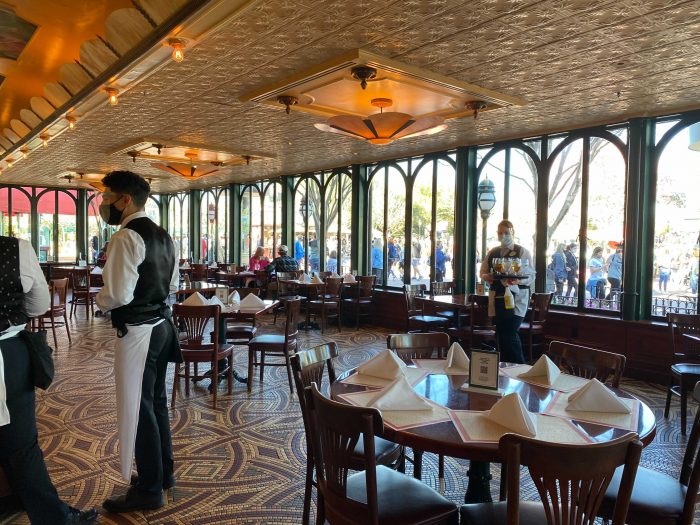 What Chrissy and her party ordered:
Soupe a l'Oignon Gratinee – French Onion Soup topped with Gruyere Cheese – $9.99
Plateau de Fromages de France Charcuteries – Imported Cheese Board with Raisin and Walnut Bread – $15.99
Boeuf Bourguignon – Braised Beef in Cabernet with Baby Onions and Carrots, With Linguine Pasta – $29.99
Vegetable Lasagna – Vegetarian option, off menu – $20.99
To start, the French Onion soup had a wonderful, traditional covering of Gruyere Cheese that was delicious and well broiled, but that's where the good news ends. The soup was warm, but was seconds away from being lukewarm. (We think soup and baths should always be steaming hot!) Also, it needed salt. Chrissy, and our team, has tried lots of Disney World food, and we rarely, if ever, complain about lack of saltiness.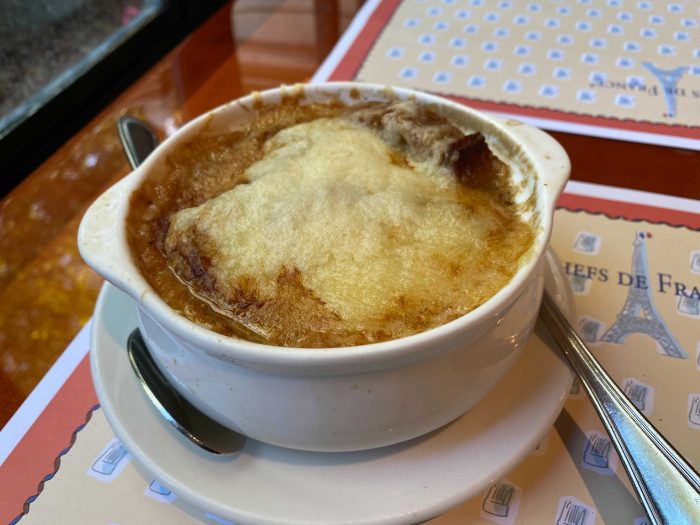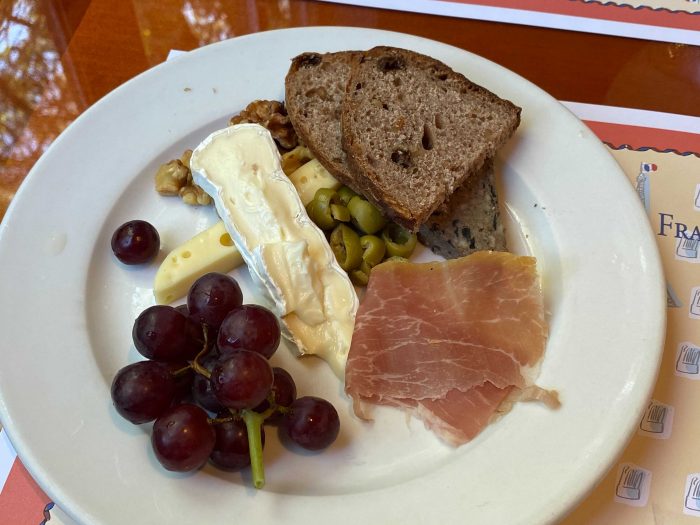 The charcuterie plate was fine, but nothing special. The presentation was far from spectacular and was a little sloppy. There was a decent Swiss cheese and a basic Brie. The walnut bread was good, but nothing spectacular. The good news is the cheese and bites were so great with the baguette! The difference in the prosciutto here and compared to Via Napoli is shocking. It wasn't as fresh as Via Napoli, at all. The walnuts were just walnuts chucked on a plate. Definitely not worth the $16. We could have made something better with fixings from the Publix deli counter. Spend the extra money and go to Via Napoli if you're looking for a good charcuterie plate in EPCOT.
The Vegetable Lasagna  is not listed on the menu. Chrissy's party asked for a vegetarian option and this is what the server recommended. It was the prettiest of all of the dishes, but it was barely warm and not very good. It tasted fine, but bland. There was nothing impressive about the dish other than the presentation.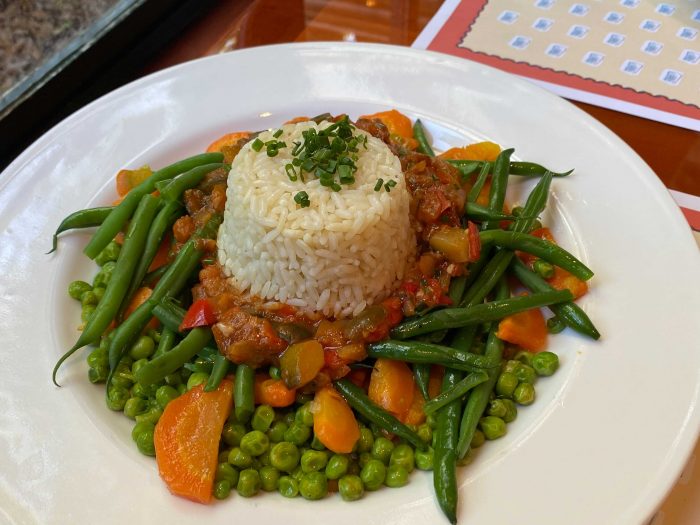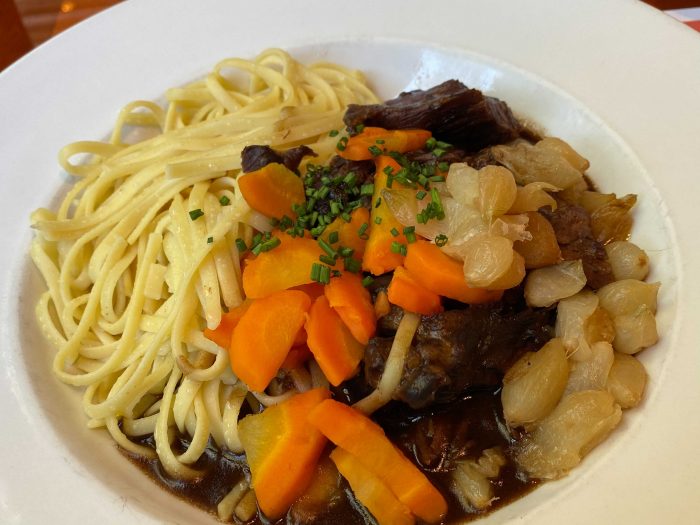 Beef Bourguignon is a standard dish that you should probably order if you see it on any French restaurant's menu. This was the best tasting item of the meal. Yet, it too was just warm and not worth the reservation and price of $29.99. The pot roast at 50's Prime Time Cafe is just as good and cheaper by $5.00.
We have surveys from our 500,00 subscribers and currently Chef de France has a 90% thumbs up rating and is ranked #27 out of 105 table service restaurants at Walt Disney World. Here's hoping things improve and we can provide a more positive review down the road.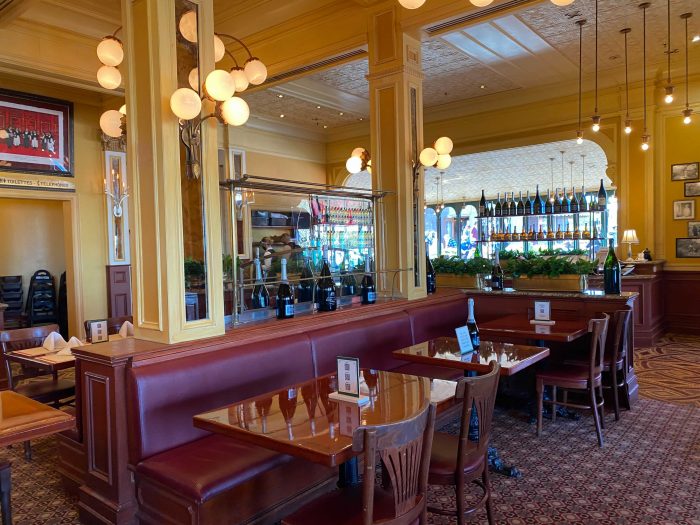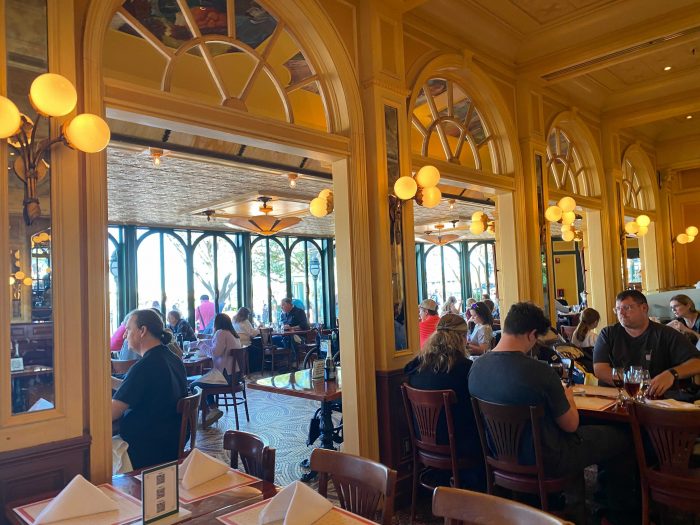 Have you dined at Les Chefs de France? What did you think?