REVIEW – Nomad Lounge Currently Has a Limited Menu and Limited Seating, But Unlimited Adventure
I have a crush on Nomad Lounge at Disney's Animal Kingdom. It encapsulates everything I love about Animal Kingdom – the beauty of our world, the spirit of adventure, the fantastic flavors around the world. Ever since Nomad Lounge opened, it does not feel like a complete visit to Animal Kingdom if I have not stopped in for a round. But, I am not alone in my love for this beautiful, detailed lounge. And even though some things have changed in the interest of safety, it is still a place where adventure can be savored.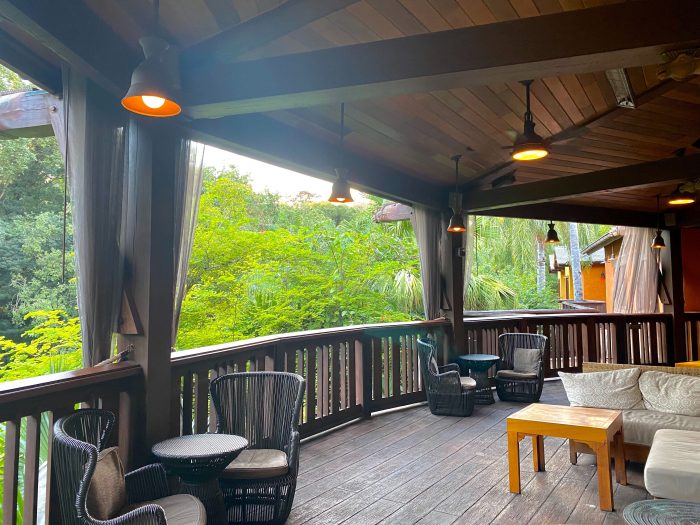 Nomad Lounge is part of the same building as Tiffins Restaurant. Together they are the signature dining spot in Disney's Animal Kingdom. Tiffins is named such after the special containers taken on safaris and other excursions to store food and refreshments. Our readers have given Nomad Lounge a 96% thumbs up rating and it is has the number one spot out of 59 lounges at Walt Disney World.
Nomad Lounge has a gorgeous interior lounge area and bar. Hanging overhead are banners and flags with drawings and art from Disney Imagineers inspired by their world travels. There are also quotes and questions meant to inspire conversation about travel. There is seating at the bar, though it is very limited right now, and lots of lounge-style seating, which is now more spread out.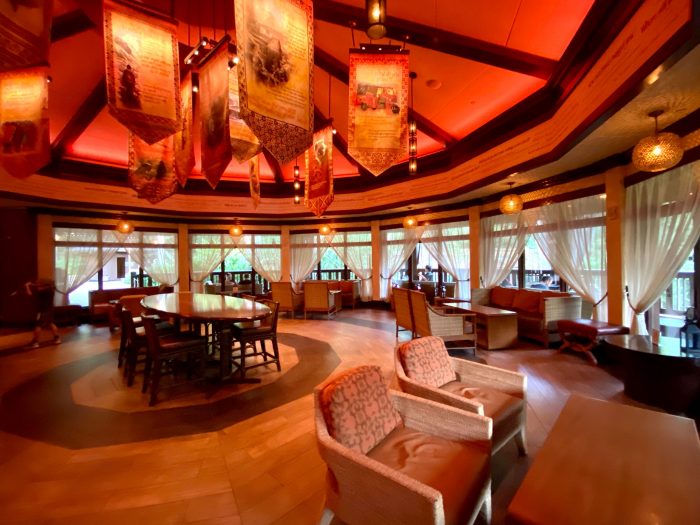 My preference is to sit outside. The curving porch overlooks the Discovery River and the bridge that leads into Pandora. It feels like a luxurious resort at an exotic island. You can absolutely tell you're inside Animal Kingdom, yet it feels like a destination that belongs in some other posh part of the world. In the summer it can get a little hot, but when the weather is more tolerable it can be blissful as you sip on a craft cocktail, enjoy on a mocktail, or nibble on a tapas-style appetizer.
With COVID-19 precautions in place, you will need to check in at a podium outside to see about available seating. To go orders can be placed, but you have to wait until their is space inside to order at the bar. The Cast Member will check availability for a table or to go. If you are wanting a table the Cast Member will take your name and phone number and you will be texted when a table is ready.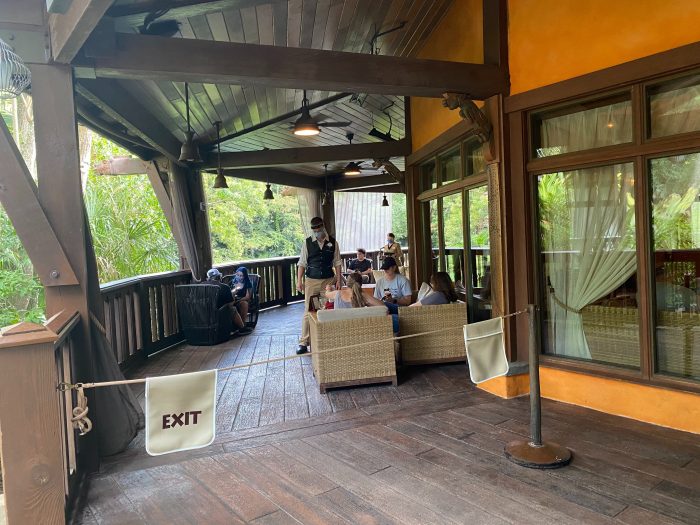 My husband, toddler, and I arrived around park closing time and were able to be seated immediately. We enjoyed the cushy lounge seating outside and loved being able to unwind here after spending the afternoon toddling around the park. The Cast Members did not rush us even though park closing time was approaching.
One drawback of the menu at Nomad Lounge is the pricing. The cocktails are handcrafted and run $1-$3 more than the average cocktail at Walt Disney World, but the quality is there. Another issue is the food portions. The menu at Nomad Lounge is only small plates, and they are true to that name. We ordered the Impossible Sliders with Yuca Fries, and the Tiffins Bread Service. We also enjoyed one round of cocktails. My husband's go-to is the Tempting Tigress with Russell's Reserve 10yr Bourbon, St. Elizabeth Allspice Dram, Tamarind Syrup, and Lime Juice. I decided to try something different, the Dalang's Delight with Starr African Rum, Batavia-Arrack van Oosten, Van der Hum Tangerine Liqueur, Mountain Berry Tea, Simple Syrup, and Lemon Juice. This tea based cocktail was not my cup of tea, but if you prefer a cocktail that isn't sweet or heavy, this is a decent choice.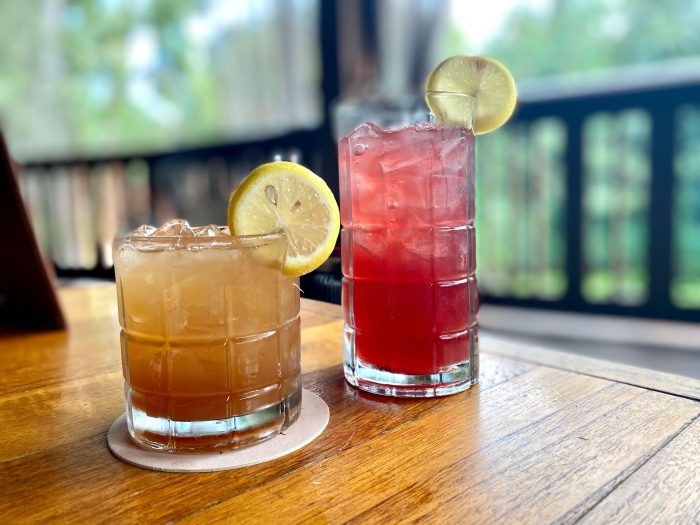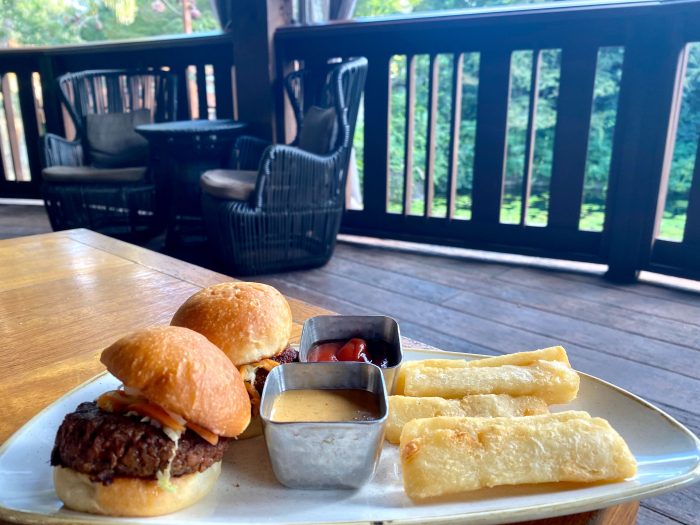 I love Impossible plant-based options and the Impossible Sliders had great flavor. We had the Chipotle Aioli held, but there was a nice light vegetable slaw on top. The yuca fries were hearty, starchy, and cooked just right. I love yuca fries, as they have more substance that potato fries. Sadly, for $15.00 there were only two small sliders and five yuca fries (which are about the size of steak fries). It would have felt like more of a value at $13.00. Still, I would order these again thanks to the flavor and quality.
The Tiffins Bread Service is a nice way to have a nibble and a variety of flavors to pair with your cocktail, mocktail, wine, or beer. However, if you are not accustomed to Eastern flavors, primarily from India, you may not enjoy this dish. It is a good way to get introduced to such flavors, if you are interested. There were three styles of bread including a tart pomegranate focaccia and paratha, a crispy Indian bread. I believe the third bread was thepla; it was layered and a little chewy with some spice. There were three dips: red pepper hummus, spiced coriander yogurt, and ginger-pear chutney. The pomegranate focaccia paired with the chutney was sweet, like an earthy dessert. For $12.00 it is a fair value considering it can be shared among 2-3 people easily.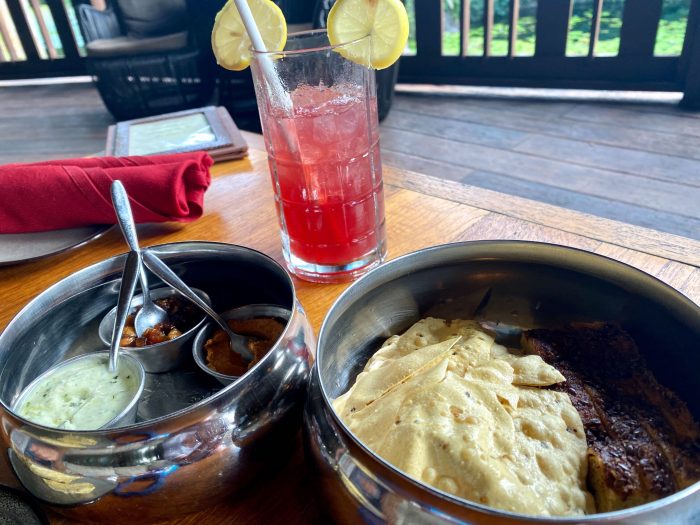 The menu is a little limited for the time being, but the quality for which Nomad Lounge is known is there. Visiting the parks right now can take a little extra energy when remembering to keep your distance, wear your mask, and stand in extended queues (that do move pretty quickly), so having a luxurious place to take a break and have a nice nosh is truly appreciated. Nomad Lounge is the perfect vacation within a Walt Disney World vacation.
Have you been to Nomad Lounge? Do you have a favorite item on the menu?