REVIEW – Sunshine Seasons Is a Quick Service Dining Option that Shines Bright at EPCOT
EPCOT may be considered the foodies park, and for good reason, but sometimes you may just want something inspired by American cuisine rather than something international. Sunshine Seasons is currently the only quick service dining option inside Future World. The good news is the food is pretty great. The other good news is it offers convenient mobile ordering and an interesting setting.
Our team visited EPCOT this week and I was curious about the state of things at Sunshine Seasons. So with a suggestion from me and a Twitter poll to our followers, our team visited this quick service location. The menu at Sunshine Seasons is one of the largest of any quick service location on Disney property, though it is slightly reduced right now. The focus is primarily on American modern classic fare, but there are a few Latin and Greek influences too.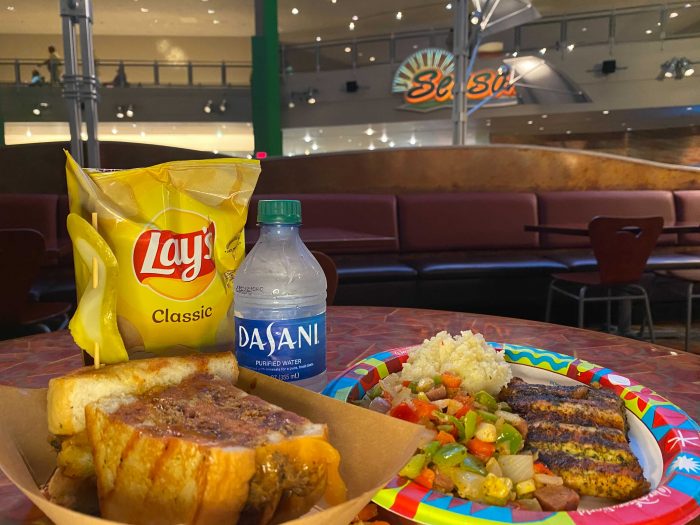 Our Twitter followers selected two entrees for our team to (hopefully) enjoy:
Oak-grilled Salmon – Served with Cheese Grits and Andouille Corn Succotash, $12.99
The Land Crusher – Pulled Pork and Cheddar piled high on Texas Toast served with Chips, $10.99
Good job Twitter followers! Both entrees were enjoyed by our team. The Land Crusher won out. It is a robust sandwich that could feed two people, but is perfectly acceptable if consumed by one person. It is delicious. You might get a few curious looks when eating this large, messy sandwich, but it is worth it.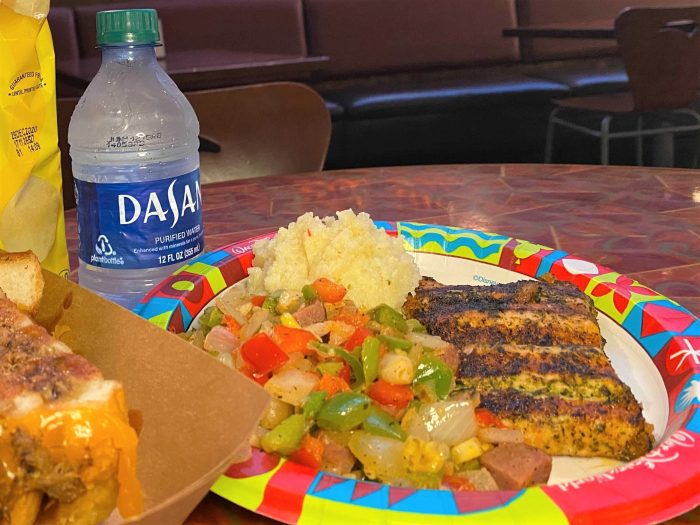 The Oak-grilled Salmon is a great option for those that prefer something healthful, but satisfying. Salmon at Walt Disney World does have a sad tendency to be overcooked, and such was the case with this dish. Still, the cheese grits and Andouille succotash (corn and lima beans, peppers, and Andouille sausage) were two really great sides that helped elevate the plate.
One of the helpful resources on our site and our Lines app is the listings for every Walt Disney World dining option. Thanks to our readers we are able to include ratings and rankings for every restaurant. Our readers giving Sunshine Seasons a 90% thumbs up rating, and rank it at number 27 out of 108 quick service options at Walt Disney World. This makes it one of the highest rated options and a great choice.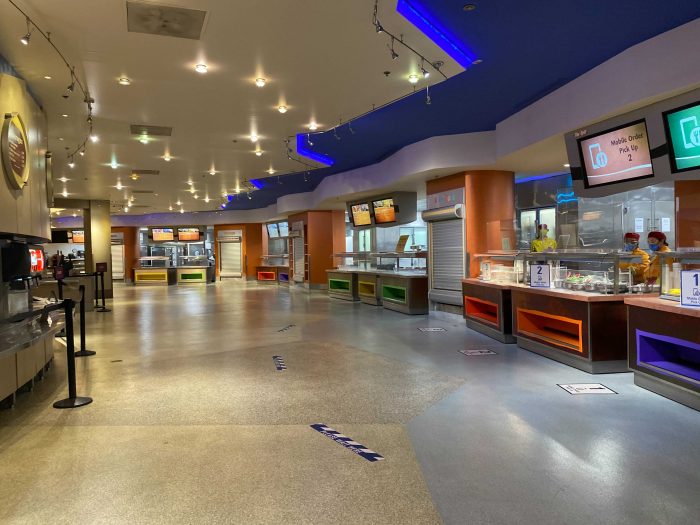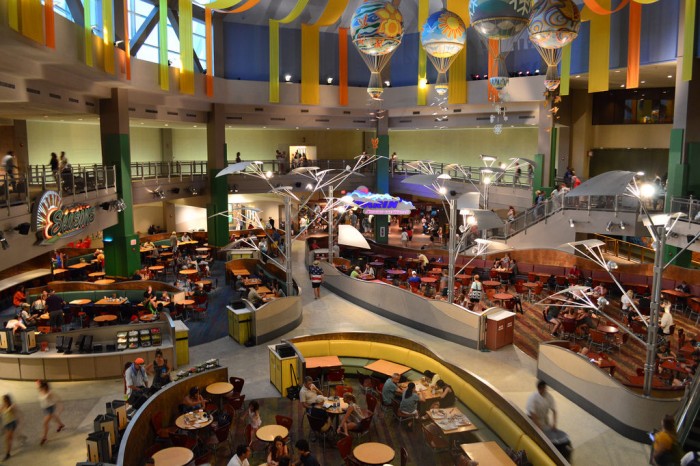 Mobile ordering is available at this location, which is one of only two quick service locations at EPCOT with it available. Mobile ordering is really convenient especially when you place your order while in line for a ride, and then check-in to pick up you're order when you're done with the ride. Sunshine Seasons resembles a modern mall food court, but the dining area is in beneath the atrium of The Land pavilion with views of Living with the Land boat ride and Soarin' creating an exciting atmosphere. There are four sections of seating, each with tables that resemble one of the four seasons (not the band, the actual seasons).
Have you ever dined at Sunshine Seasons? Where's your favorite place to dine at EPCOT?