REVIEW: What It's Like Using MagicBand+ at Disneyland
MagicBand+ officially launces at Disneyland Resort on October 26, 2022, but is now available for Magic Keyholders, cast members, and Disney Vacation Club members. For those unfamiliar, MagicBands are wearable pieces of tech that hold your park ticket/Magic Key, and give you access to Lightning Lanes if you've purchased the Genie+ add on. MagicBand+ also has interactive elements, such as access to a Star Wars: Batuu Bounty Hunters game in Star Wars: Galaxy's Edge, and light and haptic feedback during certain shows at Disneyland and Disney California Adventure.
MagicBands have been available for a number of years at Walt Disney World in Florida. MagicBands in WDW can be used to access your hotel and store payment information for food and merchandise purchases, but those features will launch at Disneyland Resort at a later date. It's also worth mentioning that the previous generations MagicBands can not be used at Disneyland Resort. Only the current MagicBand+ can be used.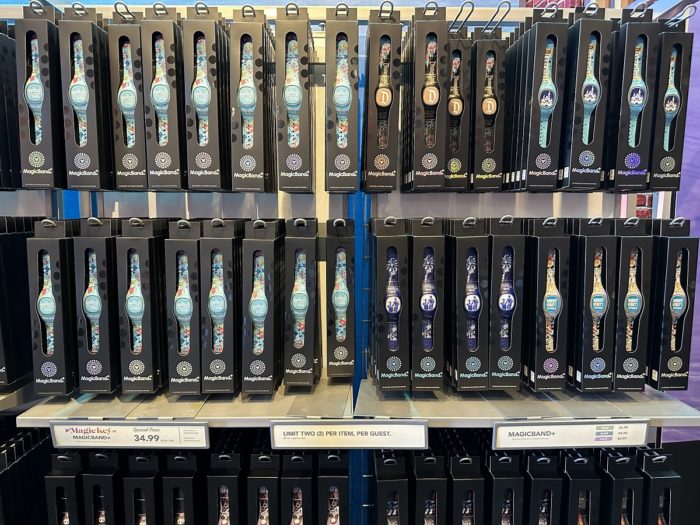 There's quite a few MagicBand+ designs available at launch, with prices ranging from $34.99 to $54.99. Currently MagicBand+ is only sold in three locations, Starcade in Disneyland's Tomorrowland, Super Store in Disney California Adventure's Hollywood Land, and the building adjacent to Star Wars Trading Post in Downtown Disney. MagicBand+ will be sold in most stores in both parks and Downtown Disney starting on October 26.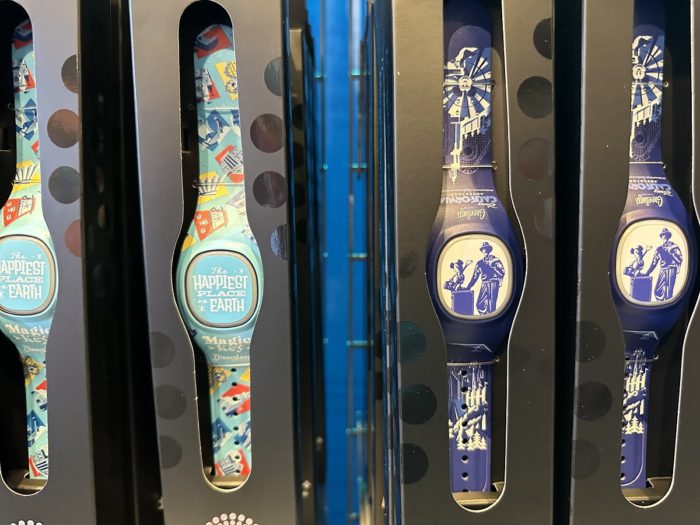 Here's a couple designs that are specific to Disneyland.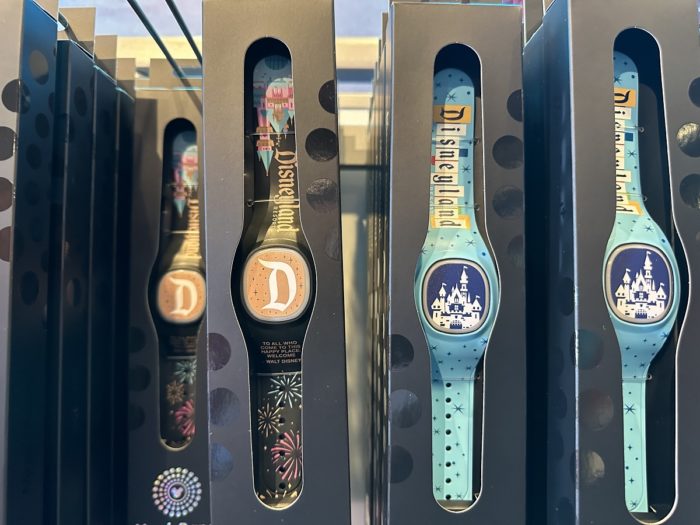 And a couple more.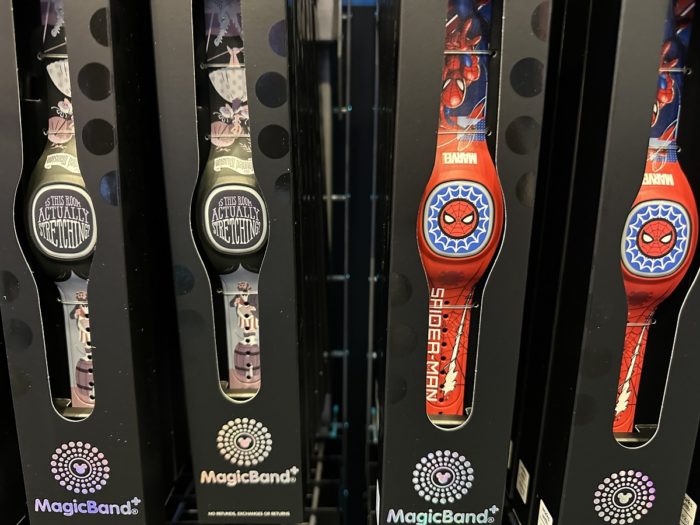 Haunted Mansion, Marvel, Disney Princess, Nightmare Before Christmas, and many other designs are also available.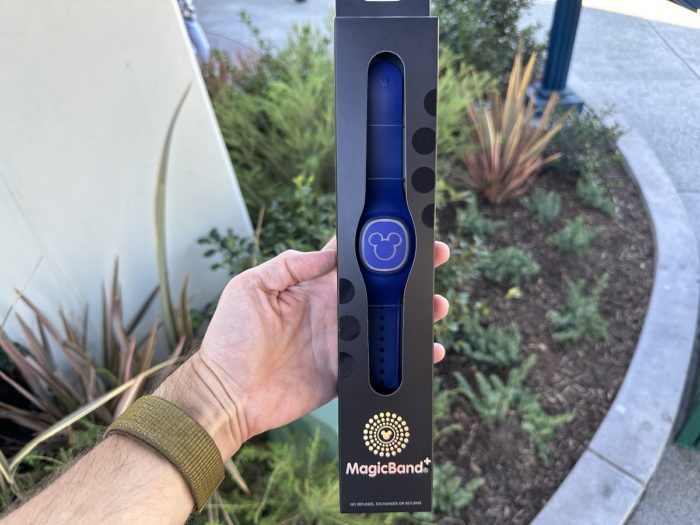 I bought the standard navy blue design because it was the cheapest at $34.99. My Magic Key discount brought it down another $7.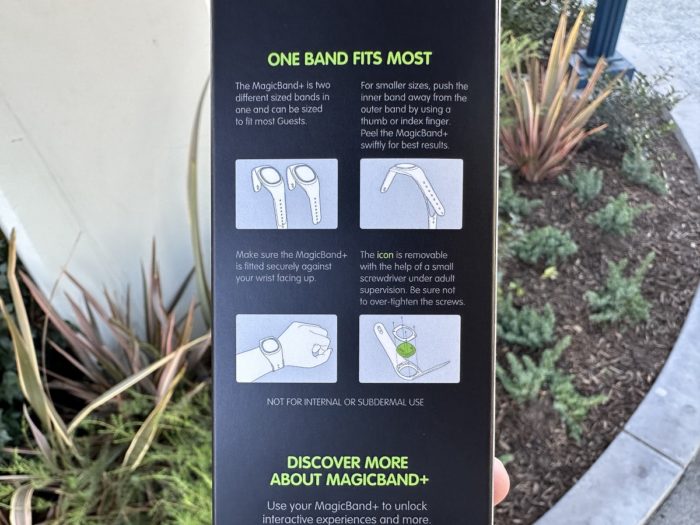 Here's the back of the box. MagicBand+ is easily adjustable for smaller hands without the use of tools.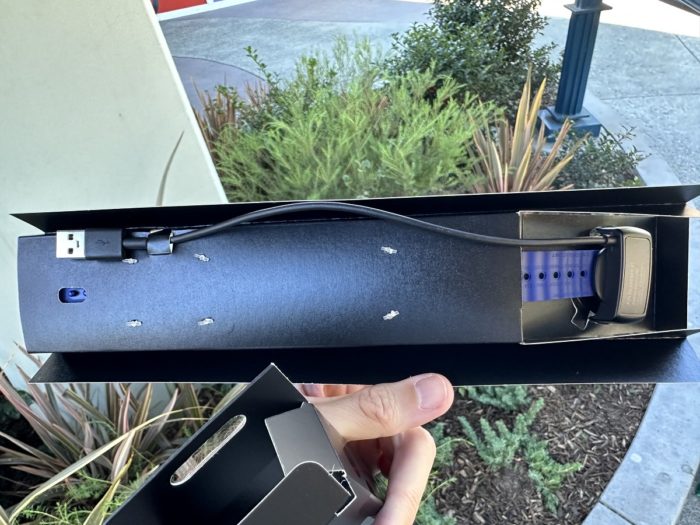 Also included is a proprietary USB charger for the device. Mine thankfully came out of the box fully charged. I'll jump ahead a little here, my MagicBand+ ended up lasting around 6 hours with heavy use while playing the Batuu Bounty Hunters game. The included USB charger is USB type A, which is unfortunate considering so many phones, chargers, and other devices these days have USB type C charging cables.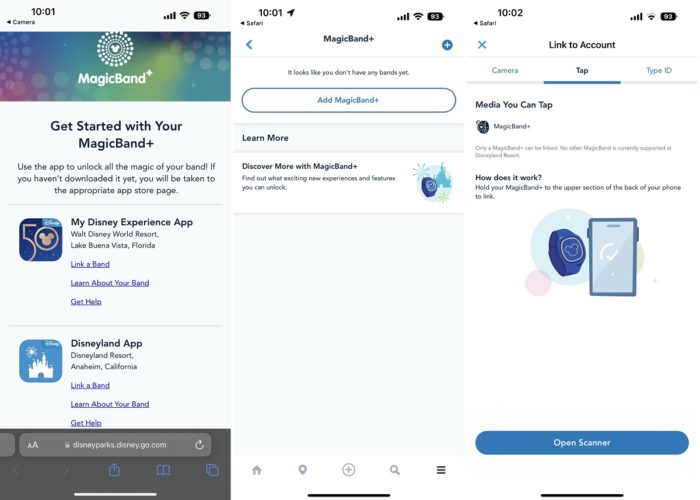 Syncing the MagicBand+ to my Disneyland ticket and account was easy and took less than 5 minutes. It's started by scanning the QR code on the back of the MagicBand+, which took me to a webpage and a link to launch the Disneyland Resort app. From there a series of screens walked me through the process.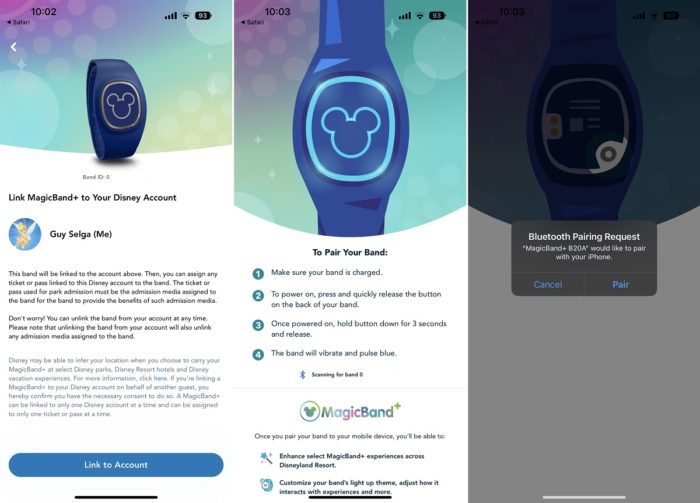 More screens showing the pairing process.

After syncing and pairing I was immediately informed an update needed to be applied to the band. This was also quick and painless.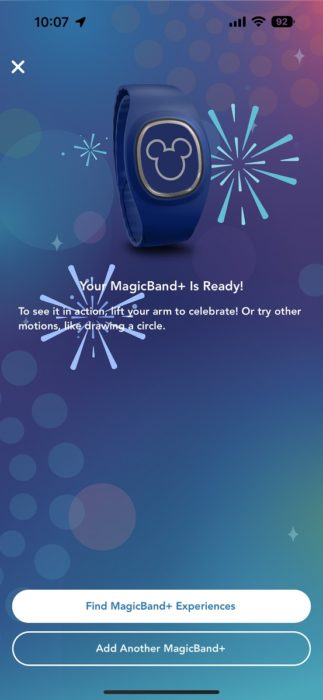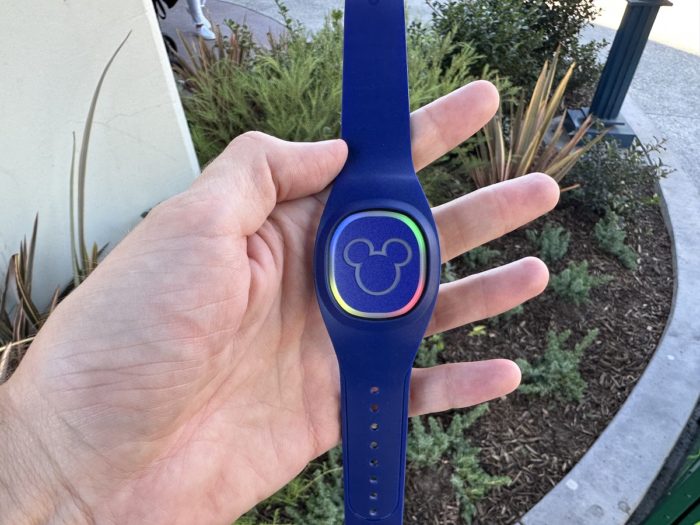 My MagicBand+ was paired and the band gave me a celebratory rainbow lightshow.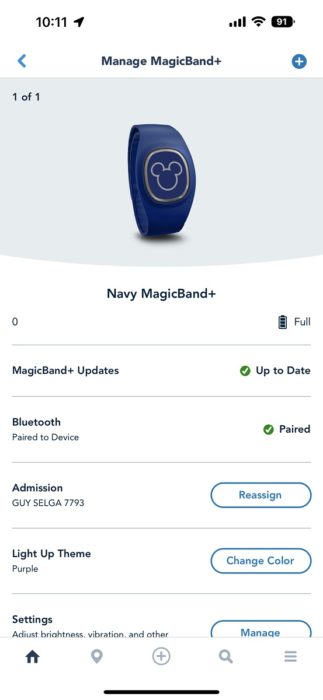 A screen in the Disneyland app shows battery level, whose account the band is tied to, and other information and settings.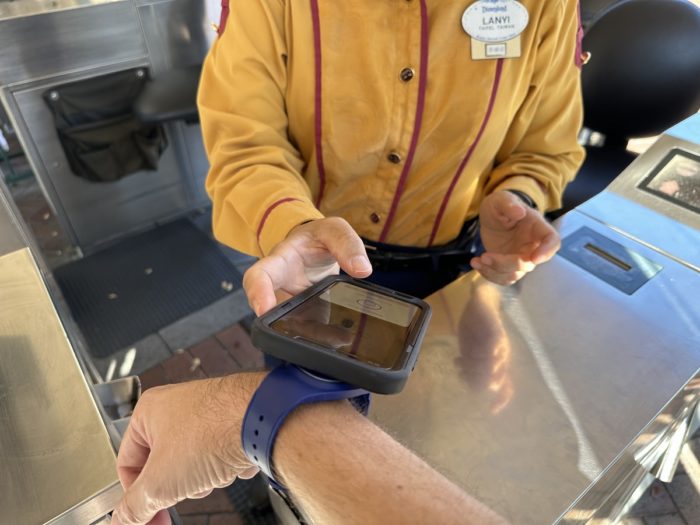 Entering the park was easy as well. I simply told the cast member I had a MagicBand, and they scanned my band with their phone. It didn't take any longer, or went any faster than when I usually scan my park ticket barcode in the Disneyland app.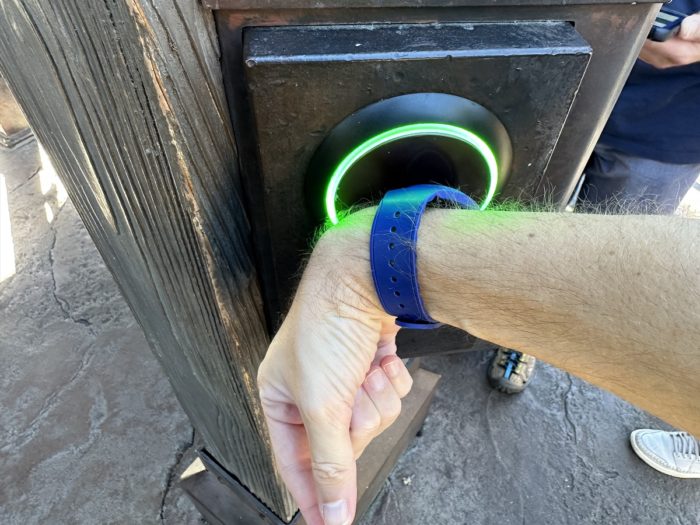 Tapping in to an attraction to use my Lighting Lane reservation was also a breeze. When my reservation time arrived I walked up to the scanner and held my band up to it. A green light and positive chime played, signaling I was okay to enter the Lightning Lane queue.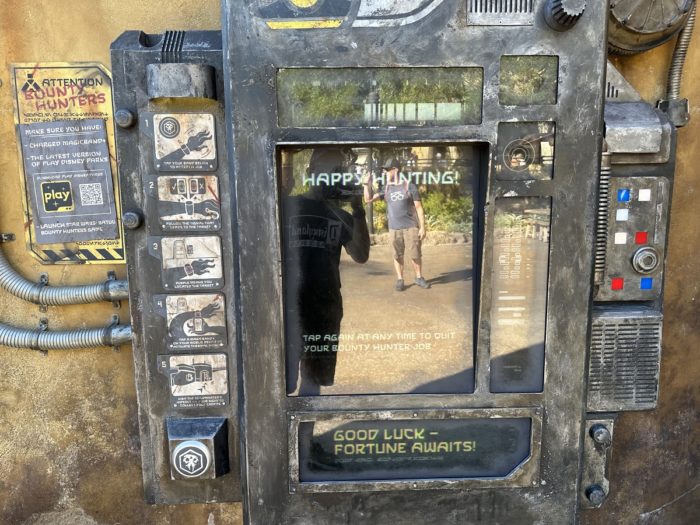 One of the selling points of MagicBand+ is the Star Wars: Batuu Bounty Hunters game in Star Wars: Galaxy's Edge. To start you need to find the bounty board in Galaxy's Edge, which is located across from the Droid Depot building.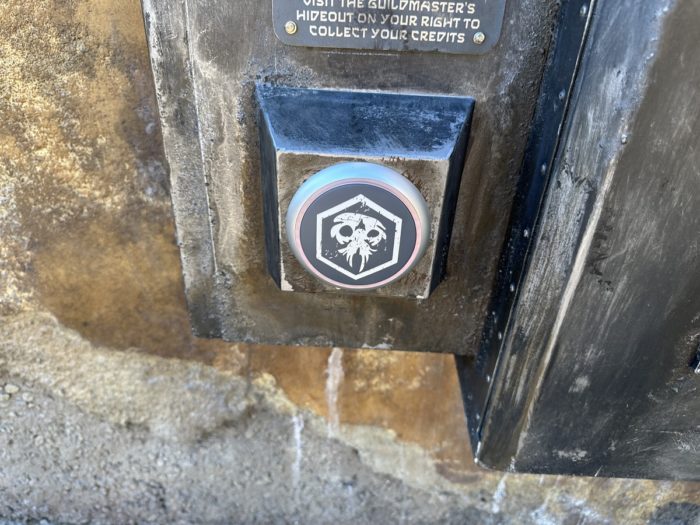 Tapping your band displays some instructions on the Bounty Board screen, and then it sends you on your way.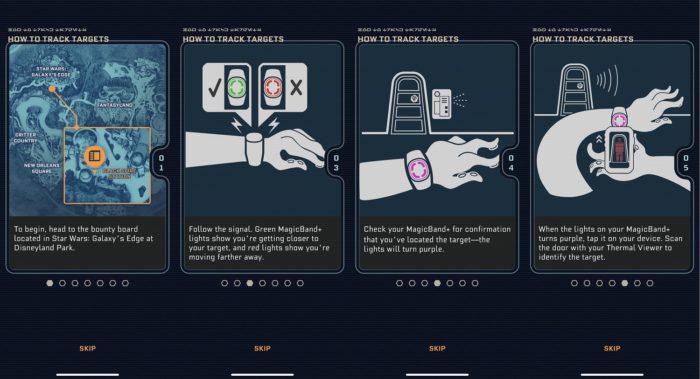 You'll also need the Play Disney Parks app installed to play Batuu Bounty Hunters. The gist of the game is that you need to explore Galaxy's Edge, and your MagicBand+ will flash green and vibrate as you get closer to your next target. If you move farther away, the band will turn red, and if you find your target the band will turn purple.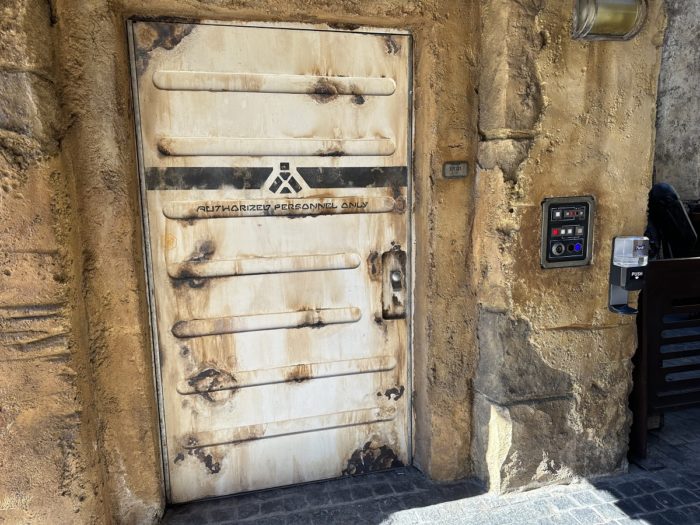 My first target was this door in the marketplace area of the land.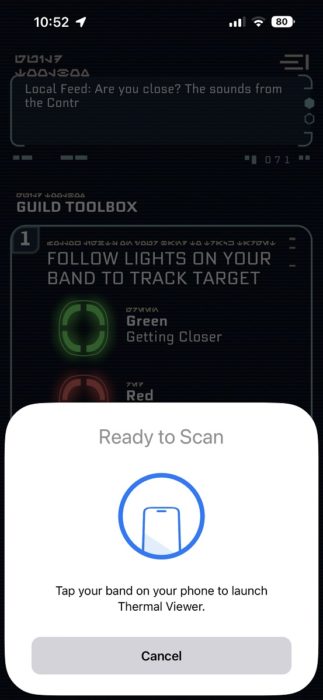 When the band is purple you're instructed to tap the band to your phone. Then a "thermal scanner" will appear. You then scan your target and are able to move on to the next one.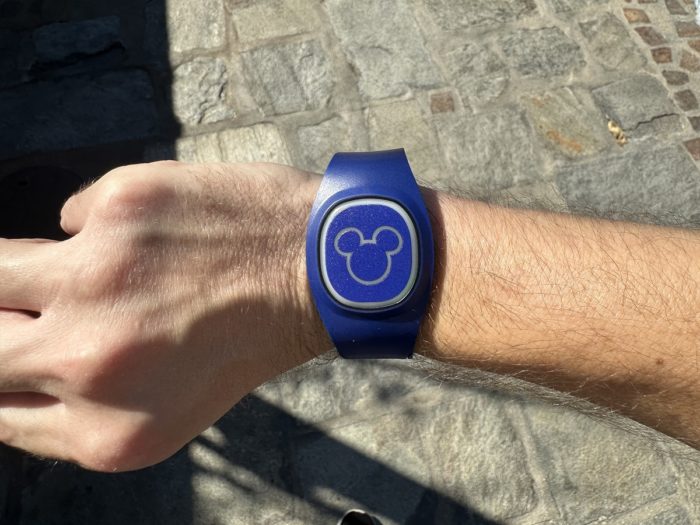 The lights on my MagicBand+ was a bit hard to see in direct sunlight, so keep that in mind when you're playing.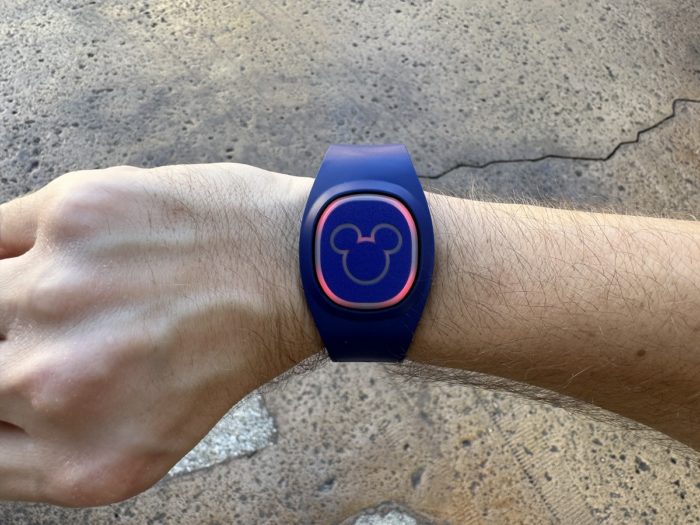 Here's the color as seen in the shade. It's a bit easier to see.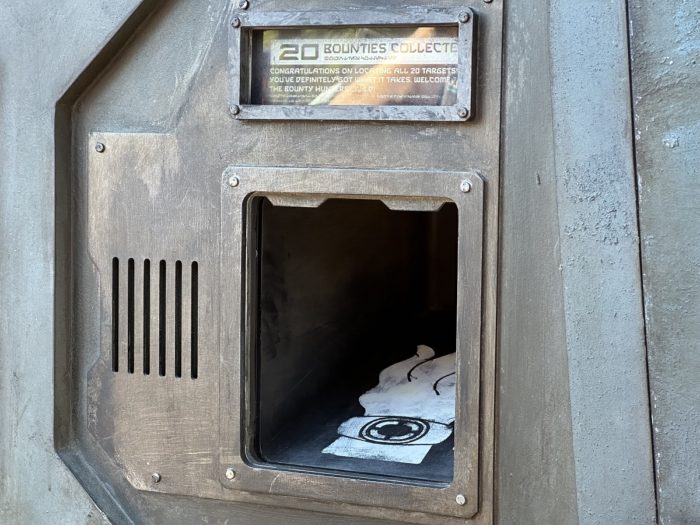 There are 20 bounties total, and you don't have to collect all of them in one go. When you're done with your bounties, you make your way back to the bounty board and tap a nearby scanner. You'll earn "credits" which don't do anything. Think of it more as your score.
The creature who is giving you the bounties will make an appearance via a peephole in the door. That's pretty cool. I thought the Batuu Bounty Hunters game was less fun than the standard Galaxy's Edge games already built in to the Play Disney Parks app. In my opinion the Bounty Hunters game is very simple and not very engaging.
Now is the time where I tell you if I think MagicBand+ worth the high asking price. If MagicBand+ added a decent level of convenience along with access to fun and compelling games or interactive elements, I would say, "Yes!" But as it stands right now, MagicBand+ is a little too gimmicky, and is only slightly more convenient than bringing up a barcode on my phone to scan. I mentioned earlier that MagicBand+ will light up and give haptic feedback during certain shows at Disneyland and DCA. All this amounts to is a slight buzz on your wrist and some flashing lights during World of Color and Fantasmic. The last thing in the world I want to do during one of these nighttime spectaculars is look down at my wrist, or hold my wrist up to my face. I can't imagine to whom that would be appealing. Also, when MagicBands launched in Walt Disney World they were "free," a.k.a. included with your hotel stay. I'm obviously not suggesting MagicBands should be free for everyone, but $0 to $35-$55 is a big jump, especially when they're launching with missing features. As it stands right now, if you don't purchase Genie+ during your visits the only thing you'll be using MagicBand+ for is entering the parks and playing the Batuu Bounty Hunters game. Is that worth $35+ dollars to you? It's not for me.
What are your hot takes on MagicBand+ at Disneyland Resort? Will you be purchasing one? Let me know in the comments.