Riding the Brightline Train to Orlando
The Brightline Station at Orlando International Airport opened on September 22, and we sent some riders to try it out. Here's what they found, plus what you'd like to know if you're considering taking your own ride on the rails.
Who Should Think About Riding Brightline to Orlando?
Maybe you're a railroad fan and you're going to keep reading no matter what, but I thought I'd start by mentioning who we think is going to most want this information. That would be:
Florida residents planning a trip to the Orlando area
Cruise passengers debarking in Miami or Ft. Lauderdale and continuing to the Orlando area
Of course, if you're doing a theme park vacation at Disney World or Universal Orlando and then cruising out of Miami or Ft. Lauderdale, the train also runs from Orlando to those cities.
Getting Tickets for Brightline
From Miami to Orlando, tickets start at $79 for a basic (SMART) fare and $149 for a Premium fare. Kids under 24 months travel free in an adult's lap, and minors under the age of 13 must be accompanied by an adult over the age of 18. Teens aged 13-17 can travel as unaccompanied minors. With a SMART fare, children receive a 50% discount, and discounts are also available for larger groups (4+) and students.
A SMART fare includes
Complimentary onboard WiFi
Hand-stitched leather seats
Multiple power & USB Type-A or USB Type-C outlets at each seat
Onboard snacks and beverages available for purchase
Upgrading to a Premium ticket adds on
Complimentary Brightline+ private car rides anywhere within a five-mile radius of the stations
Extra seat space (21″ vs. 19″ in SMART)
Access to the Premium Lounge at your departure station
Complimentary snacks and beverages on board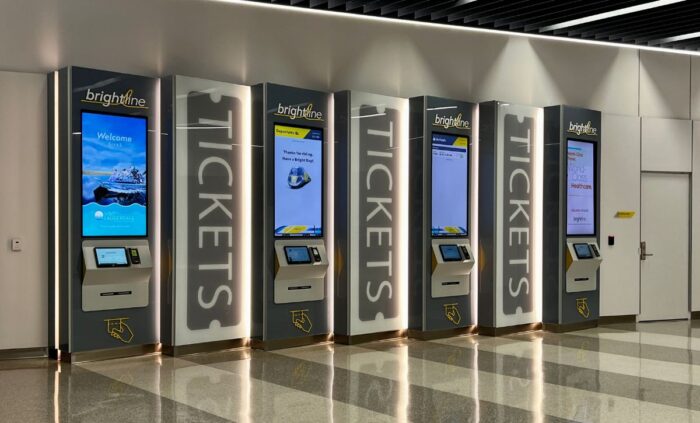 Pricing is based on departure date and time, but not necessarily on distance traveled. So Ft. Lauderdale to Orlando might be the same fare as Miami to Orlando, but other station combinations may be considerably cheaper.
Reservations are required to board the train; you can make them on Brightline's website, in the app, or at kiosks in the terminal.
Getting to the Brightline Terminal
There's parking nearby to all Brightline Terminals. In many cities the garage is owned by Brightline and parking is $7/day if reserved in advance, or $14 for drive-up. At the Orlando terminal you'll use airport parking and prices vary.
If you're not driving, Brightline+ offers last-mile connectivity to the station or to your destination. You can book directly in the Brightline app to reserve Uber private rides, Mears Connect shuttles to or from Disney World, and other local transportation options.
If you're traveling on a Premium ticket, Uber private rides for pickup or dropoff are complimentary within a 5-mile radius for all stations on the South Florida route. Both Miami and Ft. Lauderdale cruise ports are within this distance of their respective Brightline stations.
Miami to Orlando Trip Experience on Brightline
Our travelers booked a Premium ticket at full fare so we could check out the extra amenities. After arriving at the station you'll have the opportunity to buy tickets (if you haven't already) and check bags. Brightline recommends arriving at the station at least 15 minutes in advance.
Up to 2 carry-on items are allowed per guest, and Premium fares get the first checked bag free. Bags larger than 28" x 22" x 14" must be checked except when the departure or arrival destination doesn't have checked luggage service (currently only Aventura and Boca Raton). For families with kids, strollers, carseats, and booster seats may be brought on board and don't count against your luggage allowance.
Then tickets were scanned to pass through the touchless tapstiles, followed by the security checkpoint. And they're in and ready to go! Before heading up to the Premium Lounge, we have pictures of the waiting area available to those traveling on the Basic fare. Tap any image below to enter the gallery.
Seating in the regular waiting area is not too crowded, with chargers conveniently located under each seat. Free WiFi is available throughout the terminal and onboard the train too! For traveling families, there's a kids' play area. And there are family restrooms and Mother's rooms at all Brightline stations as well.
Sandwich and flatbread fare is available at the Mary Mary bar, along with drinks. Snacks, convenience foods, and grab-and-go items available in the MRKT store. Food is available to buy on the train, but passengers can also bring food and drink onboard for consumption during the trip. Mary Mary and the MRKT are available at Miami, Ft. Lauderdale, West Palm Beach, and Orlando stations.
For those with a Premium ticket, access to the Premium Lounge begins between 1 and 2 hours in advance of departure. (The Terms of Service say 1 hour, but many riders report accessing the lounge 2 hours in advance. It most likely depends on how far apart the trains are departing.) To get in, just scan your ticket.
Drinks in the lounge include Pepsi products, coffee, and beer & wine. Snacks include crudite and charcuterie, as well as a variety of crackers, bread, and nuts. Chargers were again plentiful in the seating areas, and there was also a small conference room available.
Time to board the train! Boarding begins about 10 minutes before departure. Elevators were available near all loading areas for accessibility.
Seating is in a single and double configuration on either side of the aisle. Some seats were configured as group seating facing each other across tables, and by now you're not surprised to hear that there were chargers available at each seat to keep you powered up while using the onboard WiFi. There were accessible seats in each car, and the bathrooms were fully accessible as well. It bears mentioning that you could see the restroom occupancy indicators from every seat.
There was space for luggage both above and under the seats, with luggage racks at the end of the car. Brightline warns that oversized luggage may be given priority on these racks.
Display screens attached to the ceiling showed the train's progress along the route. Here were the times and stops for our travelers:
Miami: Depart 4:41 p.m.
Aventura: Arrive 4:57, depart 5:06 (9 minutes)
Fort Lauderdale: Arrive 5:20, depart 5:22 (2 minutes)
Boca Raton: Arrive 5:49, depart 5:51 (2 minutes)
West Palm Beach: Arrive 6:03, depart 6:06 (3 minutes)
Orlando: Arrive 8:18 p.m.; total travel time 3 hours 37 minutes
As you can see, most of those station stops are speedy. Don't dawdle when your train is called!
Food and drink was included in the Premium fare. Pepsi products were available throughout the trip. At various points our travelers were brought a snack box, sandwiches, and a small dessert course. Aside from the desserts, the same or similar food can be purchased by those traveling on the basic SMART fare.
At Orlando, the Brightline terminal feels very similar to the one in Miami. Our travelers passed the Orlando Mary Mary on their way out to Terminal C at Orlando International Airport.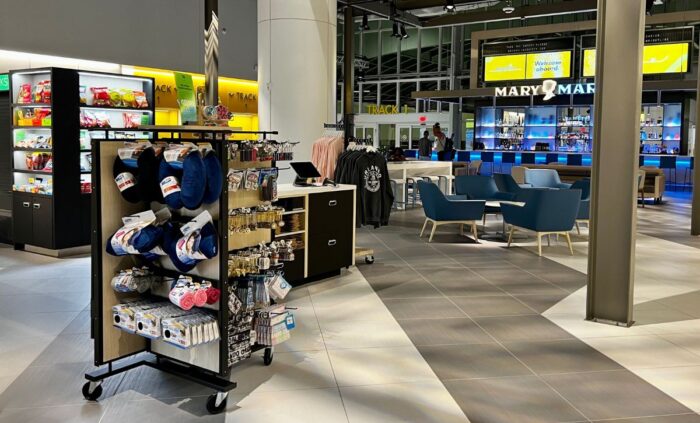 Depending on your fare class, Brightline may or may not be a cheaper option than flying. But our team noted that the experience was easy and comfortable, with more room to get up and move around a bit than you'll find on a plane. Being able to arrive at the Brightline station much closer to departure time meant that the trip wasn't that much longer than flying.
Should you need to adjust your ticket, Brightline almost certainly offers more flexibility. Fares are refundable as a credit or modifiable up to 4 minutes before departure time. Depending on the date, the South Florida line runs between 8 and 16 round trips a day departing about every one to two hours.
Would you travel on Brightline's high speed rail? Why or why not? Let us know in the comments!