Frequently Asked Questions: Stage Shows on Disney Cruise Line Ships
Every Disney Cruise Line ship includes stage shows as part of their evening entertainment. Here's everything you need to know about the DCL stage show experience.
Where are DCL stage shows performed?
The major productions are performed on each ship's Walt Disney Theater. This is located on Deck 4 Forward on the Magic and Wonder. On the Dream, Fantasy, Wish, and Treasure, the main Walt Disney Theater entrance is on Deck 3 Forward, with additional balcony seating on Deck 4 Forward.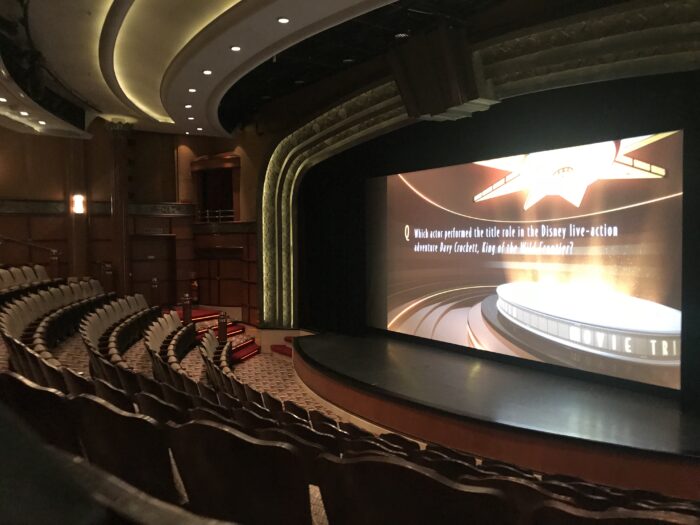 What kinds of shows are there on the Disney Cruise ships?
There are three main types of stage performances that take place in the Walt Disney Theater.
Jukebox-style original shows. These are shows that use characters and songs from a variety of different Disney/Pixar franchises and combine them into a wholly new story.
Retellings of familiar Disney stories. These shows are modified and abridged versions of a familiar Disney tale.
Guest performers.  On sailings of longer than three or four nights, you'll often see comedians, magicians, ventriloquists, musicians, and the like performing on the main stage.
On longer sailings you might also have a new Disney, Pixar, Marvel, or Star Wars film shown in the Walt Disney Theater.
How long are the shows?
Live evening performances typically last about an hour. This may be prefaced by a 5-10 minute introduction and announcements by the cruise director.
What time are the stage shows?
Times vary slightly depending on your specific itinerary, check your Personal Navigator app while you're onboard for the exact details. But in general there will be two performances of the same show each evening, one at about 5:45 or 6:00 p.m. and one at about 8:15 or 8:30.
These time are the inverse of the main dining room seating times. So if you have a 6:00 dinner time, then you'll be able to see the 8:30 stage show, and vice versa.
In addition to the evening shows, some sailings may offer a mid-afternoon extra performance of a mainstage show, but this does not happen on many itineraries.
What happens if  want to see one of the stage shows, but I can't?
There are times when a guest can't get to a stage show. Some reasons might be:
You have an adult dining experience booked during the showtimes.
You get back late from a port excursion.
Someone in your party is ill.
Your child is falls asleep in the stateroom during showtime and you don't want to wake them.
If you find that you can't make it to the show, then you can look for the Walt Disney Theater channel on your stateroom TV. This channel will show a pre-recorded version of the show playing in the main theater. It's a poor substitute for the real thing, but sometimes you have to make do.
Can I have someone else in my party record the stage show for me?
Noooooo. Taking photos and video during the live performances is strictly prohibited. It distracts the audience and the performers (which is particularly dangerous on a moving vessel) and it's poor form in general. Don't do it.
I have seen guests removed from the theaters for using recording devices during a performance.
Can I have a snack during the show?
Just prior to and during showtimes, the Preludes snack bar will open near the Walt Disney Theater entrance. Preludes sells popcorn, some packaged snacks, beer, wine, and canned soft drinks, which you're welcome to bring into the theater and consume during the show. There is a fee to get these items. For example, a canned soda will cost about $1.50.
If you're not in the mood to pay for something like soda that you can easily get for free from the dispensers on the pool deck, then you can try to bring a cup of free soda into the theater with you. I've also put some free pool deck French fries into a paper cup and taken those into the theater.
I used the word "try" in the previous paragraph, because sometimes you'll have a cast member tell you not to bring non-Preludes food into the theater. In my personal experience this happens about 25% percent of the time and is more common on the Wish than on the older ships. Be discrete about what you're doing and just abandon your snack if you're asked to do so.
Do I have to get to the theater early?
This is a controversial topic. If you don't care about where you sit, then you're probably fine to show up at theater 5-10 minutes prior to showtime and you'll find a seat. DCL has tons of experience with understanding guest interest and capacity for entertainment. That said, some guests will say that you absolutely must show up at the theater at least half an hour in advance. These people might be extremely passionate about their seat location or they might have a large party that they feel must sit together.
If you have a large group and truly feel that you must sit front and center, then you should probably arrive at the theater no later than 20 minutes in advance. If you just want to see the show, you can roll up just before it starts.
Can I save a seats for my family?
Generally this is a big no-no.
Are you holding one seat for five minutes while your companion runs to the restroom quickly? Then you're probably not going to have any issues. Are you holding an entire row for a dozen people who are going to arrive at the theater after the show starts, well, that's just not polite.
Is there a dress code for the theater on the ship?
They don't specify one. You should stay away from swimwear, but otherwise you can wear what you like. However, since most folks with either be coming from or going to dinner right before or after the show, the majority of guests in the theater will be wearing attire appropriate for dining.
Are there other etiquette rules I should know about?
You should be as respect of the players and other audience members on the ship as you would be at a fancy theater on land. This means no talking during the performance and you should show your appreciation to the performers by applauding at the appropriate junctures. And while young children are welcome at the main theater stage shows, is your baby or toddler starts to cry or otherwise become unruly, PLEASE take them out of the theater.
In there a charge to see the shows on Disney Cruise Line?
Nope. Stage shows are included with the price of your cruise.
Do I need reservations to see a stage show on Disney Cruise Line?
No. You're welcome to see the stage shows on Disney Cruise Line with no reservations and no tickets. In fact, if you'd like to skip your main dining room dinner and see a show twice in one evening, you're perfectly welcome to do that.
What is the quality of the shows like? Are they only for kids?
Let's take the second part of this question first. While the stage shows on Disney Cruise Line use familiar songs and stories from Disney films and they're all appropriate for children, with no off-color language or situations, MANY adults love the DCL shows. If you're traveling on DCL without kids and you love Beauty & the Beast (for example), then by all means go ahead and see the show.
As for quality, that's in the eye of the beholder. Like most things Disney, some guests think they're astounding and others find them underwhelming.
Disney advertises the shows as "Broadway-style." They are Broadway-style in that there are live performers who dance and sing. The performers are completely competent. There are several stories of cruise ship performers who have gone on to have notable careers on Broadway or screen (Jennifer Hudson is the classic example), but those stories are relatively rare.
Another big difference is that Broadway musicals are required to use live musicians. On DCL, the performers sing with recorded orchestrations, which somewhat diminishes the productions' depth and spontaneity. Similarly, the limited space on a moving vessel means that sets cannot be as cumbersome or elaborate as they might be on land.
Additionally, the shows on DCL run about an hour. Musicals on Broadway typically last at least two hours, which means that in the story's abridgments, you lose much of the nuance in the storytelling. The Aladdin show on DCL is not the same as the Aladdin show on Broadway. On the plus side for DCL, some technical aspects of staging a live production at sea are nothing short of remarkable.
If you're looking for something nearer to a Broadway experience at sea, Royal Caribbean offers some sailings with full length renditions of past Broadway hits such as Mama Mia, Cats, and Grease.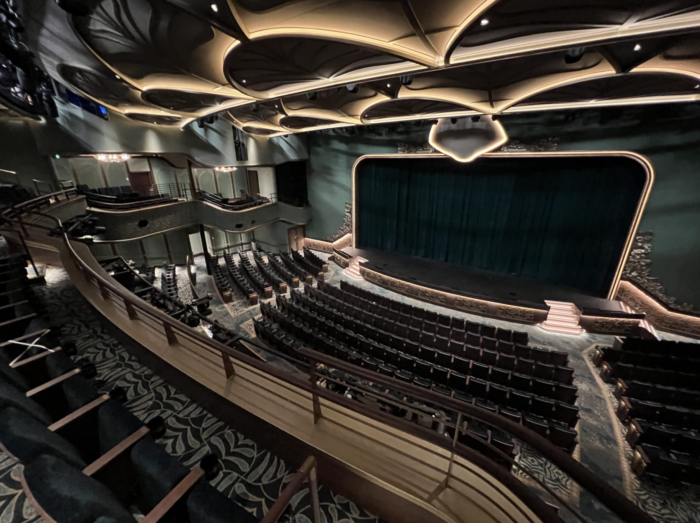 What shows will I see during my DCL vacation?
There are three shows resident on each Disney Cruise Line ship. They are:
Disney Dream

Beauty and the Beast. This show is based on the live-action movie, not the animated version.
The Golden Mickeys. A jukebox-style show that takes the form of a faux awards ceremony.
Disney's Believe. A jukebox-style show that tells about a daughter's relationship with her botanist father.

Disney Fantasy

Frozen: A Musical Spectacular. Lots of puppets and projections, as well as some obligatory fake snow.
Disney's Aladdin. An shortened version of the film story.
Disney's Believe. (As above.)

Disney Magic

Tangled: The Musical. Includes several songs that are not in the movie.
Disney Dreams. A girl talks with Peter Pan and sees scenes from a variety of Disney movies.
Twice Charmed: An Original Twist on the Cinderella Story. What if the glass slipper broke before Cindy could slip it on?

Disney Treasure

Disney's Aladdin. (As above.)
Disney Seas the Adventure (As below.)
One new show, to be announced at a later date.

Disney Wish

Disney Seas the Adventure. Goofy takes the helm of the ship and gentle mayhem ensues.
The Little Mermaid. As if a community theater troupe put on a version of the live-action film.

Disney Wonder

Frozen: A Musical Spectacular. (As above.)
The Golden Mickeys. (As above.)
Disney Dreams. (As above.)
I'm doing a repeat sailing on one of the Disney ships. Will I see the same shows I saw last time? Does Disney ever change the shows on a ship?
Crafting a show for sea viewing is a long, complicated, and expensive process. Disney does change the onboard shows, but you can expect this to happen at something like 10 year intervals. Unless it's been a VERY long time since you last sailed on your vessel, you can expect the shows to be the same.
If you don't want to repeat seeing a show, you can use that time to explore other parts of the ship when they're relatively empty. A classic trick is to ride on your ship's feature pool slide during showtime and you'll almost certainly have little to no wait time.
Do you have a favorite (or least favorite) Disney Cruise Line show? Let us know in the comments.