SATURDAY SIX: The Six Best Kept Secrets at EPCOT
This week's SATURDAY SIX looks at the Six Best Kept Secrets at EPCOT. Yes, we love the awesome rides, the incredible resorts, and the mouth watering restaurants at WDW, but the more trips we take, the more we appreciate all the little details throughout The World. While most guests know of Hidden Mickeys, there are many other "Easter eggs" to discover, with many of these secrets being hidden in plain sight. We've previously looked at some great details at the Magic Kingdom (including references to Mr. Toad and 20,000 Leagues Under the Sea), and today we are going to look at some of our favorite "secrets" at EPCOT. So sit back, pour a out a 40 for Horizons, and let's begin our countdown starting with…
# 6 – The Hollywood Tower of Terror at DHS Blends in with the Morocco Pavilion in World Showcase
The Hollywood Tower of Terror is one of the greatest rides in Walt Disney World – in fact it took first place in our very own Best WDW Attractions Poll – but one of its most amazing features is that the ride not only fits thematically into Disney's Hollywood Studios, it fits into EPCOT. The attraction is so tall that – from certain angles – it is one of the few things that you can see from inside a WDW park, but the Tower's facade was ingeniously designed so that it would fit into the theming of the Morocco Pavilion in World Showcase.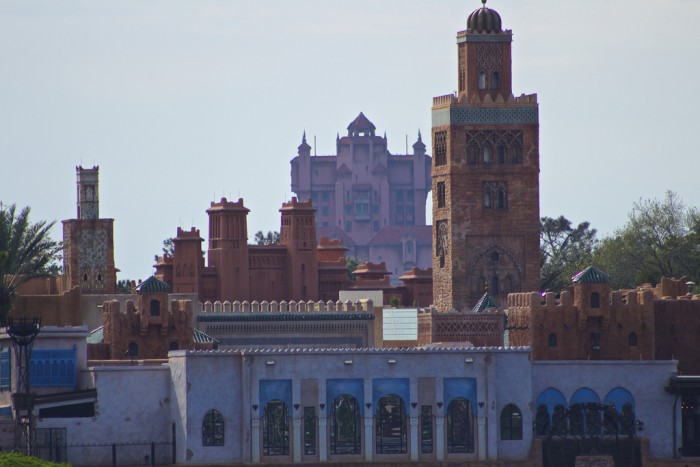 –
# 5 – Future World Lights Up At Night
This is one that kids will probably notice well before adults, but at night some of the pavement in Future World takes on new life thanks to a fiber optic lighting package. In an area in-between Spaceship Earth and Innoventions Plaza, some of the pavement tiles have tiny lights that sparkle, making for a magical appearance. Meanwhile, over by Innoventions West, there are larger sections of pavement completely lit up with designs that "move" and change colors. Don't feel bad if you've been to EPCOT 1,000 times and never noticed any of these lights, as most guests don't even come near this area on their dash out of the park. As always, one of our best tips when it comes to touring the WDW parks is to slow down, and give yourself time to take it all in.
# 4 – Inventor's Circle
At the SATURDAY SIX we often tell guests to "keep their head on a swivel" as there are some amazing details pretty much everywhere you look. Just as EPCOT has lights in the pavement that you can see at night, during the day you also may want to literally look where you are walking. In Future World West there is a courtyard which contains Inventor's Circle. In many ways Inventor's Circle is a "big bang" representation of mankind's greatest achievements throughout history. Surrounding the innermost circle is a tribute to some of most important scientists and pioneers in human history including Marie Curie, Thomas Edison, and Sir Isaac Newton. From there we have circles marking huge breakthroughs in discovery, including markings for the wheel, the printing press, the telephone, the world wide web, and many, many more. Next time you're in EPCOT, spend a minute or two checking out this neat area and try to comprehend just how much we take for granted in a world where we pretty much have the entire history of Earth's accumulated knowledge at our fingertips on our phone.
–
# 3 – The "Seasons" at Sunshine Seasons
Thanks to the incredible success of Soarin', The Land Pavilion at EPCOT may be the most visited place in WDW outside of the Magic Kingdom. We've all been there, and over the years most of us have stopped into Sunshine Seasons to get something to eat or drink. However, most guests don't even pick up on the actual "Seasons" at Sunshine Seasons. There are four separate sections to dine in, and they are themed to Spring, Summer, Fall, and Winter. These are the "little things" that make Disney Disney and why we all come back again, and again, and again. The big thrill rides may get us to the table, but it's the complete immersion – much of which we don't even consciously notice – that compels us to return.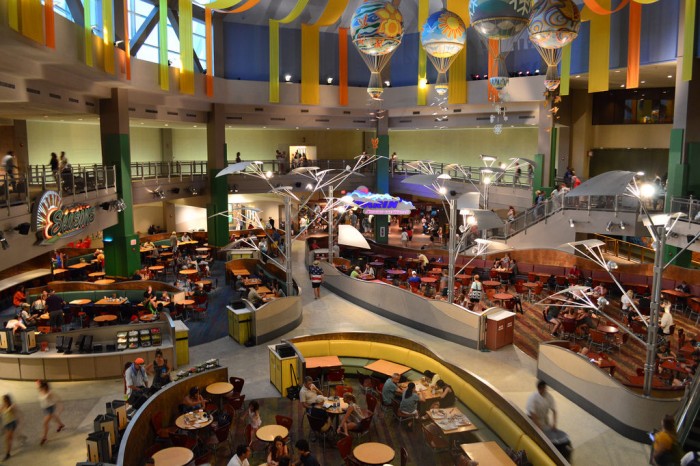 –
# 2 – The Use of Forced Perspective
Walt Disney Imagineers have a lot of tricks up their sleeves, but one they use to spectacular effect is the use of forced perspective. An optical illusion, forced perspective is used in the parks to make things look bigger, or smaller. For example, the American Adventure Pavilion in World Showcase is designed to look like a three story building. Believe it or not, the building is actually five stories tall, but because of how the doors and windows were designed our minds see it naturally as a three story building without even questioning it. Conversely, over in the Canada Pavilion the Hotel du Canada building appears to be five stories tall, when in fact it is only three.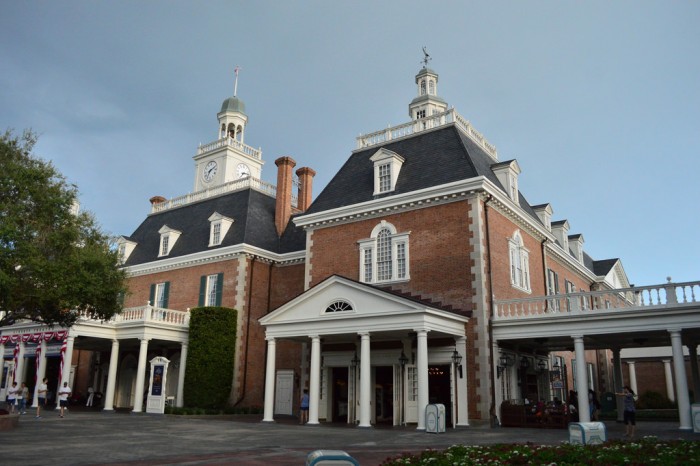 –
# 1 – EPCOT Center Logos
We recently did an article on why we love EPCOT and no one can deny that it is a truly original park. There is nothing like it and it was even more revolutionary when it opened back in 1982. Those of us of who are a certain age have a fondness for EPCOT Center that borders on the love SoCal residents have for Disneyland. The park spoke to us in a way no other has since. While EPCOT Center attractions such as Horizons, World of Motion, and Communicore have been lost over the years, there are references to them throughout the parks. This small nod to history is certainly appreciated, and the nostalgia that Disney can tap into is something no other theme park can do.
So there you have it: Six Easter Eggs in EPCOT. See you next weekend for the latest installment of the SATURDAY SIX, where we'll look at something fun from the world of Disney and Universal. If you enjoyed yourself, be sure to check out The Magic, The Memories, and Merch! articles, or, for your listening pleasure, check out the E-Ticket Report podcast. You can also follow Your Humble Author on Twitter (@derekburgan)
If you enjoyed this article, you will surely like the following:
The Six Most Unusual, Most Interesting, and Strangest Souvenirs in EPCOT's World Showcase
Six Best Snacks in EPCOT's World Showcase
Six Hidden Mickeys at the Universal Orlando Resort
Inaugural 2015 Theme Park Awards (AKA " The Burgys")
Special Thanks to crack staff photographer Brandon Glover, stunning Disney photographer Ryan Pastorino, outlet intern and Best Week Ever's own Jammin' Julia Mascardo, the leading generator of Error 404 pages on the net – Tim Grassey of WDWThemeParks.com, the man who gave Electric Umbrella three thumbs up Brian Carey, our pals over at WDWFanboys, and blogger to the stars Megan Stump for their invaluable assistance with this article. Be sure to also check out Brandon on The Park Blogger podcast with co-host Aengus Mackenzie along with Meg's Yeti To Be Named Disney Podcast.