The SATURDAY SIX Looks at the EMPTY THEME PARKS at Universal and Walt Disney World
This week's SATURDAY SIX takes a look at the EMPTY theme parks at Walt Disney World and the Universal Orlando Resort. This past week was the longest year in theme park history. Last weekend the parks, hotels, Disney Springs, and Universal CityWalk were all open. Today they are all completely closed down out of concerns for the COVID-19 Coronavirus. Reminiscent of the "Thanos snap" effect in last year's Avengers: Endgame, the sight of empty theme parks is something that takes getting used to. However, just as Captain America saw the positives of seeing "whales in the Hudson" in Endgame thanks to the lack of ships in the water, we too will try to take the opportunity to see the "bright side" of our current situation. So today we're are hopping into the blogger high-in-the-sky helicopter with the one and only @bioreconstruct to get a view of the theme park world like we've never seen before, and of course we have to start with…
# 6 – Magic Kingdom
One of the common posts on social media during the last week is people posting pictures of the lack of traffic throughout the United States. Even in Orlando, driving the infamous I-4 highway between Walt Disney World and Universal has been a breeze. For us theme park fans, it's pictures of things like the empty toll plaza at Disney's Magic Kingdom that can give us the same, "Wow, didn't expect to ever see that" feeling.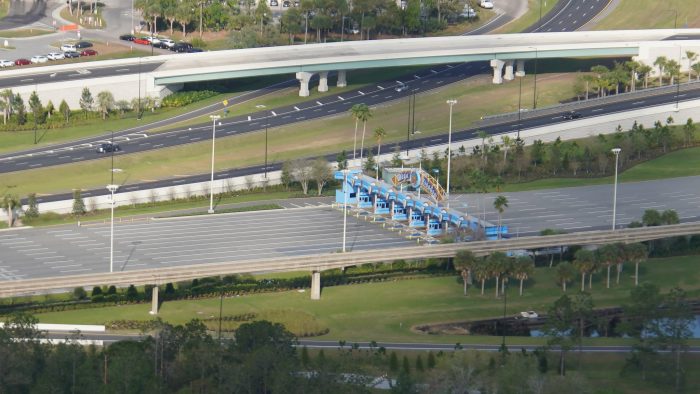 The Transportation and Ticket Center.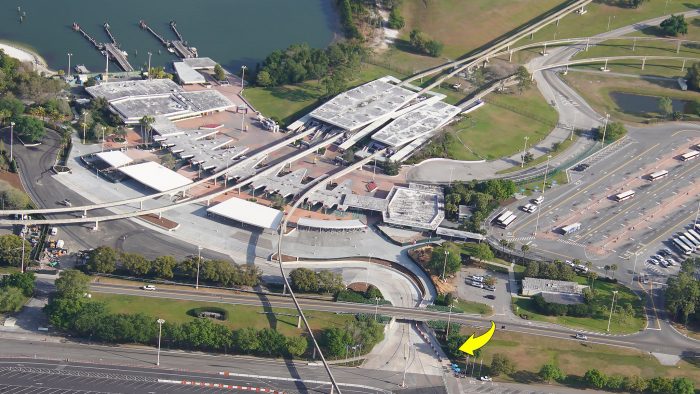 Welcome to Disney's Magic Kingdom.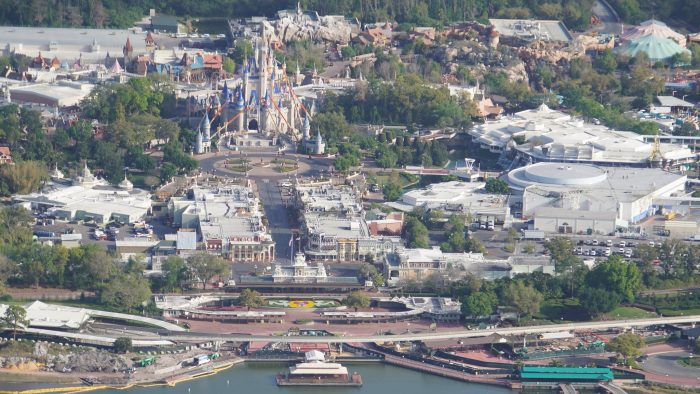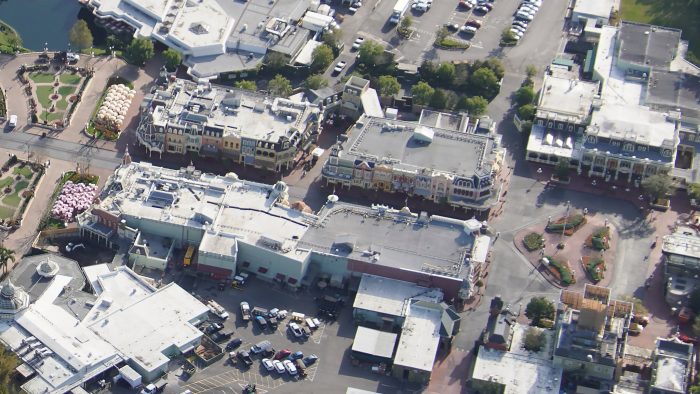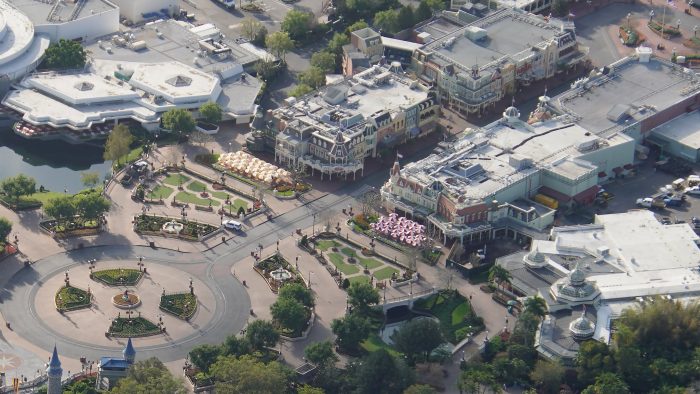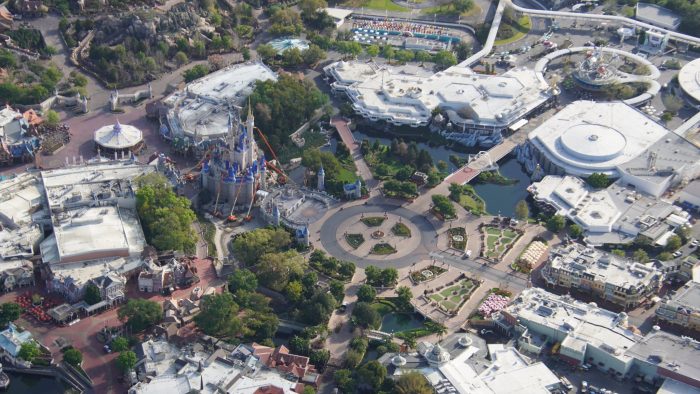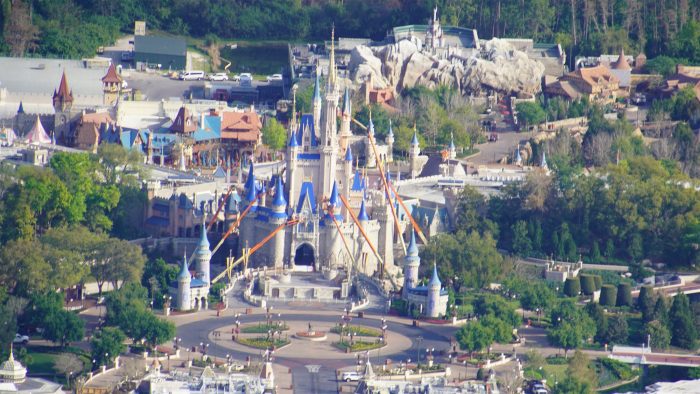 For years we have been joking about a single crane at Cinderella Castle "ruining" photos for guests. Now the castle has a whole bunch of cranes surrounding it as the castle is being repainted for Walt Disney World's 50th anniversary next year.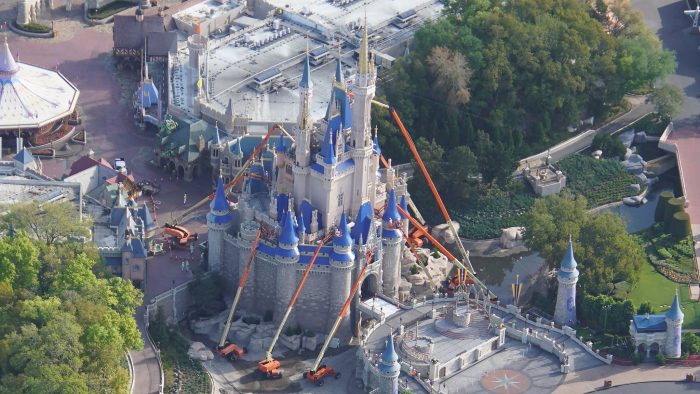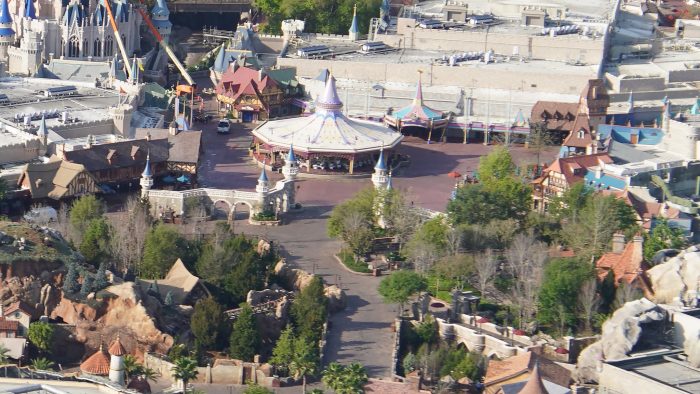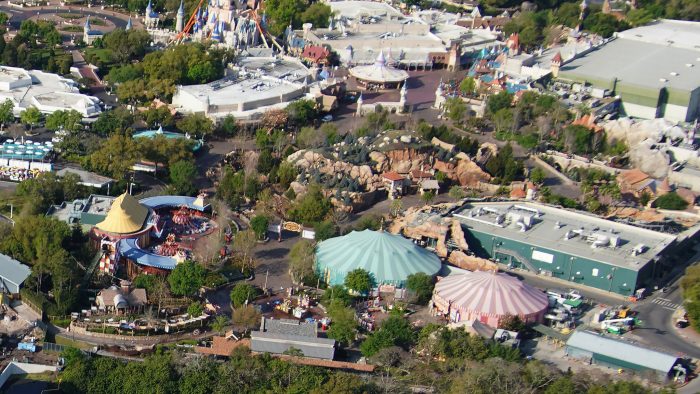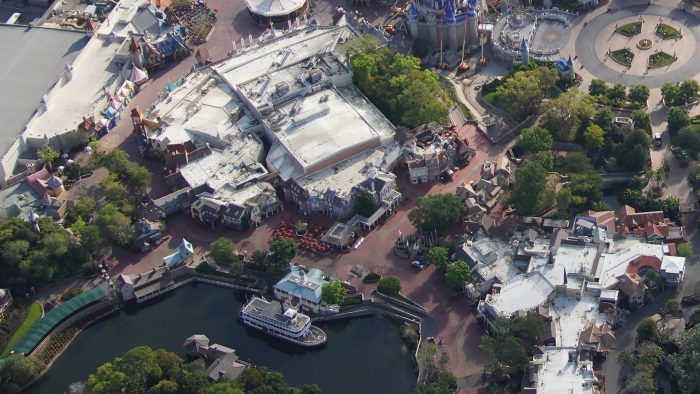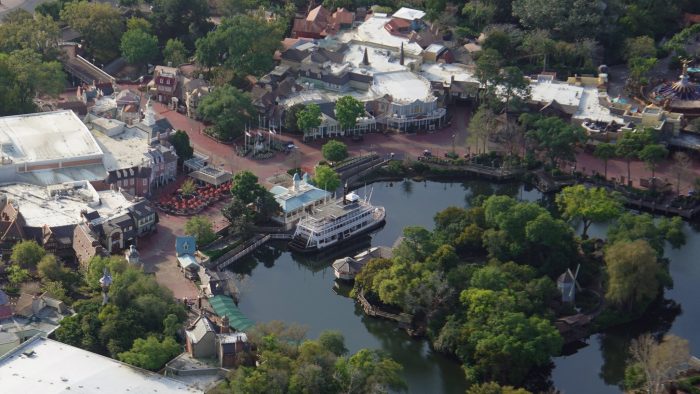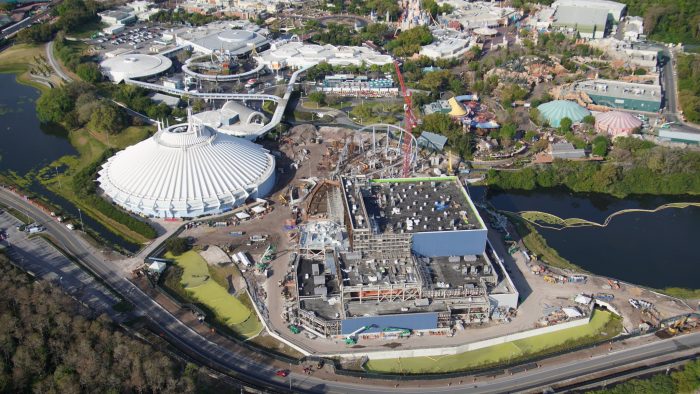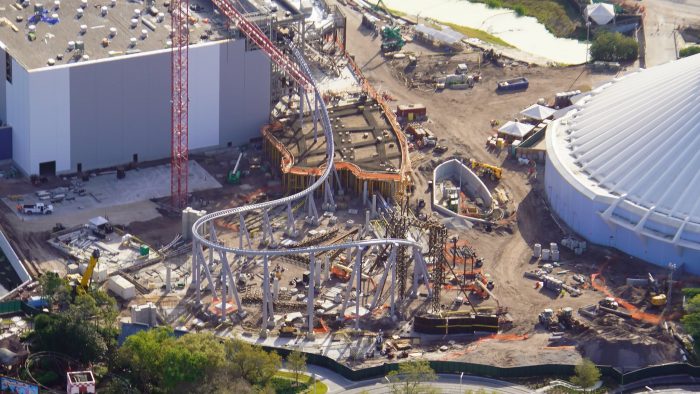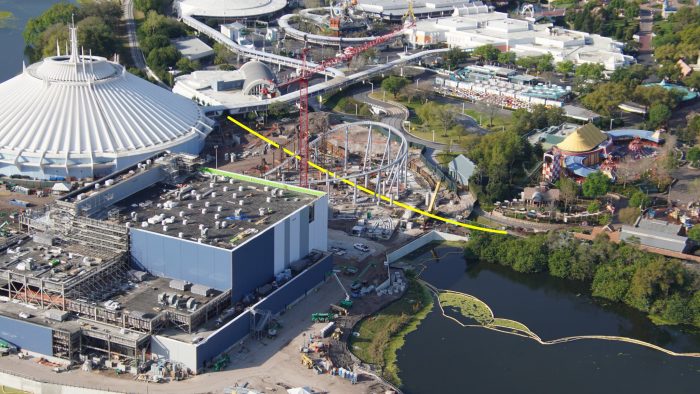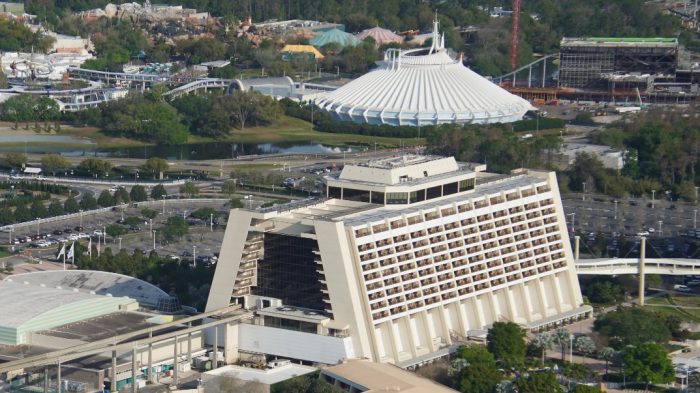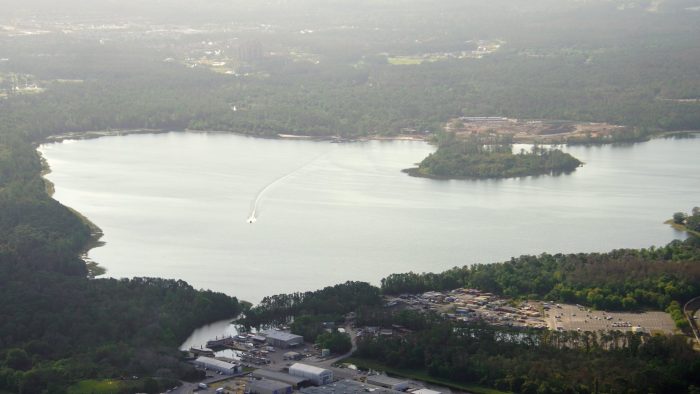 # 5 – EPCOT
Will never get used to seeing empty parking lots at Walt Disney World.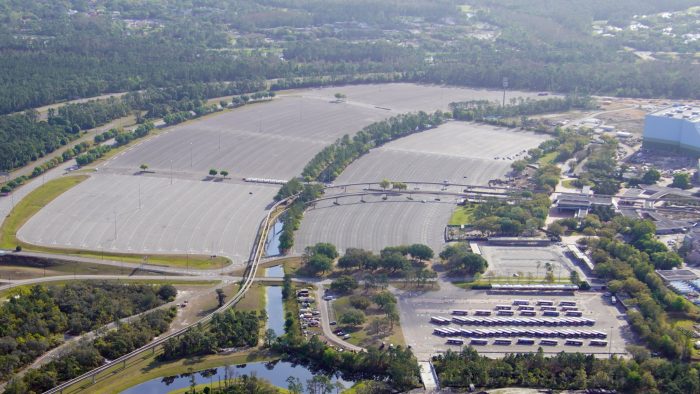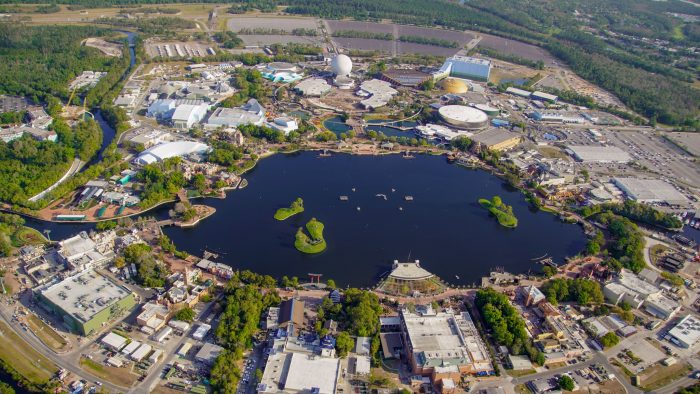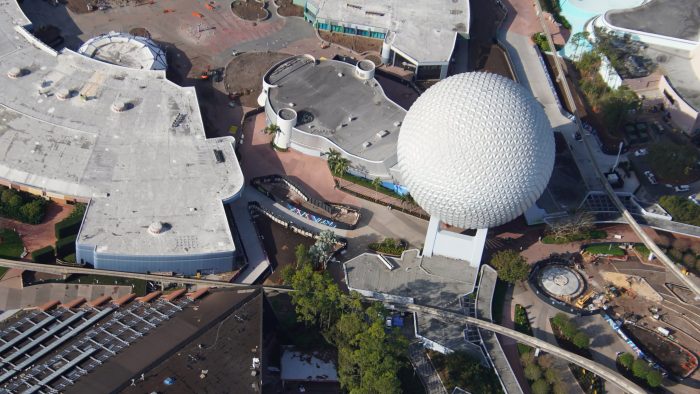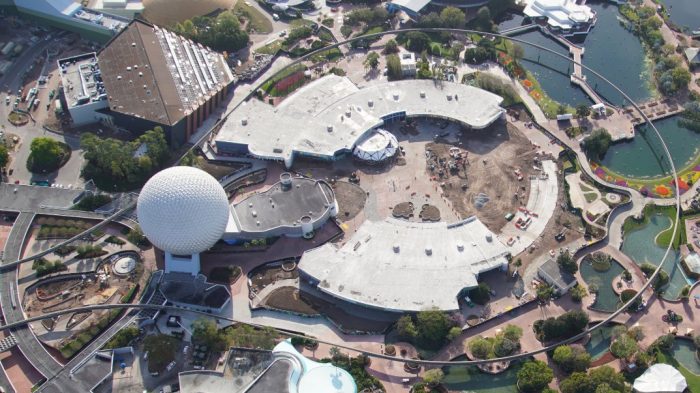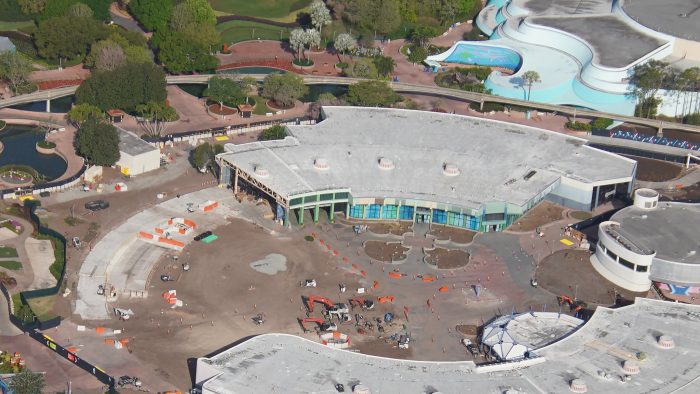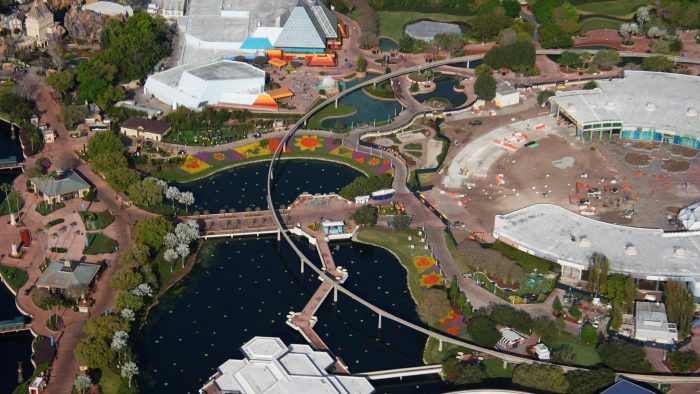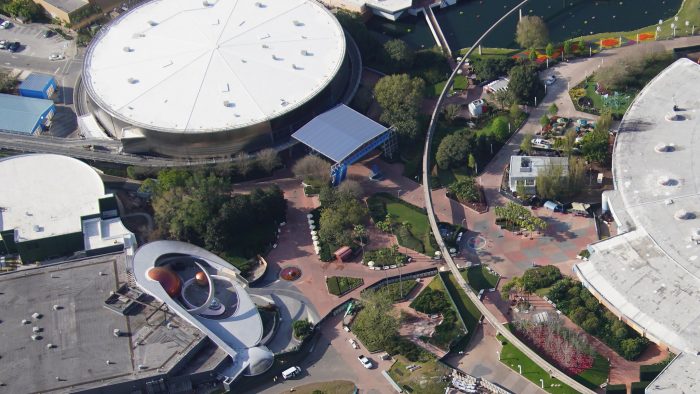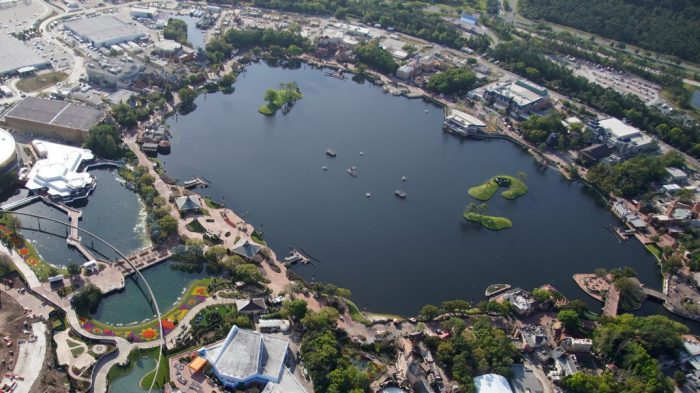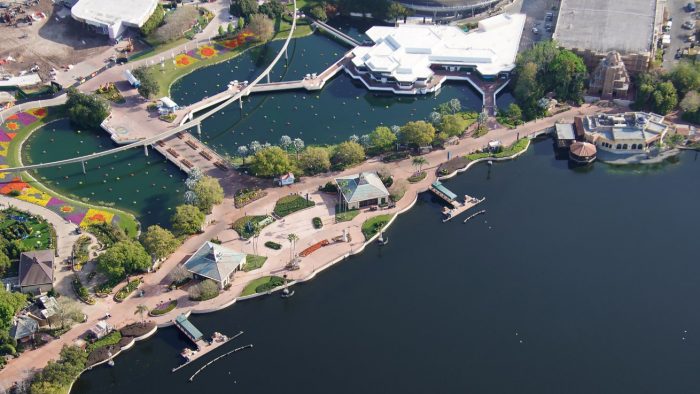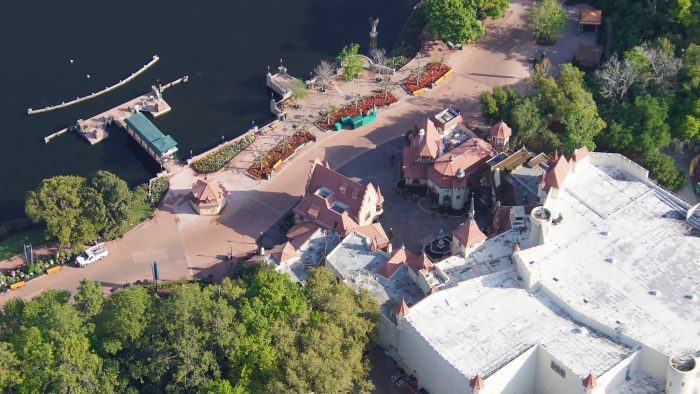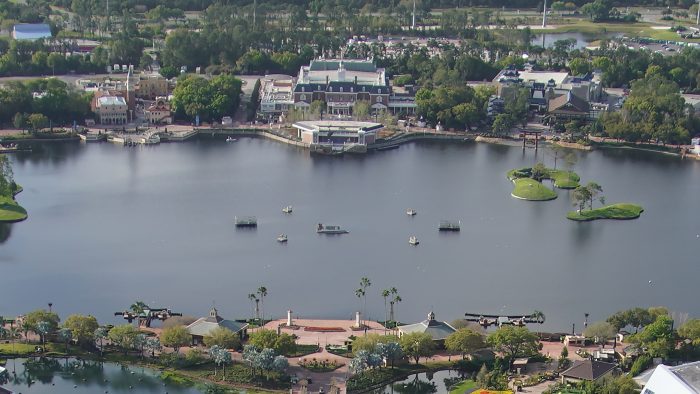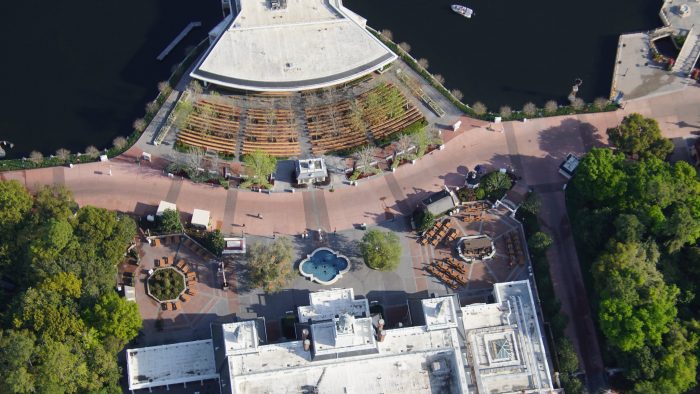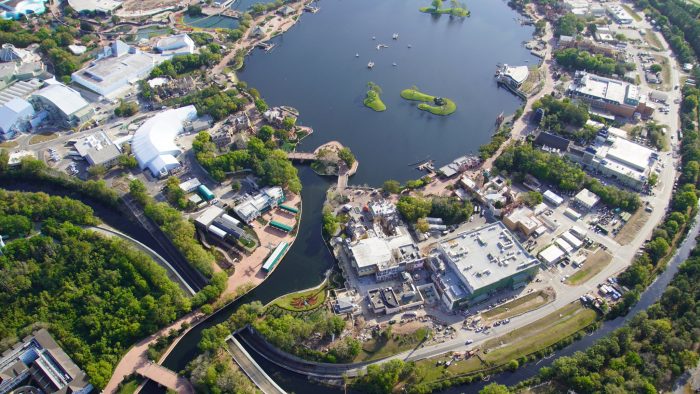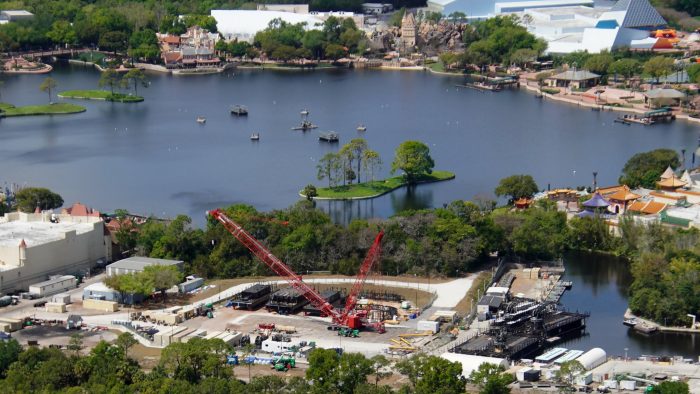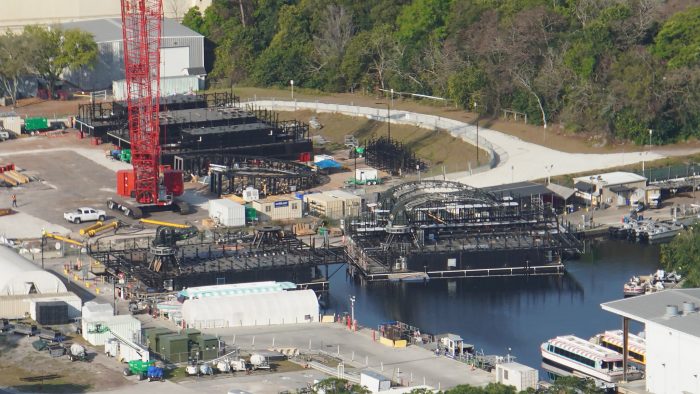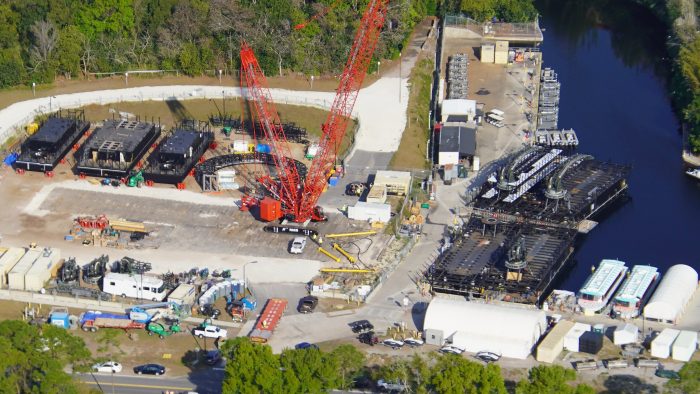 How often do you see all of EPCOT's Friendship Boats?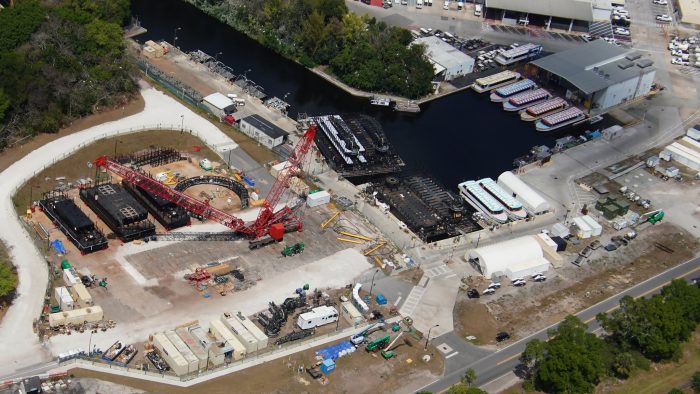 # 4 – Animal Kingdom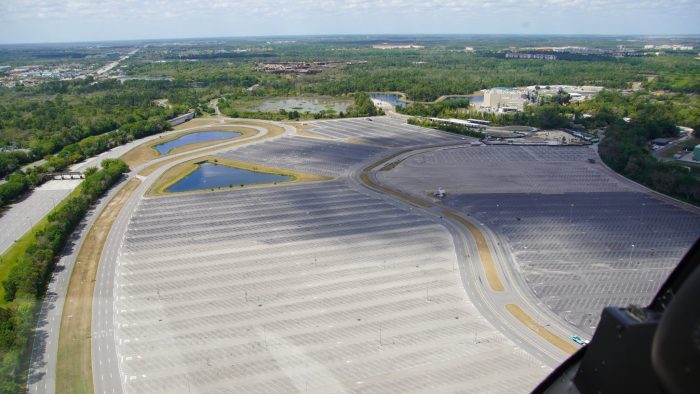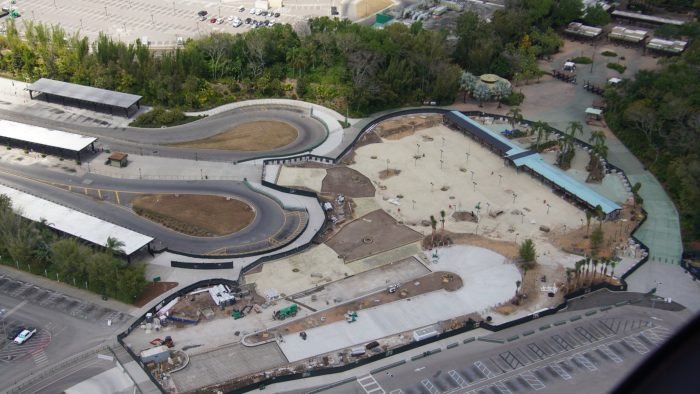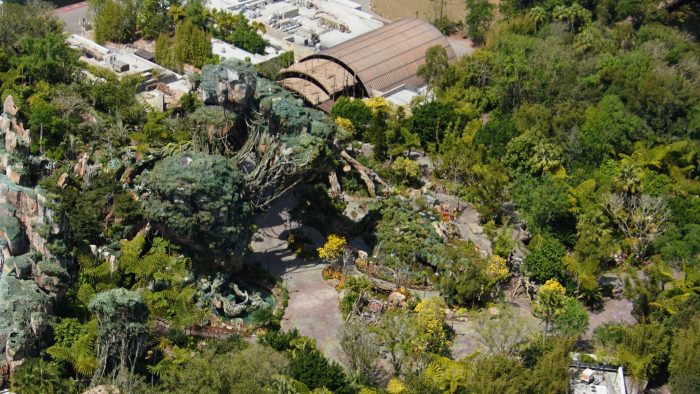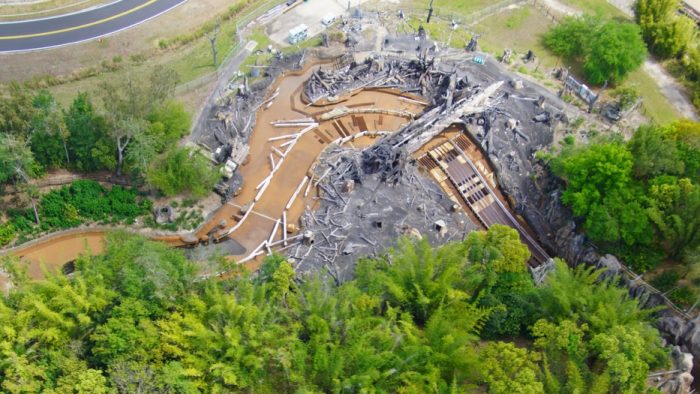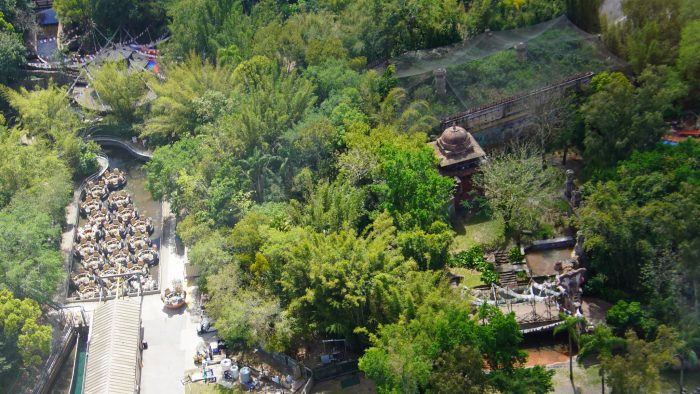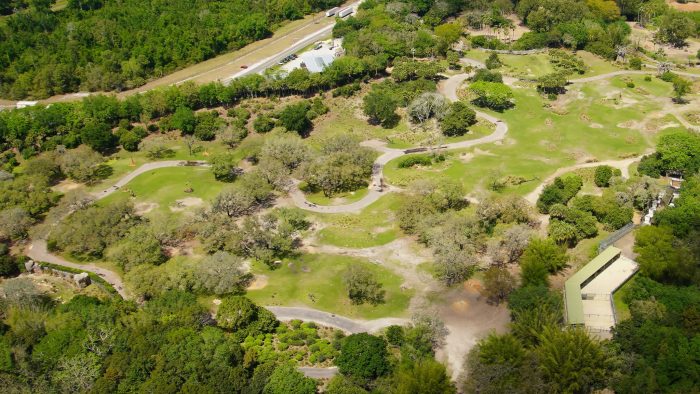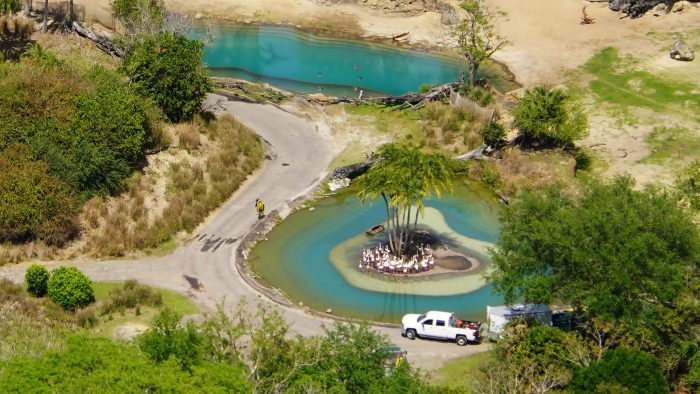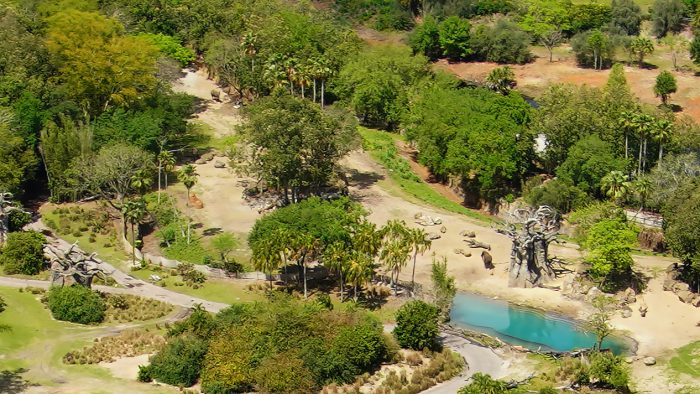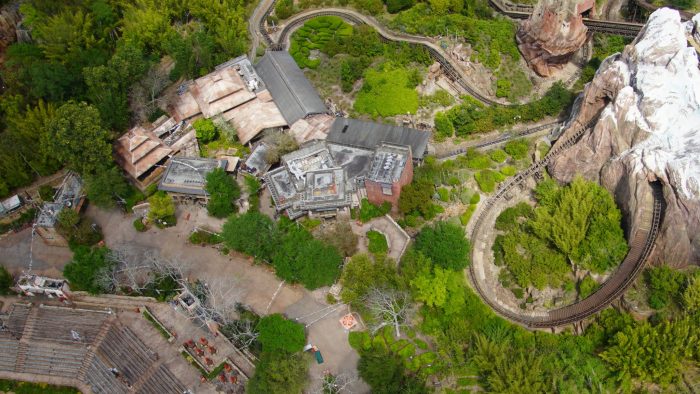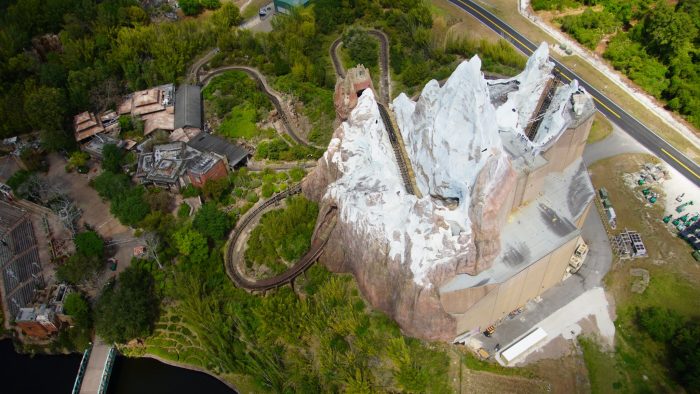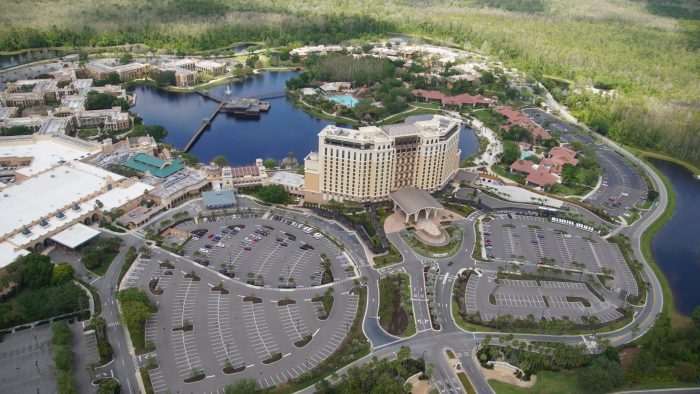 Here is the current look at the McDonald's going up near Animal Kingdom/All-Star Resorts/Coronado Springs. The roof is comprised of solar panels.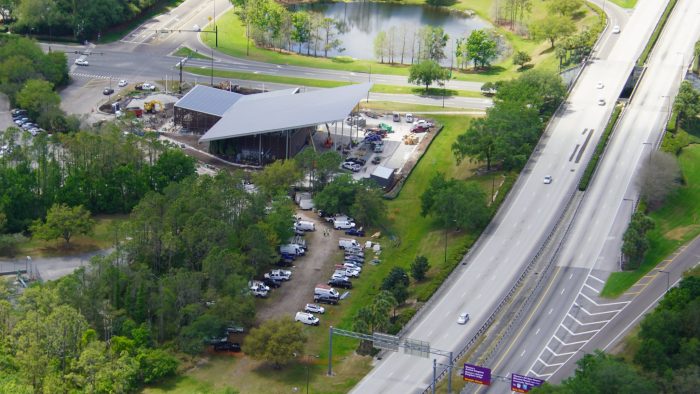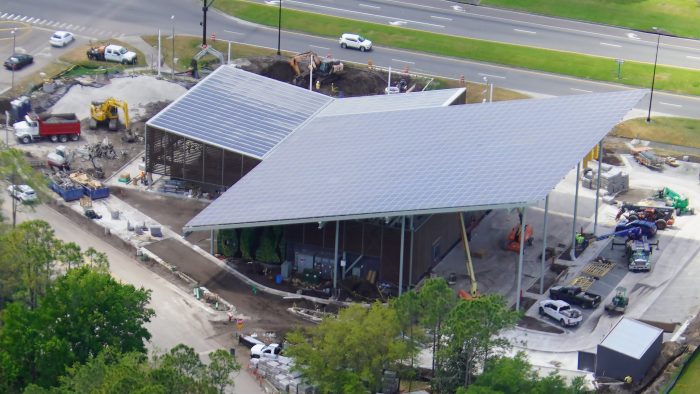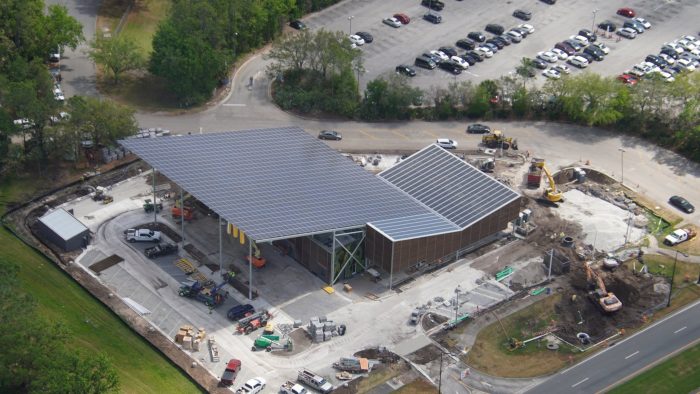 # 3 – Disney's Hollywood Studios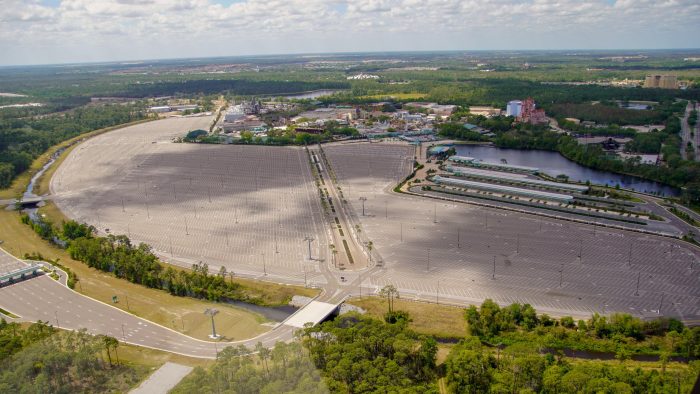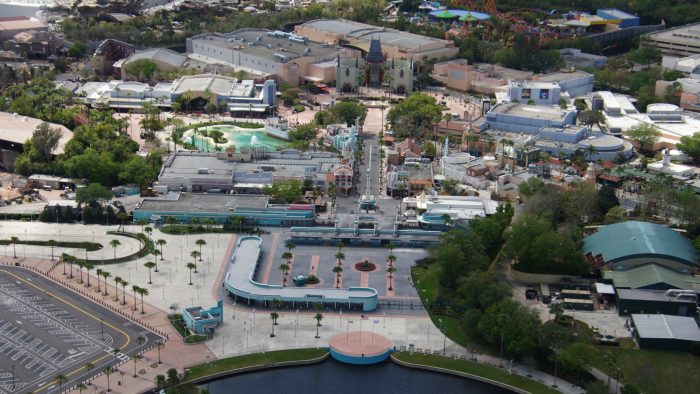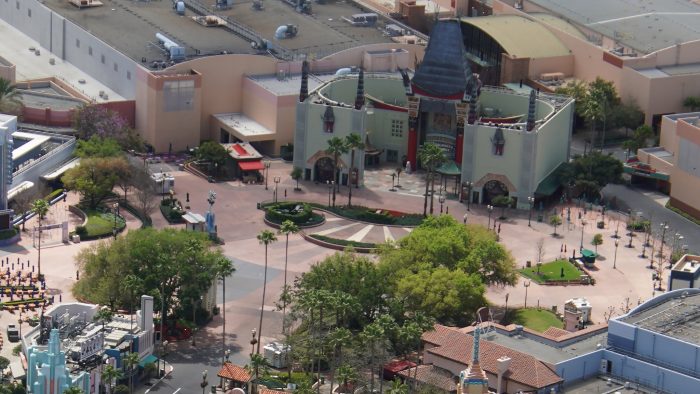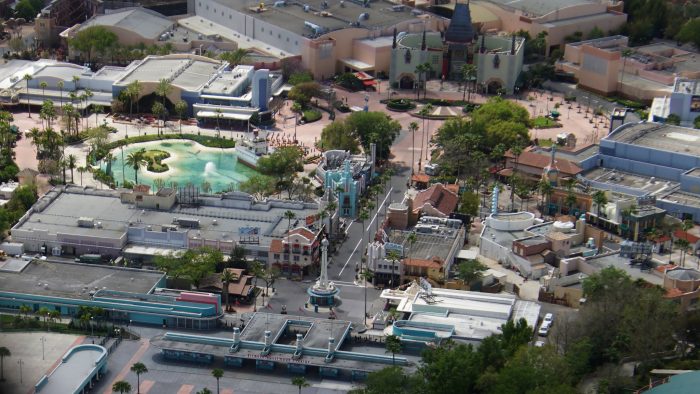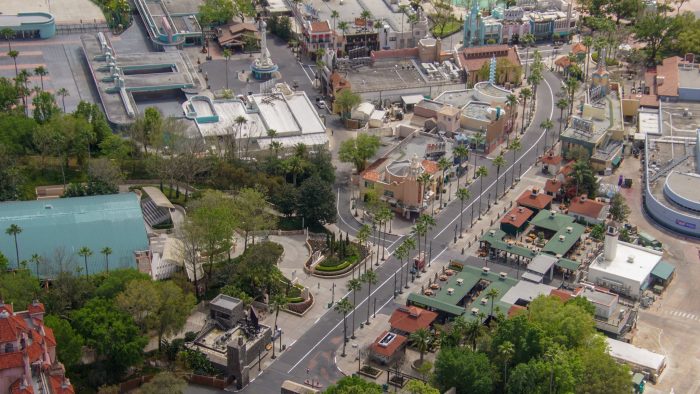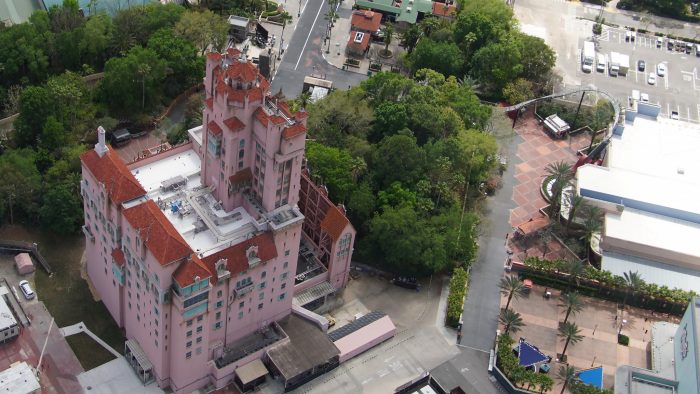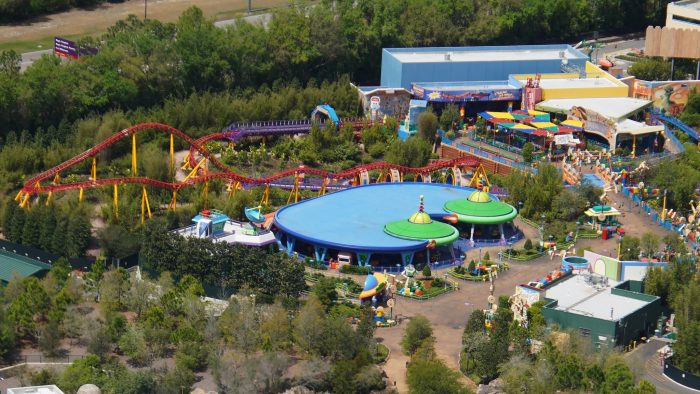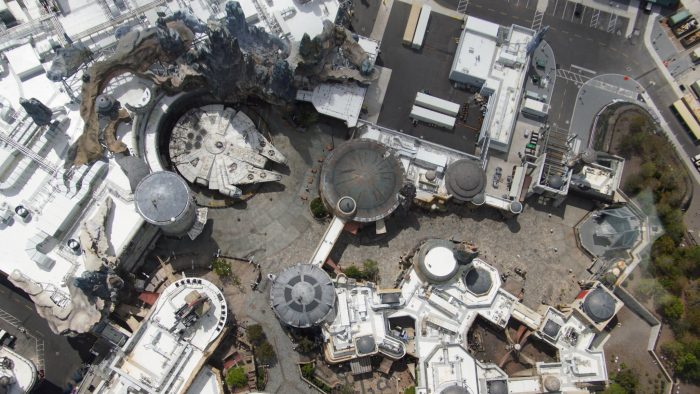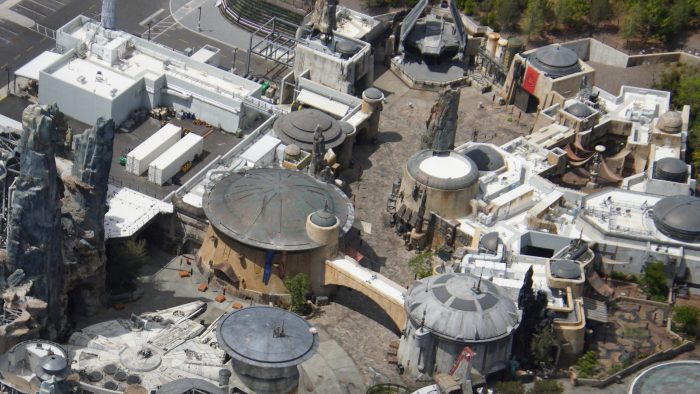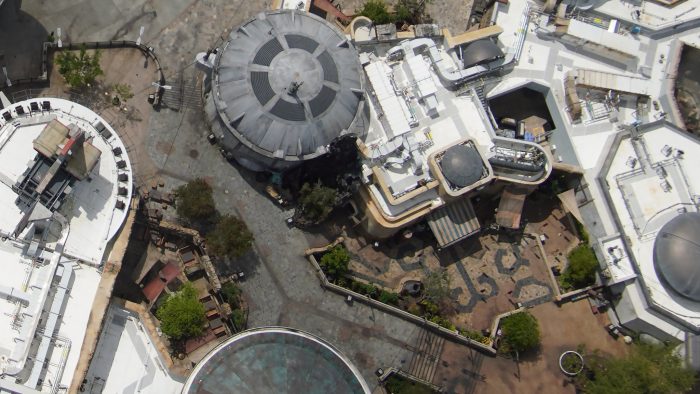 With so many people being out of work during the "abundance of caution" for the Coronavirus (COVID-19), it will be interesting to see how fast Disney moves forward with the upcoming Star Wars Starcruiser hotel. This will be marketed as a high-end two day "experience" for guests, including excursions to Batuu in Star Wars: Galaxy's Edge. Also should be noted that the hotel will not look like a spaceship from the outside.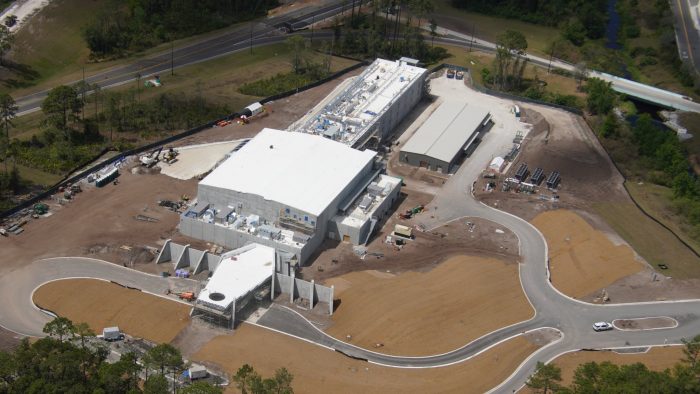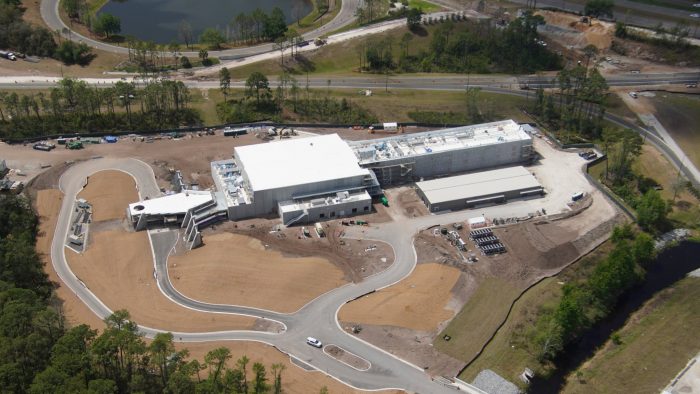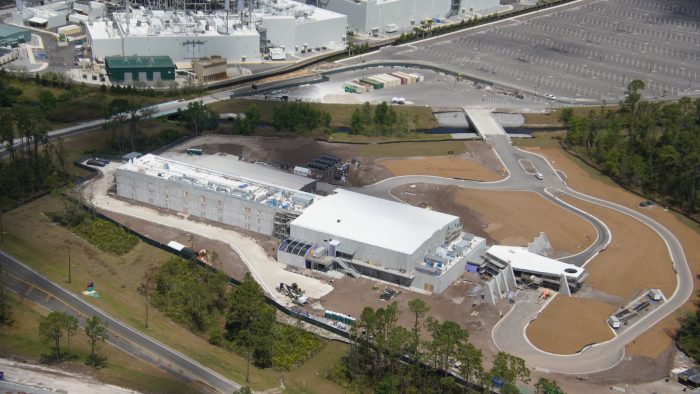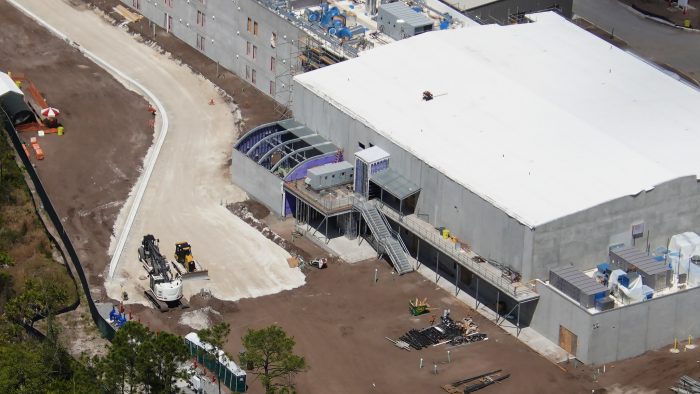 To the right of the Starcruiser we can see some major work being done tearing down an overpass coming from Osceola Parkway.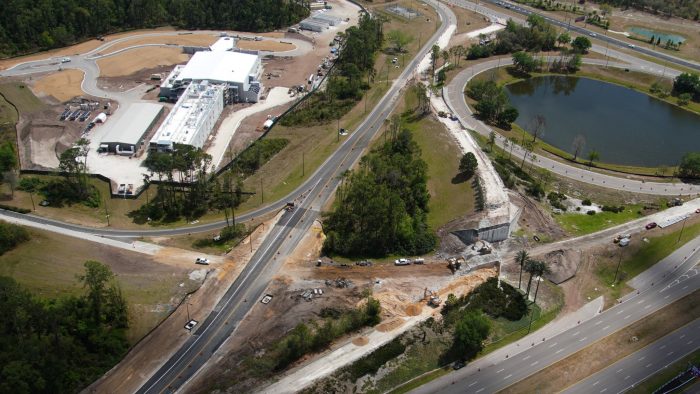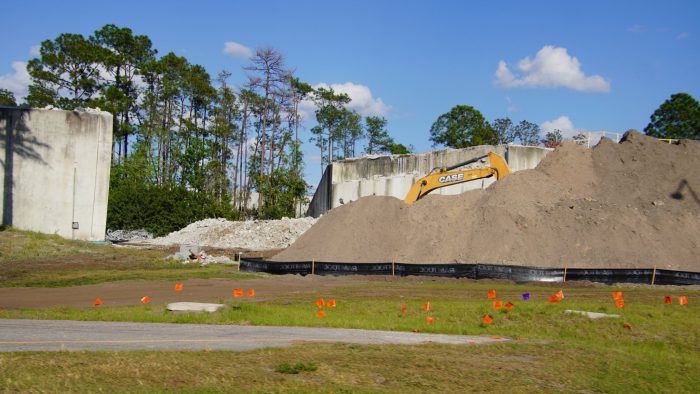 Guests probably remember a different view of this area…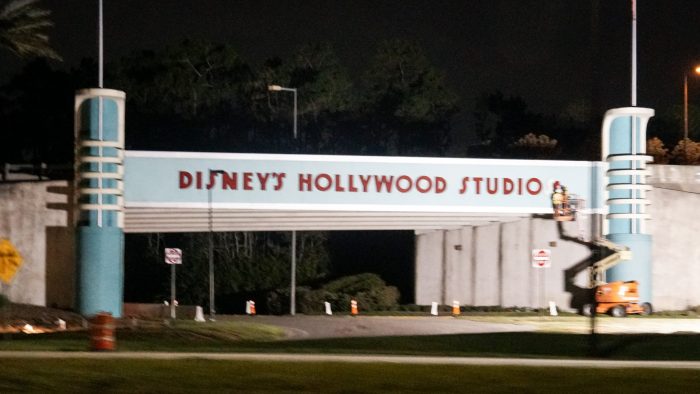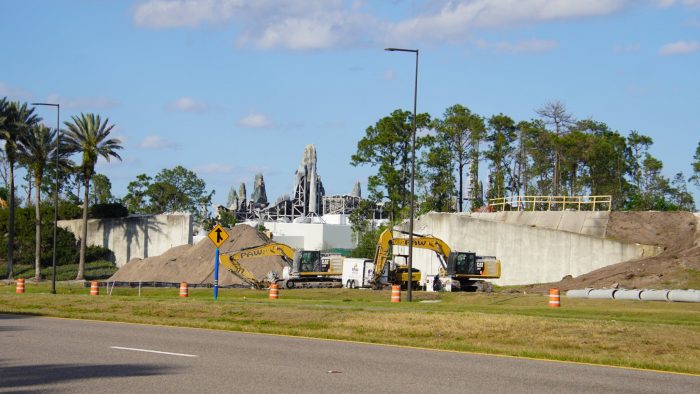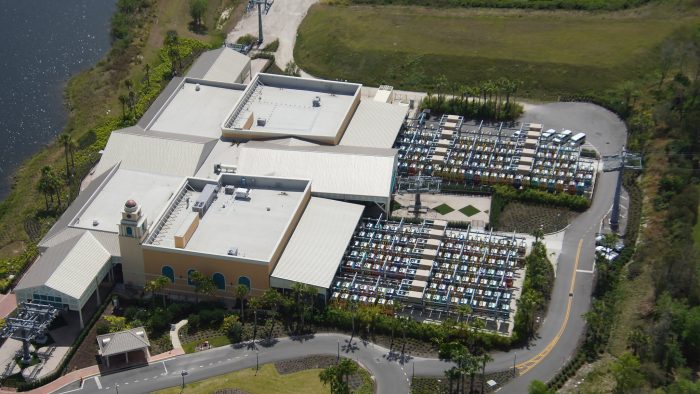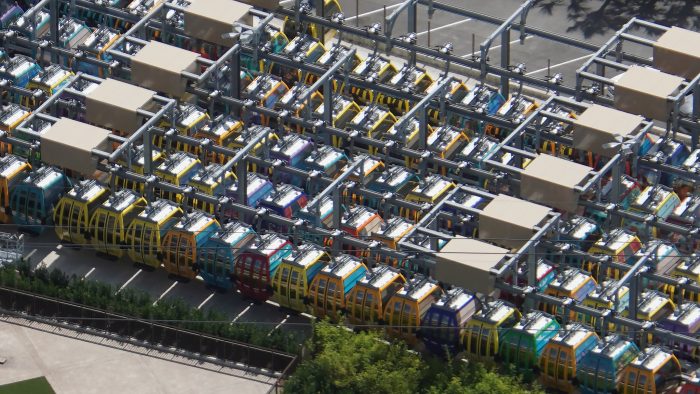 # 2 – Universal Studios Florida
Approaching the Universal Orlando Resort may give some guests a feeling like Will Smith had in the movie "I Am Legend." Universal Blvd, a 5 mile stretch of road which almost always has activity, would be completely vacant for minutes at a time.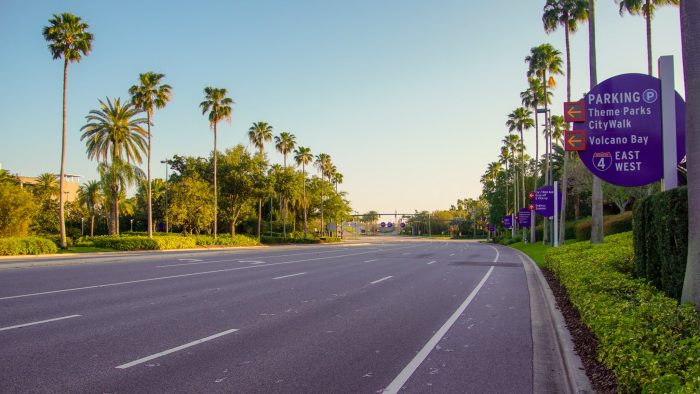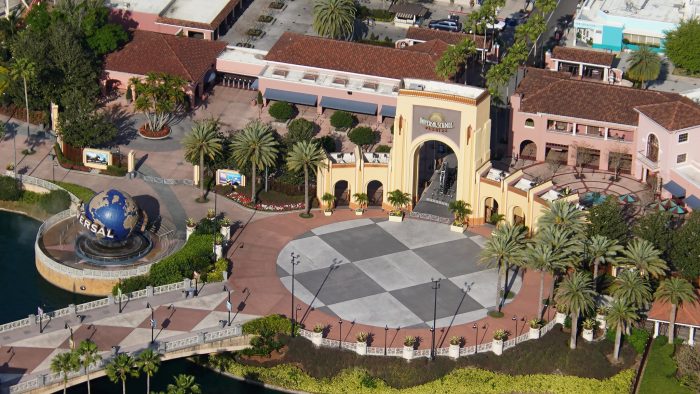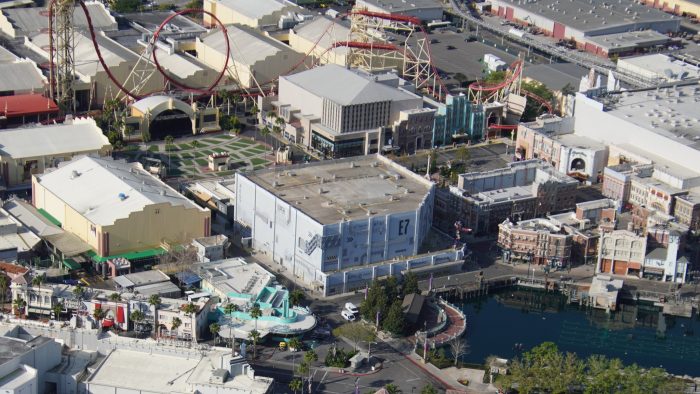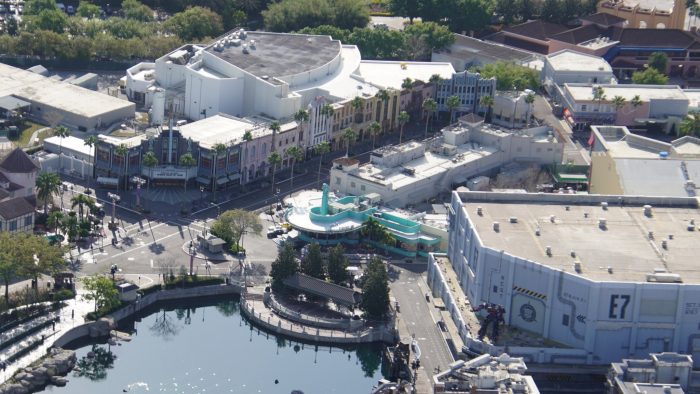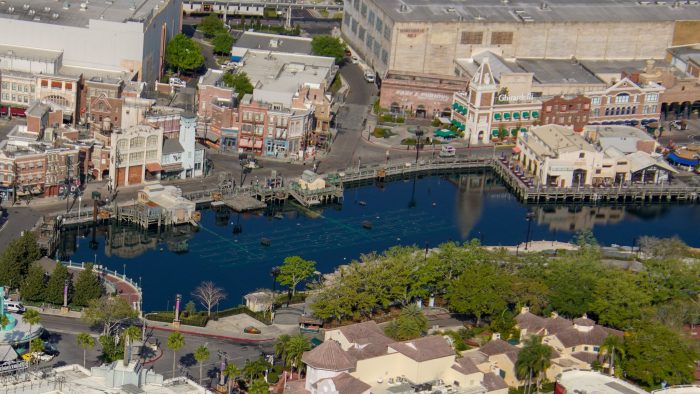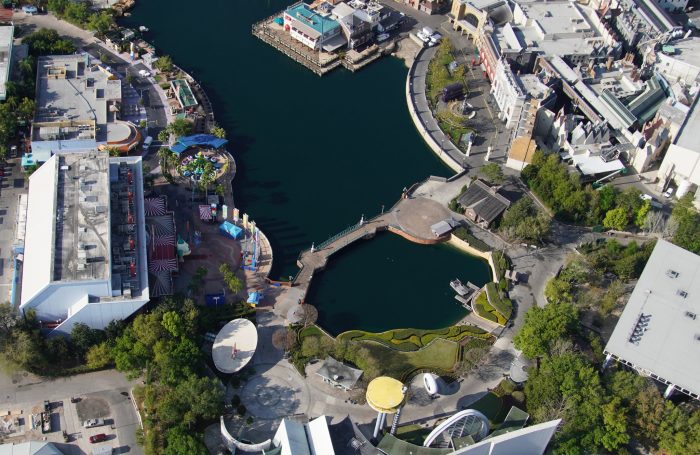 Here is the entire track of the Hogwarts Express leading from King's Cross in Universal Studios Florida to Hogsmeade Village in Islands of Adventure.
# 1 – Islands of Adventure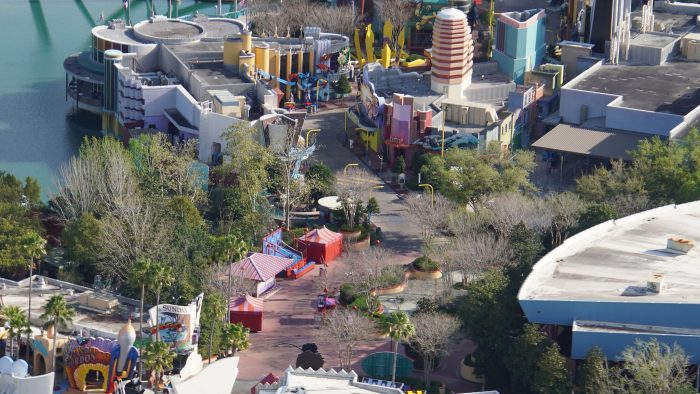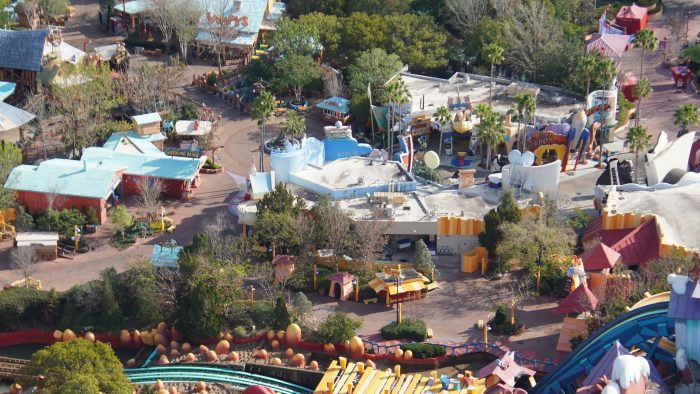 A look at some of the construction going on in Jurassic Park. For some great analysis of what is going on in this land, be sure to check out Alicia Stella's report over at OrlandoParkStop.com.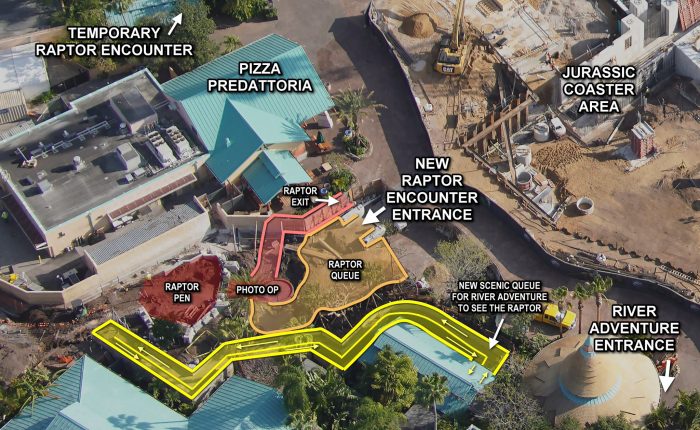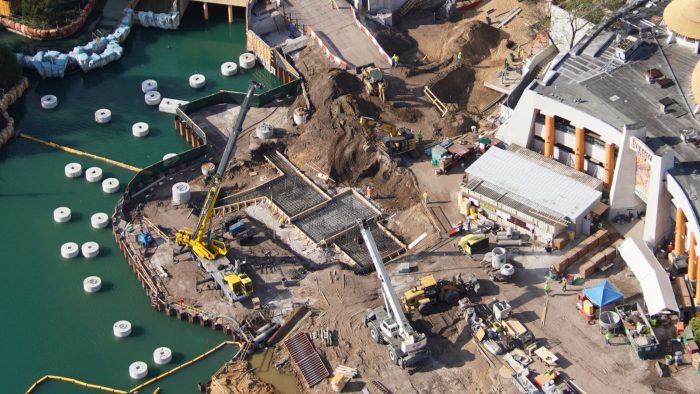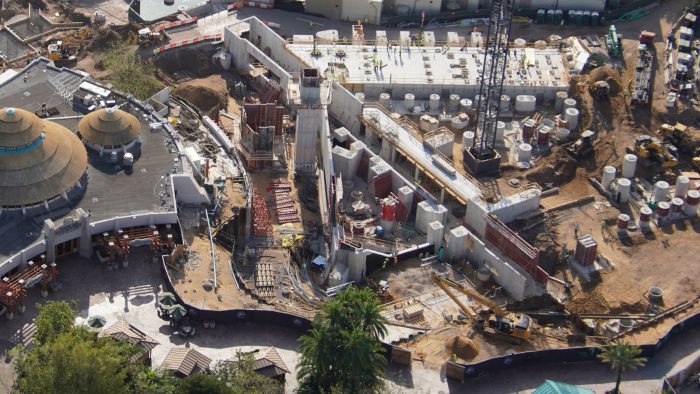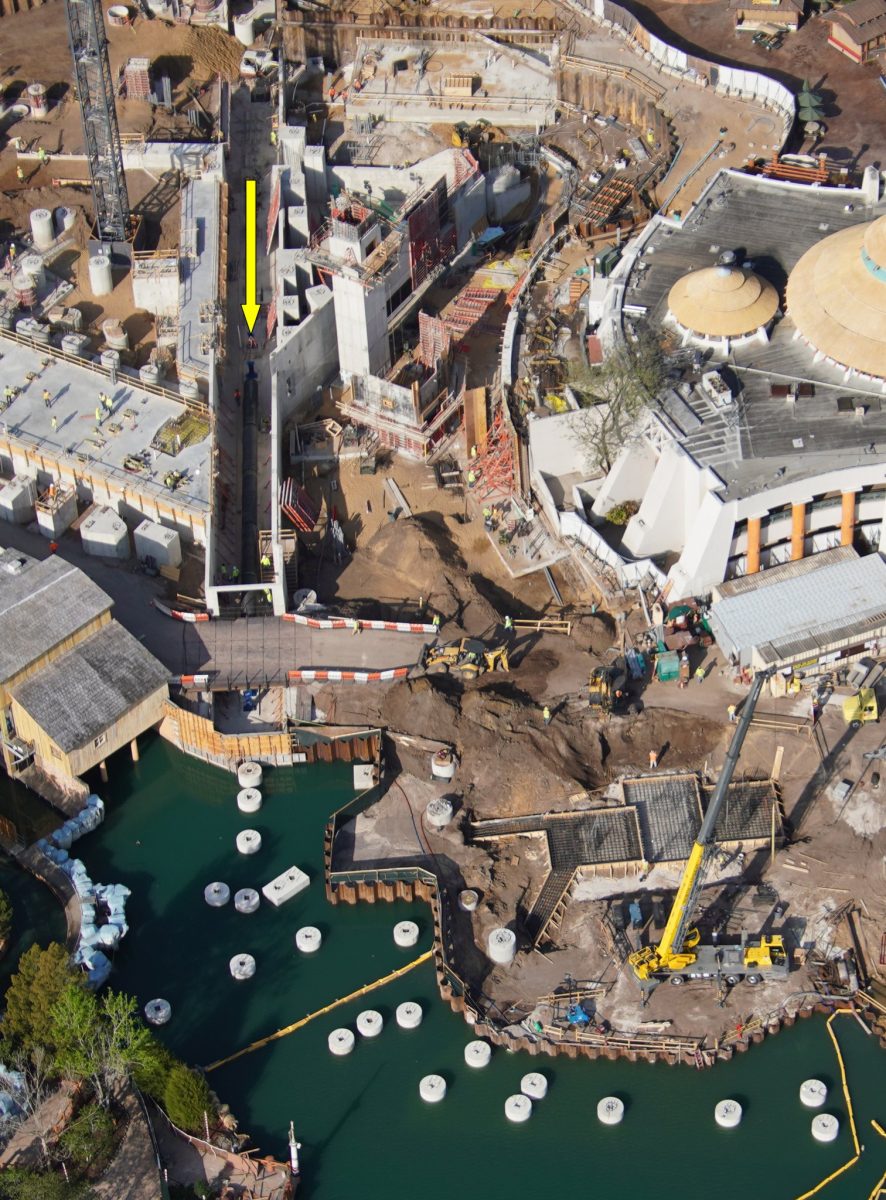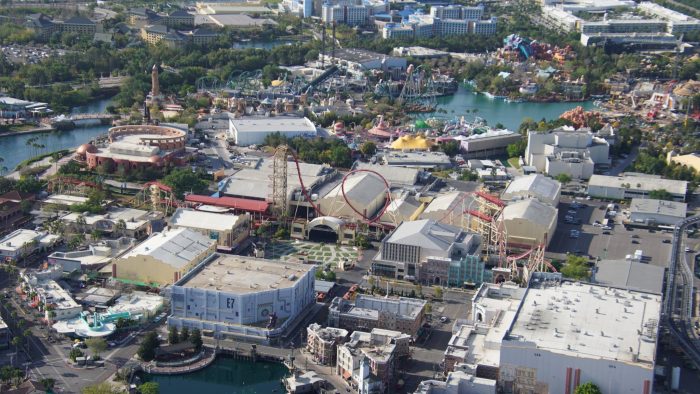 Honorable Mention –  Volcano Bay, Dockside  and Epic Universe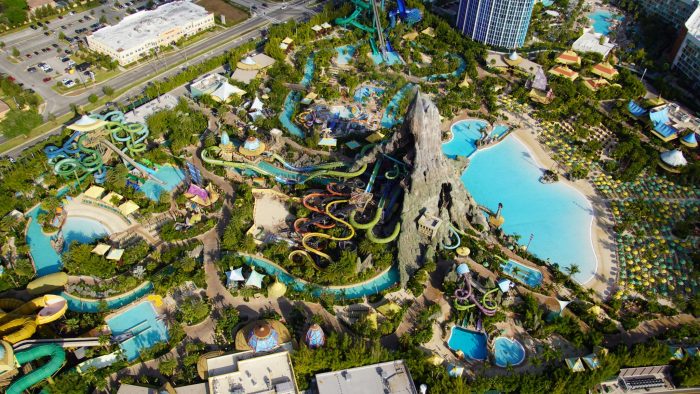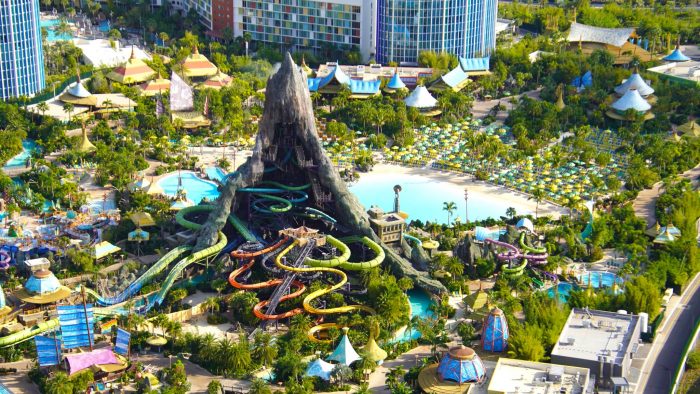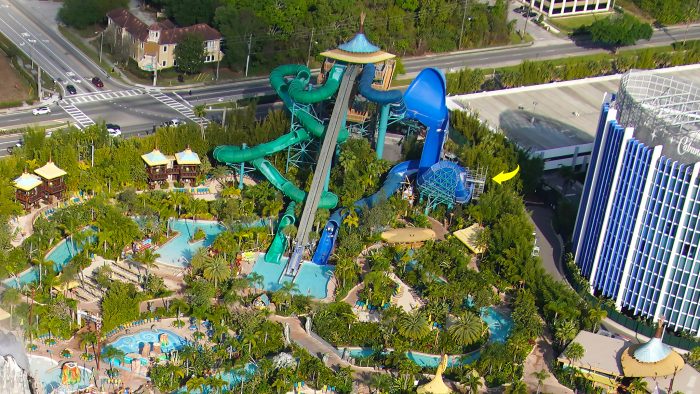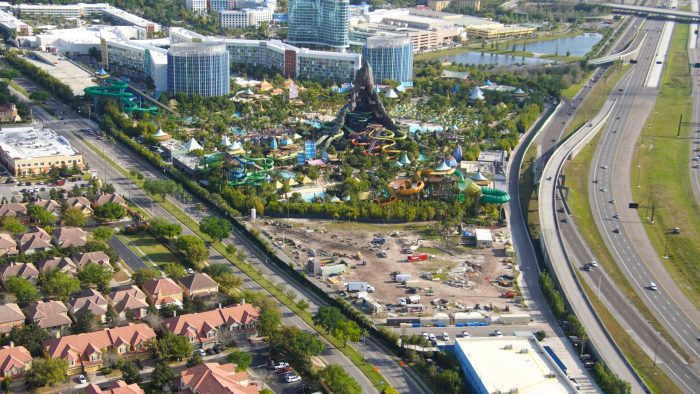 Universal's newest hotel, Dockside Inn & Suites (part of the Endless Summer Resort) was scheduled to have its grand opening this week. It has been postponed.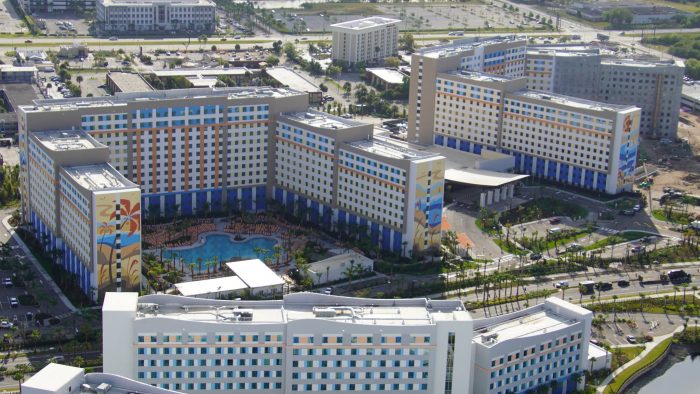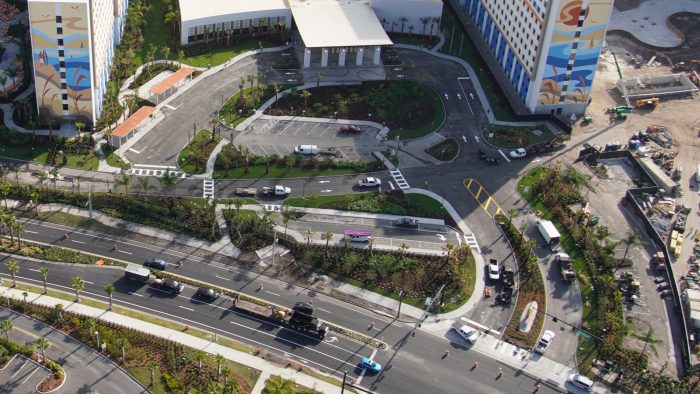 Before everything went south with COVID-19, Universal invited us to check out Dockside Inn & Suites with a tour. Here's some photos from that tour.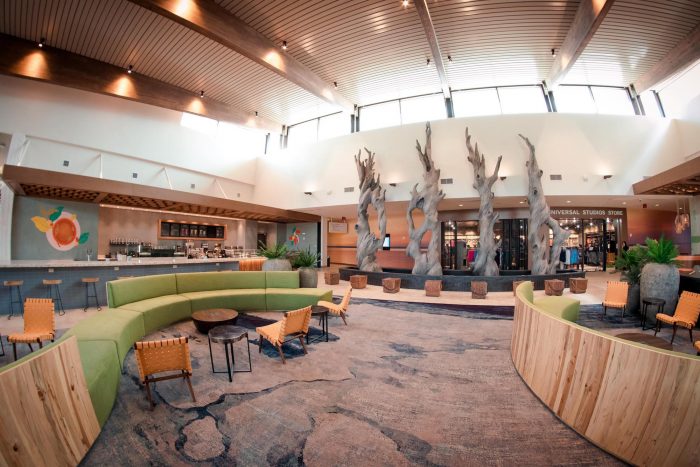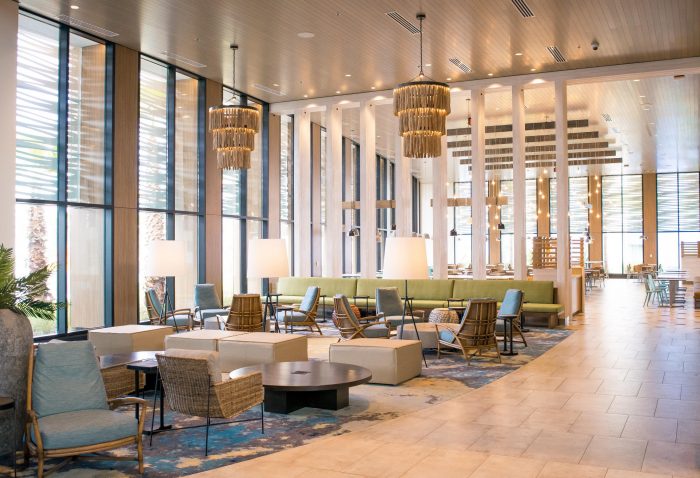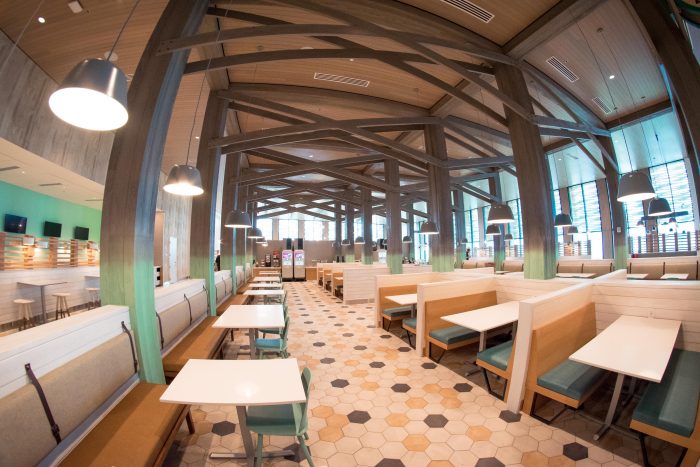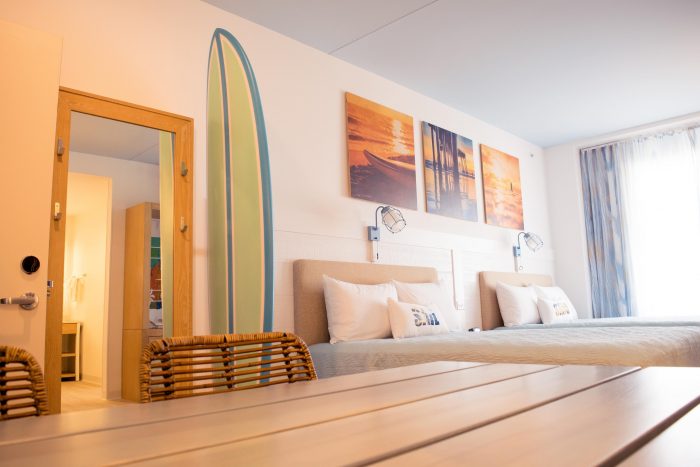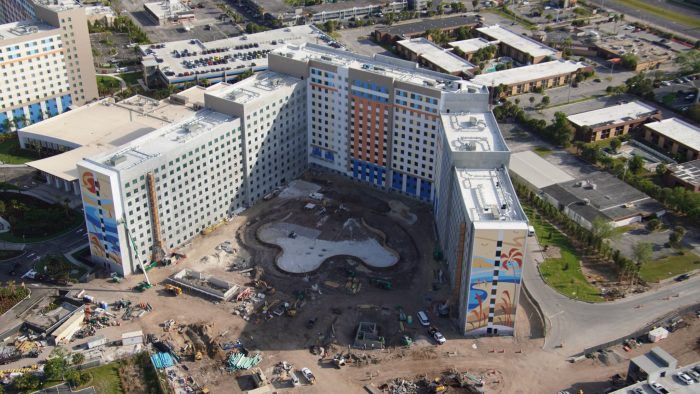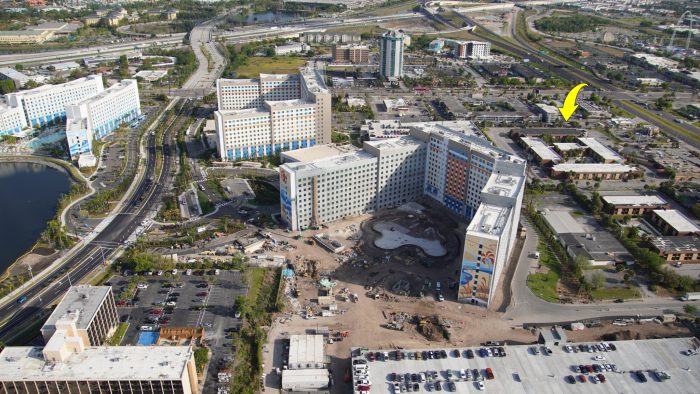 We'll finish up with the one area that has always been empty, the plot of land for Universal's upcoming Epic Universe theme park.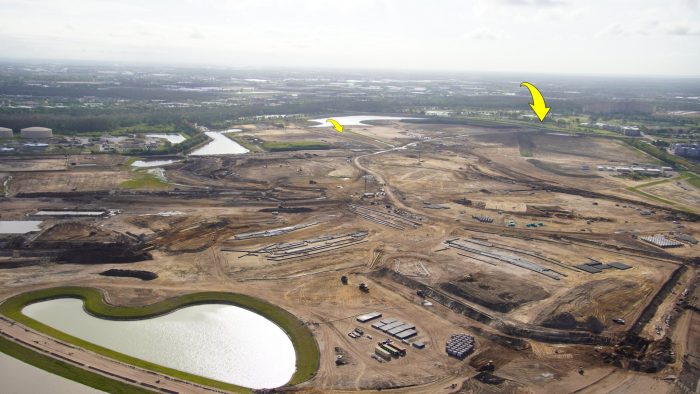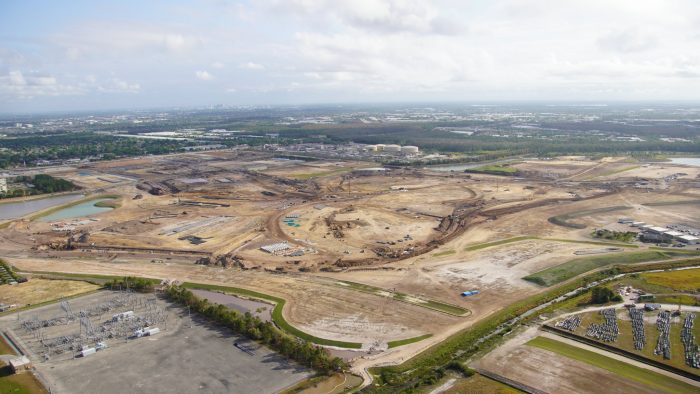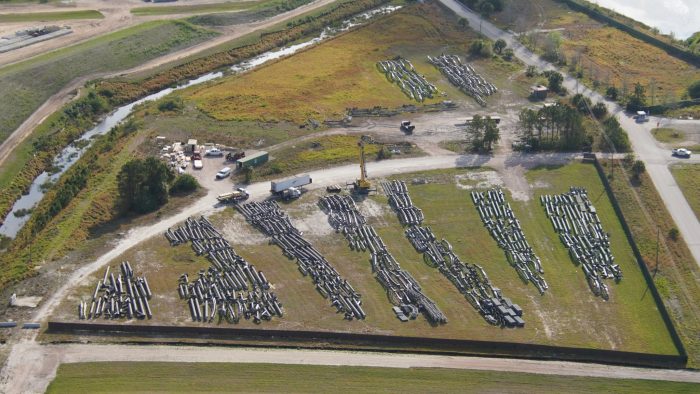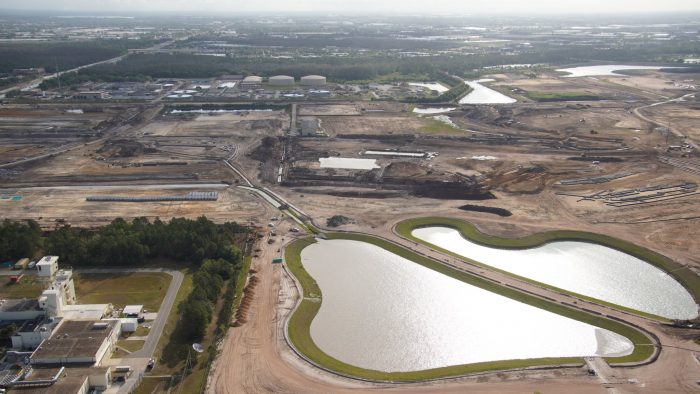 So there you have it: The SATURDAY SIX looks at the EMPTY PARKS in Orlando. See you next weekend for the latest installment of the SATURDAY SIX, where we'll look at something fun from the world of Disney and Universal. If you enjoyed yourself, be sure to check out The Magic, The Memories, and Merch! articles covering the latest from the Disney Outlet Stores. You can also follow Your Humble Author on Twitter (@derekburgan).
If you enjoyed this article, you will surely like the following: 
The SATURDAY SIX Presents: @bioreconstruct's favorite aerial photos
SATURDAY SIX SPECIAL INVESTIGATION: An in-depth look at theme park photography
Special Thanks to The Elite Brandon Glover, the bio-est of all reconstructs @bioreconstruct, Captain Cruiseline Scott Sanders of the world famous Disney Cruise Line Blog, my personal protege Hunter "Elvey" Underwood, the SAT SIX Fun Squad of Parkscope Joe and Nick, hot shot Michael Carelli, and Hermione Granger's tutor Megan Stump for their invaluable assistance with this article. The SAT SIX is inspired each week by goofballs Aengus Mackenzie and LitemAndHyde and you Potterheads will  enjoy Meg's other blog work over at the Central Florida Slug Club.