SATURDAY SIX: 6 Times THE SIMPSONS Totally Nailed Being A Theme Park Fan
This week's SATURDAY SIX takes a look at 6 Times THE SIMPSONS Totally Nailed Being A Theme Park Fan. We here at SATURDAY SIX HQ have never hid the fact of how much we love The Simpsons television show. Despite it being a cartoon, for us it is right up there with the all-time great comedies including Seinfeld, Parks and Rec, and Cheers. When Universal Studios Florida expanded the area surrounding The Simpsons Ride into a small version of Springfield, it was a dream come true. As a fan of The Simpsons dating back to when they were just short skits on The Tracey Ullman Show, seeing Duff Beer brought to life was just as a magical moment for me as it is for Potterheads walking into Diagon Alley and getting a Butterbeer.
One of the reasons The Simpsons actually being represented at the Universal Orlando Resort is so great is because the show has spent the better part of 25 years making fun of theme parks! Other shows have gone to theme parks and made some jokes (such as Boy Meets World, Family Matters, and – of course – Full House), but for the most part those shows were just promotional vehicles for Disney. The Simpsons didn't hold back. Their jokes had some real truths to them, truths that readers of this blog would understand. Today we are going to look back at the history of The Simpsons and theme parks, and at some of our favorite moments over the years. Many of these scenes can actually be seen in the queue for The Simpsons Ride along with exclusive new scenes made just for Universal. So sit back, put on a pair of beer googles, and let's begin our countdown starting with…
# 6 – "Bart's New Friend" (Season 26, Episode 11)
We'll start off with an episode written by Judd Apatow, a man who knows a thing or two about comedy, with a resume that includes Freaks and Geeks, Knocked Up, and The 40 Year Old Virgin. The episode centers around Homer Simpson being hypnotized into thinking he is a 10 year child. Bart Simpson then begins to take advantage of the situation, using Homer as a way to thwart bullies at school and be the "brother" he never had. Before Homer can be de-hypnotized, Bart takes him to Itchy & Scratchy Land and we get to see them ride Soarin' Over Springfield. This was a five star parody of one of Disney's most popular rides.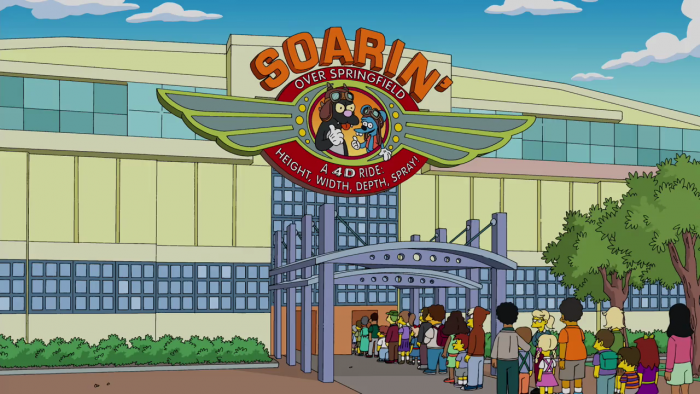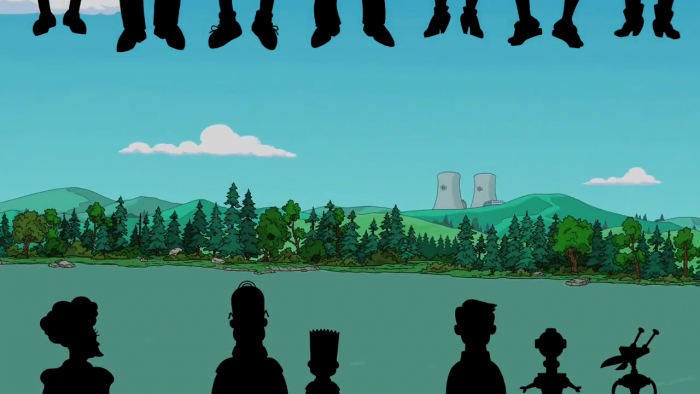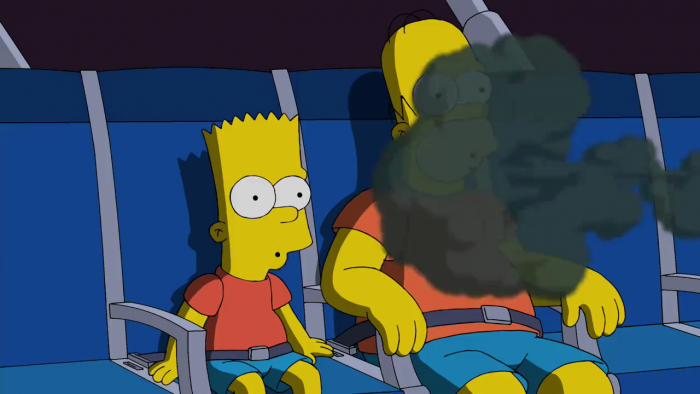 –
# 5 – "Special Edna" (Season 14, Episode 7)
In Season 14's "Special Edna," Bart feels bad for his teacher Edna Krabappel and attempts to cheer her up with a nomination for the Teacher of the Year Awards. In a fun moment, the nomination committee can't believe it is the "real" Bart Simpson nominating Krabappel, as he was always seen as an urban myth in the teaching world, something too horrible to actually exist. The award ceremony takes place in Orlando, Florida. Everyone is excited until they learn it is being held at "EFCOT CENTER," a place that Homer says is "even boring to fly over it." The latter half of the episode has the characters experiencing several of the pavilions, have a meal in World Showcase, and end the night with a showing of IllumiNations.
–
# 4 – "Halloween of Horror" (Season 27, Episode 4)
Someone has certainly been to Universal's Halloween Horror Nights, because Season 27's "Halloween of Horror" made some spot-on observations. The Simpsons show has an annual Halloween episode titled "Treehouse of Terror," but this was a second episode that season dedicated to the holiday. The show even referenced that fact within this episode. Truly meta.
For this episode we have 8 year old Lisa Simpson excited that she is finally old enough to visit Krustyland's Halloween Horror Night. She starts off the night excited, but immediately realizes the event is way too scary for her. In a hilarious moment, Homer acknowledges that his daughter is scared, but reminds her how much the tickets cost. I've had several moments at the real HHN at Universal seeing young children absolutely terrified walking through the haunted houses. Universal has plenty of cops waiting outside each house in case anyone gets "punchy," but maybe some Child Protective Service people should be there as well. Anyway, the episode itself was a pitch-perfect send up of Universal's annual hard ticket event.
–
# 3 – "Selma's Choice" (Season 4, Episode 13)
One of the earliest attempts at mocking the theme parks we know and love took place all the way back in Season 4 (airdate of the show was in January, 1993). We started off the show with The Simpsons watching TV and seeing a commercial for Duff Gardens. While Duff Gardens itself was more of a parody of Disney, the name is referencing Busch Gardens. For those who don't know, Busch Gardens used to be run by the Anheuser-Busch company, the makers of Budweiser. In The Simpsons universe, Duff Beer is the clear equivalent of Budweiser.
Homer is just as excited as Bart and Lisa when he saw the television and asked the kids, "What do we say when we get to the ticket booth?" The kids replied,"we're under 6!" followed by Homer adding, "and I'm a college student!" Just  amazing. Homer ends up getting sick and the kids were taken to the park by their aunt Selma, who would have liked to be anywhere else. This episode marked the first appearance of the Seven Duffs, a clever spin on Disney's Seven Dwarfs. We also got to see some fun poked at it's a small world, Hall of Presidents, the Main Street Electrical Parade, and even theme park gift shops.
–
# 2 – "Itchy & Scratchy Land" (Season 6, Episode 4)
As we stated earlier, The Simpsons is an all time classic show, with many episodes ingrained into pop culture. Several episodes such as Marge vs. The Monorail, Cape Feare, and A Fish Called Selma can be put in a time capsule to show future generations how great TV can be. For my money, Season 6 is overall the greatest season in the history of The Simpsons, with Homie the Clown, And Maggie Makes Three, and the Who Shot Mr. Burns? season ending cliffhanger being three monster home runs, but – for me – pound for pound the best episode was Itchy & Scratchy Land.
Similar to Duff Gardens, Bart and Lisa see a commercial for the new Itchy & Scratchy Land theme park and beg Marge and Homer to take them. Marge had her heart set on visiting a bird sanctuary, but after finding out the area has Parent's Island (referencing Disney's old Pleasure Island) the family makes a group trip to the theme park. What follows is a tour de force in theme park related comedy. Anyone who has ever parked their car at a theme park will laugh. Anyone who has bought Disney Dollars will laugh. Anyone who has gone into a theme park gift shop will laugh. Besides being filled with amazingly accurate jabs at the Disney parks here in America, the show ends with a jaw dropping finish at Euro Itchy & Scratchy Land (which was making fun at the all too real problems Euro Disneyland faced at the time.) When I die, bury me with the VHS copy of this episode I taped when it aired on TV.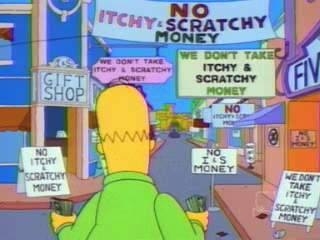 The episode featured the audio animatronics of the park going haywire and trying to kill the guests. Maybe it's a good thing our Yeti can't move after all. Anyway, after the robots are defeated (by the flashes of disposable cameras, talk about a moment in time,) Professor Frink says, "If this is happening here, I hate to think what is happening in Euro Itchy & Scratchyland." We then cut to a deserted Euro Itchy & Scratchy Land, with a ticket salesman yelling out for people to come.
–
# 1 – "The Man Who Came To Be Dinner (Season 26, Episode 10)
For Disneyland fans, Season 26's episode on the Simpsons going to Dizzneeland is worth going out of your way to see. Each episode is broken up into three acts, and only the first act relates to the theme parks, but boy do they pack a lot in. We start off with the family parking in a parking structure (which we don't have at any of the WDW parks) and Homer tells his family, "Don't worry, this time I'm going to write down where I parked!" He wrote down "parking lot," so you know right from the start we are in a for a fun ride. We then get to see the family experience the frustration of slow moving rides for young kids, Star Wars being integrated into the Disney parks, and long lines for – well – everything. The Dizzneeland adventure is filled with jokes for theme park fans, by theme park fans, and that's what makes The Simpsons so special.
–
HONORABLE MENTION – "The Winter Of His Content" (Season 25, Episode 14)
Presented without commentary.
So there you have it: Six Times THE SIMPSONS Totally Nailed Being a Theme Park Fan. See you next weekend for the latest installment of the SATURDAY SIX, where we'll be going to EPCOT. If you enjoyed yourself, be sure to check out The Magic, The Memories, and Merch! articles, or, for your listening pleasure, check out the E-Ticket Report podcast. You can also follow Your Humble Author on Twitter (@derekburgan)
If you enjoyed this article, you will surely like the following:
Six "EASTER EGGS" at the Universal Orlando Resort (including Back to the Future's DOC BROWN in the queue for The Simpsons Ride)
Our Six Favorite Jokes in Universal's SPRINGFIELD U.S.A.
Six Great Souvenirs From the Universal Orlando Resort (including the BORT KEYCHAIN at the Kwik E Mart)
Six Times Our Favorite Shows Went to Disney World
Walt Disney World Locations Used in Hulk Hogan's THUNDER IN PARADISE
Special Thanks to crack staff photographer Brandon Glover, master photo manipulater Matt Cleary, the leading generator of 404 error messages on the entire internet – Tim Grassey of WDWThemeParks.com, and blogger to the stars Megan Stump for their invaluable assistance with this article. Be sure to also check out Brandon on The Park Blogger podcast with co-host Aengus Mackenzie along with Meg's Yeti To Be Named Disney Podcast.