SATURDAY SIX THANKSGIVING SPECIAL: Six Reasons for Theme Park Fans to Give Thanks in 2016
This week's SATURDAY SIX  is our annual Thanksgiving Special and takes a look at Six Reasons for Theme Park Fans to Give Thanks. 2016 was another great year to be a theme park fan, and for this Thanksgiving we are going to take a quick break from all the turkey, football games, and Black Friday pre-planning to count our blessings and thank the parks and resorts that we love so much. So, for one day only, we ask that all Disney and Universal fans put aside their differences and spend a brief moment appreciating all the wonderful things that we can share together, starting with…
# 6 – More Muppets in Walt Disney World!
With two major expansions coming to Disney Hollywood Studios, many fans of The Muppets were afraid that the Muppets courtyard and Muppet Vision 3D would be bulldozed as Disney prepared for our new Star Wars overlords. It didn't help that in 2014 Muppets Most Wanted underperformed at the box office (making $30M less than The Muppets film which came out in 2011) and The Muppets television show on ABC had a major creative shakeup halfway through its first season, ultimately being cancelled earlier this year. Muppets fans breathed a sigh of relief when Disney officially released their plans for Star Wars at the D23 Expo, leaving the Muppets area of the park untouched.
Then, appearing like an early Christmas present, came a whole bunch of incredible great Muppet news. In October, The Muppets entered the Magic Kingdom for a hilarious new attraction in Liberty Square. The Muppets Present…Great Moments in American History is filled with the perfect Muppet humor that can appeal to both adults and children. Over in EPCOT, the Muppet Mobile Lab featuring Beaker and Dr. Honeydew returned after being gone for many years. Meanwhile, back at DHS, the restaurant formerly known as Pizza Planet was completely transformed into the Muppet-themed PizzeRizzo.
So Muppets fans – like myself – started the year fearing we could be seeing the end of The Muppets in Walt Disney World, but by the end of the year we have more Muppets than ever before. Long Live The Muppets!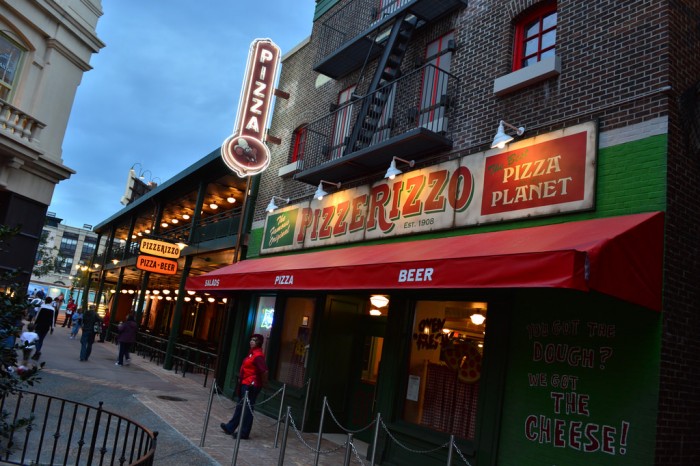 # 5 – Universal's Toothsome Chocolate Emporium & Savory Feast Kitchen
We all have our favorite restaurants at Disney and Universal. For some it's 'Ohana and the all you can eat meat skewers, for others it is the elaborate Beauty & the Beast theming at Be Our Guest, and some just want a great pizza at Via Napoli in EPCOT. When Universal announced that it would be closing NBA City in CityWalk, there was nobody chaining themselves to the 3 story statue of a basketball player outside that looked like it was designed by Saruman to scare away Hobbits in Lord of the Rings. Universal had been in the process of completely overhauling CityWalk, creating some incredible restaurants with Vivo, Antojitos, Red Oven Pizza Bakery and others. It was time for NBA City to go.
In came the Toothsome Chocolate Emporium & Savory Feast Kitchen, filling a void in our hearts we didn't know was there. With a steampunk theme that goes top to bottom, and a next-level bonkers menu (chocolate ranch sauce?!) Toothsome is just about the perfect theme park restaurant. It has walk around characters, E-Ticket milkshakes, and even a gift shop with items as creative as anything sold in the Wizarding World. A meal at Toothsome is an experience, and the menu is filled with unbelievable solid entrees and desserts that will keep you coming back to try them all.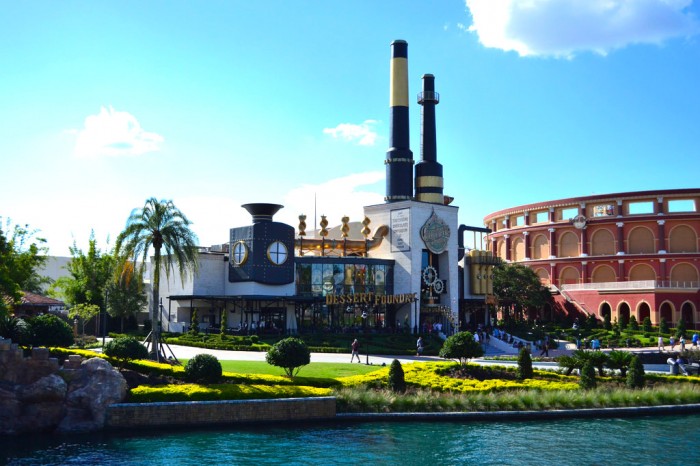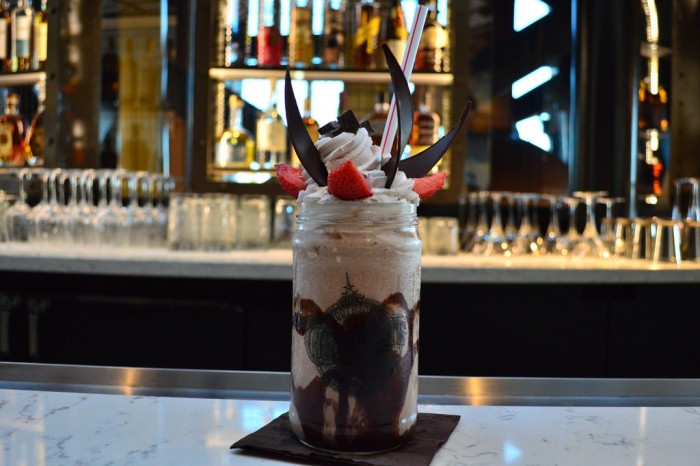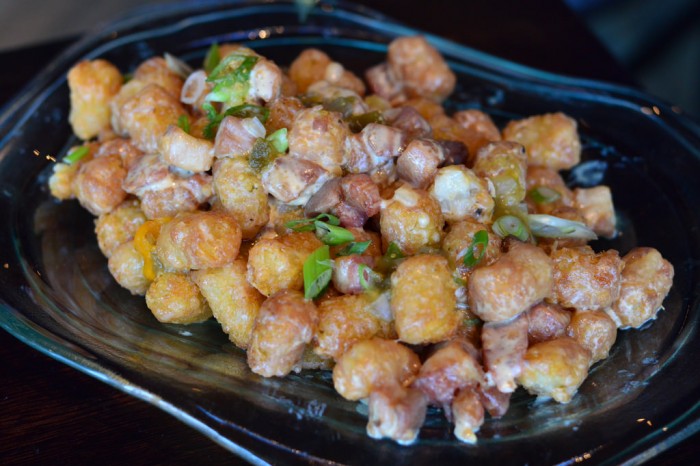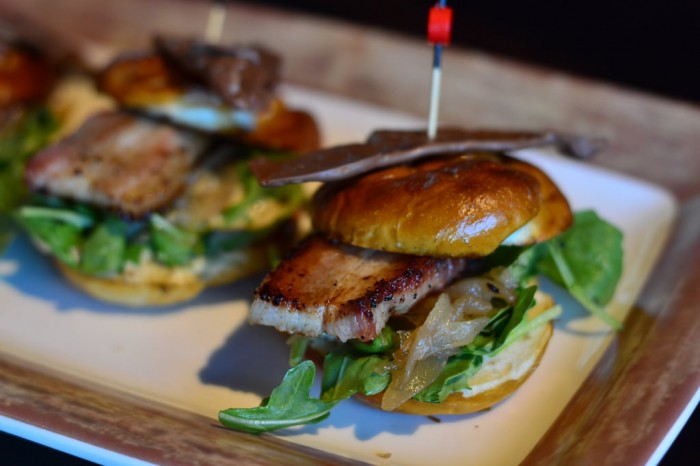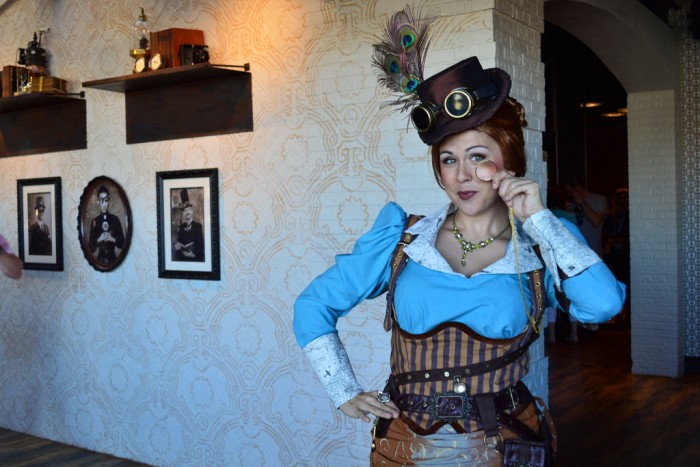 –
# 4 – Tree of Life Awakens
When Universal was getting ready to open Diagon Alley, the first thing they did was get other things in the park ready for the upcoming onslaught of guests who would be visiting the area. So USF got Transformers The Ride 3D and an expanded Springfield USA the year before Diagon opened up its brick wall to Muggles. This year, Disney used the same playbook as it prepared for next year's opening of Pandora: The World of Avatar. Unfortunately, things didn't go exactly as planned. The long awaited Rivers of Light show was announced to debut in April, but has been delayed with no official start date as of this writing. The Kilimanjaro Safaris started a new nighttime experience that has provided some of the most unique safaris Your Humble Author has ever seen, especially near sunset. The restaurant Tiffins opened up to massive critical raves. You may want to consider getting an ADR soon, because once Pandora opens Tiffins will not be nearly as easy to get into.
But the show stealer was the brand new Tree of Life Awakens show. Nobody is better than Disney at using projection mapping technology and what they have done at Animal Kingdom is stunning. Even before the actual show begins, guests get to see glimpses of the animals which make up the trunk of the Tree of Life "come to life" and it is true magic. There are four shows that you can see, each running about three to four minutes or so, and they combine projection mapping on the tree along with music to present a jaw dropping story.
For some tips on how to best experience Animal Kingdom at night, include the Tree of Life Awakens show, check out this article on Disney Tourist Blog by Tom Bricker.
–
# 3 – SKULL ISLAND: Reign of Kong
Have you seen the new trailer for next year's SKULL ISLAND movie? If not, you need to watch it right now. If you have seen it, you need to watch it again. Now that you are back, it is clear that next year people are going to go bananas for King Kong. Whereas Universal wasn't fully prepared to take advantage of last summer's gigantic hit Jurassic World, they are already up and running with a fantastic King Kong attraction in Islands of Adventure. Some people feared that the attraction would just be a redo of the tram experience available at Universal Studios Hollywood, but it is much more than that. With a must-experience queue, unique audio-animatronic bus drivers, and an appearance by the big ape himself at the end, Skull Island is a great addition to a park filled with incredible rides such as the Amazing Adventures of Spider-man, Jurassic Park River Adventure, and Harry Potter and the Forbidden Journey.
–
# 2 – Frozen Ever After
In 2014 we shed our tears with the rest of the #SaveMaelstrom movement, but an amazing thing happened when Walt Disney Imagineering converted the old Norway boat ride into an attraction based around the hit movie Frozen: they hit a monstrous home run. Given the constraints WDI had to work with including – for Disney – a rapid turnaround, Frozen Ever After is a dark ride so good that it would fit in perfectly with the legendary Fantasyland attractions at the Magic Kingdom. The animatronics are amazing (Olaf "gliding" is wonderful), guests get to see all of their favorite Frozen characters and hear almost the entire film's soundtrack, including the contractually obligated "Let It Go." While the fictional country of Arendelle is the first to exist in World Showcase, so much of the architecture and design of the area comes straight from the country of Norway that it blends in seamlessly. There are even tributes to Maelstrom in both the Royal Sommerhaus meet and greet queue along with – believe it or not – the stroller parking outside.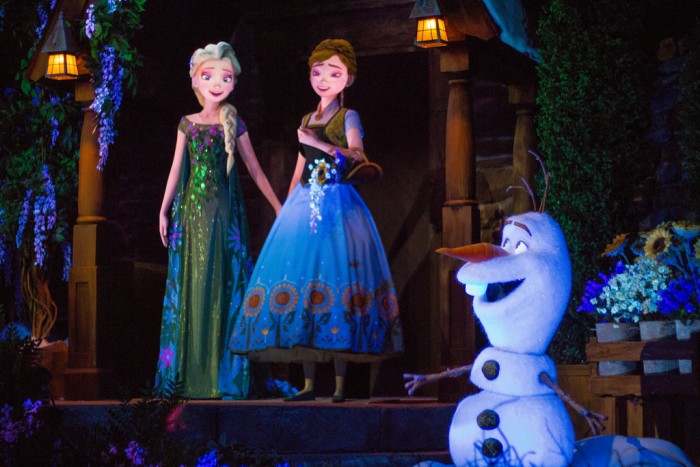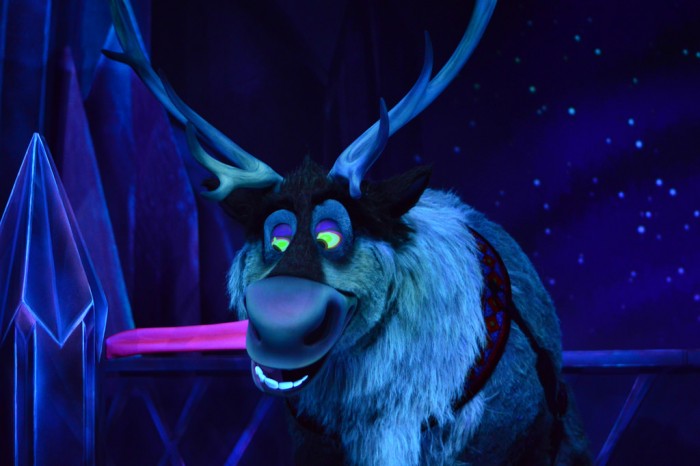 –
# 1 – Disney Springs Phase 2
Around this time last  year, we wrote about the fantastic additions that had just come to Disney Springs. These include Jock Lindsey's Hangar Bar and its tributes to Indiana Jones, restaurants such as The BOATHOUSE and Morimoto Asia, and – possibly best of all for those of us who drive there – a dedicated ramp off of I-4 and new parking garages. This year things somehow got even better, including the opening of a whole bunch of new stores and restaurants. In fact, so many great restaurants have now opened that Disney Springs is now THE place to go for a night out to eat at WDW, taking the mantle from EPCOT and its lineup of incredible venues such as Via Napoli, Rose & Crown, and Teppan Edo.  That's right, Chef Art Smith's Homecoming, Frontera Cocina, and Blaze Pizza have joined up with the aforementioned BOATHOUSE and Morimoto Asia along with Paradiso 37,  Raglan Road, Splitsville and more to create a Murderer's Row of dining experiences.
The parking situation at Disney Springs, which used to be the worst on property, is now by far and away the best, with a third garage on the way. Several pedestrian bridges have also been built, allowing traffic on the nearby roads to go much smoother. The already GIANT World of Disney expanded even more, and the massively popular Bibbidy Bobbidy Boutique was transferred over to a bigger location at the nearby Once Upon a Toy. Every piece of the puzzle that Disney tried to fix with Downtown Disney they did spectacularly with Disney Springs. Everything is better. Everything.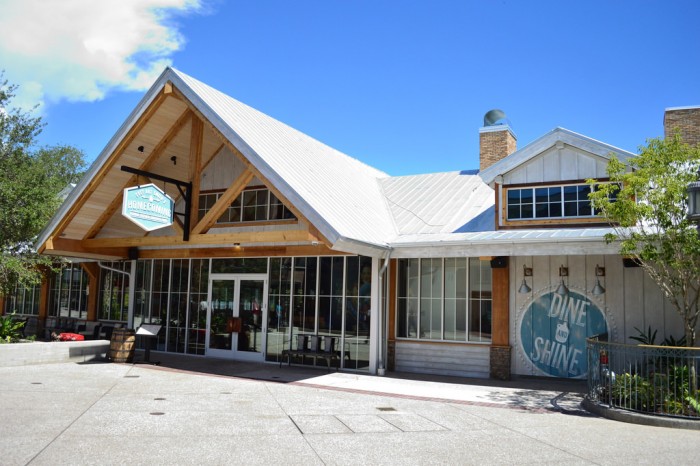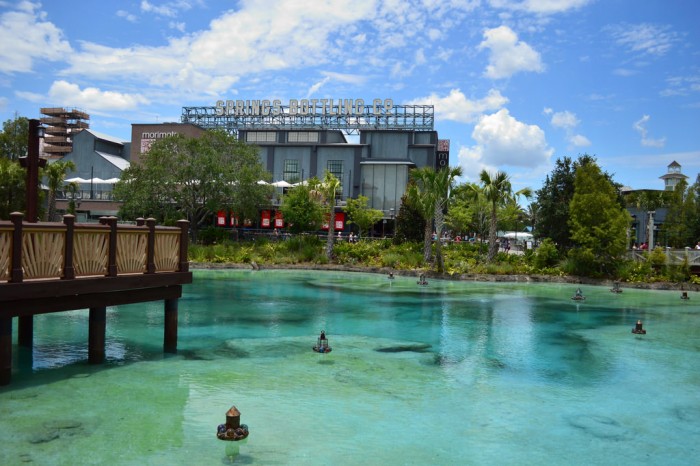 –
HONORABLE MENTION – Star Wars: A Galactic Spectacular
We mentioned that Disney has gotten pretty good at projection mapping, right? Well, if you need anymore proof to see their mastery you just need to head on over to DHS and see the insanely good Star Wars: A Galactic Spectacular nighttime show. With moments from all of the Star Wars films being projected on to The (Once) Great Movie Ride, fireworks booming, and iconic music from composer John Williams being played, this is a show that separates Disney from the pack.
–
DOUBLE SECRET HONORABLE MENTION: Starbright Holidays in Disney Springs
Wait a minute, Disney Springs just got better from just five minutes ago?! Yes! YES! YES! Starting on November 20th of this very year, the Starbright Holidays show at Disney Springs unveiled the first of its kind drone show at Walt Disney World. With classic holiday Christmas songs playing in the background, these drones fly in the air over the water separating Disney Springs and the Saratoga Springs Resort providing a true how did they do that show.
So there you have it: the Six Reasons Theme Park Fans To Give Thanks in 2016. See you next weekend for the latest installment of the SATURDAY SIX, where we'll look at something fun from the world of Disney and Universal. If you enjoyed yourself, be sure to check out The Magic, The Memories, and Merch! articles, or, for your listening pleasure, check out the Pardon the Pixie Dust podcast. You can also follow Your Humble Author on Twitter (@derekburgan)
If you enjoyed this article, you will surely like the following:
THE SATURDAY SIX NEWS DESK: Bait You Can Click On
Disney Dining: 'Ohana at Disney's Polynesian Village Resort
Six of the Most Interesting, Most Unusual, and Strangest Souvenirs of EPCOT'S World Showcase
Six MORE Extreme Eats at Walt Disney World
Special Thanks to crack staff photographer Brandon Glover, Nine Dragons Addict Brian Carey, master Disney photographer Tom Bricker, and blogger to the stars Megan Stump for their invaluable assistance with this article. Be sure to also check out Brandon on The Park Blogger podcast with co-host Aengus Mackenzie along with Meg's work with the Central Florida Slug Club.
FINAL PLUG! Did you know The 2017 Unofficial Guide to Universal Orlando has a special edition of the SATURDAY SIX in it? Finally, someone came up with an actual reason to read a book. ORDER this baby now and support SIX NATION (boy do we need a better name than that.)