The SATURDAY SIX Looks at our Favorite Easter Eggs in TOY STORY LAND
This week's SATURDAY SIX takes a look at our favorite Easter Eggs in TOY STORY LAND! With the release of Toy Story 4 into the movie theaters this week, we thought it was time to head back to Toy Story Land in Disney's Hollywood Studios and check out some of our favorite details. There are some amazing references to the Toy Story films and Pixar Animation Studios, with some being cleverly disguised, while others are hidden in plain sight. Today we'll look at some of our favorites Easter Eggs, starting with…
# 6 – Pizza Planet
When the original Toy Story came out in 1995, it was a true game changer in the world of animated films. Until that point animated films were almost exclusively hand drawn, with some elements of computer animation (CGI) being slowly added in (such as the ballroom sequence in Beauty & the Beast), but Toy Story was the first ever CGI full-length animated film. Today the animated world is the exact opposite, with almost all animated films being completely CGI while hand-drawn ones are the outliers. While Toy Story is filled with memorable moments and characters, the short time that Woody and Buzz Lightyear spent in a restaurant called Pizza Planet is something that has stuck with many viewers.  The theme behind the Alien Swirling Saucers attraction in Toy Story Land is essentially Pizza Planet, with the same pizza "knights" guarding the entrance, and fun pizza elements throughout.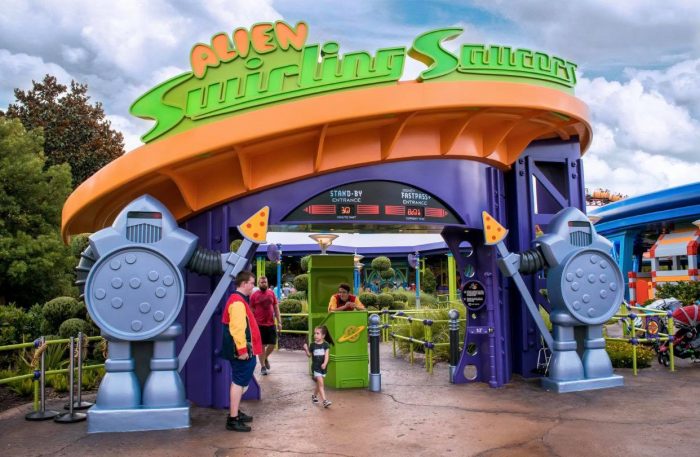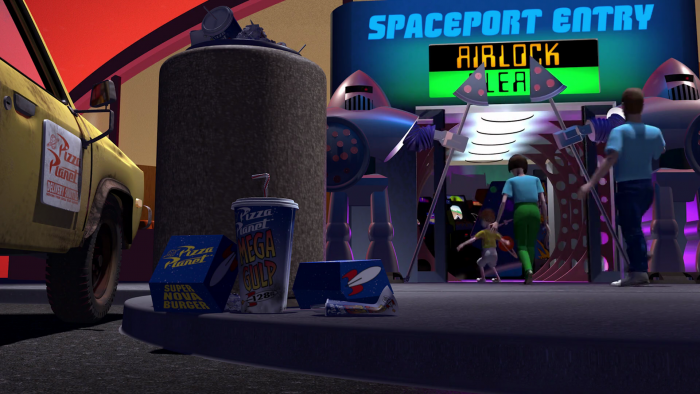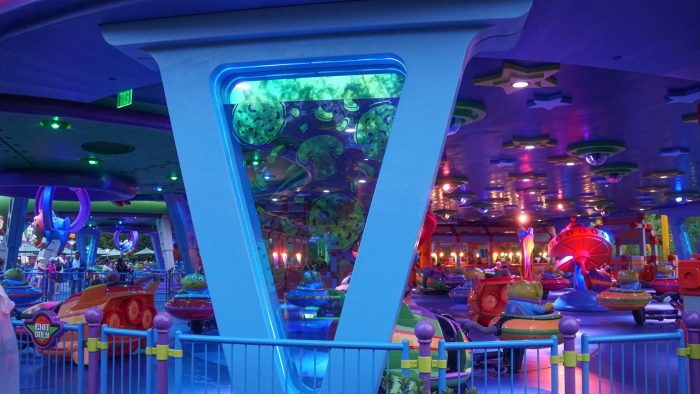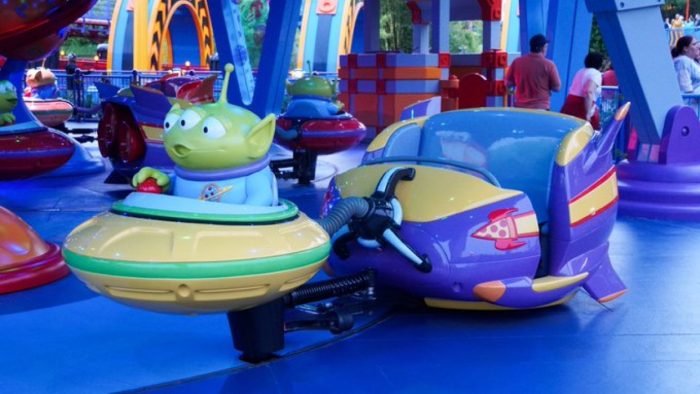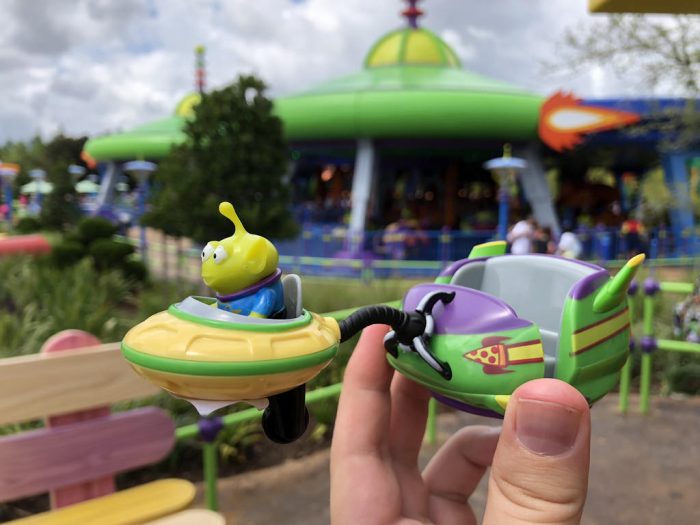 Alien Swirling Saucers has a large replica laser gun from Buzz Lightyear's Astro Blasters in the queue.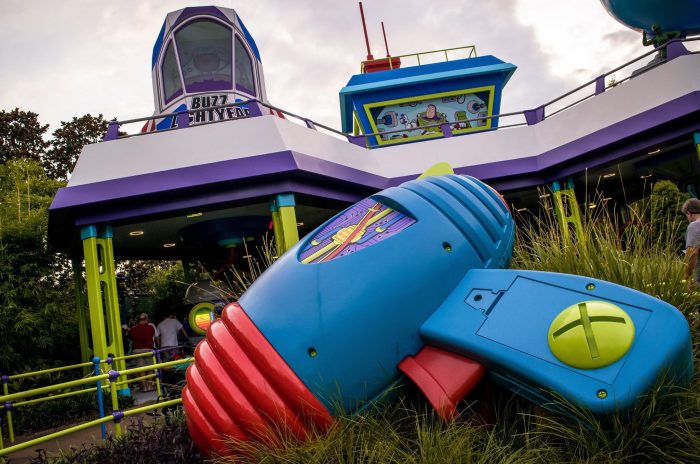 # 5 – A113
Regular readers of the SATURDAY SIX should recognize the A113 reference, as we have seen it several times over the years (including over at the Cars section in Disney's Art of Animation Resort). A113 is a reference that can be seen in many Pixar films because it is a call out to classroom A113 at the California Institute of Arts. This is where a class was held for graphic design and character animation, and many of its students (including Brad Bird, Andrew Stanton, Tim Burton, and John Musker) have gone on to help make many of the animated classics – and live action films – that we treasure today. Toy Story Land has several A113 references for those looking for it.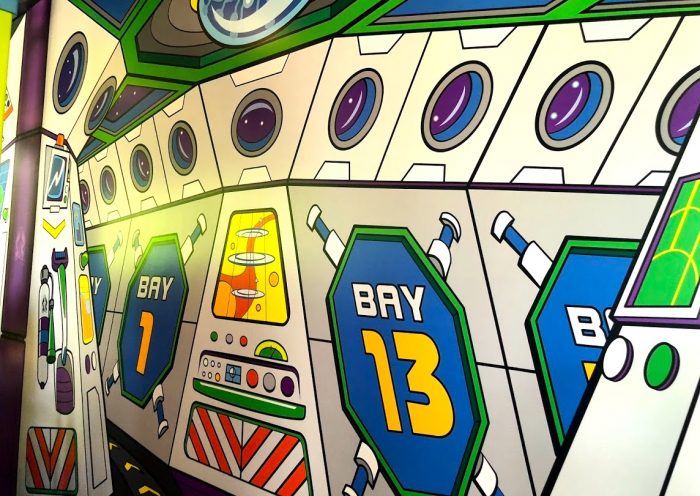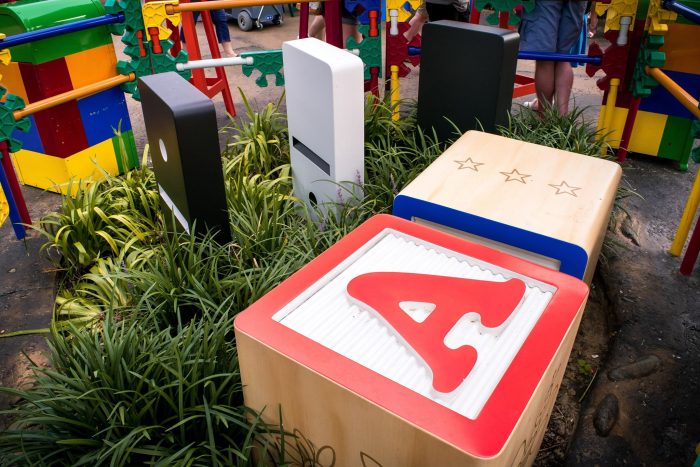 # 4 – Jessie's Critters
With a unique menu (the S'mores French toast sandwich is worth going out of your way for) and wonderful theming, Woody's Lunchbox is hands-down the best quick service location at DHS. In fact, the only "complaint" of Woody's Lunchbox in Toy Story Land is that it's too small! Let's take a negative and turn it into a positive shall we? Since you'll most likely be spending some time waiting in line for one of the location's two registers, take a moment and enjoy some of the great details. Our favorite is the animal crackers that Andy's mom packed for him. These cookies are based on the animals from the Woody's Roundup show that was featured in Toy Story 2. This is not the first time we have seen these cute critters in DHS, as they have previously been featured in the queue and games of Toy Story Mania.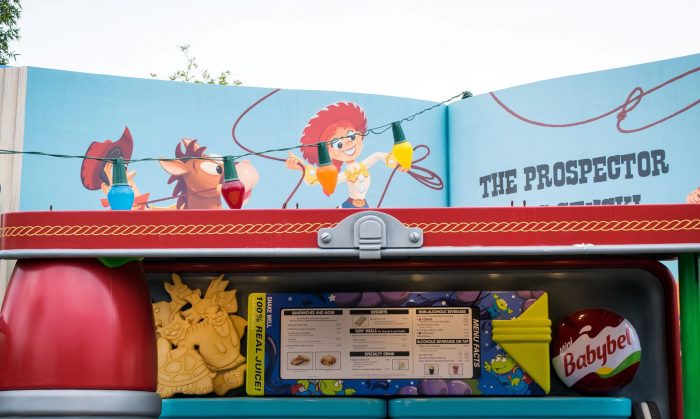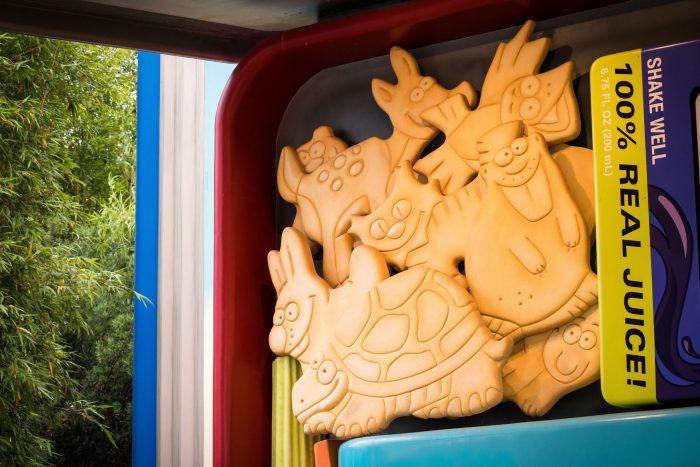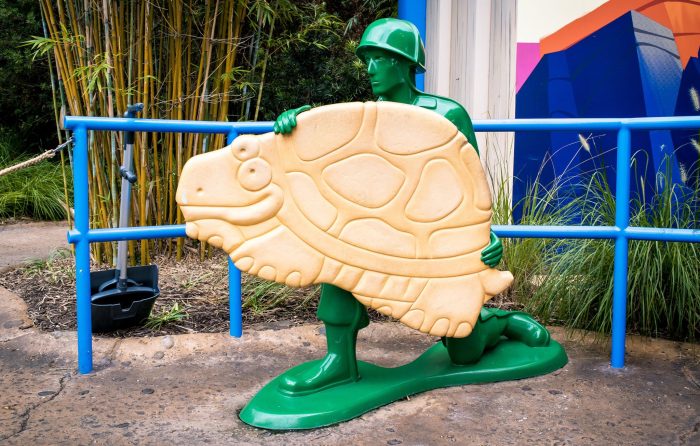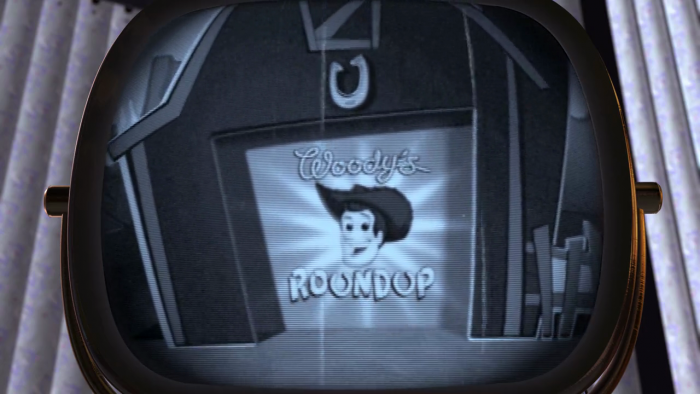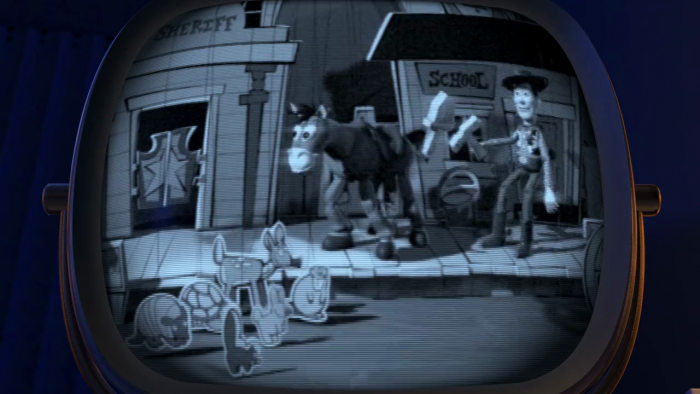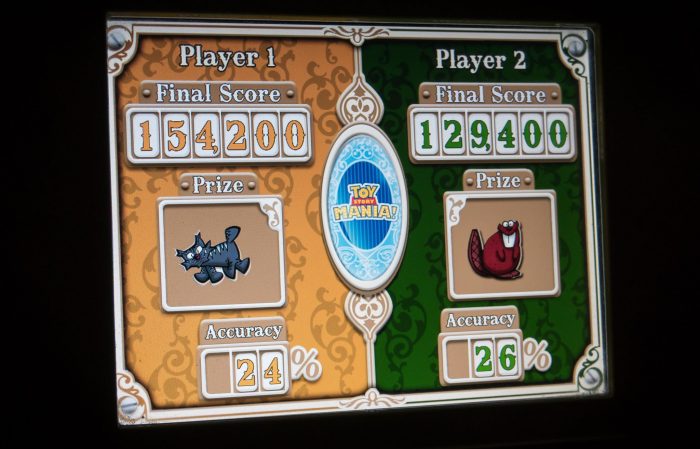 # 3 – Buster's Dog Tag
Just as the Toy Story series of films can appeal to kids and adults (for completely different reasons) the best design elements at Walt Disney World are ones which inform the day guest who only cares about riding attractions, but also give depth to the guest who is coming for the 1000th trip and now appreciates all the little details. Take the stand-by entrance signage for Slinky Dog Dash. On first glance it is just like many other signs at WDW letting you know how many minutes you'll expect to wait in line. However, when you pass the sign and look at the back side, you'll see that "Andy" has used his pet Buster's dog tag for the sign. The majority of Disney guests will pass by this sign and never once think to look at the back side, just as millions walk on the streets of Magic Kingdom's Liberty Square and don't notice the brown stripe of pavement or what it is referencing. For me, it's the details like Buster's dog tag that makes Disney, Disney.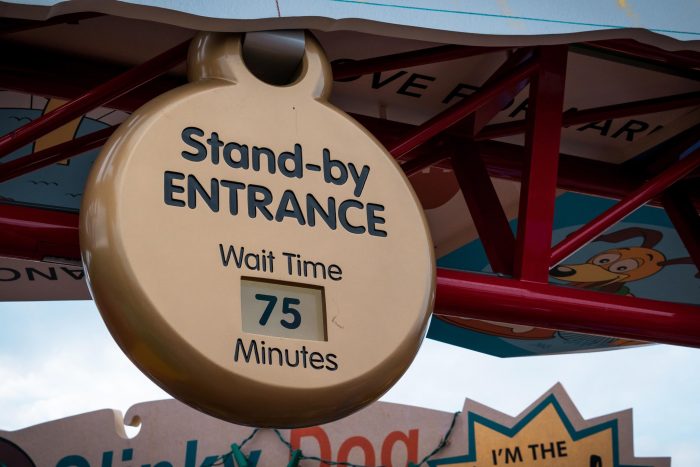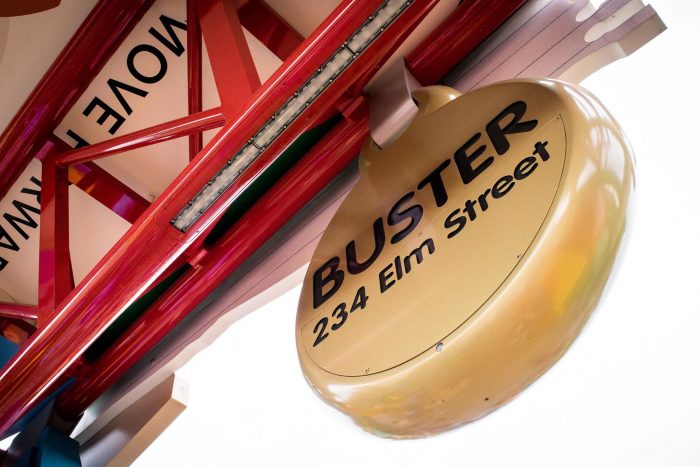 # 2 – UPC Barcode
Chances are, if you see a giant UPC barcode inside a theme park, it is referencing something. At the end of Slinky Dog Dash, guests get a lot of cool elements to check out, including a singing Wheezy audio-animatronic, but if you keep your head on a swivel  you'll notice the box for the Dash & Dodge Mega Coaster Kit. In the storyline, this was the roller coaster kit that Andy repurposed to make his Slinky Dog version. The box has a UPC Barcode on it that has the numbers 2319861011971. These numbers can be broken down into 231986 and 1011971.  23186 refers to February 3, 1986, the day Pixar Animation Studios was founded. 1011971 refers to October 1, 1971, the official opening of the Magic Kingdom. Underneath the UPC barcode it reads "Made in Emeryville, CA." Guess which animation studio is based in Emeryville: that's right, Pixar.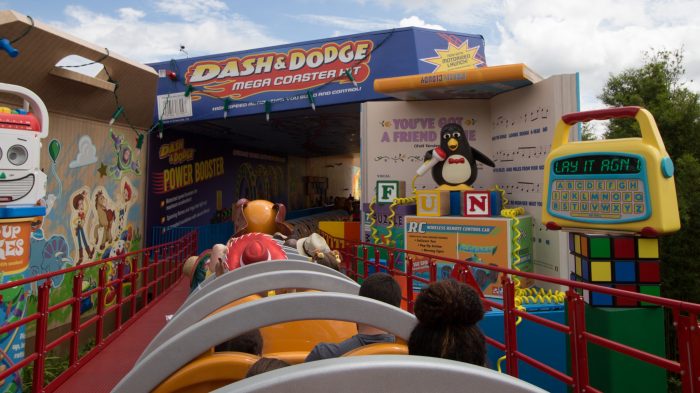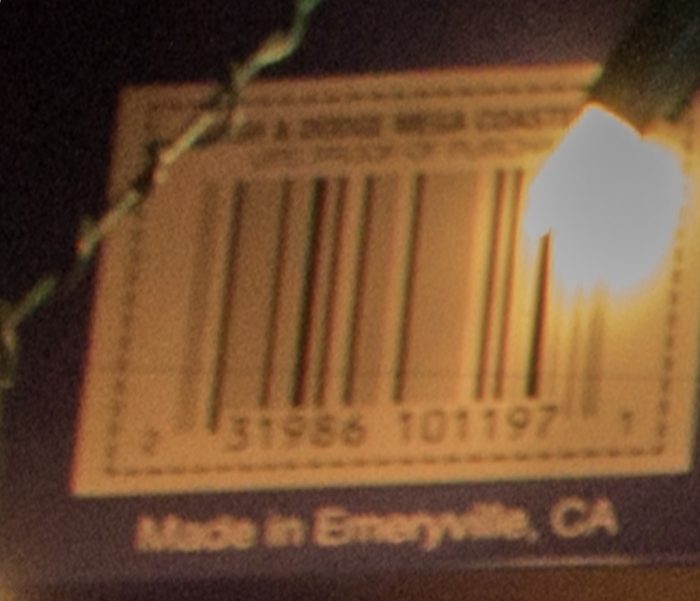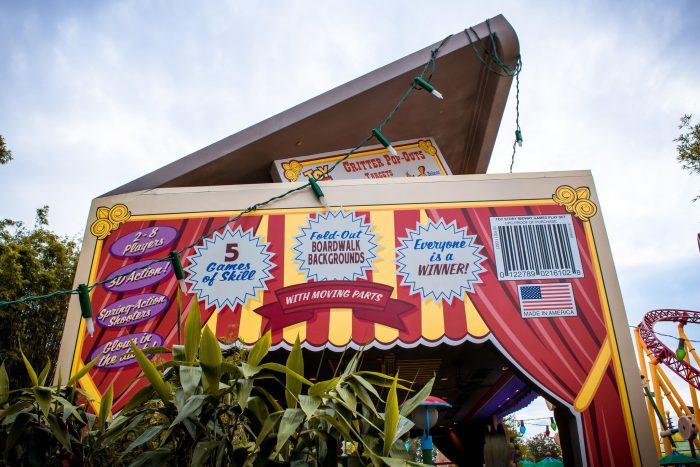 # 1 – Rex's Toy Box
Speaking of important dates, another one can be found on the Tyrannosaurus Rex toy box.  The upper part of the price tag has an 11 and 22, while the price of Rex was $19.95. Putting these numbers together you get 11 22 1995. The original Toy Story film was released nationwide on November 22, 1995.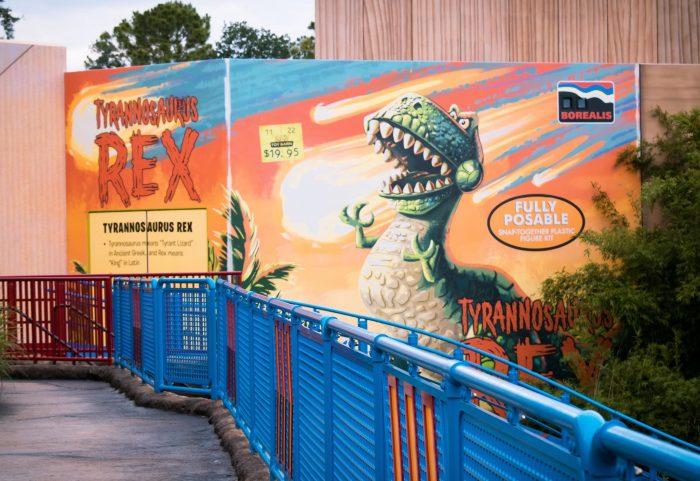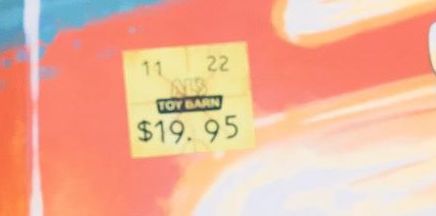 Honorable Mention – Hidden Mickeys
For a lot of Disney guests, "Hidden Mickeys" are the Easter Egg they enjoy looking for the most at Walt Disney World, and Toy Story Land has plenty of them. Here's a couple of our favorites….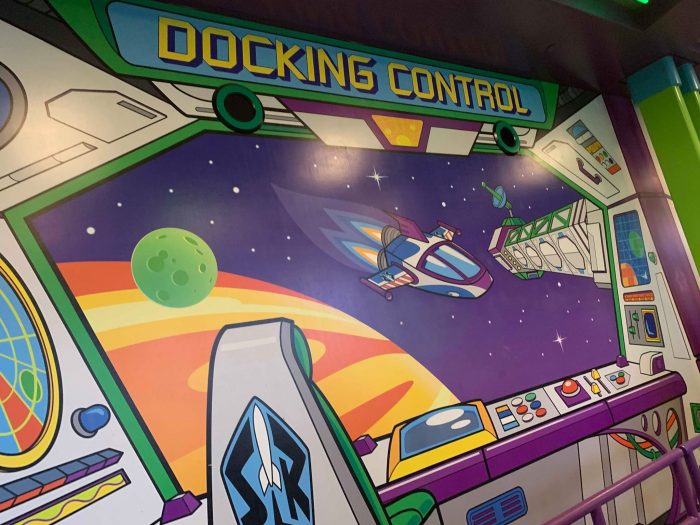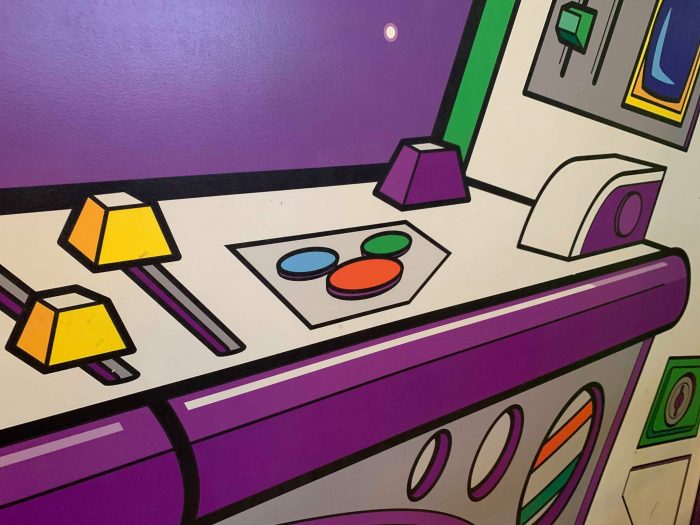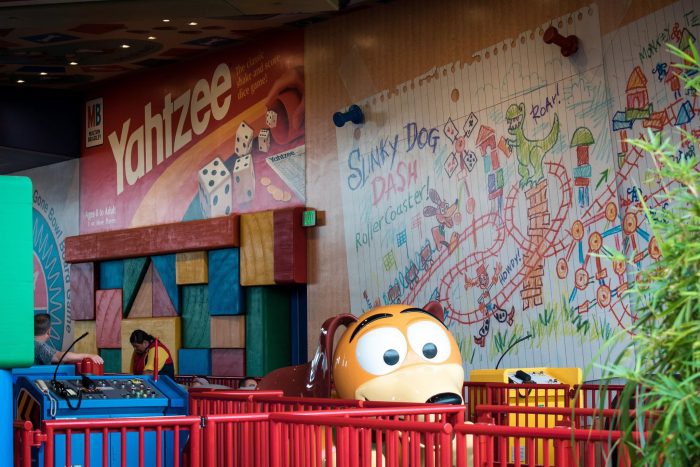 So there you have it: Six of our favorite Easter Eggs in TOY STORY LAND! See you next weekend for the latest installment of the SATURDAY SIX, where we'll look at something fun from the world of Disney and Universal. If you enjoyed yourself, be sure to check out The Magic, The Memories, and Merch! articles, or, for your listening pleasure, check out the E-Ticket Report podcast. You can also follow Your Humble Author on Twitter (@derekburgan).
If you enjoyed this article, you will surely like the following: 
6 Great Easter Eggs in Disney Animated Movies
6 Easter Eggs in Disney's MAGIC KINGDOM
6 Reasons We Love TOY STORY LAND
6 Disney References in James Cameron's AVATAR you might have missed
Special Thanks to The Elite Brandon Glover, hot shot Michael Carelli, the bio-est of all reconstructs @bioreconstruct, Green Milk sommelier Seth Kubersky, the SAT SIX Fun Squad of Parkscope Joe and Nick, and Hermione Granger's tutor Megan Stump for their invaluable assistance with this article. The SAT SIX is inspired each week by goofballs Aengus Mackenzie and LitemAndHyde and you Potterheads will  enjoy Meg's other blog work over at the Central Florida Slug Club.
FINAL PLUG! Did you know The 2019 Unofficial Guide to Universal Orlando has a special edition of the SATURDAY SIX in it?That's right, ANOTHER NEW ONE EXCLUSIVE TO THIS EDITION! Finally, someone came up with an actual reason to read a book. ORDER this baby now!