SATURDAY SIX: The Six Best Queues at the Universal Orlando Resort
This week's SATURDAY SIX takes a look at the Six Best Queues at the Universal Orlando Resort. If there is one thing all theme park fans can agree with, it's that we hate lines. Even people who aren't theme park fans often return from an Orlando vacation with a similar thought: theme park lines are the worst. Thankfully our Disney and Universal overlords have spent the last decade completely transforming the queue experience. Disney, putting Billions into MyDisneyExperience and FastPass+, are attempting to get guests to spend less time in lines (in hopes that we have more time in places where we spend money.) Universal has gone in a slightly different direction, creating queues that guests actually want to spend more time in. The concept of "feeling rushed" in a theme park line may seem incomprehensible to anyone who has waited an hour in the Florida humidity for it's a small world or suffered through the mind-numbing banality of the Soarin' queue, but believe it or not, it's true.
But which of Universal's queues are the best? We polled some of the biggest names in Universal fandom (including Seth Kubersky – author of the Unofficial Guide to Universal Orlando – Orlando United, Parkscope, the Unofficial Universal Orlando Podcast and more) and have tabulated the results. So sit back, look out for the neuralyzer at the end, and let's begin our countdown starting with…
# 6 – Men In Black: Alien Attack
The queue for Men In Black: Alien Attack checks off several items we consider crucial to having a good queue, not the least of which is that you are in air conditioning for a long time. That may seem like a minor thing until you've almost experienced the sensation of melting while waiting outside for The Simpsons Ride or Rip, Ride, Rockit. It also recreates several areas that many guests will fondly remember from the first Men in Black film. But one of our favorite parts of this queue is that you can actually experience it hands on with a tour of the Immigration Room. Guests aren't guaranteed this opportunity, but after riding you can ask a Team Member if you can take a tour. This will allow you some unbelievably great photo opportunities, along with a chance to see so many incredible details that Universal Creative has put into this room that the average guest will never see.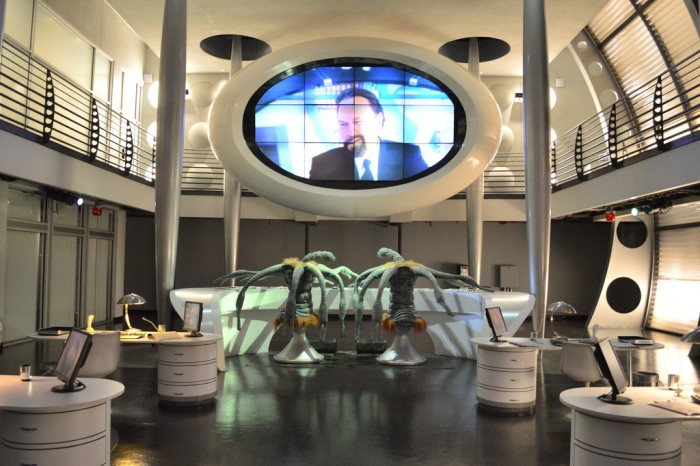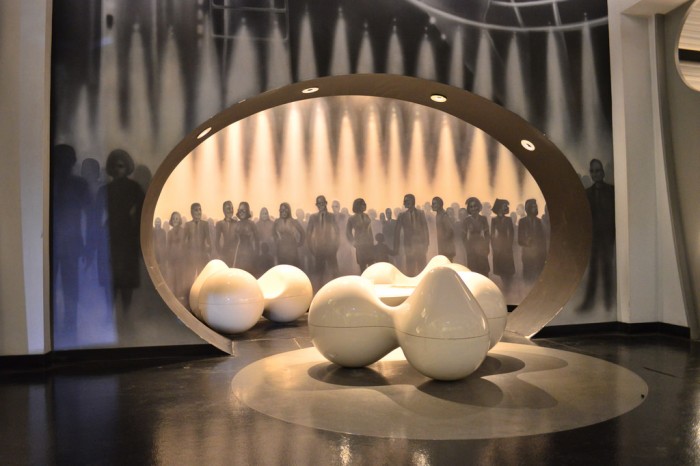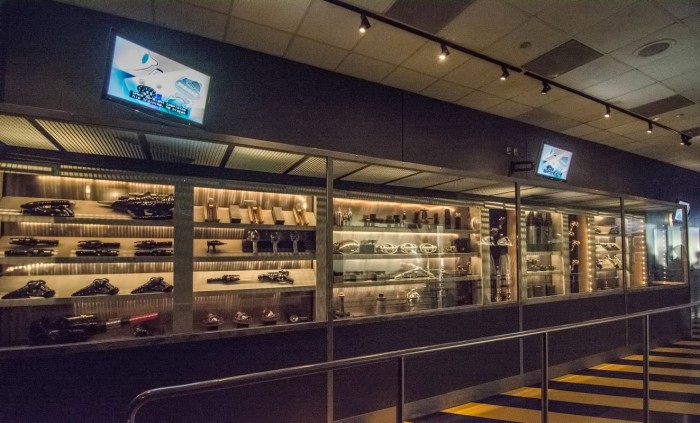 # 5 – Revenge of the Mummy
Universal Studios Florida is still a working production studio for film and TV, but for the most part the rides themselves have moved away from that aspect of storytelling. While many early attractions focused on the art of filmmaking (such as Earthquake: The Big One, Alfred Hitchcock: The Art of Making Movies, and Star Trek Adventure), the current attractions eschew anything related to breaking the fourth wall. Revenge of the Mummy was one of the last attractions made that incorporated the concept of guests walking onto a movie set. Once guests walk past the filmmaking props they enter the Egyptian tomb "set" and it becomes awesome. The creepy atmosphere is straight out of Halloween Horror Nights, and there are several places where guests can interact with the environment. The queue experience and the ride itself are so good that fans have forgiven it for replacing the beloved opening day attraction Kongfrontation (compared to say, Disney's Mission: SPACE, which would do anything to get a break from Horizons fans.)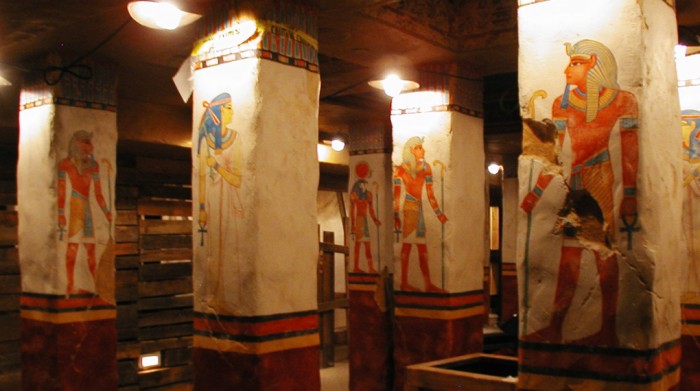 –
# 4 – E.T. Adventure
Speaking of opening day attractions, E.T. Adventure is the last man standing at USF. This article is being posted on the same day the Magic Kingdom is celebrating its 45 anniversary, and there are 15 current attractions still in the park that began their operation in 1971. USF came around twenty years later, and has only 1 attraction still operating from its opening day: E.T.
Here's hoping E.T. lasts another 25 years because the queue alone is pure magic. It starts off with an introduction by Steven Spielberg that is next level bonkers. Spielberg, joined by E.T., explains the backstory for the upcoming ride. Guests then line up to give their names to a Team Member and receive an interplanetary passport. This is a neat little physical card that you end up handing to another TM when you board the ride and the cards allow E.T. to say your name at the end of the attraction. After you get your passport is where the fun begins, because now you enter into a large indoor forrest that is one of the coolest things ever made for a theme park. E.T.'s friend Botanicus appears at times (literally popping out of the ground) to remind us E.T. needs to return home to save his planet. We even get to see the famous Speak & Spell from the movie. The facade for E.T. is one of the worst at Universal (to be fair, it is supposed to look like a movie sound stage, which it does), but the queue is A++++++, the first half of the ride is a more spectacular version of Peter Pan's Flight, and the second half is so completely insane it has to be seen to be believed. After exiting E.T. I always have two thoughts: 1) Thank the heavens Steven Spielberg never made a sequel to E.T., and 2) If Universal even thinks about getting rid of E.T. Adventure, I will be chaining myself up to that ugly facade. NOT ON MY WATCH.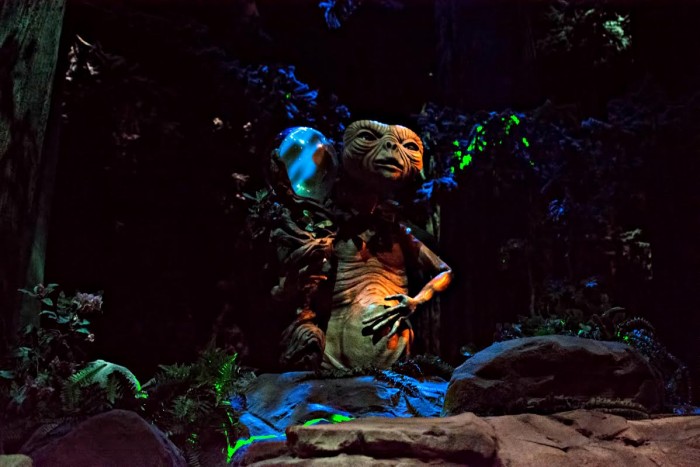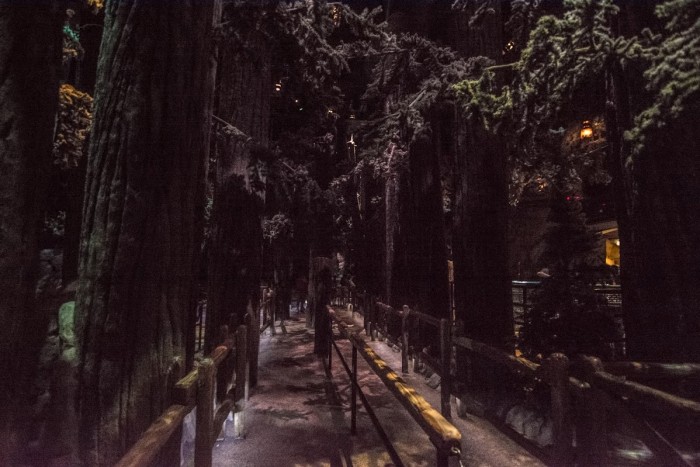 –
# 3 – SKULL ISLAND: Reign of Kong
While Revenge of the Mummy's queue has a creepiness factor to it, SKULL ISLAND: Reign of Kong goes straight for terror. The atmosphere is off-the-charts, and the use of animatronics and live scareactors (pinch me, I'm dreaming) makes the queue experience like no other. Similar to the mazes in Halloween Horror Nights, the queue itself is designed at points to funnel guests into areas that are smaller than we are used to while waiting in lines, adding even more to the overall chill factor.
–
# 2 – Harry Potter and the Escape From Gringotts
The queue for Harry Potter and the Escape From Gringotts is filled with great moments, but it starts off with a jaw dropper when guests enter the Great Hall of Gringotts Bank. With stunning chandeliers and incredibly detailed goblin animatronics, we can guarantee you've never seen anything like this before. If this is what theme parks are capable of now, how can you not be out of your mind excited for the prospects of the upcoming Avatar, Nintendo, and Star Wars projects? The pre-show featuring Bill Weasley possibly gives that character more screen time than he got in the actual Harry Potter films. On our journey to the ride vehicles, we pass by offices with goblins having conversations, get into an elevator that should make the heart flutter for any Seabase Alpha fans who miss the hydrolaters, and ultimately end up in a huge cavern filled with gigantic stalactites.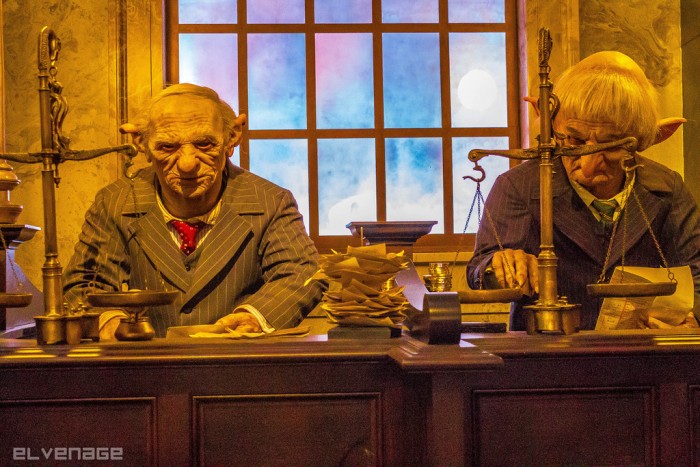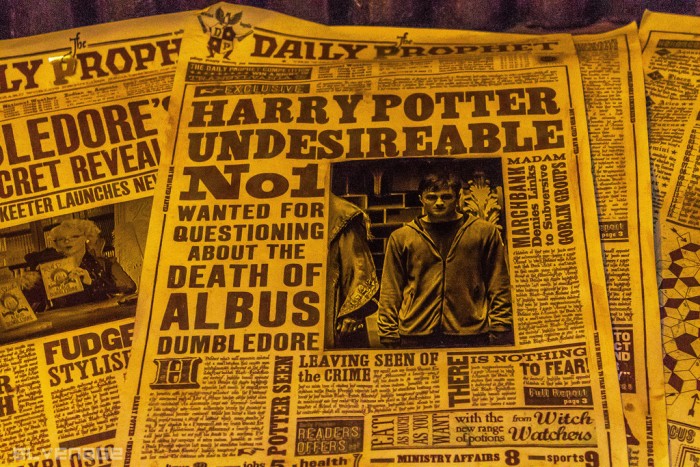 –
# 1 – Harry Potter and the Forbidden Journey
The Wizarding World of Harry Potter: Hogsmeade Village made its debut in 2010, and the entire theme park world is still feeling the effects of that monstrous opening to this very day. It changed everything. While there are many reasons for the success of the land, the two biggest surprises have to be shockingly massive success of butterbeer, and the I can't believe this is real queue for Harry Potter and the Forbidden Journey. Being able to walk through Hogwarts Castle is a lifelong dream for many Potter fans, but it can be just a cool experience for someone who has never seen the films. The idea of "living portraits" was neat to read about in the Potter books, cool to see on the big screen, but becomes something else to behold when you see paintings having discussions with each other while in line. Like JK Rowling's Potter books, the queue is filled with details that will reward guests who return again and again. For the movie fans, the queue has two scenes using Universal's Musion technology. One featuring Dumbledore, and the other with Harry, Ron, and Hermione. With Daniel Radcliffe (Harry) and Emma Watson (Hermoine) distancing themselves from the Potter Universe, the queue (and subsequent ride) give us that one last taste of the Potter franchise that we remember. The Hogwarts Castle facade sets expectations high, but the queue itself somehow over-delivers to the point where many guests let others pass them so that they can fully appreciate the environment around them. The queue for Forbidden Journey is the gold standard for excellence.
–
HONORABLE MENTION: Hogwarts Express: King's Cross Station
Yes, the King's Cross Station for the Hogwarts Express features live musicians, awesome details from the Potter films, and a very clever entrance to Platform 9 3/4, but one thing truly sets it apart from every other queue: it sells snacks and beer in the actual line. Who among us hasn't been trapped in an hour long line and thought "I would sell my soul for an ice cold drink right now"? Imagine not only being able to buy snacks while in a theme park line, but alcohol! We are truly in the greatest timeline.
https://www.youtube.com/watch?v=jECuHQ14GWM
–
AUTHOR'S CHOICE: Kang & Kodos Twirl 'N' Hurl
The queue for Kang & Kodos Twirl 'N" Hurl makes my personal list because it has some of the most subversive humor you will find in any theme park. Not only are their signs mocking the disdain most people have for queues themselves, but you also get to watch clips from the Simpsons featuring everybody's favorite alien duo.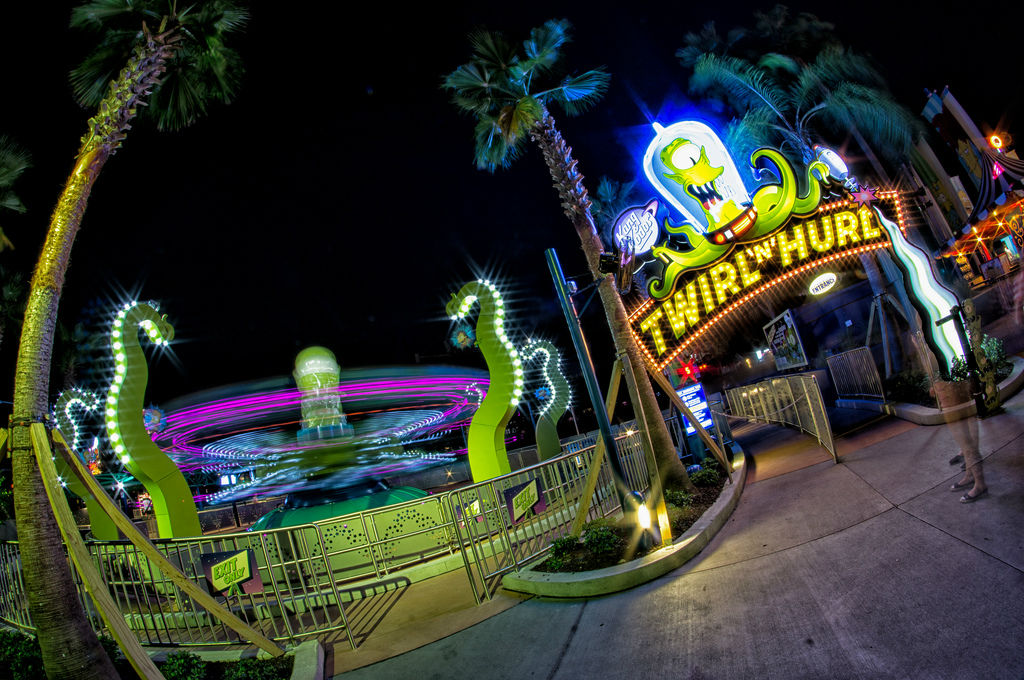 So there you have it: the Six Best Queues at the Universal Orlando Resort. See you next weekend for the latest installment of the SATURDAY SIX, where we'll look at something fun from the world of Disney and Universal. If you enjoyed yourself, be sure to check out The Magic, The Memories, and Merch! articles, or, for your listening pleasure, check out the Pardon the Pixie Dust podcast. You can also follow Your Humble Author on Twitter (@derekburgan)
If you enjoyed this article, you will surely like the following:
Six Great Souvenirs from the Universal Orlando Resort
Six "Extreme Eats" at the Universal Orlando Resort
Six Reasons We LOVE Diagon Alley
Six Most Unique Dining Experiences at Walt Disney World
Six "Easter Eggs" at the Universal Orlando Resort
Our Six Favorite Jokes in Springfield USA
Special Thanks to crack staff photographer Brandon Glover, photo wizard Travis "Sleepy" Terrell, DisneyTouristBlog.com's own Tom Bricker, photo wunderkind Mike Sperduto, the Elviest of all Elveys @elvenage, and blogger to the stars Megan Stump for their invaluable assistance with this article. Be sure to also check out Brandon on The Park Blogger podcast with co-hosts Aengus Mackenzie and Brian Carey.
FINAL PLUG! Did you know The Unofficial Guide to Universal Orlando has a special edition of the SATURDAY SIX in it? Finally, someone came up with an actual reason to read a book. ORDER this baby now and support SIX NATION (boy do we need a better name than that.)