The SATURDAY SIX Looks at What's New at the Universal Orlando Resort
This week SATURDAY SIX takes a look at WHAT'S NEW at the Universal Orlando Resort! While it is fun to cover the "Big Picture" of theme park resorts, we here at the SAT SIX believe it is the "little things" that keep us coming back year after year. Today we're going to take a stroll around the Universal Orlando Resort to check out some of the new things that have appeared over the last couple months, starting with…
# 6 – Wizarding World Pressed Pennies!!!
Regular readers of this fine blog series know that we consider pressed pennies to be one of our favorite theme park souvenirs. Over the years we've done articles on the great designs at Walt Disney World, Universal Orlando, and Disneyland (who, it should be noted, are the worldwide leaders in collectible coins). While pressed pennies have been ubiquitous in the theme park universe since the 1990s, only recently have lands started opening up without these fan friendly machines. The Wizarding World of Harry Potter, Pandora, and Galaxy's Edge all made their debut with a huge merchandise component, but none of them offered pressed penny options.
In the last two years, things have started to change. Back in 2019, the first pressed penny machine made its way "through time and space" to appear in Windtraders, the gift shop for Pandora: The World of Avatar. At the end of 2020, pressed pennies finally came to The Wizarding World.
There are three different machines at Universal which offer Wizarding World pressed coins, each with their own unique designs. One machine is in Islands of Adventure, one in Universal Studios Florida, and one in Universal CityWalk.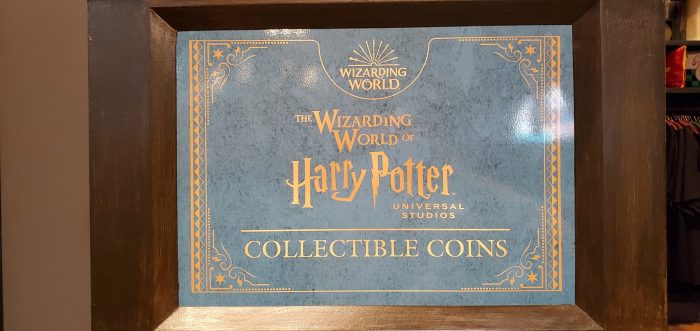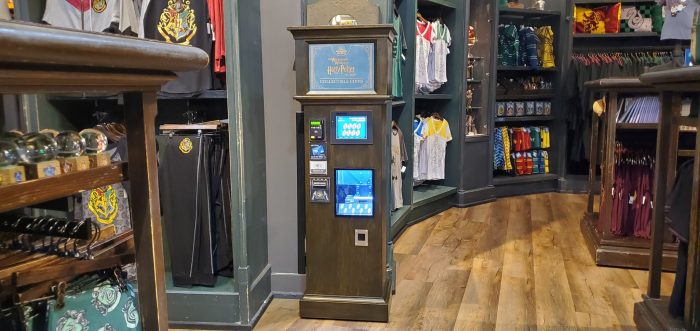 Unfortunately, for collectible coin aficionados like myself, The Wizarding World machines eschew two of our favorite parts about pressed pennies: putting your own penny in and cranking that lever until your design pops out. The "new and improved" machines, which are taking over almost all pressed penny machines at every theme park, don't even take pennies, only cash money or credit cards.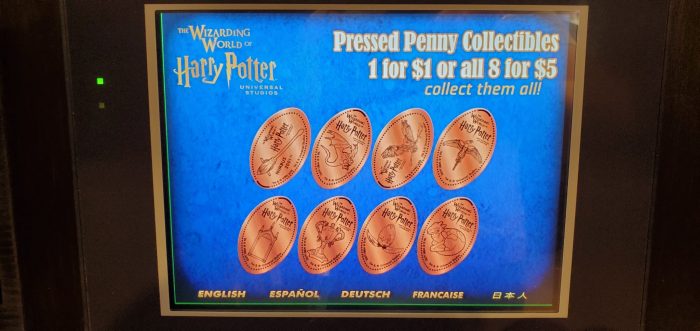 While the days of going through your own change to pick out the good pennies from the dirty ones are gone, the good news is that the pennies which come out of these machines look fantastic.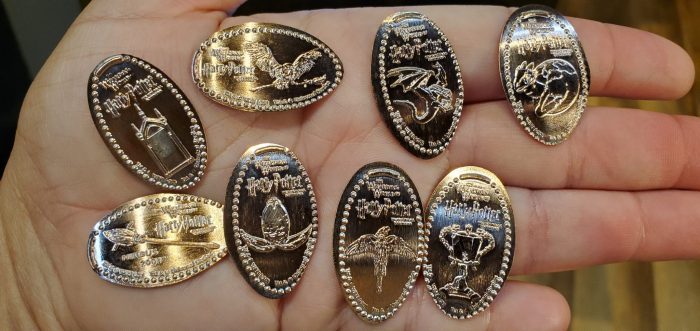 Potter fans have a lot of options with coin designs.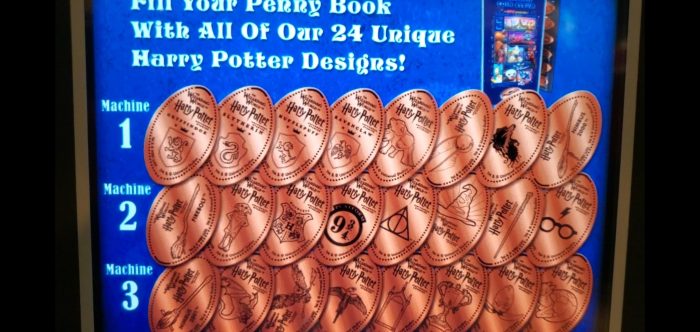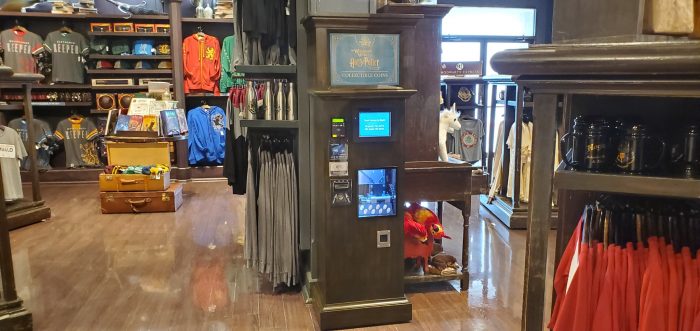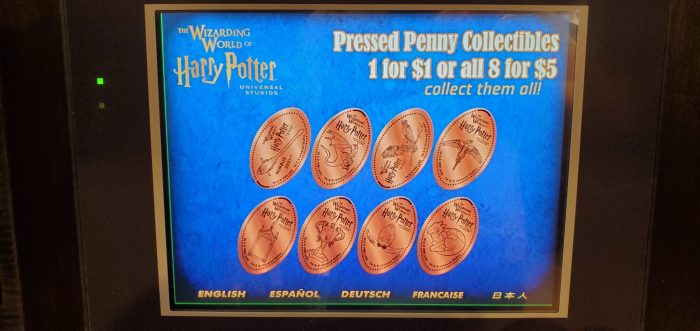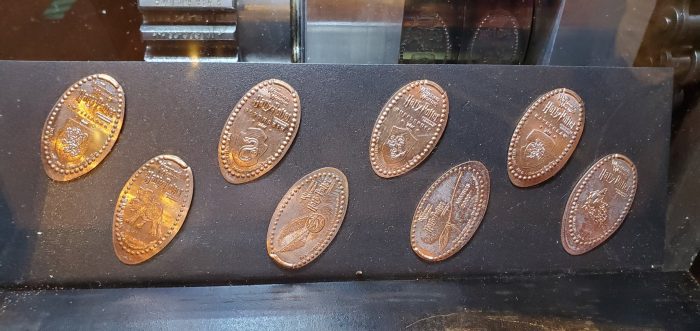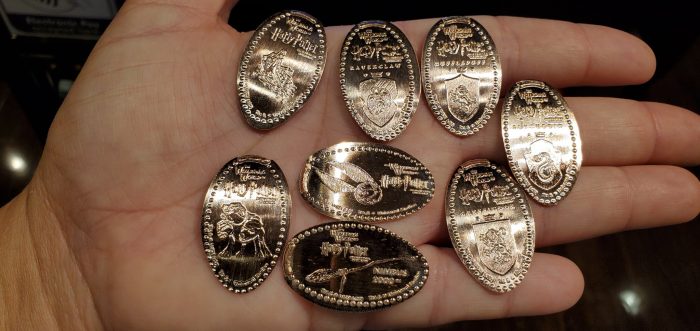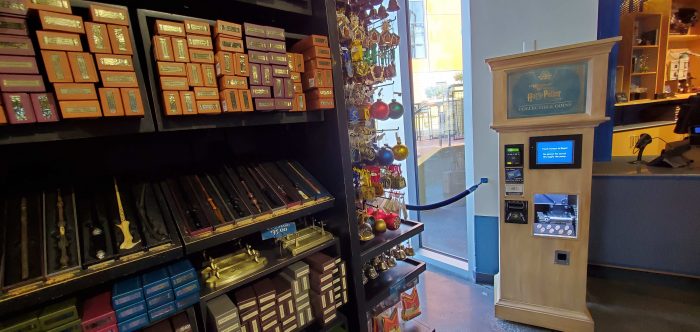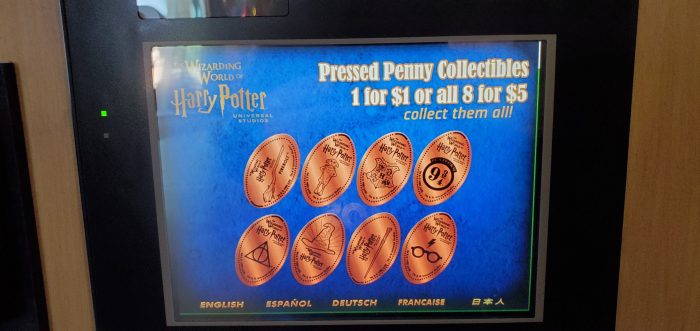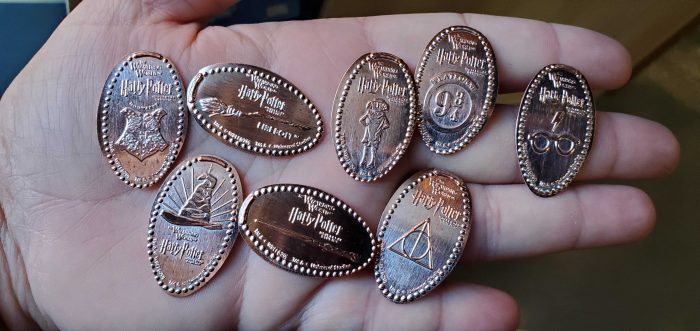 Speaking of merchandise, while Disneyland Annual Passholders got some pretty bad news this week, APs at Universal Orlando keep getting some great stuff, including this month's free button and magnet.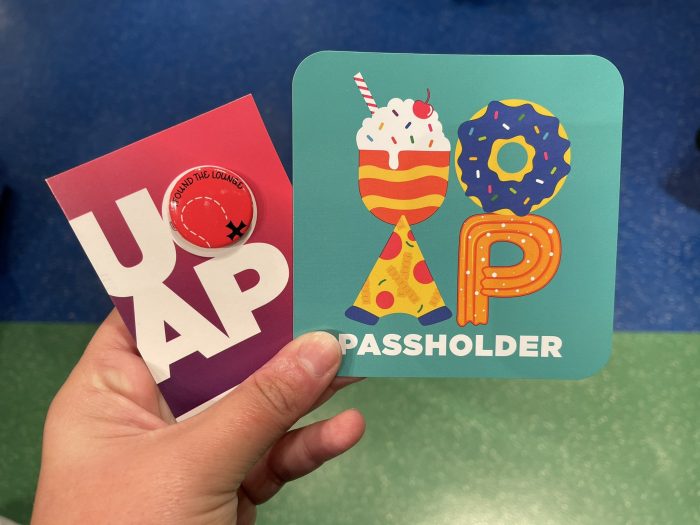 Never too early for Valentine's Day merchandise.  Here are some great shirts at the Men In Black: Alien Attack gift shop.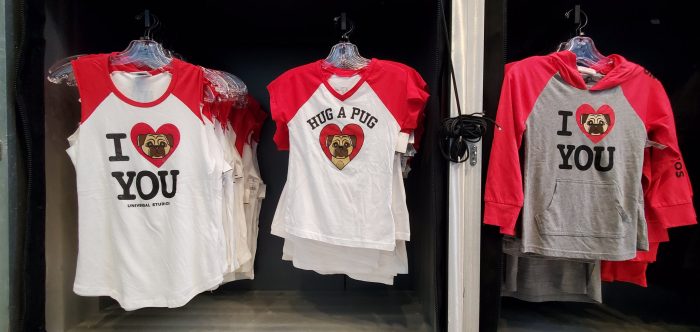 # 5 – Window Tribute to Blaine Kern
Many theme park fans know about the window tributes on Main Street USA in Disney's Magic Kingdom here in Florida as well as the ones out in Disneyland. In the theme park world, being immortalized on one of these windows is one of the highest honors are person can achieve. What's lesser known is that the Universal Orlando Resort also pays respect with their own version of "Main Street Windows" at both Islands of Adventure and Universal Studios Florida. We've been planning an article spotlighting these various windows for a long time, but we have covered the window for David Codiga that guests can see in IOA's Port of Entry. Late last year, another window design was added in Universal Studios Florida paying respect to Blaine Kern.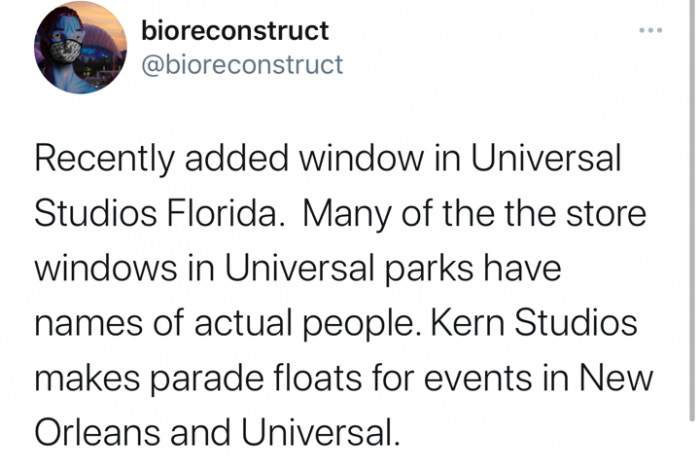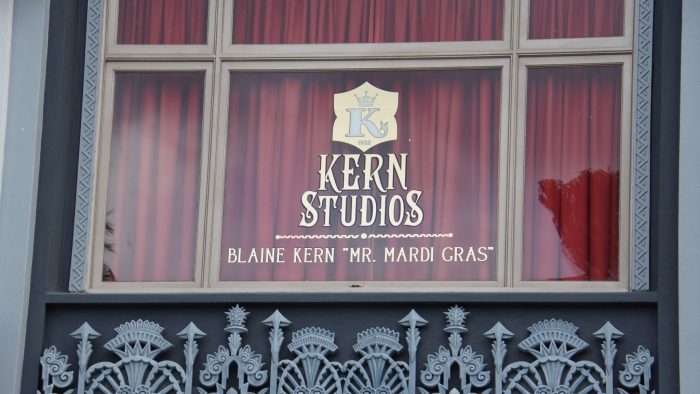 Kern Studios is the group behind Universal Studio Florida's incredible Mardi Gras floats. As theme park fans, we are blessed to be surrounded by amazing design work almost everywhere we go, with almost never knowing who was behind it. For example, one of my favorite lobby designs at any theme park hotel is the outdoor area at Loews Royal Pacific Resort featuring playful elephants in the water. This area was created by Kern Studios. The stunning hippocampus electrolier chandelier that hangs in the lobby of Disney's Boardwalk Resort? Kern Studios created that too, along with other elements at Walt Disney World and Give Kids the World Village.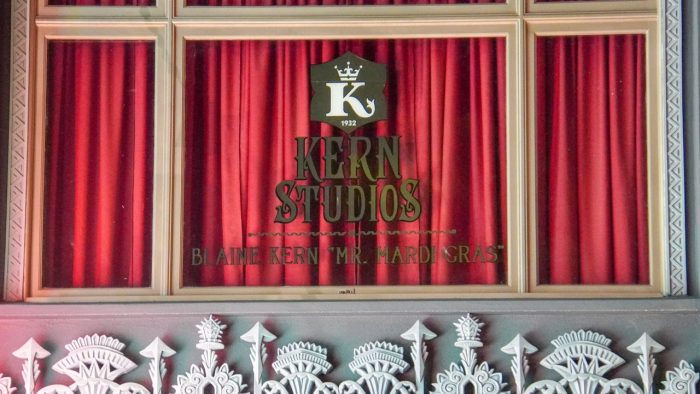 # 4 – Spoiler Alert: Dippin' Dots are NOT the Ice Cream Of The Future…
…well, at least not Universal Orlando's future.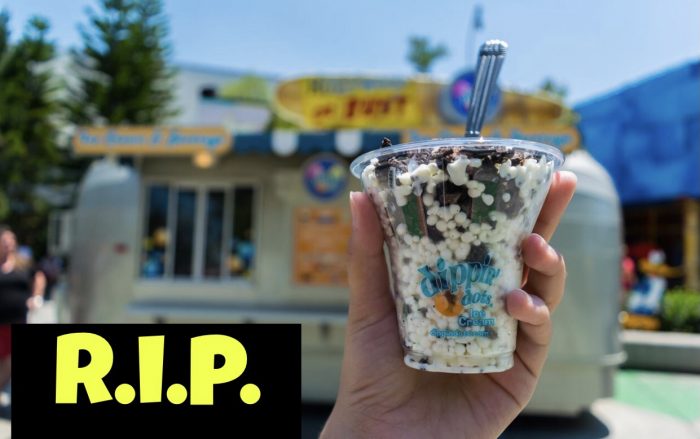 For years Dippin' Dots have been a great snack option at the Universal theme parks, with several dedicated stands at both IOA and USF. Unfortunately all good things must come to an end, and Dippin' Dots are now out and Universal with all the various locations being repurposed to sell other snacks.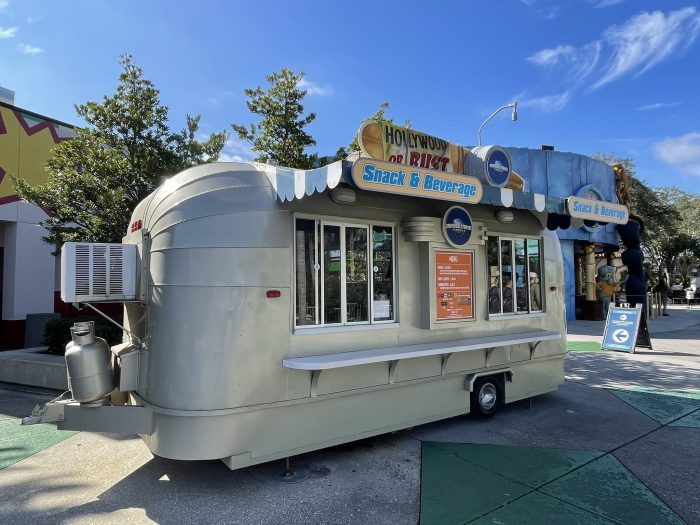 One thing I love is when theme parks have their own exclusive item that you can't get anywhere else, and Volcano Bay had their own flavor of Dippin' Dots with Berry Breeze. We'll follow up what happens with this stand once Volcano Bay reopens later this year.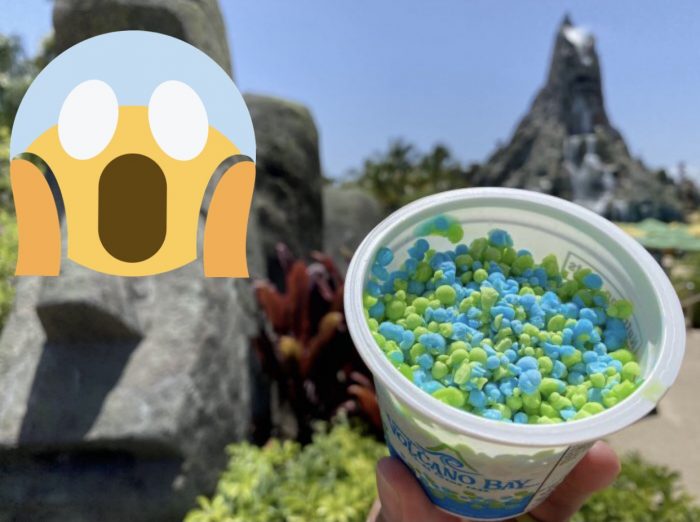 # 3 – New Snacks
At the end of 2019, Green Eggs and Ham completely overhauled its menu and went with one based around tater tots and themed cans of Who Hash. The quick service restaurant, which for years was closed except for the rarest occasions, also became pretty much an "every day" place you could go to and order from as both the tater tot dishes and Who Hash cans were an immediate hit with guests.
Recently a new tater tot based dish made its debut with Brisket Philly Tots.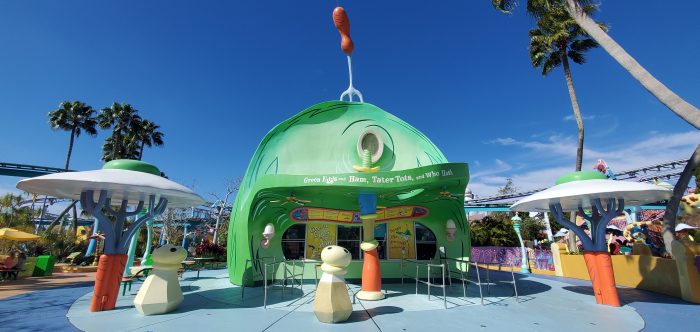 Brisket Philly Tots – shaved brisket, onions, peppers, and white cheese sauce served over tater tots.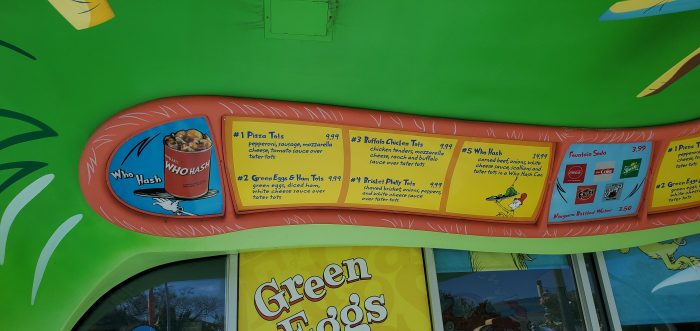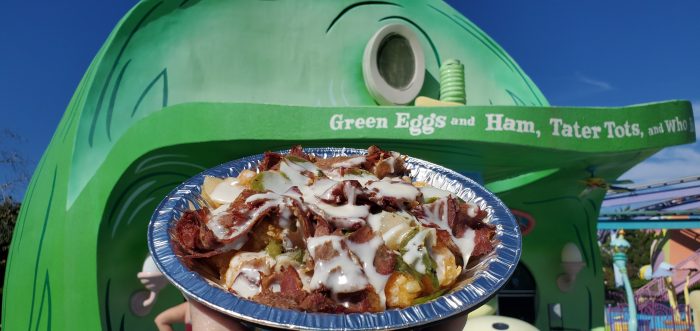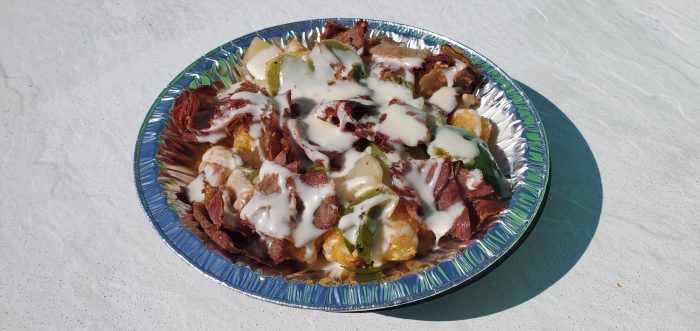 Review? They taste fantastic, although you also can't go wrong with the Pizza Tots or Buffalo Chicken Tots either. Pound for pound, Green Eggs and Ham has one of the strongest menus for any quick service at Universal.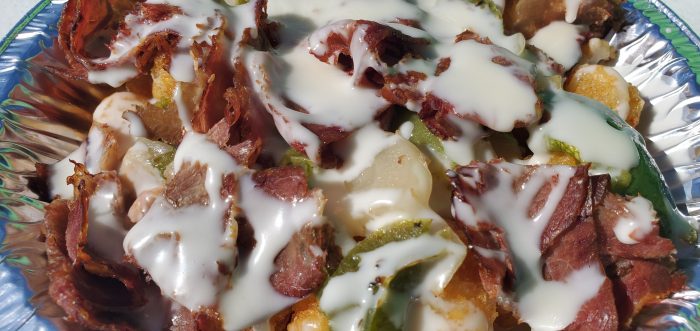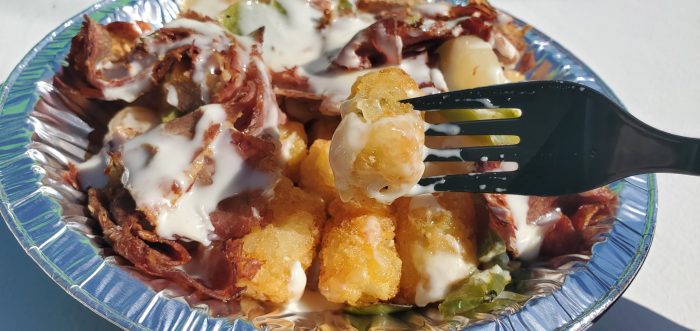 Late last year a food truck at Universal Studios Florida changed over to a menu offering funnel cakes. I think it is clear that every theme park needs a funnel cake food truck. Maybe even more than one. One in each land sounds good.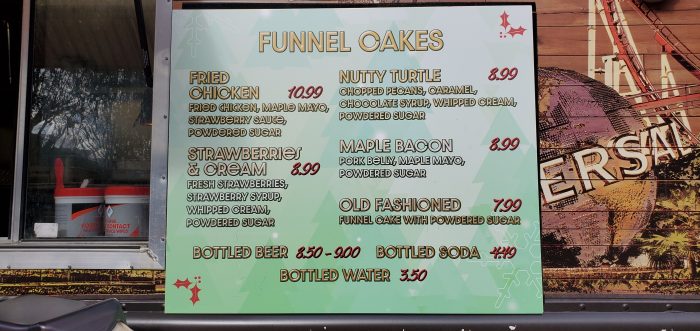 Chicken and Waffles is becoming a staple at many restaurants, and the Fried Chicken Funnel Cake has similar qualities. Sweet and savory combined in one gigantic serving.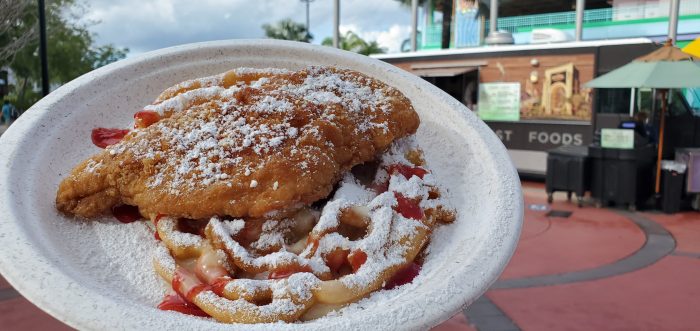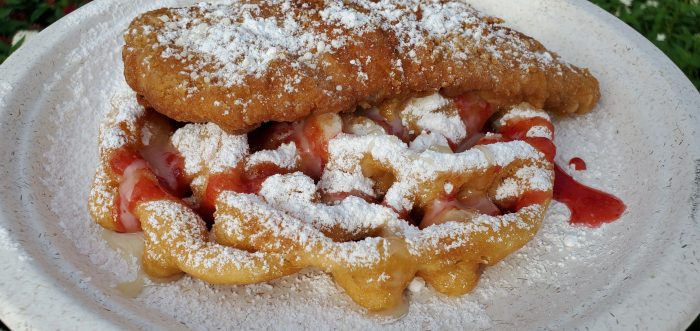 # 2 – Attraction Updates
We are in "unprecedented times" at the Universal Parks, and some rides remain closed outside of the busiest of weeks. While Fast & Furious – Supercharged has reopened at Universal Studios Florida, attractions such as Storm Force Accelatron in Marvel Superhero Island, Poseidon's Fury in Lost Continent, and Kang & Kodos' Twirl 'n' Hurl in Springfield USA remain closed on most days.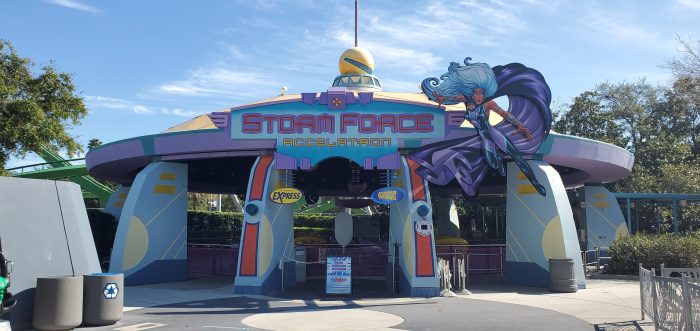 You will generally find stilt walkers around the area of Lost Continent to interact with.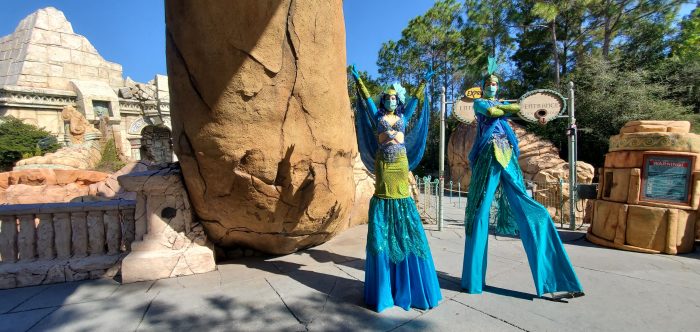 Love the design of this character.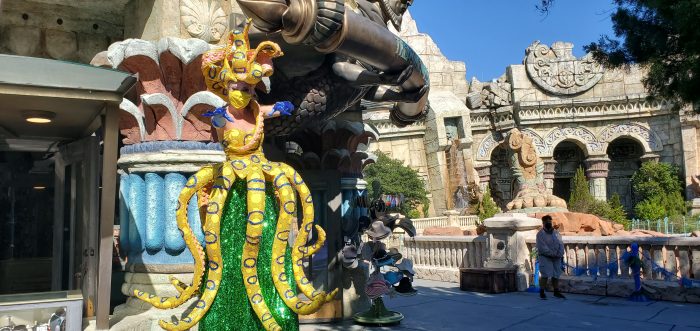 January usually means closing water rides at Disney and Universal to get their annual maintenance done. Both Jurassic Park River Adventure and Popeye & Bluto's Bilge-Rat Barges at IOA will generally follow each other in closing to give guests the option to ride one while the other is down.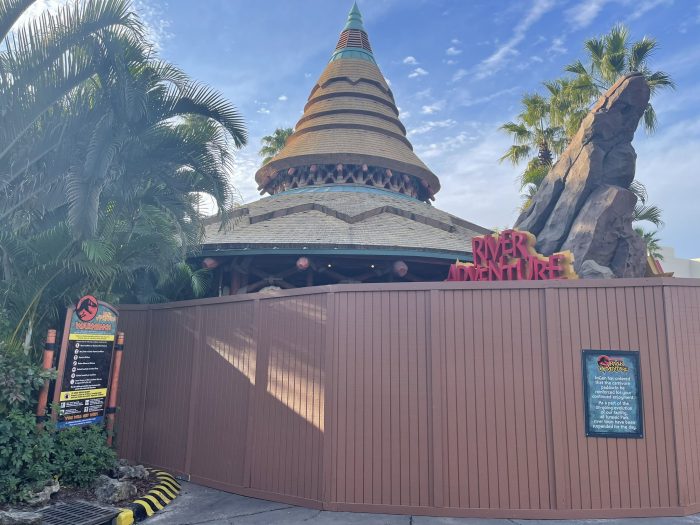 You have to appreciate themed "Pardon Our Pixie Dust" signage.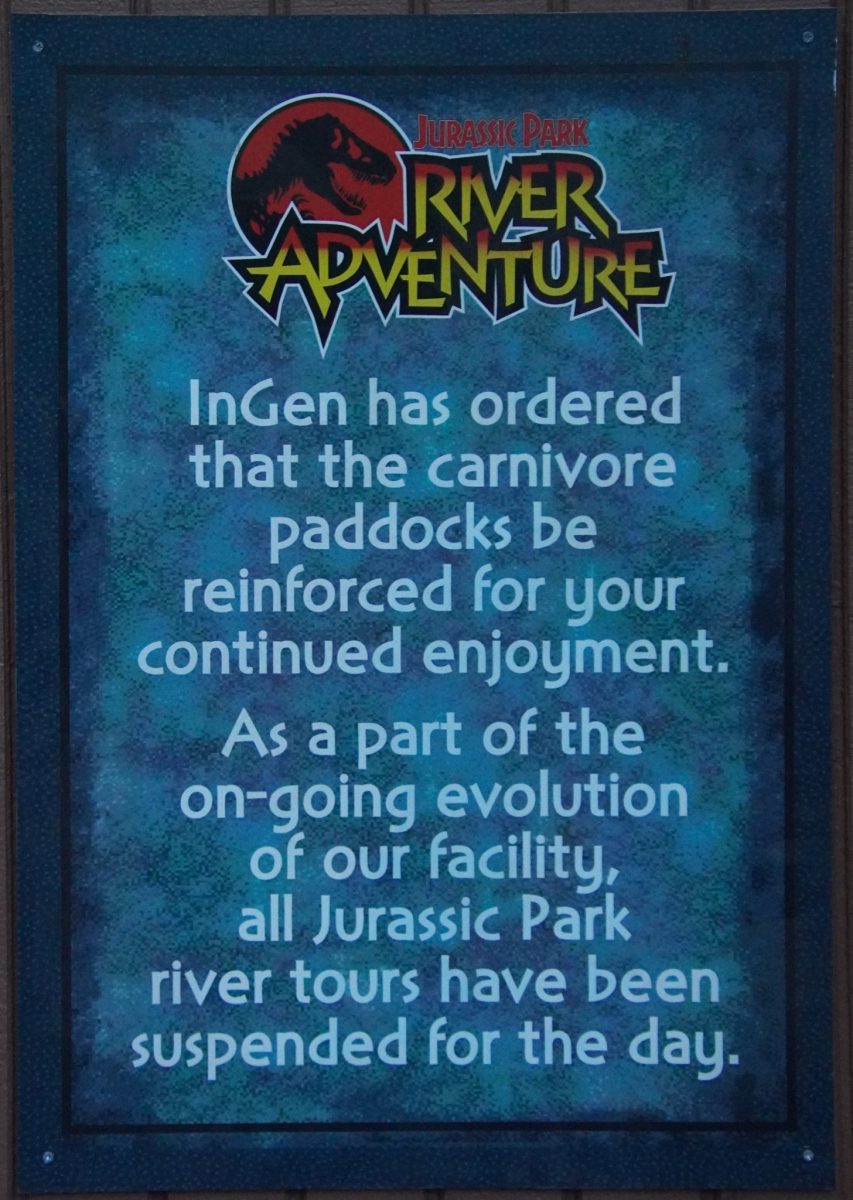 The exit of Jurassic Park River Adventure empties out into a gift shop. The area where guests would walk through exiting the ride has been closed off.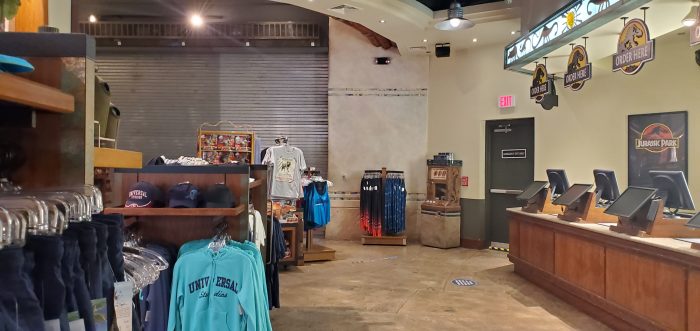 # 1 – VelociCoaster Lighting Package
We are getting ever closer to the opening of VelociCoaster in Islands of Adventure. Recently, Universal gave everyone a closer look at the ride vehicles. Not only do the coaster trains look sharp, but the lighting features on them really make the ride pop.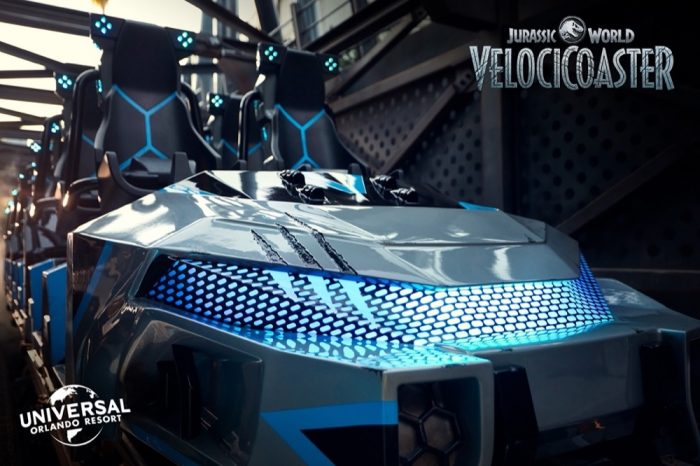 With the VelociCoaster currently in testing, photographers have been able to get some great photos of the lighting features during sunset and at night.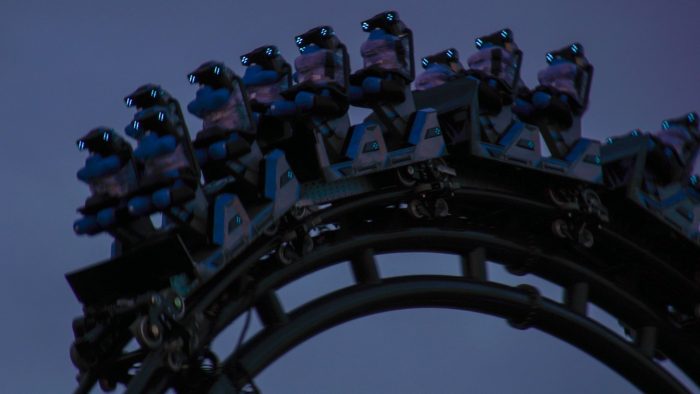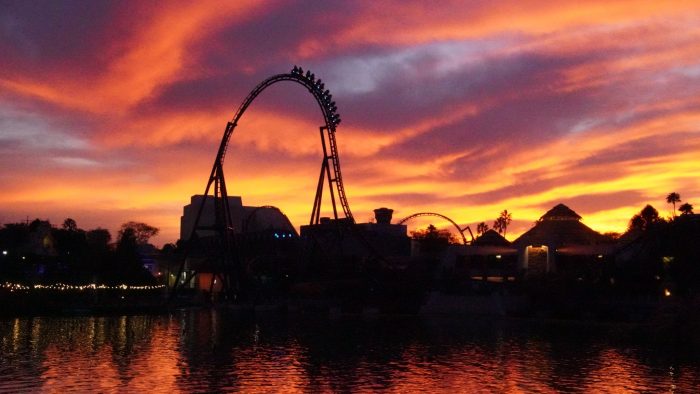 A look at how the tracer lighting on a VelociCoaster train turns into view at the highest track, the top hat.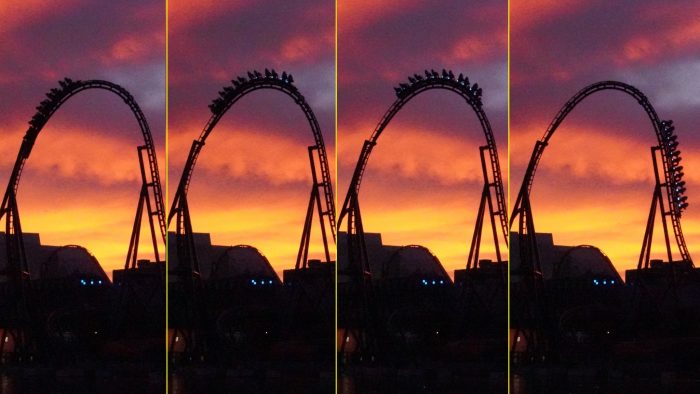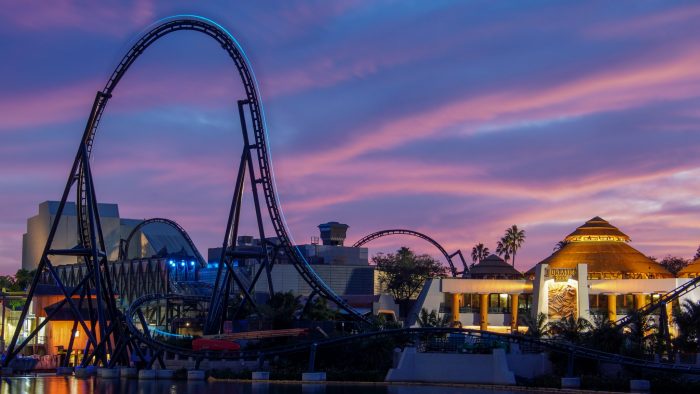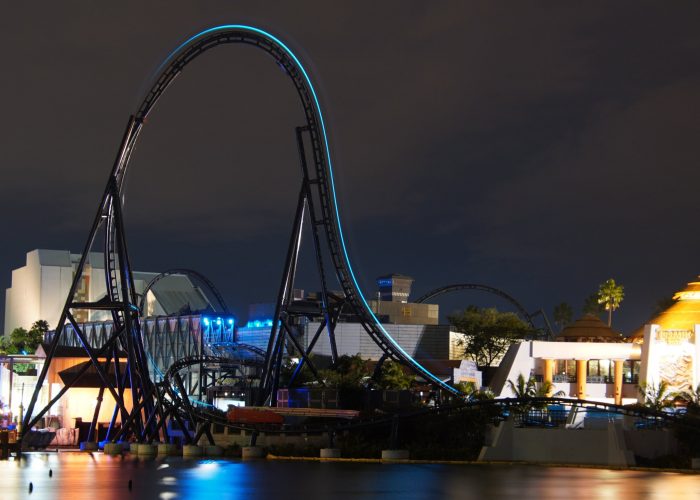 The VelociCoaster station has also been shown to have interesting lighting features.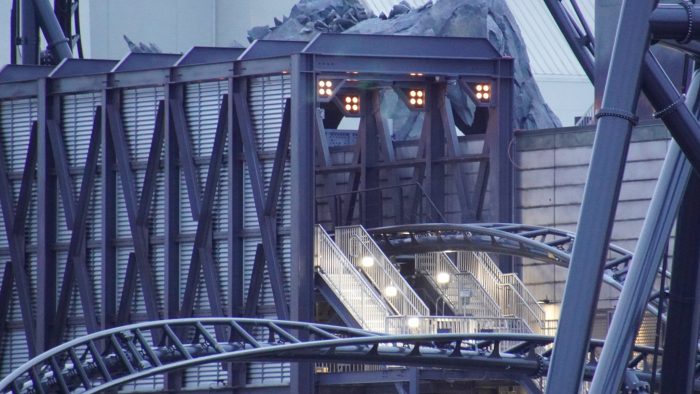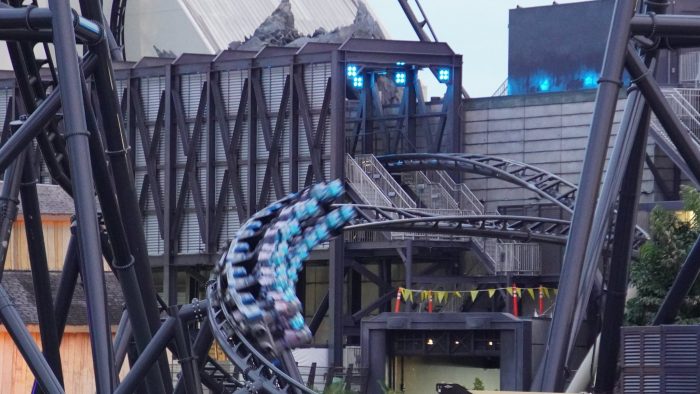 So there you have it: The SATURDAY SIX check's out What's New at the Universal Orlando Resort! See you next weekend for the latest installment of the SATURDAY SIX, where we'll look at something fun from the world of Disney and Universal. If you enjoyed yourself, be sure to check out The Magic, The Memories, and Merch! articles covering the latest from the Disney Outlet Stores. You can also follow Your Humble Author on Twitter (@derekburgan).
If you enjoyed this article, you will surely like the following: 
Six Great Souvenirs from the Universal Orlando Resort
The SATURDAY SIX Looks at WALT DISNEY WORLD Pressed Pennies
A Look at DISNEYLAND Pressed Coins (and why they are so much better than Walt Disney World)
The Best Pressed Pennies at the UNIVERSAL ORLANDO RESORT
Special Thanks to The Elite Brandon Glover, the bio-est of all reconstructs @bioreconstruct, the mighty maven of merchandise @HedgehogsCorner, Captain Cruiseline Scott Sanders of the world famous Disney Cruise Line Blog, my personal protege Hunter "Elvey" Underwood, the SAT SIX Fun Squad of Parkscope Joe and "the Dadalorian" Nick, hot shot Michael Carelli, charter member of the Universal Four @Nitro230, and Hermione Granger's tutor Megan Stump for their invaluable assistance with this article. The SAT SIX is inspired each week by goofballs Aengus Mackenzie and LitemAndHyde and you Potterheads will  enjoy Meg's other blog work over at the Central Florida Slug Club.