The SATURDAY SIX Looks at What's New at the UNIVERSAL ORLANDO RESORT
This week's SATURDAY SIX takes a look at new stuff at the Universal Orlando Resort! Not long ago we did a "Big Picture" look at Universal showing the updates on the new Surfside Hotel, Bigfire restaurant, and Hagrid's coaster. Since then, each of those have officially opened to the public and we'll be doing in-depth articles on them, but today we're going to put boots on the ground and check out some of the other notable things that have shown up at Universal recently, starting with…
# 6 – Pressed Pennies
By now you should know we here at the SATURDAY SIX love our pressed pennies. Whether at Universal, Walt Disney World, or Disneyland, we consider pressed coins one of the best souvenirs you can get at the theme parks. In the last year or so we've some disturbing trends at the parks when it comes to our beloved pennies, including newer machines having a price of $1 each per penny, and the "cranks" being removed to have guests merely press a button to get their design (which is – to quote our President – "BORING!")
Thankfully, Universal has not given up on us pressed penny diehards, and have been introducing some new designs featuring properties such as Jaws, King Kong, and Back to the Future! This would be like finding a new pressed penny machine in EPCOT featuring designs of Horizons, Kitchen Kabaret, and the Dreamfinder.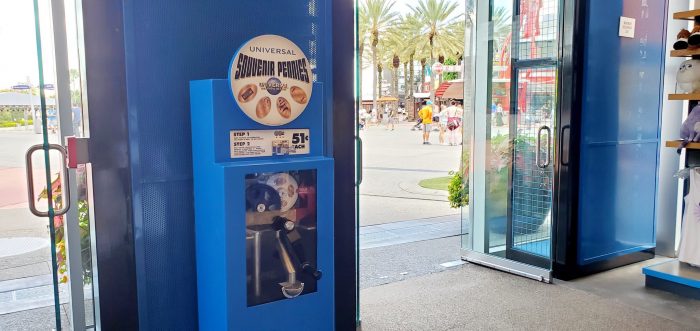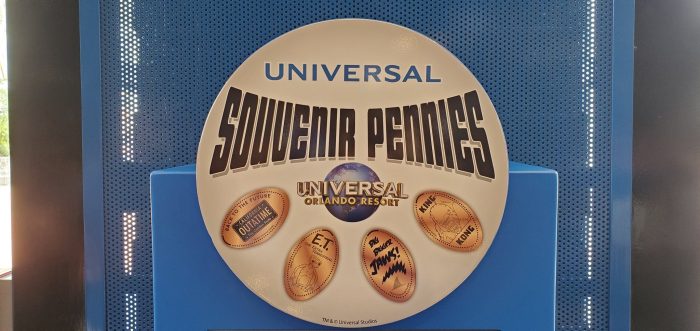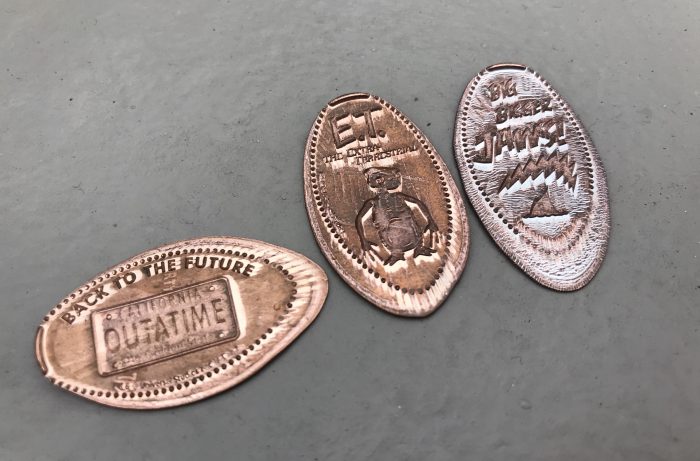 Outside the Universal Cinemark movie theaters in CityWalk is another machine that features the ride vehicle of the Amazing Adventures of Spider-Man. There is definitely not enough pressed pennies at Universal or Disney that feature ride vehicles. More please!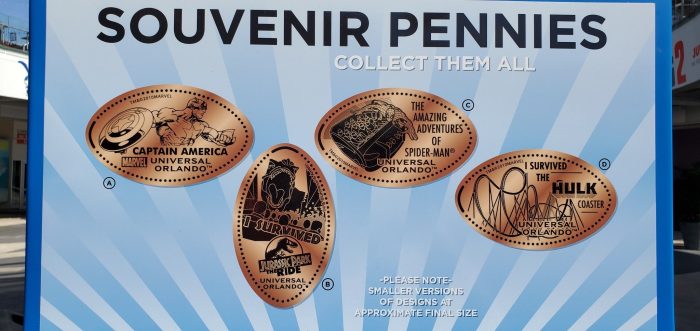 Speaking of the Universal Cinemark theaters, you can now get your CityWalk parking fee reimbursed with the purchase of two matinee tickets. Matinee showings are for movies between 11:00 a.m.-6:00 p.m. (after 6:00 p.m. CityWalk parking is free for everyone). This is a good reminder that the Universal hotels validate for their parking if you spend $25 or more at the various restaurants or bars. So there should be nothing holding you back from trying the Wok Experience at the Royal Pacific Resort, the Acoustic Brunch at the Hard Rock Hotel, or checking out the menu at the incredible rooftop Bar 17 at Aventura Hotel.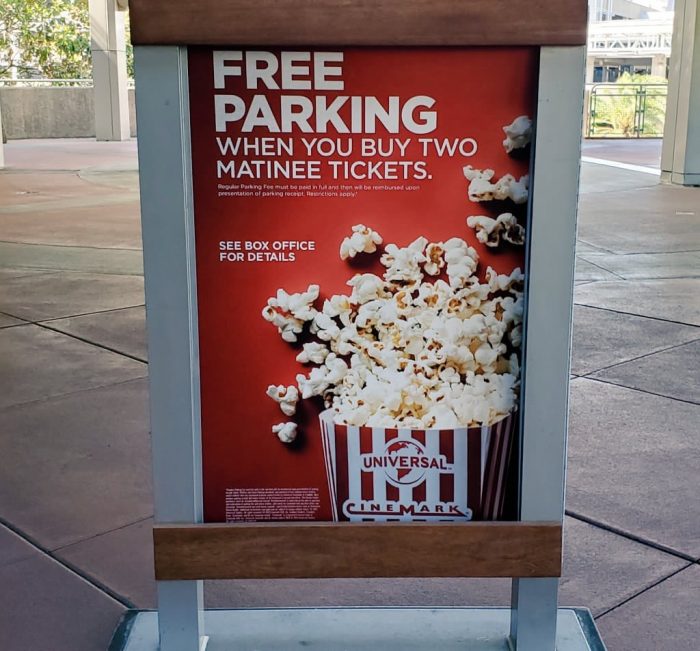 # 5 – Starbucks mug
For those that read the monthly Disney Store Outlet Report, you've probably noticed one item that shows up on a regular basis is various coffee cups. It is at the point now where I have so many that I have to be extremely choosy on whether or not I pick up a theme park-related coffee cup to add to the hoard. A cup has to be extra special for me to even consider it. Well, Starbucks came out with a Universal Orlando Resort exclusive coffee cup that is just too amazing to pass up. With references to the Incredible Hulk Coaster, Skull Island, the Universal Studios Globe and more, this is the perfect cup to start your day with (or, in my case, keep in the box on a shelf for the next 20 years).
Available at the Starbucks locations at Universal which include CityWalk, the parks, and various onsite hotels (including Cabana Bay, Aventura, and the new value hotel Surfside).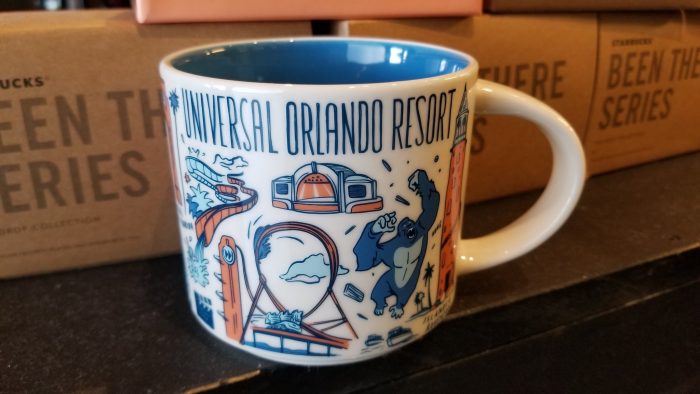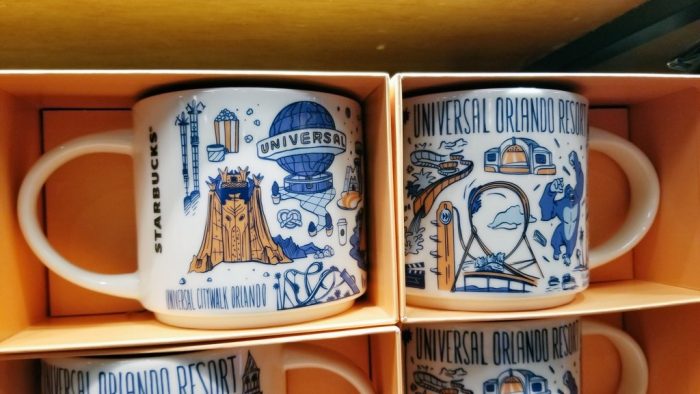 # 4 – Metal Earth
Ah, Metal Earth. The bane of my existence. The awesome Metal Earth designs you can buy exclusively at Walt Disney World – including the WDW entrance sign – are truly amazing. Until recently, there were no Universal Orlando designs…but that changed in a big way. You can now get Metal Earth kits featuring Jaws, the iconic Universal Studios Florida entrance arch, and the Universal Globe (the very same globe who put in an Oscar-winning performance in Sharknado 3).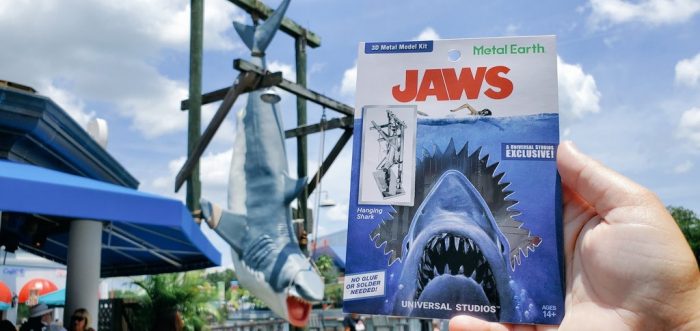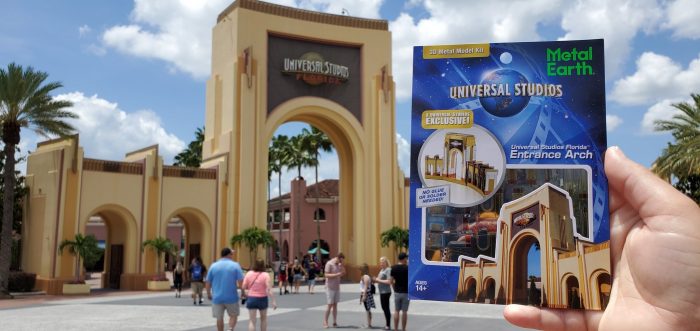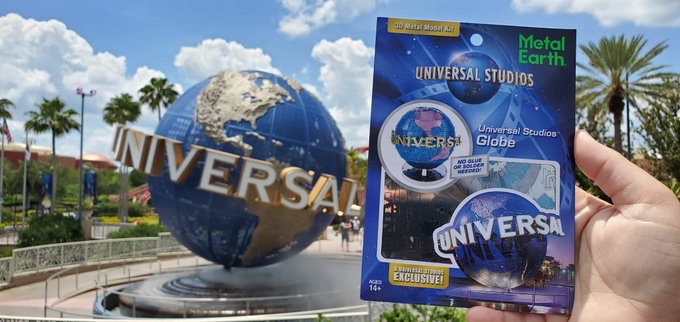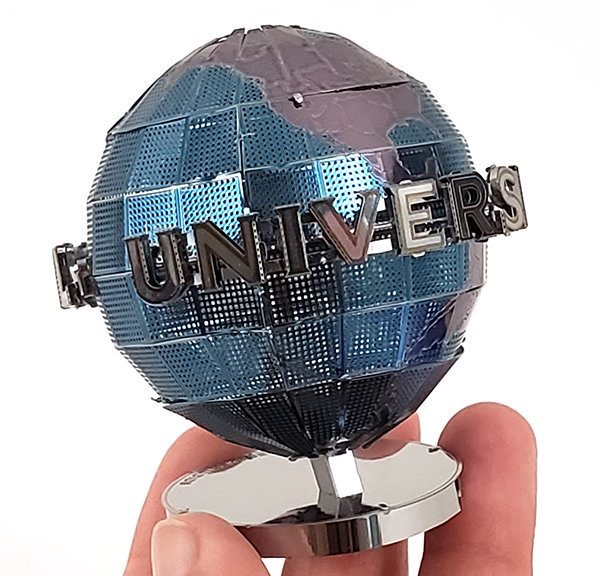 # 3 – She-Ra Meet and Greet Character
It's rare that something drops out of nowhere in the theme park world with no warning. Usually we hear rumors weeks – if not months – in advance that something is coming. But right after the Hagrid's Coaster opened in the Wizarding World, there were rumblings of a new character meeting in the Lost Continent area at Islands of Adventure. I was getting texts sent to me last weekend asking what I thought of the new She-Ra  meet and greet character. At first, I thought it had to just be a guest with an E-Ticket cosplay costume. Not long after, the character itself was officially confirmed by Universal's HHN mastermind Mike Aiello.
This version of She-Ra is based on the recent animated show She-Ra and the Princesses of Power on Netflix. While Universal has a current working relationship with Netflix (including the return of Stranger Things to HHN later this year), it also owns DreamWorks Animation, the company who makes the hit She-Ra cartoon. Earlier this year, Universal introduced the first-of-its-kind glitter farting Troll meet and greet character, also from DreamWorks Animation. Generally speaking, when one thinks "theme parks" and "meet and greets," you automatically think of Disney. But with She-Ra and a glitter farting troll joining Spider-Man, Transformers, Minions, and a velociraptor, the meet and greet game at Universal is pretty impressive too.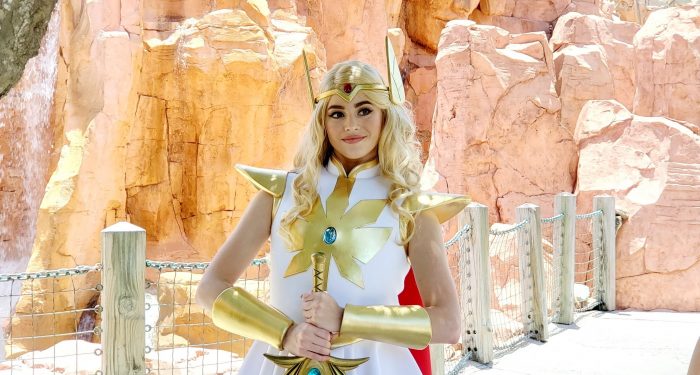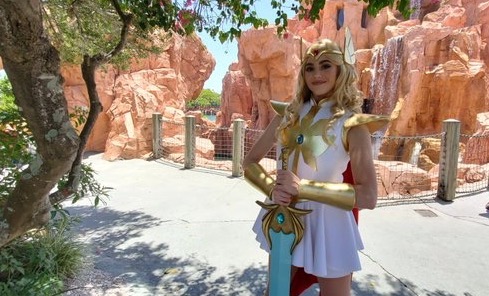 # 2 – Beer and Doughnut Flights at NBC Sports Grill & Brew
There are times I believe someone at Universal has access to my dream journal, and that may have been confirmed this past week with the debut of two new items. First up is the new Beer and Doughnut Flights at NBC Sports Grill & Brew. Outside of theme park food bloggers and full blown alcoholics, not many people would think of combining doughnuts and beer. Thankfully, NBC Grill is playing 4th dimensional chess while the rest of us are playing checkers, as they put out three different flights of beer that are paired with doughnuts from their next door neighbor – and the true love of my life – Voodoo Doughnuts.
There are three different Beer & Doughnut Flights available: Tour of Belgium, Universal Traveler, and Sweet Endings. We went with Universal Traveler because, well, duh. Here's where it gets even BETTER. NBC Grill was out of one of the beers in the flight, so they replaced it with a brew they just got on tap: a double chocolate stout from Toothsome Chocolate Emporium. Those at the restaurant that day can confirm I ascended directly to Heaven at that point.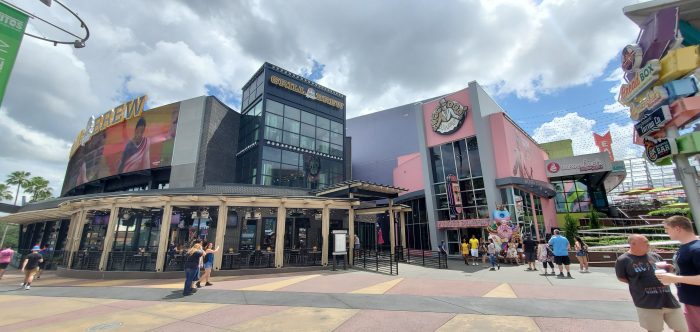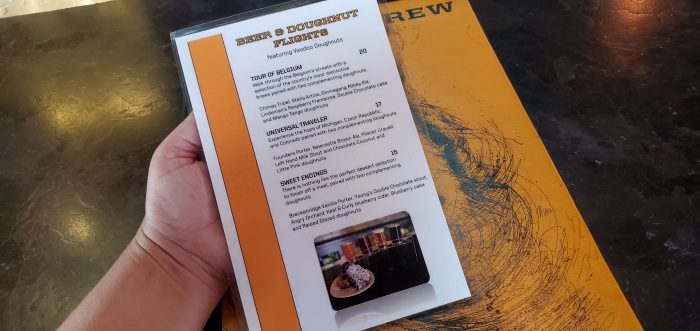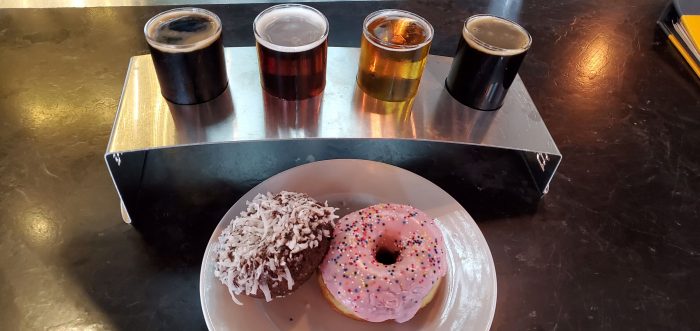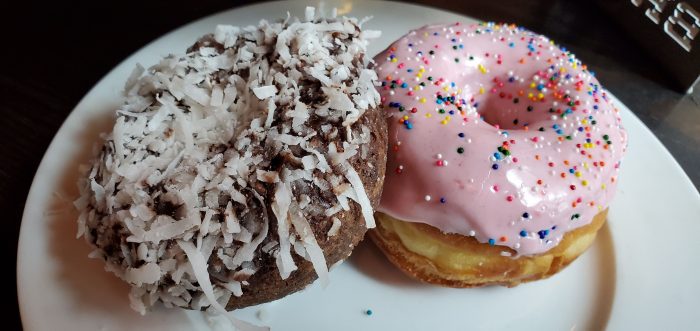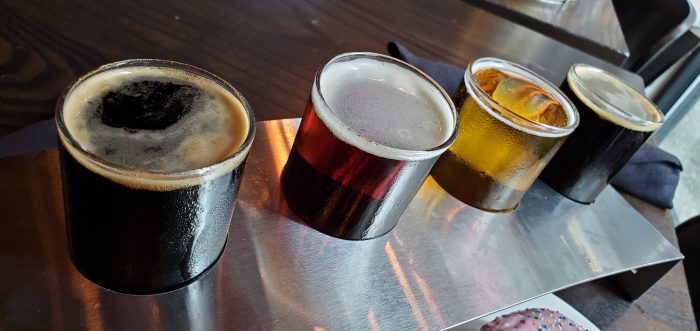 # 1 – VOODOO DOUGHNUT BURGER
The game has been changed.
Extreme Eats at the theme parks are what you would call my raison d'être. Oh, there's a hot dog served inside a baked potato at the Grand Floridian? I'm there. A Pop-Tart Sandwich at Pop Century that uses egg shaped like a hockey puck? On it. Animal Kingdom Poop Snacks? Feet don't fail me now!
So when I saw that Universal was selling a Doughnut Burger in CityWalk, my eyes bulged out of my head like Jim Carrey in The Mask.
Then came the kicker.
The doughnuts that were being used for the "buns" weren't just regular doughnuts, they were VOODOO DOUGHNUTS.
It's strange enough that burgers are not made to order, and are actually pre-made. You would think that would make them taste horrible, but it was actually really good! The glazed doughnut gave almost a maple syrup like flavor to the overall burger.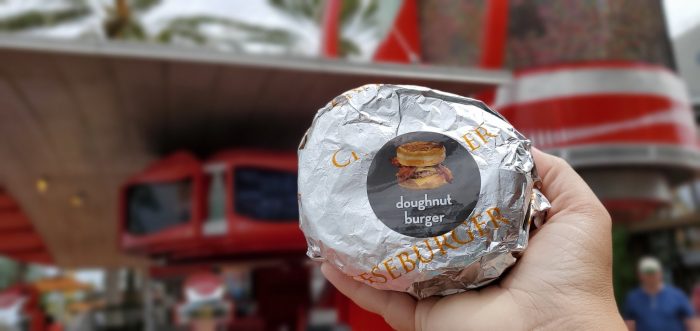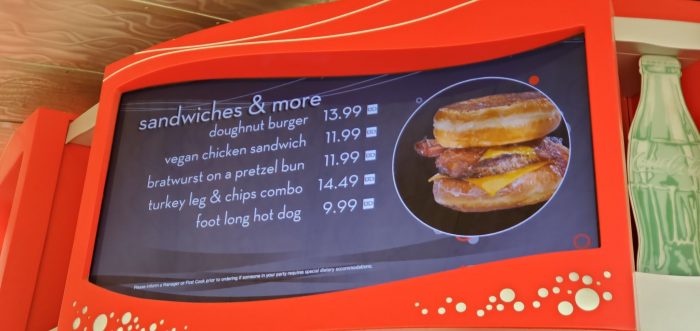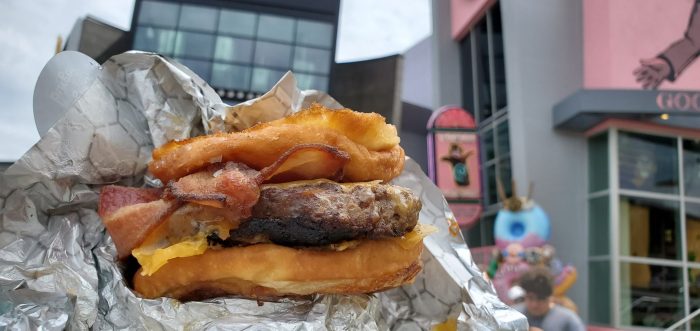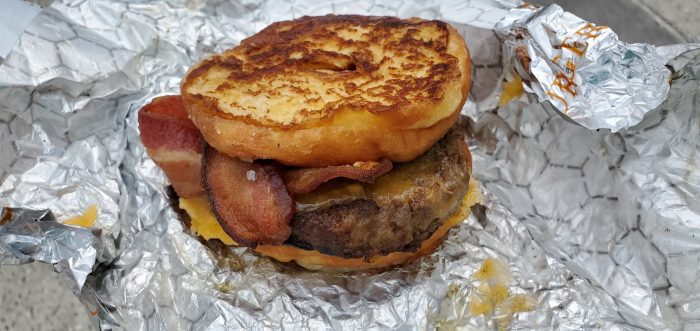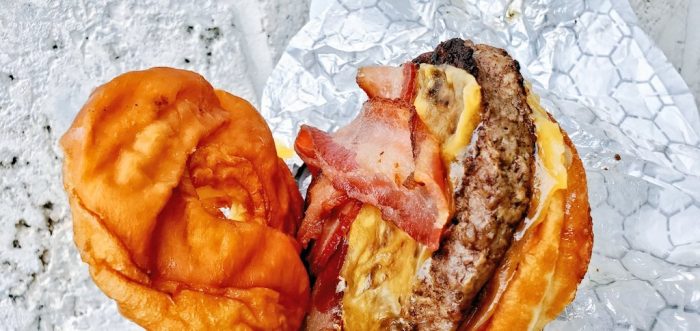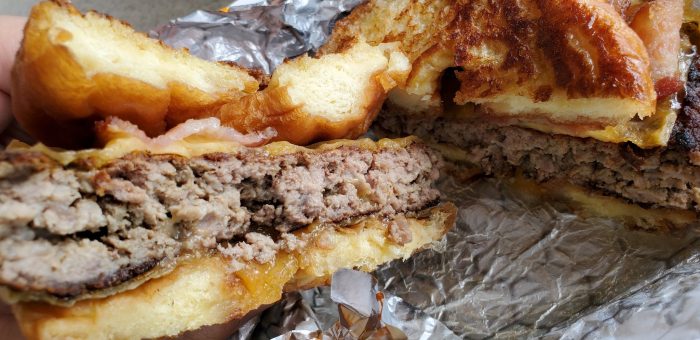 The Burgers even have a Turkey of the Year-caliber typo on their signage.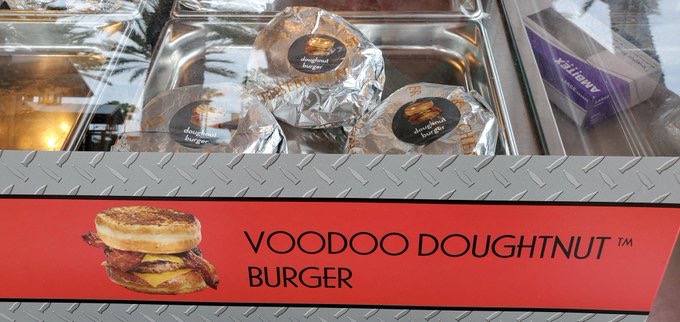 HONORABLE MENTION: New Flag Flies Above Fantastic Four Cafe thanks to the Bioreconstruct Maintenance Report
Not only does first ballot Hall of Fame blogger @bioreconstruct give us weekly overhead shots of Disney and Universal in his High-in-the-Sky Blogger Copter, he is also giving us near daily updates from on the ground. Growing up, there was an expression, "When EF Hutton talks, everybody listens." Today we have our own expression at the Orlando resorts, "When Bioreconstruct talks, the parks listen."
Case in point….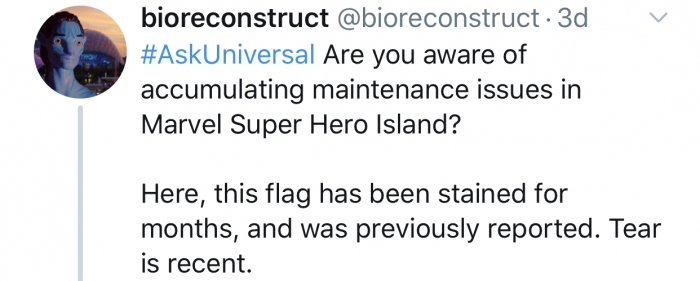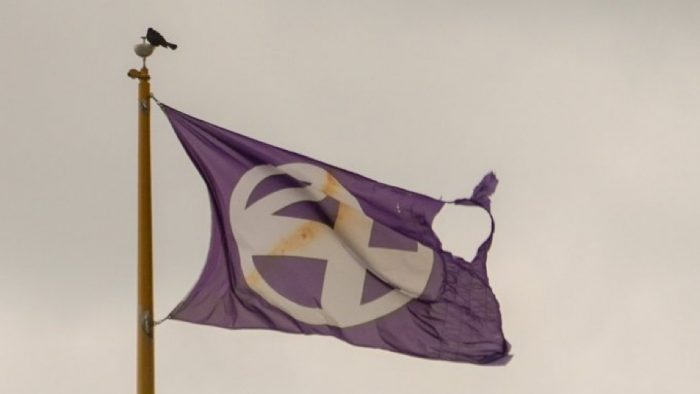 TWO DAYS LATER…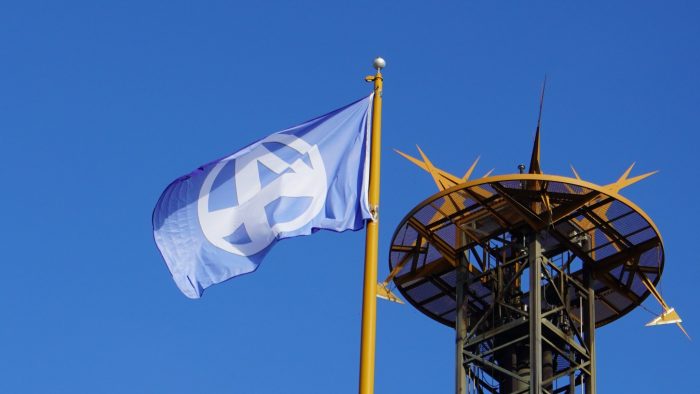 Double Secret HONORABLE MENTION –  John Hammond Uni-Mini
This news doesn't mean much to more than maybe five people, but I'm one of those five people so you're getting it. One of my favorite collectibles at Universal are the Uni-Minis. While they have slowed down the release of them over the years, we usually always get a new one during Halloween Horror Nights and often during Mardi Gras. It's a truly great day when a regular character gets a new release, and we saw that recently with the introduction of the John Hammond Uni-Mini.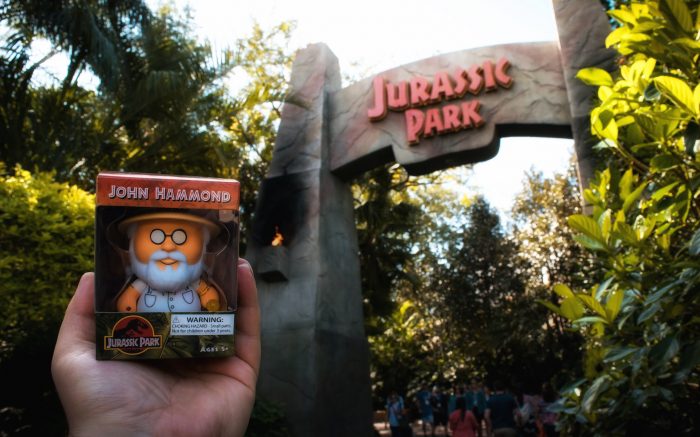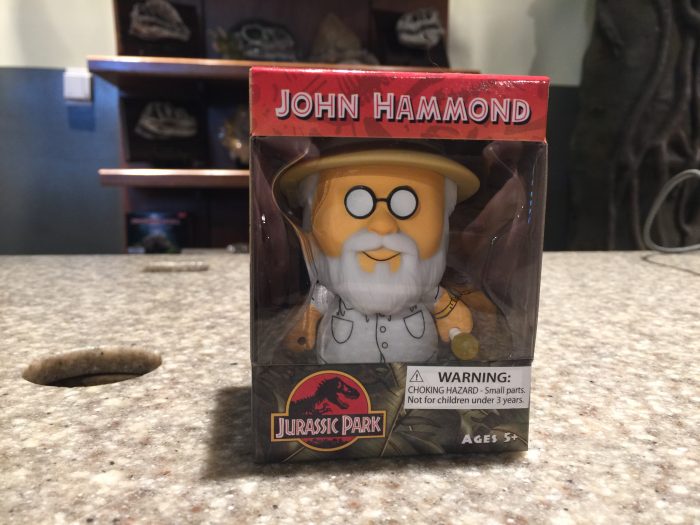 Some fantastic packaging here, including the back part of the box having the iconic Jurassic Park gates.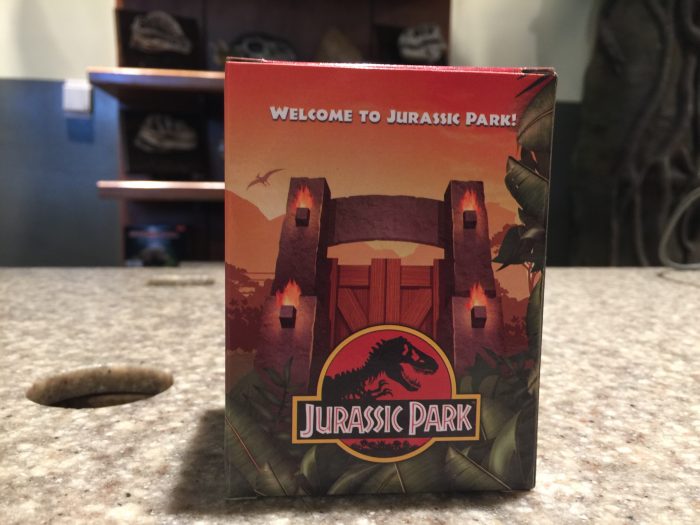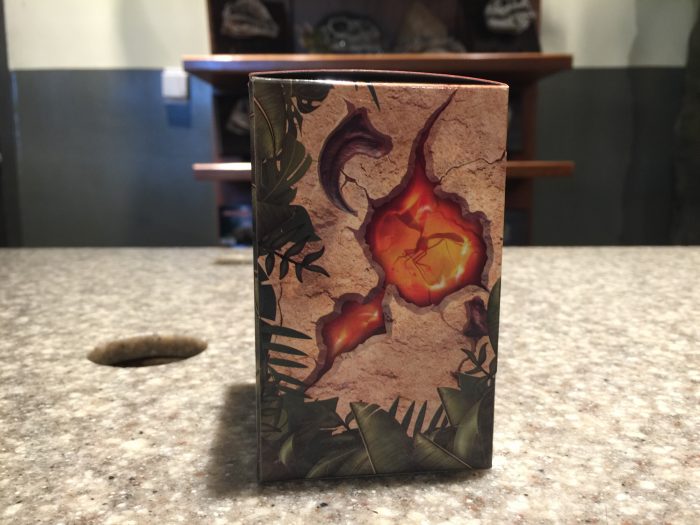 So there you have it: A Look at New Stuff at the Universal Orlando Resort! See you next weekend for the latest installment of the SATURDAY SIX, where we'll look at something fun from the world of Disney and Universal. If you enjoyed yourself, be sure to check out The Magic, The Memories, and Merch! articles, or, for your listening pleasure, check out the E-Ticket Report podcast. You can also follow Your Humble Author on Twitter (@derekburgan).
If you enjoyed this article, you will surely like the following: 
6 Surprising Secrets of the Universal Orlando Resort
6 Reasons We Love Universal's ROYAL PACIFIC RESORT
Wizarding World merchandise straight out of the Harry Potter movies
Special Thanks to The Elite Brandon Glover, the mistress of Universal merchandise @HedgehogsCorner, the bio-est of all reconstructs @bioreconstruct, the SAT SIX Fun Squad of Parkscope Joe and Nick, hot shot Michael Carelli, and Hermione Granger's tutor Megan Stump for their invaluable assistance with this article. The SAT SIX is inspired each week by goofballs Aengus Mackenzie and LitemAndHyde and you Potterheads will  enjoy Meg's other blog work over at the Central Florida Slug Club.
FINAL PLUG! Did you know The 2019 Unofficial Guide to Universal Orlando has a special edition of the SATURDAY SIX in it?That's right, ANOTHER NEW ONE EXCLUSIVE TO THIS EDITION!Finally, someone came up with an actual reason to read a book. ORDER this baby now!
BEFORE WE GO… those of you who follow me on social media saw the update that we added a new member to the SATURDAY SIX staff. Having a new puppy has cut into my drawing time though, so here is a Burgan Fine Art on the first week of Hagrid's Magical Creatures Motorbike Adventure (featuring some devilishly handsome bloggers from Attractions Magazine and Inside Universal.)