SATURDAY SIX: Six Reasons We Love Disney's Port Orleans Riverside
This week's SATURDAY SIX takes a look at the Six Reasons We Love Disney's Port Orleans Riverside. Earlier this year we took a trip to Port Orleans French Quarter, one of our favorite hotels at Walt Disney World, and today we will be looking at French Quarter's sister resort, Port Orleans Riverside. Formerly known as Dixie Landings, Riverside's theme comes from the tranquil scenery of Mississippi River communities and lavish opulence of pre-Civil War Louisiana.
While one of French Quarter's biggest selling points is the resort's small size and intimate feel, Riverside goes the other way and is a huge resort with a ton of stuff to do. Let's face it, sometimes more is more, and although Riverside is sprawling it is actually one of the most relaxing areas on Disney property.  From horse-drawn carriage rides to evening campfires to six (yes, six) pools, Riverside has a lot of reasons to love it, and today we're counting down the top six starting with…
# 6 – The Southern Charm of Riverside's Theming
While French Quarter focuses on the city feeling of New Orleans, Riverside takes a step back and puts a spotlight on the rural areas of antebellum Louisiana. The overall level of theming is much closer to what you will find at deluxe Disney's hotels like the Polynesian Village Resort or Wilderness Lodge than a fellow moderate like Coronado Springs.  The Riverside Mill's 32 foot working water wheel is a standout feature, but it is all the little details which will pull you into the resort.
There are over 2,000 rooms at the resort, yet it never feels crowded when you are walking the property. And while taking a stroll you will see perfectly manicured gardens mixed in with an outdoorsy wilderness that seems like you stepped into another time and place.
–
# 5 – Yehaa Bob
A Walt Disney World staple for 17 years (and going strong,) Yehaa Bob Jackson is an unforgettable character entertaining guests every Wednesday through Saturday evenings at Riverside's River Roost Lounge. Like the Hoop Dee Doo Revue, YeHaa Bob brilliantly combines family friendly humor with foot tapping tunes. While you will enjoy the sing-alongs and laugh at the jokes, what will blow you away is Bob's improv skills and seemingly photographic memory. If you meet Bob on one trip, it is all but guaranteed he will remember you on your next trip, no matter when it is. It is no surprise that Bob was a 2013 Walt Disney Legacy Award, the highest honor a Cast Member can achieve at Walt Disney Parks and Resorts.
Admission to YeHaa Bob's show is free, no reservations are needed, and there is no minimum to purchase anything at the River Roost Lounge (in fact you can even bring in your own food and drink from the nearby Riverside Mill food court.) You do not have to be staying at Riverside to enjoy this lively show, and we give it our highest possible recommendation.
–
# 4 – The Fishin' Hole
Believe it or not, there are a decent amount of fishing opportunities while on vacation at Walt Disney World, including guided bass fishing excursions on Seven Seas Lagoon and casting-rod fishing at Ford Wilderness, but our favorite is the quaint Fishin' Hole at Riverside.
The Fishin' Hole is where guests enjoy traditional cane-pole fishing with water stocked with bass, catfish, bluegill, and sunfish. You can bring your own pole, but one is included with the price (along with bait.)  Price for individual is $6.39 (tax included) per half hour for one pole or a family special of $15.98 for 4-6 poles. All fishing at WDW is catch-and-release, and the hours of The Fishin' Hole start at 7AM with last pole out at 1:15PM. It's hard to think of a more peaceful way to start the morning while the Type-A personalities are rope dropping Epcot.
# 3 – A Walk Along the Sassagoula River
Walking around Riverside, with its wooden bridges and gorgeous foliage, is wonderful in and of itself, but the highlight is being able to take peaceful walks by the Sassagoula River. The calm water and the abundant pine groves provide the perfect atmosphere for a morning, afternoon, or evening stroll. It is also one of the best places outside of the theme parks to see how WDW tells a "story" without you even realizing it. The Sassagoula connects Riverside to French Quarter, and the walkway between both is separated by large bridge. The entire landscape changes once you exit either side, and is the resort equivalent of what guests receive when they walk under the train station to enter Main Street USA at the Magic Kingdom and the subtle transitions in-between each land.
Also be sure to check out THIS ARTICLE on the running trails at Port Orleans.
–
# 2 – Royal Rooms
The Royal Guest Rooms are what Disney dubs "Story Rooms." While no other human being on Earth would use that phrase, we can all agree that these just may be the future of the WDW resorts. The story behind these particular rooms is that Princess Tiana (of  The Princess and the Frog) invited her gal pals from the other Disney kingdoms to a vacation getaway. The rooms are decorated with little touches everywhere, including Genie's lamp as a water faucet, Aladdin's magic carpet on the floor, and a footstool resembling one we all saw in Beauty and the Beast. There's silhouettes of Disney princes (including Naveen, Phillip and even Eugene from Tangled) and plenty of pictures of the princesses themselves. The star of the room are the headboards that feature a fireworks/firefly display which is just simply beautiful.
Other Story Rooms at WDW include in the Mermaid rooms and Cars, Lion King and Nemo suites at Art of Animation and the Pirate rooms at Caribbean Beach Resort. The hotel industry in Orlando is a competitive one, and and these Story Rooms are something that almost no one in town is able to compete with. Universal and Loews are getting there, especially with the awesome Despicable Me themed suites at Portofino Bay, but no one else is even close. The new Teenage Mutant Ninja Turtle suites at the Nickelodeon Hotel have a fraction of the overall immersion you will get in a Cars suite at AOA. We don't have a crystal ball here at SATURDAY SIX (just a magic 8 ball that rarely works) but the smart money is Disney doing more of these types of the rooms in the future. They are wonderful and justify the type of premium Disney charges.
# 1 – The Mansions
Outside of the Royal Guest Rooms, the other guest rooms at Riverside are divided into two sections, the Alligator Bayou and the Mansions on Magnolia Bend. While the Bayou and it's rustic themed tin-roofed buildings are charming, what we love are the gorgeous plantation style Mansions. The architecture, the fountains, the majestic gardens, and all the little extras like a flower adorned romantic gazebo resting waterside, combine to make the Mansions one of the best places to stay at WDW.
Forget DVC, one of the true best kept secrets at Disney right now is the amount of pools at Riverside. While Ol' Man Island is the big draw, with its elaborate theming, huge slide, and Muddy Waters pool bar, there are five other quiet pools around the resort. That's right, FIVE! Wherever you are at Riverside, you're close to a pool, and isn't that what vacations are all about?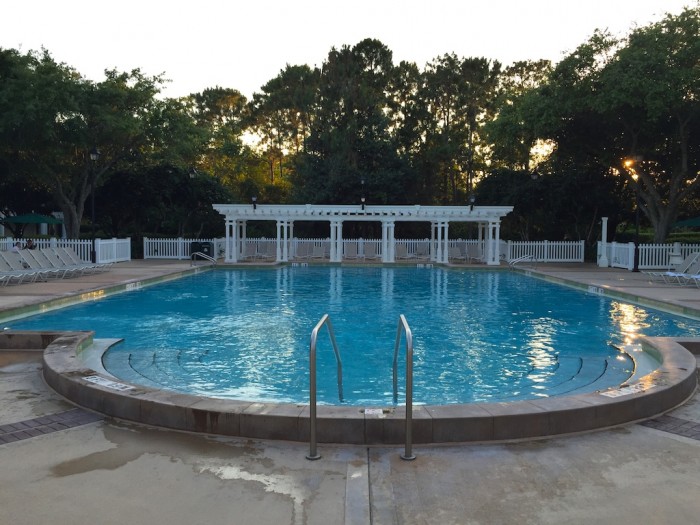 HONORABLE MENTION: Take a Sassagoula Water Taxi to Disney Springs
While boat rides are always our favorite form of Walt Disney World transportation (well, maybe the Monorail to Epcot takes the top spot in that list) the water taxi from Riverside to Downtown Disney is hands down the best way to get to the shopping and dining district during it's transition to Disney Springs. Let everyone else deal with road rage as you serenely sail down the Sassagoula, passing French Quarter, Old Key West, and Saratoga Springs. And while you are at the Port Orleans Levee to get on (or off) your water taxi, consider renting a bicycle (or surrey bike) for another fun way to traverse Riverside.
So there you have it: Six Reasons We Love Disney's Port Orleans Riverside. See you next weekend for the latest installment of the SATURDAY SIX, where we'll look at something fun from the world of Disney and Universal. If you enjoyed yourself, be sure to check out The Magic, The Memories, and Merch! articles, or, for your listening pleasure, check out the Pardon the Pixie Dust podcast. You can also follow Your Humble Author on Twitter (@derekburgan)
If you enjoyed this article, you will surely like the following:
Six Reasons to Check Out Disney's Pop Century Resort
Six Reasons We Love Disney's Contemporary Resort
Six "Secrets" of Disney's Art of Animation Resort
Disney Dining: 'Ohana at Disney's Polynesian Village Resort
Special Thanks to crack staff photographer Brandon Glover, photo wunderkind Mike Sperduto, Disney photography icon Tom Bricker, and Megan Stump for their invaluable assistance with this article. Be sure to also check out Brandon on The Park Blogger podcast with co-hosts Aengus Mackenzie and Brian Carey. 
FINAL PLUG! Did you know The Unofficial Guide to Universal Orlando has a special edition of the SATURDAY SIX in it? Finally, someone came up with an actual reason to read a book. PRE-ORDER this baby now! (For every copy sold, a percentage of the profits* go towards buying a DVD of the Seven Dwarfs Mine Train rap video.)
*0%