SATURDAY SIX: The Six Best Snacks in Epcot's World Showcase
This week's SATURDAY SIX takes a look at the Six Best Snacks in Epcot's World Showcase. By now you know we love theme park snacks. From the iconic Mickey Bar and Dole Whip at the Magic Kingdom to the outrageous Brain Freezin' D'oh-nut Sundae in Springfield USA, we can't get enough. Today we are going to the holy land of all dining in Walt Disney World, Epcot's World Showcase. Yes, you know about the incredible restaurants like Via Napoli and bars such as La Cava del Tequila, but we are going to take a look at the underrated dining aspect of World Showcase: the snack department. Everyone has their favorite, so let's start off the list with….
# 6 – Hand Twisted Pretzel – (Germany)
No offense to the Mickey pretzel but this is THE pretzel to get in Walt Disney World. A hand twisted pretzel in Germany is in fact almost the perfect snack because it's; A) Easy to eat while touring the park B) Big enough to share C) Is something almost everyone in your party can enjoy D) Goes great with an ice cold beer. Good news on the last point because as luck would have it Germany is also one of the best places to get a beer in World Showcase. How convenient! While we recommend the Oktoberfest brew, you can't go wrong with the Grapefruit Beer either.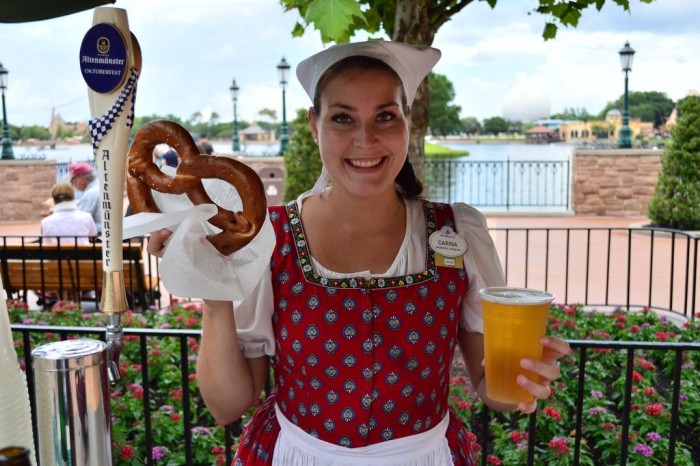 # 5 – Croissant Donut (Refreshment Port)
One of the new editions to the World Showcase snack family is the Croissant Donut and it has immediately become one of the park's most popular options. Commonly referred to as a cronut by guests, this donut is made by stacking layers of flaky pastry, deep frying it, and then tossing it in cinnamon and sugar. This is one "food fad" that looks to be staying around a long time as it's just that good. Available at Refreshment Port, the croissant donut makes the perfect start to an afternoon of touring World Showcase.
–
# 4 – Gelato (Italy)
The Italy Pavilion at Epcot already has the greatest pizza on Disney property at Via Napoli, but it also offers one of the best places for ice cream at their Gelato Cart. Guests can get two scoops of their various flavors in a coppetta (cup) or in a cono (cone.) They also offer four of their own creations including the Coppa Amicizia (cookies & cream, strawberry, Fior di Latte, mango sauce, whipped cream, and whole raspberries.) Bello!
–
# 3 – Kaki-Gori (Japan)
Shaved ice with fruit flavored toppings doesn't sound like it would be a big deal, but we guarantee once you try a Kaki-Gori at the Japan Pavilion it will be a "must get" on every return trip. Available at the Kabuki Cafe in front of the Pavilion, there are several flavors available (although we are partial to tangerine.) When you happen to be in Epcot and it's a thousand degrees outside with 200% humidity, a Kaki-Gori is the ultimate snack because along with the wonderful taste you're going to be cooled off and hydrated by the ice.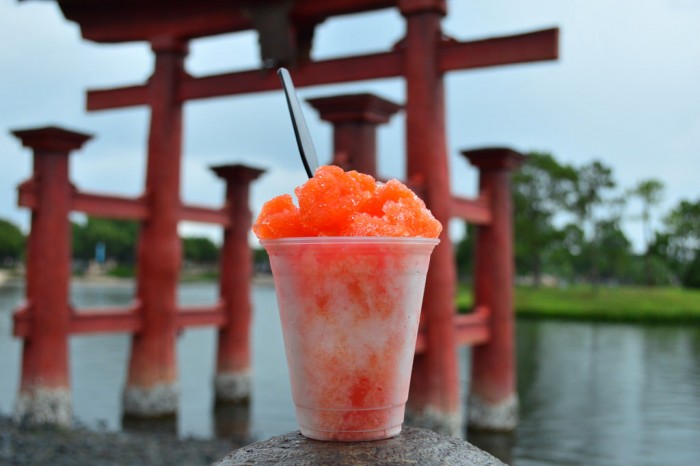 –
# 2 – School Bread (Norway)
If there were a list of iconic Epcot snacks, School Bread would most certainly top the list. A favorite among many Disney fans (including our pals, the Disney Hipsters) the legendary School Bread is a cardamom bun with vanilla creme custard inside while topped with icing and a generous amount of toasted coconut flakes. The Kringla Bakeri og Kafe is one of the best places at WDW to pick up a snack as they have other must-try treats including rice cream, sweet pretzels, and the troll horn.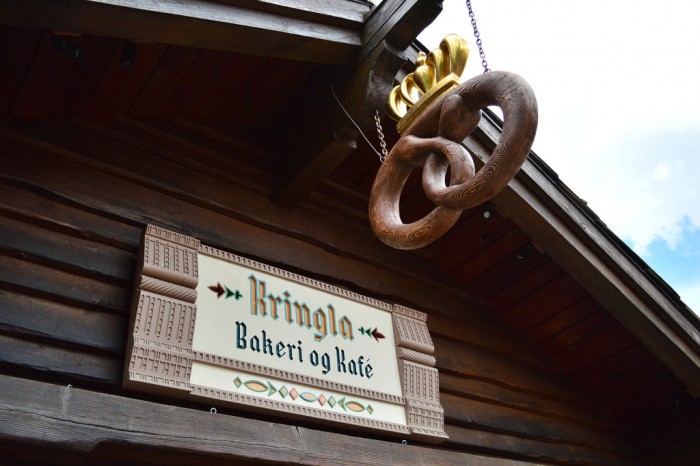 –
# 1 – Macaron – (France)
It was going to be tough to knock School Bread off the top of this list, but you just haven't done Epcot right if you haven't stopped into L'Artisan des Glaces and tried a Macaron ice cream sandwich. The ice cream itself is worth going out of your way for, but sandwiched in between two delicious cookies? We're talking first ballot snack Hall of Fame here. To top it off, the sandwiches are wrapped in French "newspaper," similar to the English newspaper the fish and chips are served into at the nearby UK Pavilion. It's a great touch and that bit of style puts the Macarons over the top.
–
HONORABLE MENTION – Funnel Cake (American Adventure)
We could not close out this list without looking at the American Adventure and its signature snack, Funnel Cakes. Glorious pieces of fried dough available with several toppings (including apples, chocolate sauce, and ice cream) but we always go with the old standby, covered in powdered sugar. Other countries may have better presentation of their snacks, and we're pretty sure all of them have less fat, calories, and cholesterol, but one bite of this fried culinary masterpiece and you'll be chanting USA! USA! USA!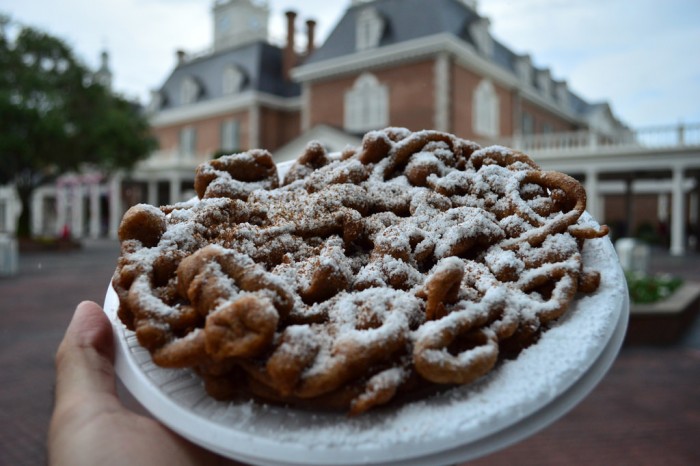 So there you have it: The Six Best Snacks in EPCOT's World Showcase. See you next weekend for the latest installment of the SATURDAY SIX, where we'll look at something fun from the world of Disney and Universal. If you enjoyed yourself, be sure to check out The Magic, The Memories, and Merch! articles, or, for your listening pleasure, check out the Pardon the Pixie Dust podcast. You can also follow Your Humble Author on Twitter (@derekburgan)
If you enjoyed this article, you will surely like the following:
Disney Dining: Fantasy Fare Food Truck at Downtown Disney
The Six Most Unique Dining Experiences at WDW
Disney Dining: FoodQuest at DisneyQuest
Six Theme Park Questions for the Magic 8 Ball
Special Thanks to crack staff photographer Brandon Glover, Festival of the Lion King's # 1 Fan Brian Carey, and Megan Stump for their invaluable assistance with this article. Be sure to also check out Brandon on The Park Blogger podcast with co-hosts Aengus Mackenzie and the aforementioned Brian Carey. 
FINAL PLUG! Did you know The Unofficial Guide to Universal Orlando has a special edition of the SATURDAY SIX in it? Finally, someone came up with an actual reason to read a book. PRE-ORDER this baby now! (For every copy sold, a percentage of the profits* go towards buying a DVD of the Seven Dwarfs Mine Train rap video.)
*0%