Step-By-Step: How to Use Disney Cruise Line Navigator on Board
Disney Cruise Lines Navigator App is essential once you're on board the ship. There is no paper listing of daily events on the Disney ships, not even at Guest Services. Want to know where you're having dinner? The app. What the schedule is in the movie theater? The app. How will you contact your teenagers and tell them you'll be out of reach in the Rainforest Room? The app.
The Navigator App is one of the most full-featured cruise apps I've seen. Before you cruise, you can access most of the same functionality that you can find on the DCL website. Once on board, Navigator acquires a whole new look and serves as your connection to events and information while you're sailing. Unfortunately, that means you can't really practice getting familiar with it before your cruise, but today I'll walk you through it so you can quickly become an old hand. (Last updated/republished June 2, 2023.)
The good news is that the app is pretty intuitive. But this article will still help you get oriented on the basics, and run you through some pro tips that might even leave your tech-savvy kids asking "Whoa, how did you do that?"  Click any heading below to go directly to that section, and click on any image to enlarge it.
Getting Connected
Getting Oriented
Activities & Plans
Dining
Chat
Miscellaneous
Getting Connected
If you logged into the Navigator app while you were still ashore, once on board you'll find it has a totally different look. On land you login to the app with the same credentials you use on the DCL website, but on board you won't login at all. Instead, you'll link your stateroom – which means that everyone in your group can use the app whether they have a login for the website or not.
Start by connecting to the DCL Guest WiFi once you're on board, then open the app. Click on "Link Your Stateroom", then fill out the requested information and click "Proceed". Since you're accessing the app from the onboard WiFi, you do not need to buy an internet package in order to use the app or any of its features. (Tap here to see the difference when you're connected to the internet.)
Although the text says link your stateroom, you're really setting up the app for an individual user. If you and your partner (or kids) link to the app using the same stateroom number on different devices, you'll have different chat IDs based on the personal information you gave.
Did one of your kids accidentally link using your info, and now their phone thinks they're you in the chat?  No worries — look on the bottom right for "More" and select it, then choose "About this app".  You'll see a link to reset the app, after which you can relink it correctly.
Getting Oriented
When you first open the app, you'll generally be on the Home Screen. How do you know it's the Home Screen?  On the bottom of the screen you'll see a menu bar; the icons will light up to indicate which menu area you're currently using. If you've used any of Disney's parks apps such as My Disney Experience or the Disneyland app, this interface will feel a little familiar. Here's what you'll find when tapping any of these icons: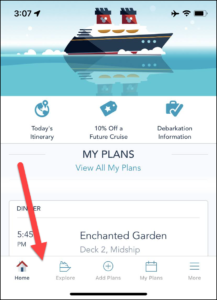 Home: quick access to the first few items in your plans, plus the day's itinerary information for the ship
Explore: all the available activities — we'll dive into this tab in detail later on.
Add Plans: The big plus sign is a shortcut to Things You Can Reserve; you can also access everything on this menu by scrolling down on the Home screen.
My Plans: This is the full blow-by-blow of everything in — you guessed it — your plans.  Unlike the Home Screen where you only see the next couple of items on your itinerary, the My Plans screen lets you take in your whole day (actually your whole trip) at one time.
More: Access to a variety of miscellaneous features: view your bill, muster information, etc.
Activities & Plans
The Ship
Clicking Today's Itinerary on the Home Screen gives you the big picture – weather, what the ship is doing that day, etc. Most importantly, if it's a port day here is where you'll find the All Ashore and All Aboard times, as well as information about Emergency Contacts and the Ship's Agent if you have a problem when you're ashore. If you're going ashore, I recommend taking a screenshot of the Contact Information screen to guarantee you have access to these numbers no matter what the internet situation is.
Plans Just For You
The "My Plans" menu section is the way to see all of your plans for the day (or for other days).  But how do things get into Your Plans?  There are three ways.
Items such as your assigned dining rotation for the day appear in Your Plans automatically.
Items that you book or reserve from the "Add Plans" section such as Port Adventures or Onboard Fun, or specialty dining that you've reserved.
Items that you add yourself from the Explore menu sections such as movie showings, trivia, or other daily programming.
To add items from the Explore tab to your plans, just tap the heart. Want to take them off later when reviewing your plans? Just click again to unselect them.  These favorites are specific to you, so if some family members are excited about the midnight movie and others are more interested in Rise 'n' Shine Yoga, everyone will see only the things they've added.
You'll get notifications for everything on Your Plans, which I personally find helpful when I'm lying on deck and not paying attention to the time. Actually, I tend to add almost anything from the Explore tab that I might be interested in to my plans, because if I get the notification that Cup Stacking begins in 15 minutes and I'm feeling too lazy to leave the pool, I can always decide to ignore it. Here's what you need to know to use this section like a pro.
First, many roads lead to Rome. Want to see movie schedules? There are at least four different ways to access them, depending on what you're trying to find out. Disney has worked hard to expose a lot of information so don't be afraid to tap, tap, tap.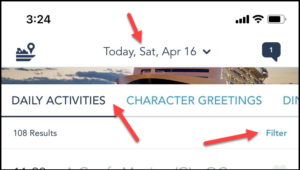 When you first open the Explore tab, if you look at the top there are three features to help you navigate. By default, activities are shown for the current date, but clicking the Date allows you to switch and see activities for a different day. The Filter lets you select activities based on specific criteria like age range or activity type. And the slider that starts with "Daily Activities" lets you quickly move back and forth between specific venues.
The slider options are: Daily Activities, Character Greetings, Dining & Lounges, Spa & Salon, Youth Clubs, Pools, Sports & Recreation, Shopping, Live Shows & Movies, and Guest Services. Daily Activities and Character Greetings will be a list of individual activities. The other tabs on the slider open to a listing of the venues and their hours. Some of these, like the shops, will stop here because that's all you need to see. Others will let you tap and drill down to see a more detailed schedule.
From any listing of specific activities, you can also click on an activity to see its schedule. For instance, you can click on any showing of a movie to see all the other times when that movie is being shown. This is a great way to resolve conflicts between two activities you're interested in. The gallery below shows how you might resolve a conflict when your kids can't decide between the All About Me activity on Day 2, and Lilo and Stitch on Funnel Vision. Turns out, the All About Me activity is available on a different day – problem solved!
Dining
Dining information is found all over the app.  On the Explore tab, the Dining & Lounges slider section shows you hours for all the dining venues.  You can see which rotational restaurant is serving lunch, and what time Cabanas is open. Clicking any eatery brings up the menu. Just for you, you can see your rotational dining assignment on the Home screen or the Your Plans tab, and you can click to bring up the menu.  Want to see your dining schedule for the whole cruise? You'll find that on the More tab.
Pro tip: use the "Contact a Crew Member" option from the More tab to chat with Dining staff and make reservations at Palo and Remy.
Chat

The chat feature of the Navigator app is accessed by clicking the little chat bubble that is visible on many (but not all) screens. If you don't see the chat bubble and you're trying to get to chat, navigate up to a top level screen and make sure that you're scrolled all the way to the top. If you have new messages, the bubble will have a red dot and a number to show how many new messages you have.
If you've texted on your phone before, you can use the chat in the Navigator, but there are still a few things that are worth a callout. First, people in your cabin will automatically be shown in your chat list.  Want to talk to anyone else?  You'll need to supply them with your Chat ID, visible above your name, in order to get the conversation going.
You can click the little pencil to the right of your name to change how it is shown in chat — not only on your screen, but for those you are chatting with as well. Having your kids change their screen names can be a good way to keep some privacy for your family as they accumulate a long list of chat friends in Edge and Vibe. (Changes are retroactive).
Of course, if you don't care about whether or not your kids change their screen names, you can count coup on them by changing yours before they figure out how to do theirs. Who says parents can't be tech savvy?
To get alerts when someone messages you, make sure to set that your phone is set to allow notifications from the app. But one thing that can be frustrating is that this doesn't always work properly. If you're waiting for someone to contact you, it might be a good idea to launch the chat and check every now and then.
Swiping left on an individual chat offers different options depending whether it's an individual or a group. For individuals, you'll have the option to block the contact, and for a group you'll simply have the option to leave the group. In both menus you can also clear the previous messages from that chat (while still leaving the conversation in place), and to get more details about participants.
Last but not least, if you had a pop-up message when you first opened Navigator for the day (like this one) and dismissed it, then decided that perhaps you should have read it — you can find it here by switching from Conversations to Notifications.
Miscellaneous
One of the coolest features that we haven't covered yet is deck plans! Can't remember whether the spa is forward or aft? Head for the Explore tab and click the little ship on the top left.
To see your account balance: More tab, then Cruise Folio (you can also download a copy of your Folio online after your cruise).
Viewing Menus: most menus have sliders on the top that let you skip straight to the section you're interested in. (It's dessert, right?)
To change your purchasing pin: More tab, then My Account
Booking a placeholder cruise: you can do this two ways (because Disney is always happy to take your booking for a future cruise).  Either begin from the Home screen, just under the ship image, or from the More screen: 10% off a future cruise.
First published July 5, 2022