Review of Story Book Dining at Artist Point with Snow White
For many years, character meals like Chef Mickey's, Crystal Palace, and Cinderella's Royal Table have been a top priority for families visiting Walt Disney World.
The roster of the resort's character dining options expanded in 2018 when Story Book Dining at Artist Point, along with Disney's original princess, Snow White, joined the ranks.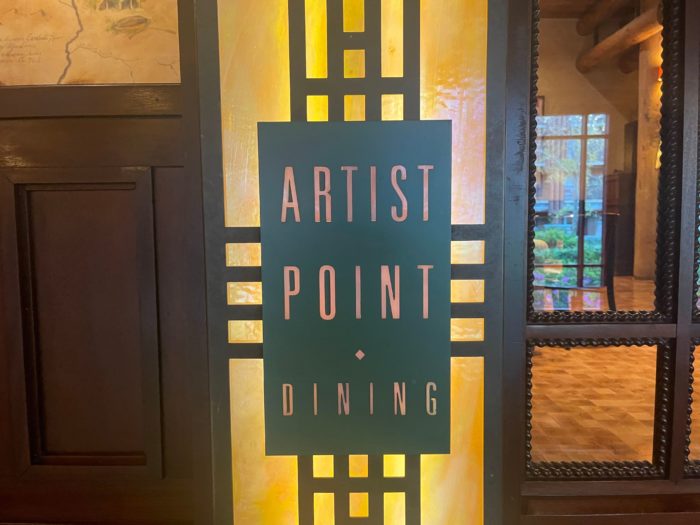 Located at Disney's Wilderness Lodge, Story Book Dining at Artist Point offers guests the chance to see Snow White, Dopey, Grumpy, and The Queen in a dining room themed after an enchanted forest!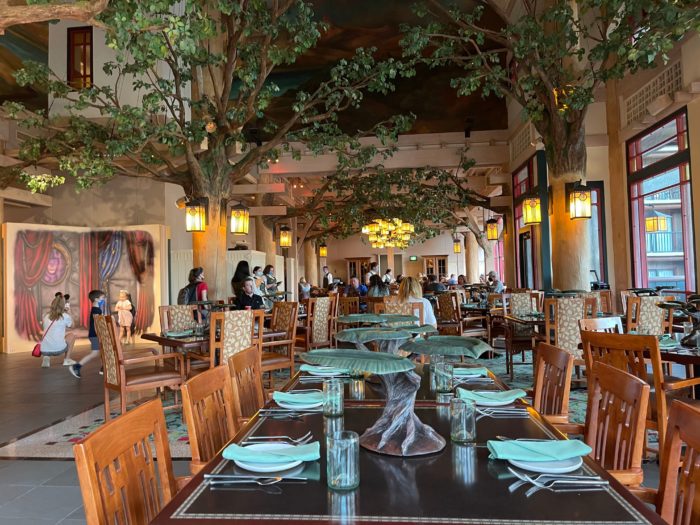 However, like all character meals at Walt Disney World these days, this character meal is currently offering a modified experience with characters interacting with guests at a distance.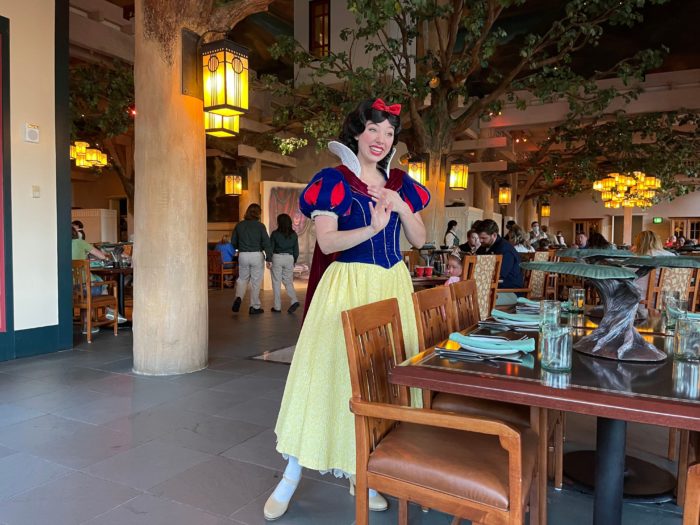 What You Need to Know
Story Book Dining at Artist Point is only open for dinner and currently serves from 4 p.m. to 9 p.m.
Advance Dining Reservations are strongly recommended; but if you're already within that 60-day window, be sure to check out our handy TouringPlans Reservation Finder to snag that res!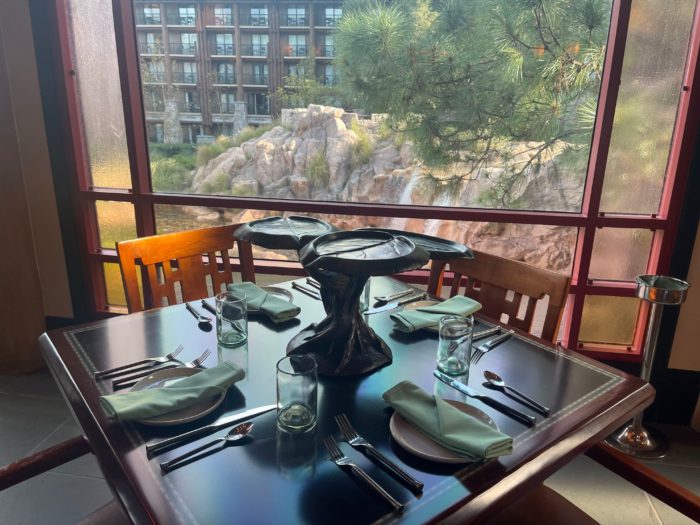 Now, it's important to know that Story Book Dining at Artist Point is a prix fixe meal meaning that guests share appetizers and desserts but can select their own individual entrees. The cost for this experience is $60 per adult and $39 per child. Also, a 10% Annual Pass discount is available.
So is this character dining experience the fairest of them all? Our park reporter Chrissy recently dined at Story Book Dining at Artist Point to discover just that!
Our Experience
Since Chrissy and her party had a 4:00 p.m. reservation which is right when the restaurant opened, they had lots of time to chat with each character.
Granted, that time with the characters is likely to vary during peak dining periods; but even so, it's still more than you're likely to get in the parks right now.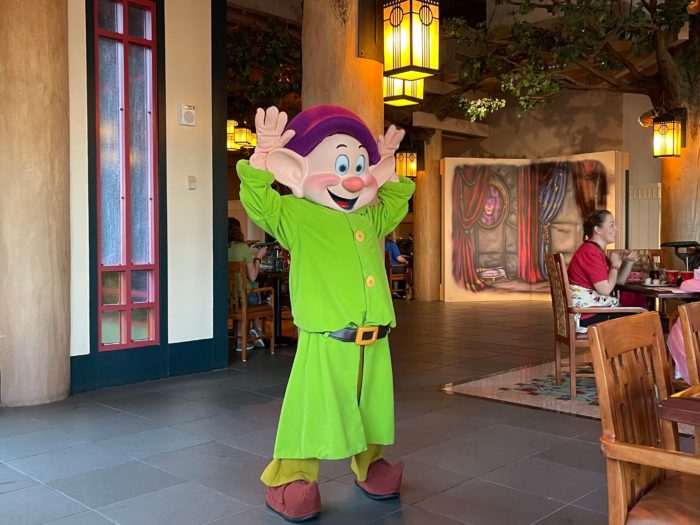 Again, even though the character interaction experience has changed, the character line-up hasn't. Snow White, The Queen, Dopey, and Grumpy are still the stars here and do a great job despite having to remain at a distance.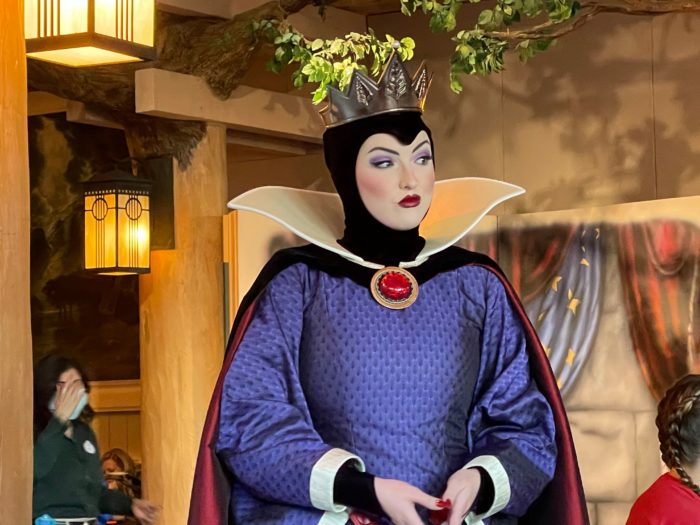 Guests were allowed to get up for pictures with these characters, and a Cast Member is on-hand to let diners know where to stand.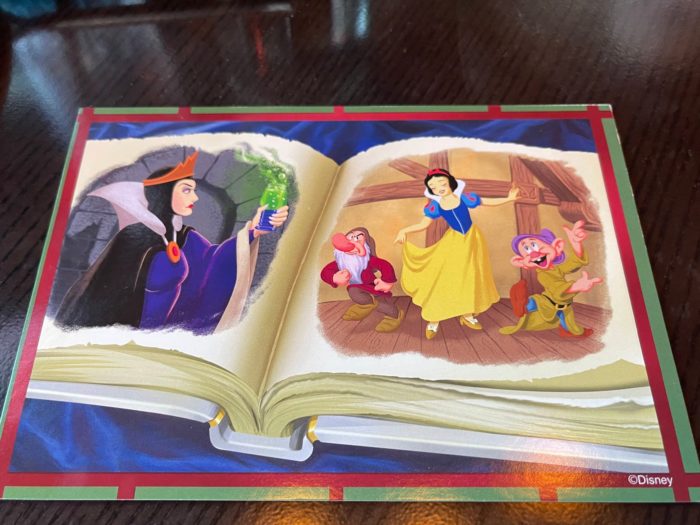 Lastly, like most character meals at the resort these days, guests are awarded a card featuring the character's autographs as a parting gift and souvenir.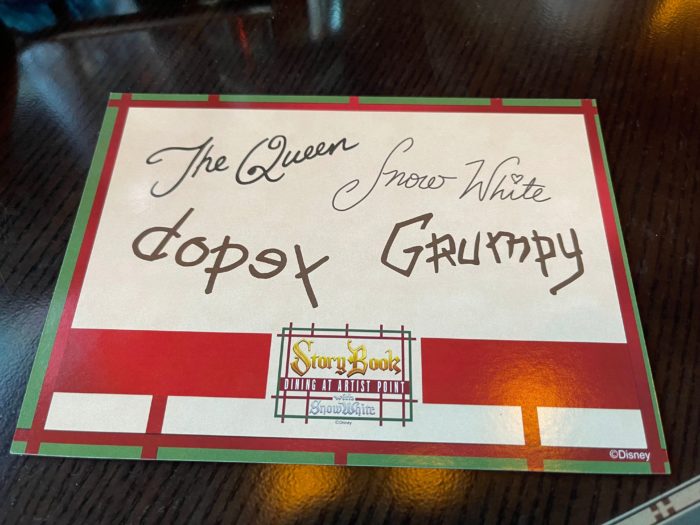 The Drinks
Story Book Dining at Artist Point offered a variety of Snow White-themed cocktails like Enchanted Apple, The Smoking Mirror, and The Antidote.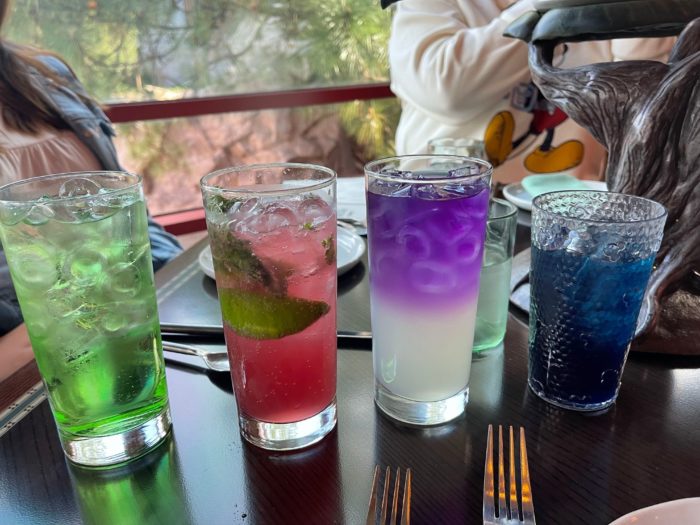 Fortunately, there are options for teetotalers and little ones as well, like Through the Forest, Wishing Apple Punch, and the fun Transformation Potion.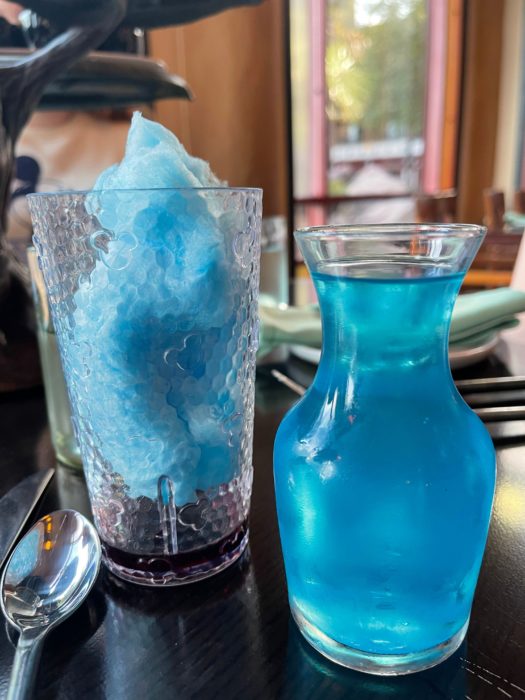 Shared Appetizers
Mushroom Bisque, Hunter's Pie, & Shrimp Cocktail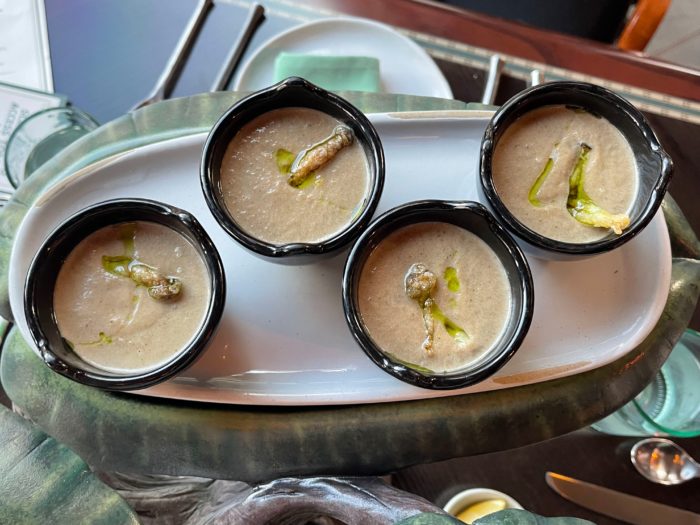 While the presentation of these items was on-theme, the servings were small. For example, for a table of four, each person only had one shrimp. Still, the dramatic reveal complete with smoke billowing out of the jar was super fun.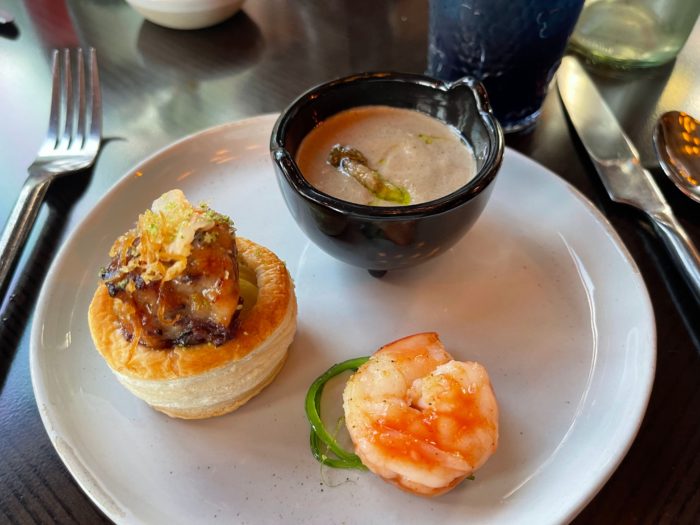 As for the Mushroom Bisque, it's actually the same as Cinderella's Royal Table, and the Hunter's Pie is turkey and chicken, cranberry preserves, black truffle, and sauerkraut.
While everything was fine, nothing was a standout.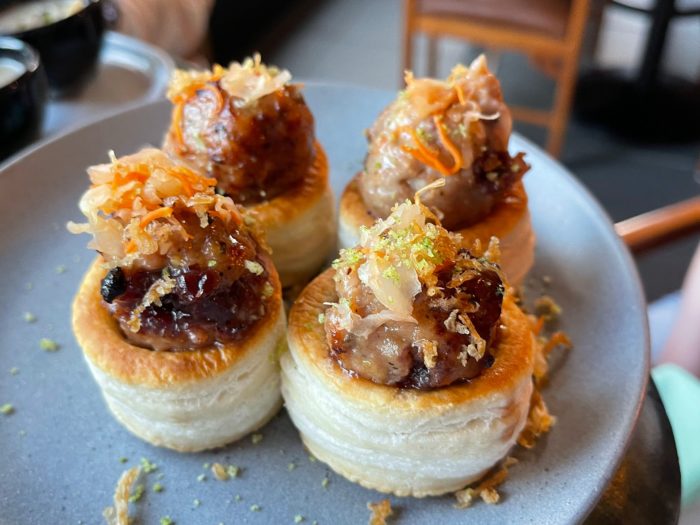 The Entrees
"Cottage" Beef Stroganoff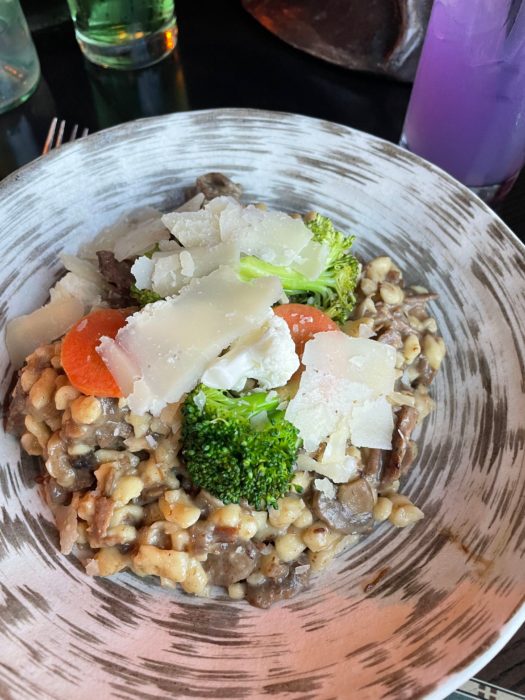 The serving was hearty and had lots of veggies. Very tasty!
Royal Prime Rib Roast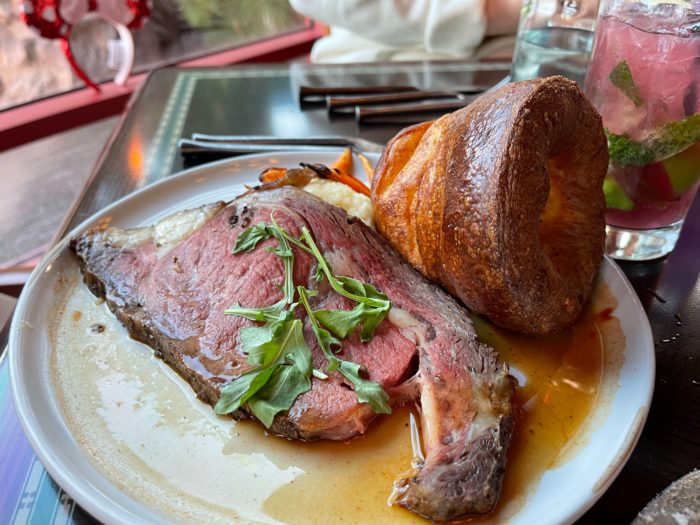 This entree was a decent steak served with the most enormous Yorkshire Pudding we've ever seen.
Magic Mirror's Slow-braised Pork Shank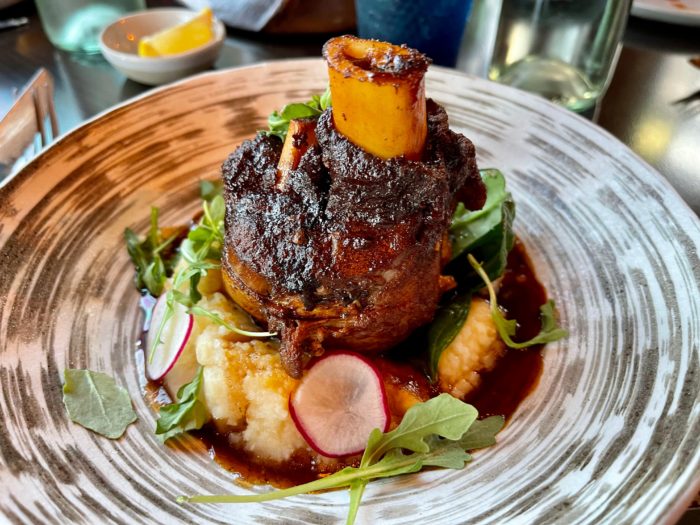 Served with horseradish mashed potatoes and greens, the pork was super tender and came with an accompaniment of wine jus.
Brother's Grimm Herb Chicken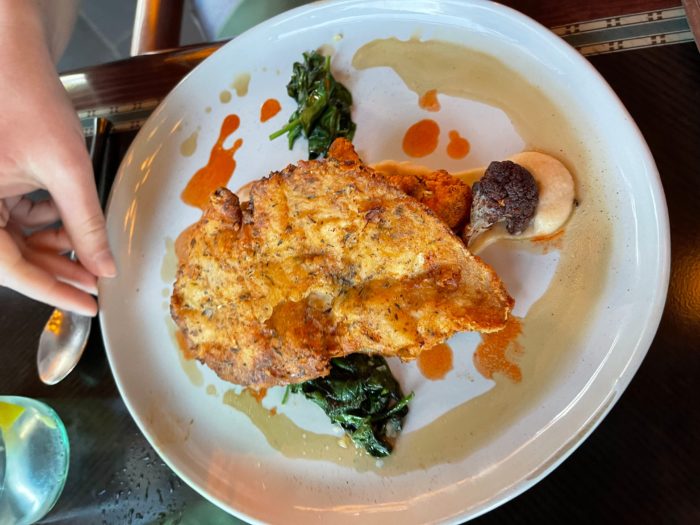 While slightly dry-ish, it was still a tasty chicken serviced with nicely roasted veggies.
Artist Point's other entrees consisted of Bashful's Butter-poached Sustainable Fish and Sorceress' Spell of "Tricken" Chicken.
The Desserts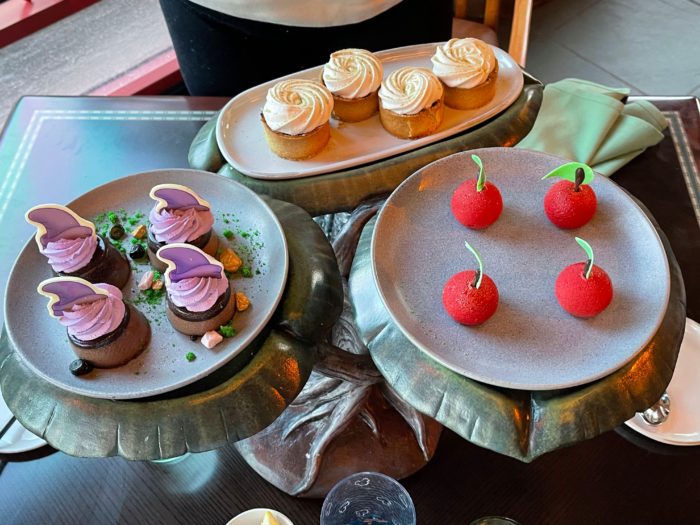 The shared desserts consisted of the cookies 'n cream panna cotta Miner's Treasures, the Fairy Tale Gooseberry Tart, and the "Poison" Apple mousse with a sour center.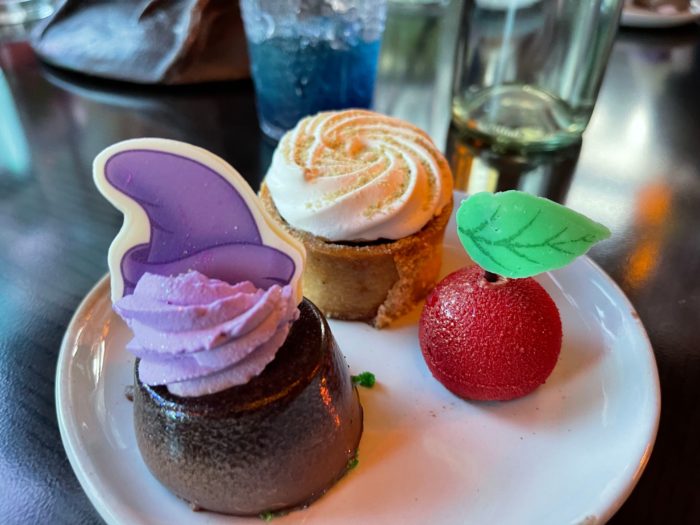 Sadly, this trio was kind of meh. While they were gorgeous to look at and absolutely on-theme, the tart was too piquant and the other two were just okay.
Hunter's Gift to the Queen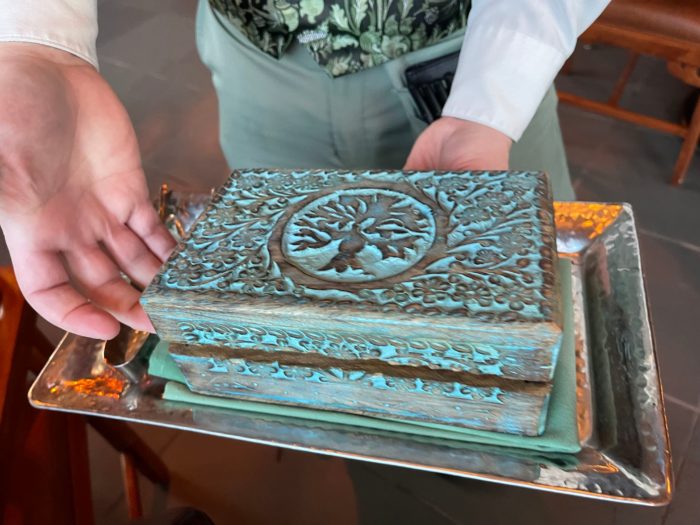 At this character meal, guests are given an extra "gift" to polish off the experience which is a small dark chocolate heart presented in a royal box complete with some dry ice drama.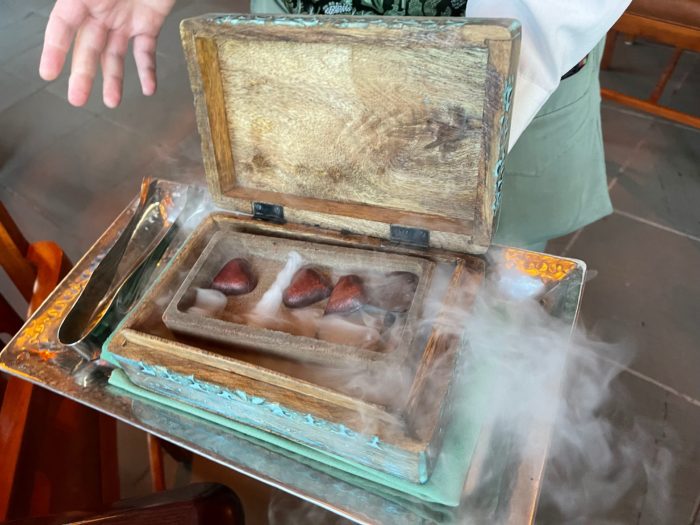 While the presentation, again, was highly entertaining, it's also a little "grimm," no?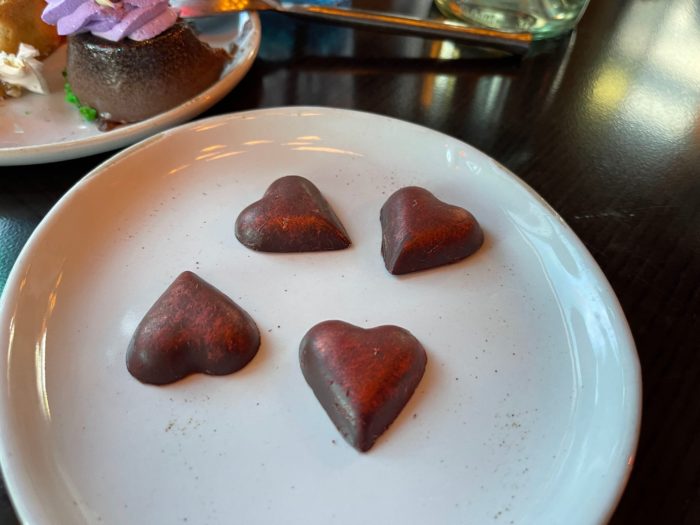 Final Thoughts
If you have little ones who love Snow White and her crew, don't skip this experience. Like most character meals, the point is the characters and not necessarily the menu; but it's worth noting that few character meals compare with Artist Point's theatrics and presentation.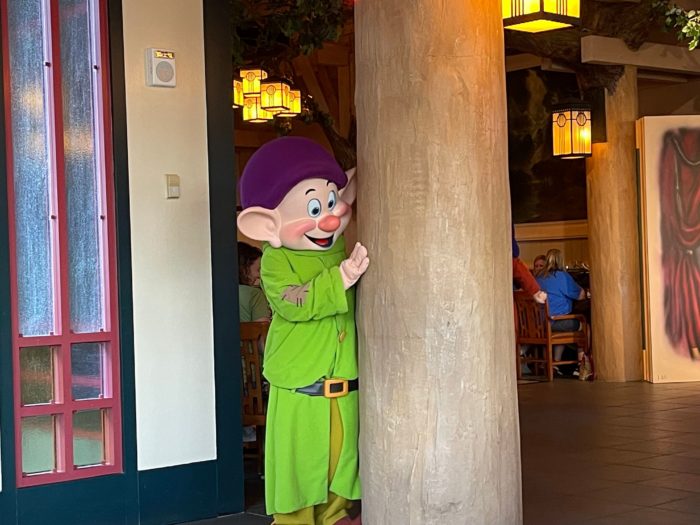 Overall, if you have little ones (or kids-at-heart) who love a character interaction, this just might be your favorite!
Have you ever dined at Story Book Dining at Artist Point? Is this restaurant on your vacation to-do list? Let us know in the comments!