Supersize Your DVC Rental with 1 and 2 Bedroom Villas
If you've been watching our DVC Rental Deals page with bated breath and hankering for 1 or 2 Bedroom Villas – today might be your lucky day!
We've been watching dedicated Disney Vacation Club rentals for about a year now and as a rule, studio rooms dominate the market.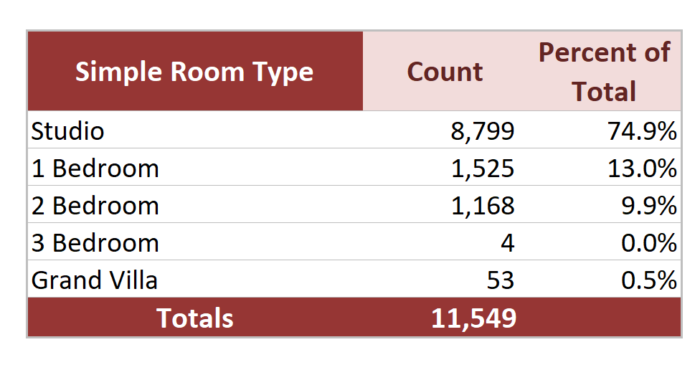 While there regularly are plenty of nice 1 and 2 bedroom Villa rental deals out there, the amount of inventory makes them more difficult to catch.  But, if you act quickly – your hankering may be over!
Yesterday we spotted a nice batch of the larger Villas appear at prices 40% or more below the median price of similar rooms we've recorded. At the same time, some of the nearer rentals have begun dropping in price as their check-in dates approach. Often, these last rentals happen to be the larger villas.
Below are a couple of the near-term deals to get you started on your now unabated quest for deals:
| | | | | | | |
| --- | --- | --- | --- | --- | --- | --- |
| Resort | Room Type | Starting Date | Rental Nights | Cost Per Night | Total Cost | Difference vs Median Price |
| Boulder Ridge Villas | 2 Bedroom Villa | 04/23/23 | 5 | $490 | $2,450 | -47% |
| Boulder Ridge Villas | 2 Bedroom Villa | 04/24/23 | 3 | $490 | $1,470 | -47% |
Touring Plans subscribers can head over to our DVC Rental Deals page to see our full listing. The deals table was updated just yesterday, and now we've added this highly discounted batch of rentals as a Special Edition table to make them easier for you to spot.
If you're not s subscriber and are tired of bating your breath, you can sign up here and begin to breath easy.
If you've scored any of these great deals, or are just excited your hankering days may be over – let us know in the comments!