Six Favorite Things About Disney Vacation Club Villas
Sometimes you just need some space. When you're on vacation, it can be a huge blessing to be able to spread out a little and enjoy the conveniences of home. Accommodations like vacation homes and villas provide much-needed space, and many of the comforts of home. At Walt Disney World there are Disney Vacation Club resorts throughout the property that offer deluxe villas in a variety of styles and sizes. Whether you're a Member staying on points, a guest renting points, or anyone paying cash, there are a lot of advantages to staying in DVC accommodations. 
The Kitchen
Full disclosure, I worked for DVC for nearly three years, so some might say I have a greater love for DVC than some. One of the objections I heard while working for DVC is "I don't want to cook on vacation so I don't need a kitchen." True, no one wants to work on vacation, but sometimes eating every single meal at a restaurant can be work itself, and costly. 
Even if you don't cook full meals, which is totally understandable, the full kitchen can make life so much easier. Any time we've stayed in a DVC villa with a full kitchen we've made hot breakfasts that give us much better energy for the parks. Or, after a long day in the parks we've relaxed with wine, snacks, and hot appetizers. Even the kitchenette in a Studio, with its toaster, microwave, and mini refrigerator, comes in handy.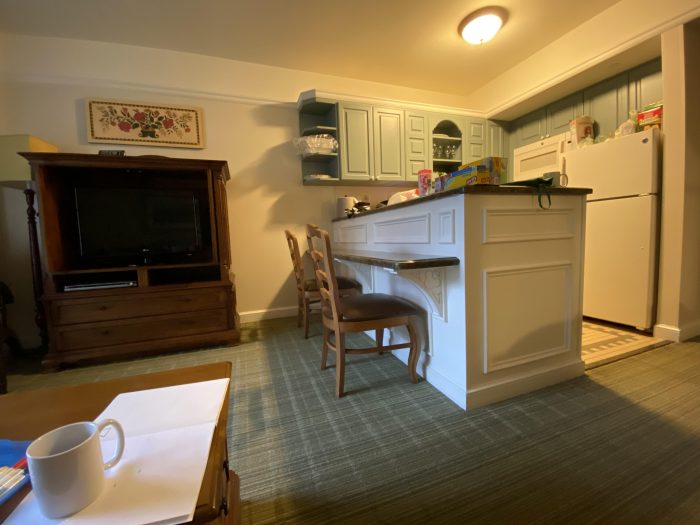 For the holidays this year my family used their DVC points to book a three-bedroom unit and a two-bedroom unit for 14 of us. We actually ordered Christmas dinner from The Fresh Market, but having the kitchen enabled us to add some finishing touches. We also used the kitchen to make Christmas day breakfast. Even when breakfast was just cereal, having more space to make breakfast helped a lot. And of course with kids in tow, including one with five different food allergies, the full kitchen is a life saver.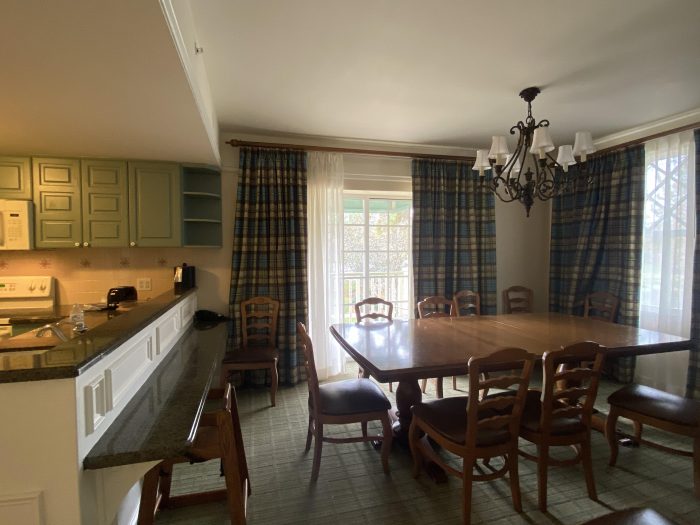 The Bigger Bathrooms
This doesn't apply for a Studio villa, but for one-bedroom units and larger, at most DVC resorts, the bathrooms are pretty big, which is a welcome blessing before and after busy days in the parks. In our two-bedroom villa at Saratoga Springs the split bathroom design of the Master Bathroom was kind of annoying at first. 
The toilet is its own little room, the glass shower and sink in another room, and the soaking tub with jets and another sink is in another room. This is to allow guests who are sleeping on the sleeper sofa in the living room to have a private entrance to the facilities. Even with the split design, having the extra space when bathing a toddler and also keeping our own bedtime routine allowed us to relax even more. 
So many hotel brands are placing showers only in their hotel rooms. This makes sense for a lot of travelers, especially those on business. But, after a day of walking literal miles around theme parks coming home to a large bathtub with jets is blissful. 
The Washer and Dryer
No one wants to do laundry on vacation, but sometimes you have to. All one bedroom or larger DVC deluxe villa accommodations have a stacked washer and dryer unit. With kids you know their clothes will get messy, and sometimes even adults have trouble getting food in their mouths and not on their clothes. Even if you don't do a full load of laundry, it's nice to use the dryer if your clothes get wet from the Sunshine State's famous rainstorms, or to dry off your bathing suits after enjoying the resort's pool.
The Living Room
In a hotel room, it seems your life revolves around the bed. Without any other place to sit you're on your bed all the time. Even with Studio accommodations you get a comfortable sofa to relax on when you want to watch television. In the large deluxe villas, having an entire living room to kick back in is a real treat. If you have kids it is a relief to either put the little ones to bed in a pack and play in the bedroom while you relax in the living room, or if the kids are sleeping in the living room, then being able to go into the Master Bedroom at the end of the day and have your own space.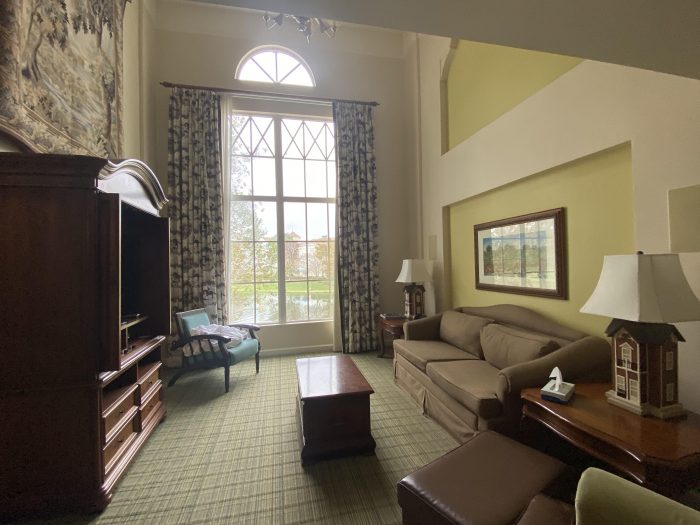 On one of my stays my husband and I took turns feeding our toddler at the dining table, with the provided high chair, while the other took some time to finish getting ready for the day. We love our little guy, but sometimes we cherish those five minutes to ourselves when the other spouse has him taken care of and entertained.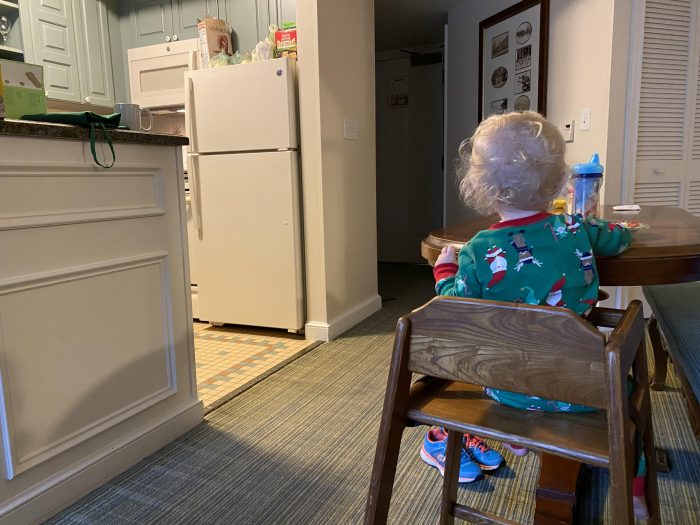 The Lack of Housekeeping
When staying on Disney Vacation Club points you do not receive daily housekeeping service – unless you pay extra for it. This is, after all, your vacation home. So how is not receiving daily housekeeping service a good thing? For me, I stress out a little over how rough of shape I've left the hotel room in for the housekeeping staff to deal with. 
Life with a kid is messy and I like not having to feel bad for the mess we've made every day. I also just feel more relaxed and at home without housekeeping service. Not all guests are this way, however, and that's okay. The daily housekeeping option is not an unreasonable charge if that is something that helps improve the quality of your vacation.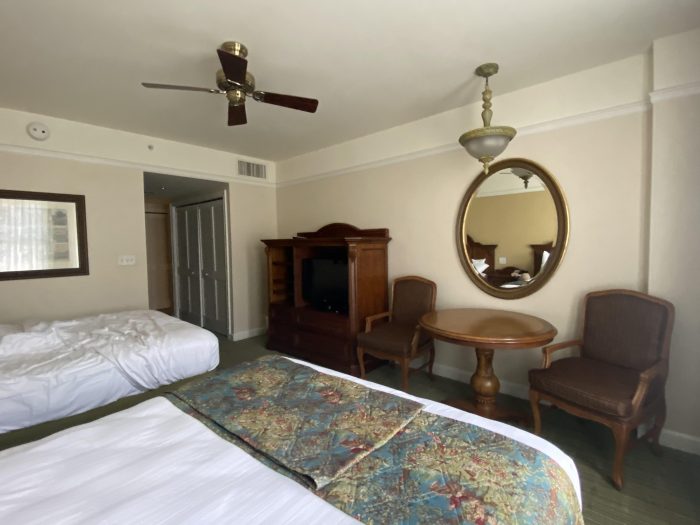 Community Hall
I believe the Community Halls at Disney Vacation Club Resorts are the most underutilized amenity in all of Walt Disney World. During our four-night stay, with 14 people, we actually did not visit a single Walt Disney World theme park. We visited SeaWorld and Legoland because they are so much more affordable. But that gave us two days when we weren't in a theme park and that's where Community Hall came to the rescue. They have art supplies, craft activities, video games, board games, and a massive Disney movie DVD collection. We rented two DVDs, for free, and enjoyed the ability to keep the entire family entertained by popping in a movie into the DVD players in our villas. The Community Hall is a fantastic Disney Vacation Club amenity that can add a lot of magic to your stay.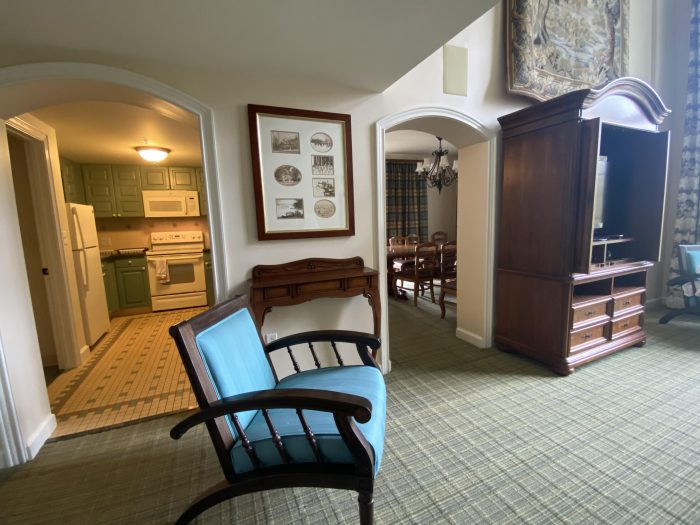 Tips and Information
Use our TouringPlans Room Finder to search for the villa that will suit your needs including the view and ideal location.

When you do eat out, don't forget you can bring back any leftovers and reheat them in your kitchen.

Each DVC Resort has basic groceries and pantry supplies at the merchandise location if you need some basics. Don't forget to ask about your DVC discount.
Are you a fan of Disney Vacation Club villas? Let us know in the comments.
First published December 30, 2019. Updated September 3, 2021.