T-Rex Restaurant: A Meal 200 Million Years in the Making
T-Rex is a prehistoric-themed restaurant at Disney Springs for guests looking to enjoy family-friendly American fare in a truly memorable atmosphere!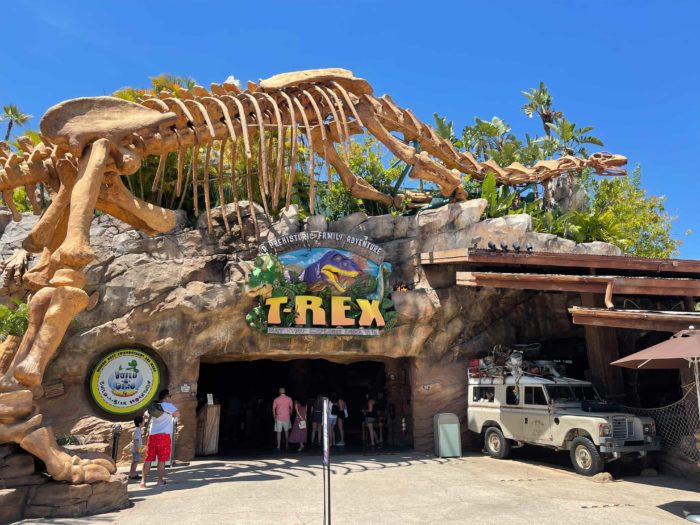 Here, guests dine in various themed dining rooms ranging from primeval forests to an ice cavern coupled with a giant octopus, jellyfish, wooly mammoths, meteor showers, and even a 15-foot-tall T-Rex!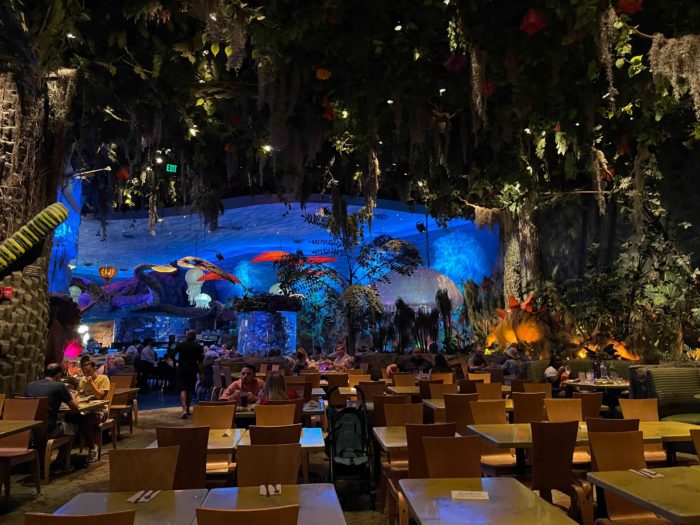 T-Rex sits across the way from both Paddlefish and the LEGO Store and is currently open from 11:00 a.m. to 3:55 p.m. for lunch and 4:00 p.m. to 9:00 p.m. for dinner.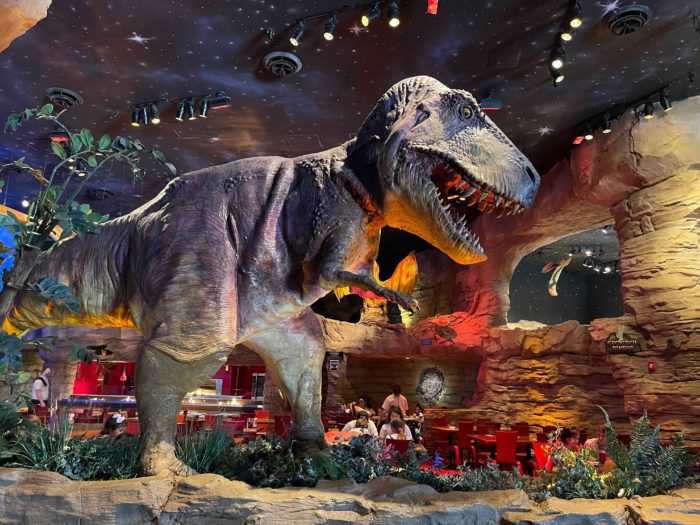 But this restaurant offers more than a meal amongst dinosaurs. In fact, T-Rex also offers the PaleoZone where kids can dig for fossils and treasures and check out interactive displays, as well as the Dino-Store where kids can create their own pet dino at the Build-A-Dino by Build-A-Bear Workshop.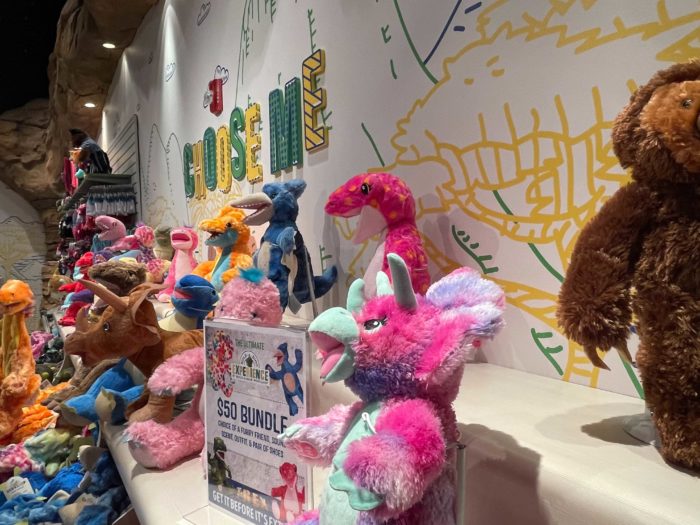 So clearly T-Rex offers a lot to see and do. But the real question here is, how's the food?
Once again, our in-park reporters Chrissy and Ivonne have the answer due to their recent visit to T-Rex during a visit to Disney Springs.
What You Need to Know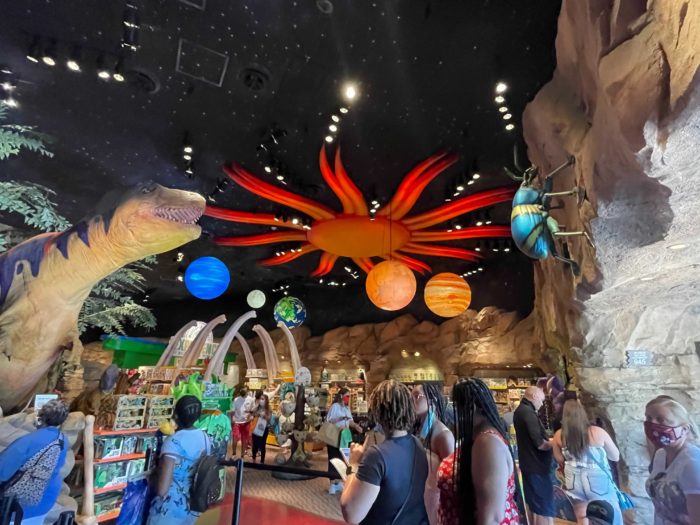 T-Rex only offers indoor seating. Guests looking to sit at the bar should know that seating is spaced out for social distancing; however, no reservations for the bar area are required as it's based on a first-come, first-serve basis.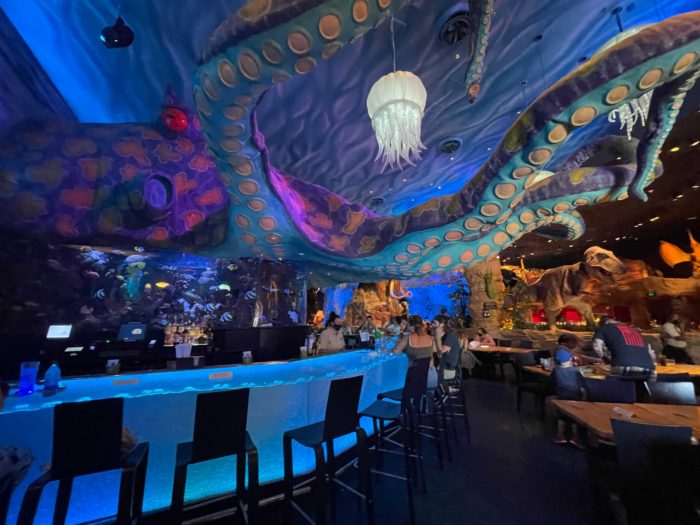 Guests looking to enjoy the main dining room should know that T-Rex can be a popular destination, especially for families. Be sure to book a reservation at least 60 days out. But if you're already within that window, consider using the TouringPlans Reservation Finder.
Tip: If you're an Annual Passholder, be sure to ask about T-Rex's AP discount!
Now let's get to T-Rex's menu and see if it's as impressive as the restaurant itself.
The Appetizers
Some items on T-Rex's menu have amusing names that are somewhat on-theme like the Bronto Burger and the Caesar-saurus Salad.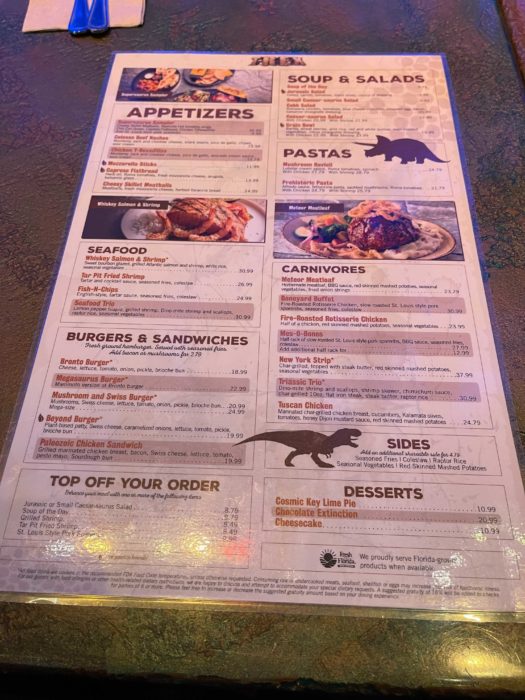 But T-Rex's Mozzarella Sticks were listed as simply Mozzarella Sticks for $11.99 and were equally as basic as their name. According to Chrissy, they're exactly the same as the frozen ones her little one likes from Costco.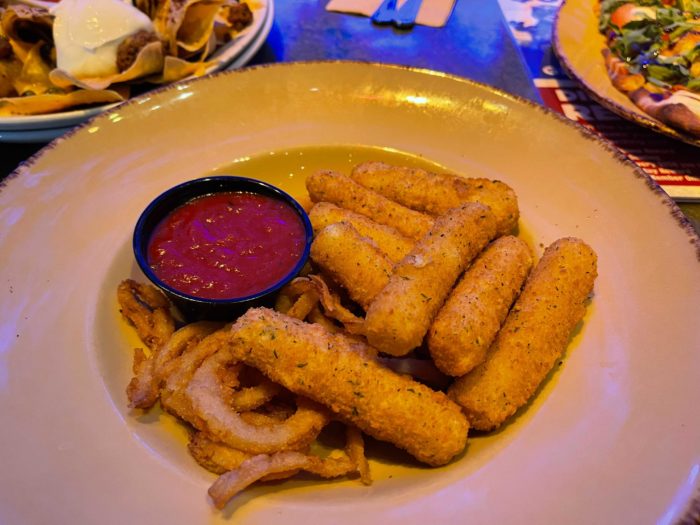 Next up was the Colosso Beef Nachos for $19.99. These were basically how every kid would design their nachos – tons of chips, beef, cheese, a glob of sour cream and salsa, and nothing funky or experimental.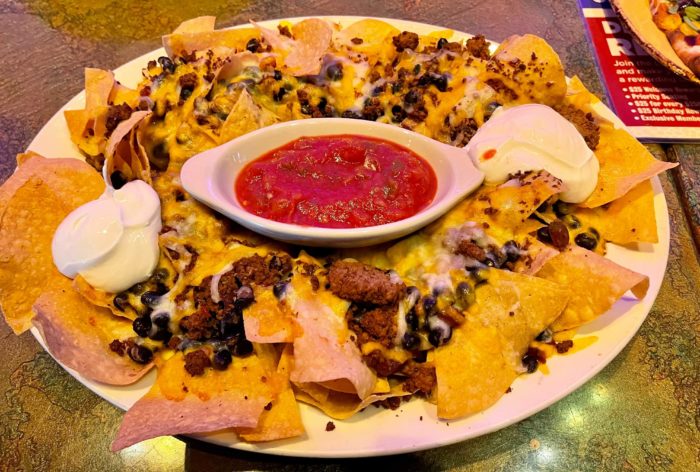 Not the worst thing ever, but it tastes just like it looks and is enough for five people to snack on ahead of their entree.
The Caprese Flatbread for $13.99 was the best of the three appetizers the team tried.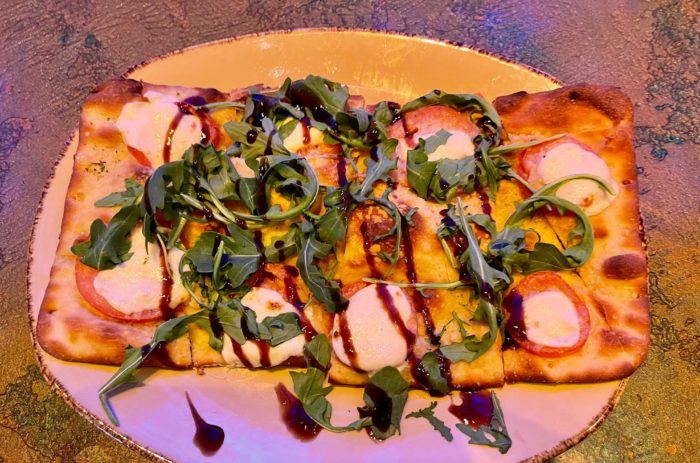 But even so, it still wasn't awesome, with a bland flatbread with a smattering of toppings.
The Watering Hole
The drinks menu at T-Rex is quite extensive with a selection of wines, beers, and cocktails, which itself is a fun read, with items like Caveman Punch and Raptor Rita.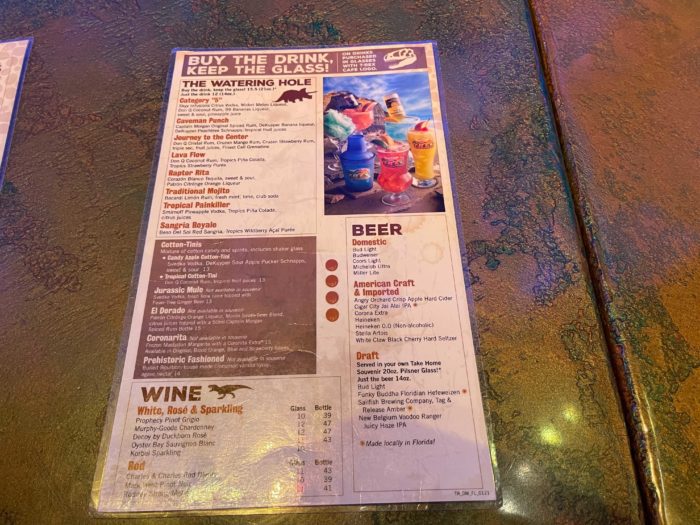 Chrissy ordered the Journey to the Center, which was Don Q Cristal Rum, Cruzan Mango Rum, Cruzan Strawberry Rum, triple sec, fruit juices, and Finest Call Grenadine.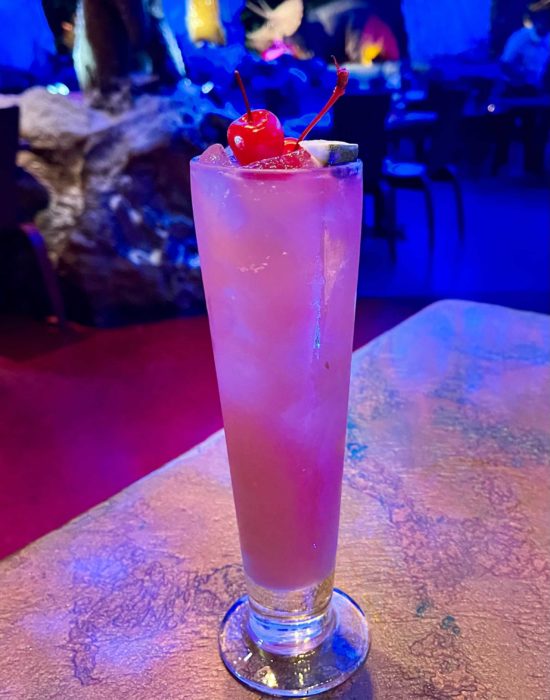 Although full of fruity flavors, if you're looking for a drink that packs a punch, you'll be disappointed with this one. The drink was really weak and not worth the purchase.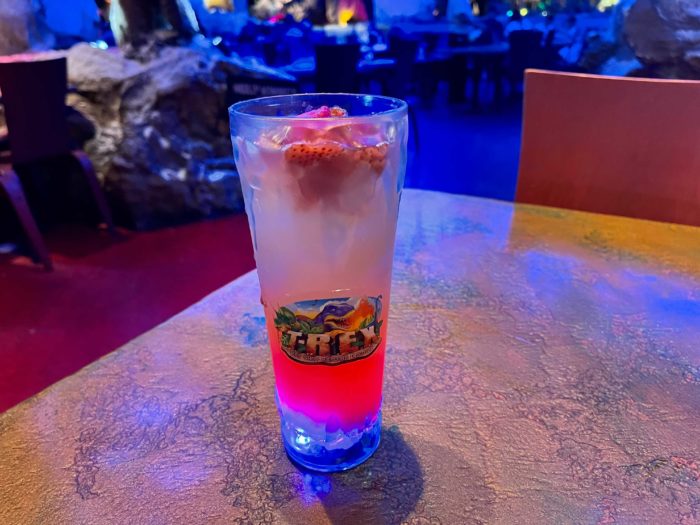 T-Rex also has several fun themed drinks for kids like Shark Water and Strawberry-Asaurus Lemonade! Chrissy also ordered the Strawberry-Asaurus Lemonade in a souvenir glass. It was a fun presentation, and it was really good strawberry lemonade, perfectly refreshing on a hot day.
T-Rex has several burgers and sandwiches on its menu like their Mushroom and Swiss Burger, the Paleozoic Chicken Sandwich, and even the Megasaurus Burger.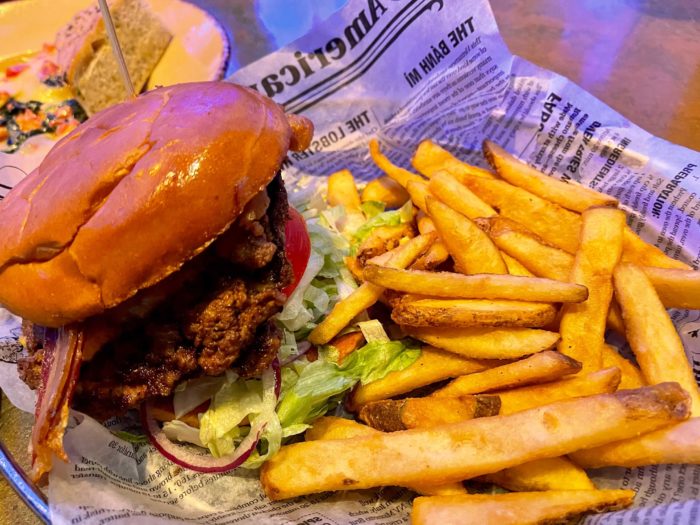 But honestly, at a restaurant like T-Rex, how do you not try the Bronto Burger when you see it? Priced at
$18.99
, this burger with bacon is far from the worst burger on property. However, it was overcooked and just basic.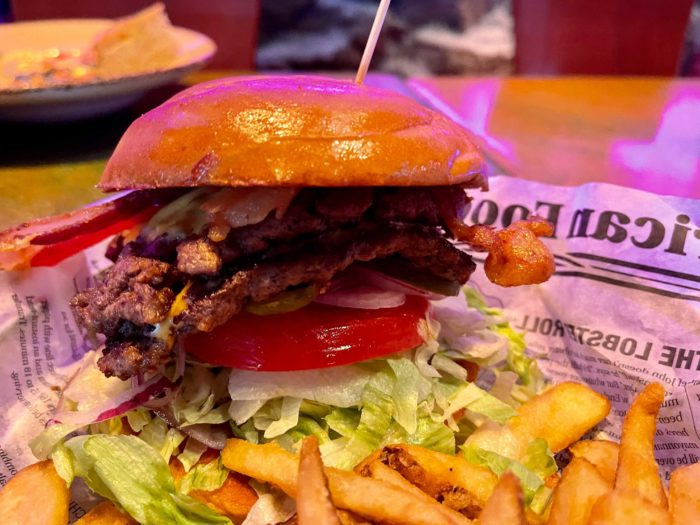 Pastas
T-Rex's pasta menu is mainly two options – Fettuccini Alfredo and Mushroom Ravioli that comes solo or with chicken or shrimp.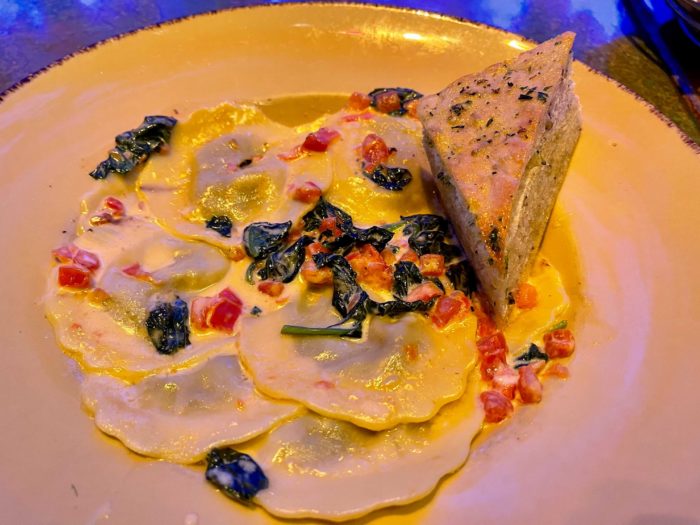 The team tried the Mushroom Ravioli and found it cooked correctly with just a little bite, but it wasn't a personal favorite for anyone at the table.
Carnivores
T-Rex's description, not mine, the Carnivore section of the menu is just what it sounds like with a selection ranging from Meteor Meatloaf to the Mes-O-Bones to Fire-Roasted Rotisserie Chicken.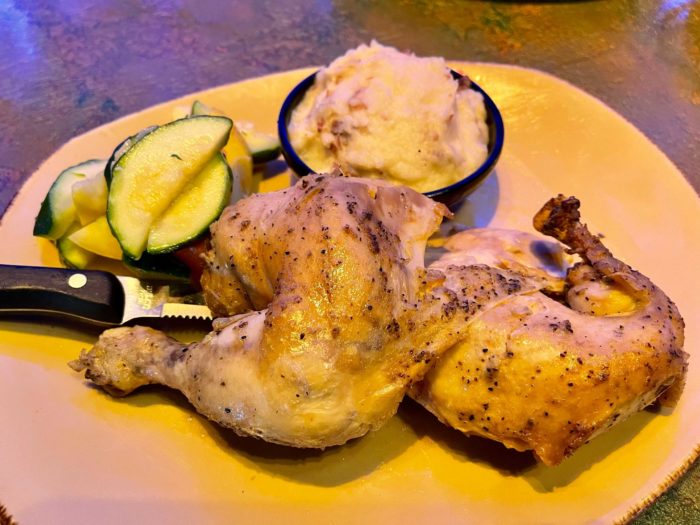 Chrissy was adamant in stressing that the Fire-Roasted Rotisserie Chicken dish is one to steer clear of. In her words, it was an abomination – rock hard and papery dry with the flavor to match its pasty looks.
Desserts
For dessert, T-Rex offers Key Lime pie, cheesecake, and smoothies, but their signature sweet treat was the Chocolate Extinction. This is one pricey dessert at $20.99, but it's intended for a group to share.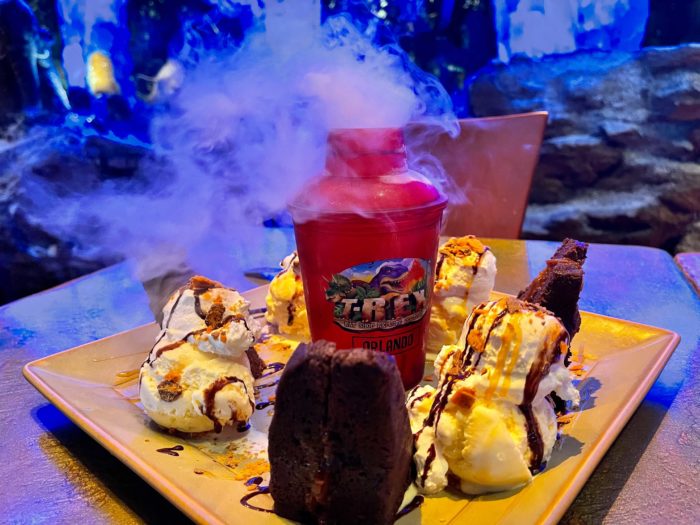 According to Chrissy, it's your basic brownies and ice cream. Nothing special. But yet, it was SO much fun!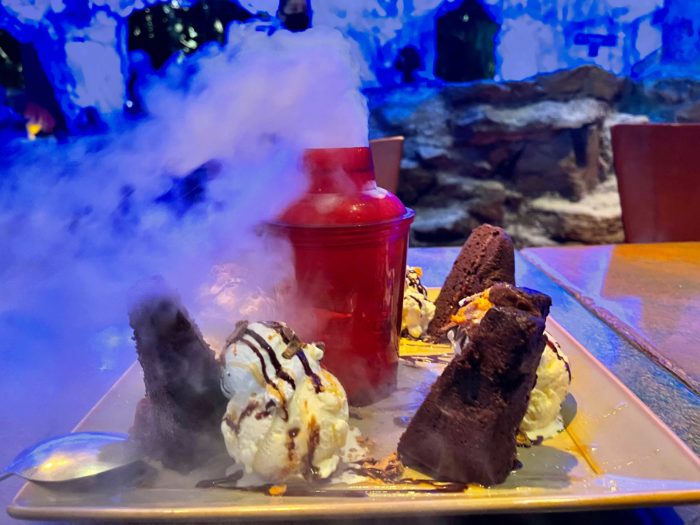 Overall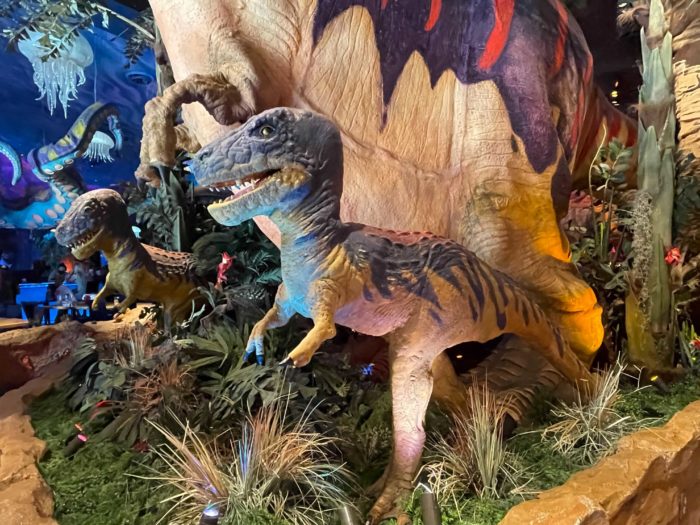 T-Rex probably shouldn't be your go-to destination for a yummy meal. The whole point of coming is to make it a fun few hours for the kids and they succeed.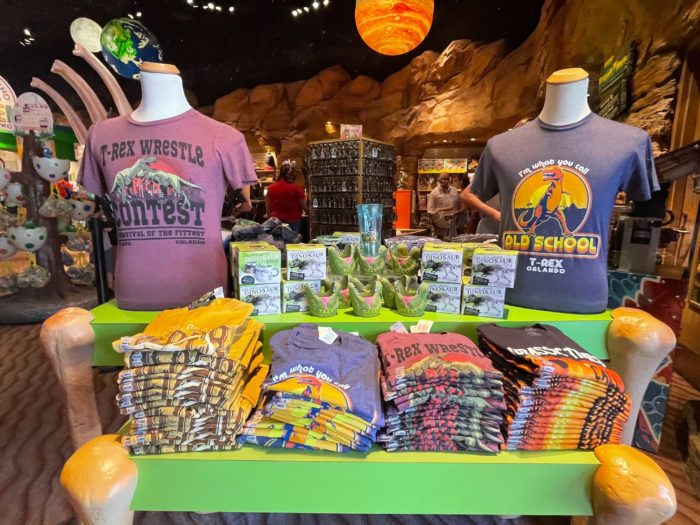 Between the nifty gift shop, the Build-a-Dino, and the spectacular theming, T-Rex nailed it as evidenced by the line of several families deep trying to get in during the span of our reviewers' meals. After all,  happy kids = happy parents.
Are you looking to check out T-Rex at Disney Springs? Is this one of your family's dining locations? Let us know in the comments!