Ten Things You Can't Bring on Your Disney Cruise
There are lots of things you should bring on your Disney Cruise Line sailing. While the list varies depending on your destination and the length of your cruise, in most cases you'll probably want to pack things like sunscreen, your swimsuit, required medication, a camera or phone capable of taking photos, sunglasses, and a light jacket, in addition to your regular clothing.
But did you know that there is a huge list of things that you CAN'T bring onto your Disney Cruise ship? Here are ten of the most common prohibited items that guests attempt to bring onboard.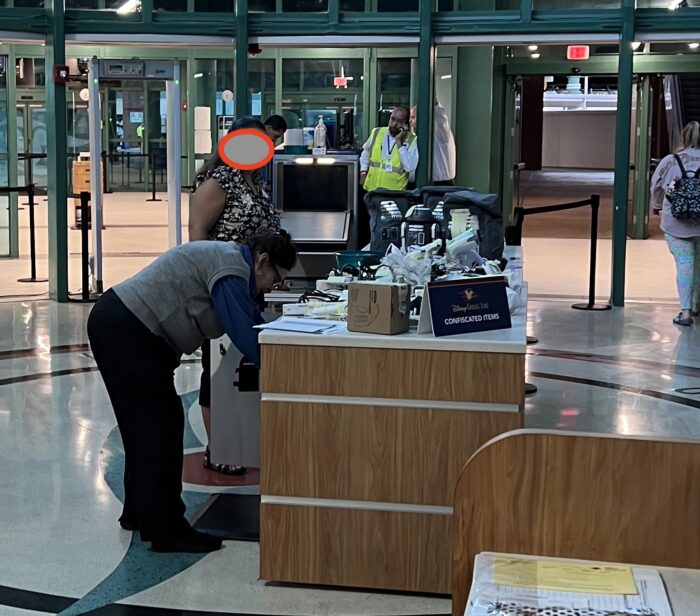 1. Homemade food
You're welcome to bring unopened, commercially-packed, shelf-stable food and non-alcoholic beverages on board your Disney Cruise Line ship. Things like a bag of Goldfish crackers, cans of Pepsi, or sealed apple sauce pouches are perfectly fine.
However, you are not allowed to bring open food containers, homemade food, or fresh foods such as fruit onto the ship at any port. This is to help the ship adhere to sanitation standards, to comply with laws about controlling potential agricultural contamination, and to help stem the spread of foodborne illness.
Is it frustrating that you're allowed to bring jars of Gerber baby food onto the ship, but not your child's homemade carrot puree? Sure, but those are the rules and you'll need to adhere to them.
Expressed breast milk is permitted onboard in carry-on luggage only.
2. Cooking appliances and other electric items
A fire on land is scary. A fire at sea is potentially catastrophic. Guests are not allowed to board with most corded items that have the potential to either generate heat or overload the ship's electrical systems.
Among the banned items are hot plates, toasters, microwave ovens, blenders, rice cookers, heating pads, electric blankets, coffee makers, incense diffusers, bottle warmers, holiday lights, and clothing irons and steamers. Note: every ship has one or more laundry rooms with irons available for guest use. 
A few corded items may be allowed onboard, but they will be inspected by the ship's electrician to determine whether they comply with safety standards. These include humidifiers, baby monitors, portable fans, and white noise machines.
Hairdryers (less than 230V), standard-size curling irons and flat irons, and electric shavers are allowed on board. That said, some guest have reported that their hair tools feel underpowered on the ship (particularly on the Wish). There are hairdryers available in every DCL stateroom.
3. Power strips
A corollary of the electric items ban is a ban on power strips.
This is my personal bugaboo. There are a finite number of electric outlets in the ship staterooms and modern guests may come aboard with MANY items that need charging: phone, tablet, laptop, wireless headphones, a watch or fitness tracker, camera batteries, and the new DisneyBand+ are just some examples. If you have four or five people in one stateroom, you may have several dozen items that need charging on a daily basis – and you can't bring a power strip on the ship.
The are some workarounds. If you're bringing a laptop, you may be able to use that as a makeshift charging hub for things like your phone or tablet. Additionally, most single plugs with multiple USB inputs are allowed onboard.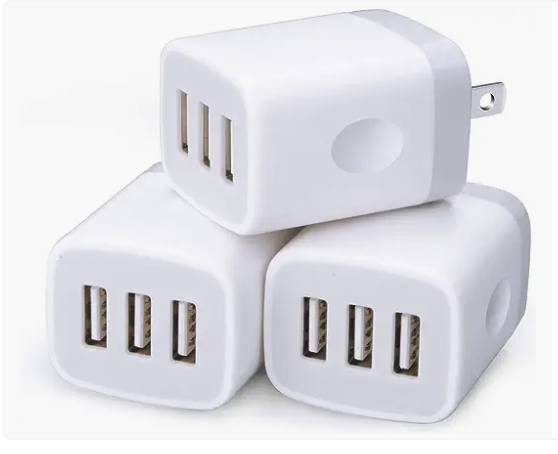 4. Musical instruments
This one makes sense from a guest courtesy perspective. Imagine that your child, a beginner trumpeter, brings his instrument on board and starts practicing his scales in the stateroom next door while you're trying to nap. Disaster!
If you are a person who needs to practice an instrument, cruising (or at least longer sailings) might be a suboptimal vacation for you. A few years ago, my family wanted to bring one of my teen daughters' close friends with us on a 7-night sailing. The friend was a violin prodigy with an upcoming competition that had the potential to impact her college admission. As lovely as her playing was, not every guest would want to hear a 2+ hour practice session. And not practicing for a week was simply out of the question for her. She opted not to join us on the vacation.
That said, some longer sailings may have guest talent show opportunities on board. The teen clubs may have a keyboard or guitar available to borrow for these occasions, but guests would not be able to bring the instruments to their stateroom or bring them into public areas for longer than the performance time.
5. Hard alcohol
Disney allows guest ages 21+ to bring a limited amount of unopened beer (six containers of no more than 12 ounces each) or wine (two containers of no more than 750 ml each) onboard at embarkation and at each port call. This alcohol must be in carry-on (not checked) luggage.
Guests are not allowed bring onboard any amount of alcohol in their checked baggage. Additional quantities of beer or wine and any quantity of liquor or spirits are not permitted. See below for details on what happens if you buy liquor in port.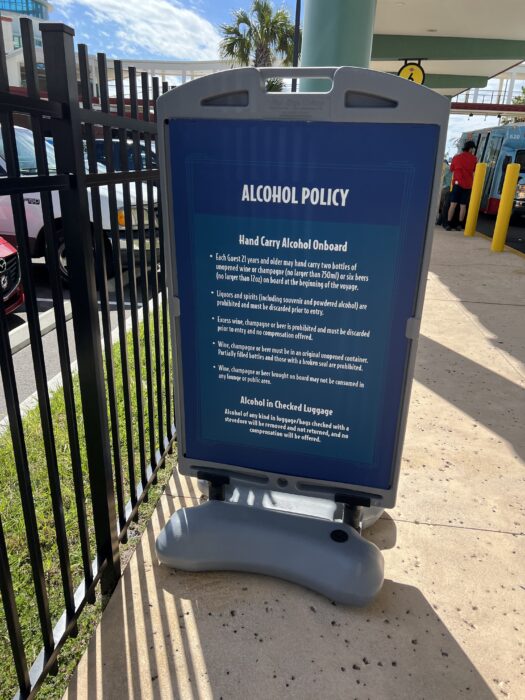 6. Medical marijuana
It goes without saying that illegal drugs are not permitted on the Disney ships.
Additionally, no form of marijuana is allowed on board. This includes embarkations from states where marijuana is legal, doctor-prescribed medical marijuana, and all products that contain THC and CBD (including things like skin care products). Additionally all drug-related paraphernalia is prohibited.
If you need marijuana, THC, or CBD products, then cruising may not be for you.
7. Weapons of any kind
Understandably, weapons are not allowed on the ships. It makes sense that you can't bring a gun onboard. But be aware that DCL's definition is broad. "Weapons" means firearms, BB guns, paintball pistols, sling shots, diving spears, explosives of any kind and their detonators, highly flammable liquids including liquid oxygen, starter pistols, archery equipment, knives of any length (including Swiss Army-style knives), straight razors, scissors with blades exceeding four inches, lasers, tasers, pepper spray, hand tools, power tools, and restraining devices such as handcuffs.
Additionally, many toy and replica weapons are banned. No toys guns of any style are allowed, even for Halloween costumes.
The few weapon-like toys that ARE allowed include store-bought light sabers, plastic toy pirate swords, and plastic store-bought Mjolnir (Thor's) hammers.
8. Drones
No remote-control devices are permitted on board. This includes drones, airplanes and helicopters, toy cars, and even Star Wars droids. If you've purchased a droid at Walt Disney World prior to your cruise, please disclose this to staff at the port and they will hold it for you until the end of your sailing.
Also note that most cruise ports prohibit drone use.
9. Streaming devices
Video streaming devices like the Amazon Fire Stick, Apple TV, Roku, and Google Chromecast are not permitted on the ship. Even if you were to bring it on board, it would likely be non-functional with the ship's TV and Internet system.
I typically bring a Fire Stick on my WDW vacations. In instances when I've gone directly from WDW to a DCL sailing, cruise staff has held the device for me until disembarkation.
10. Some toys and sporting equipment
As noted earlier, remote controlled toys and most toy weapons are not allowed. Additionally, you are prohibited from bringing the following items onto the DCL ships: baseball and cricket bats, fishing gear, hammocks, hockey and lacrosse sticks, pool cues, ski poles, surf and wave boards, boogie boards, pool noodles, roller skates and inline skates, bicycles, hover boards, scooters, and  skateboards.
Footballs, soccer balls, basketballs, baseballs, volleyballs, and golf clubs may be brought onboard.  They must be stored in the guest's cabin and used only off the ship while in port.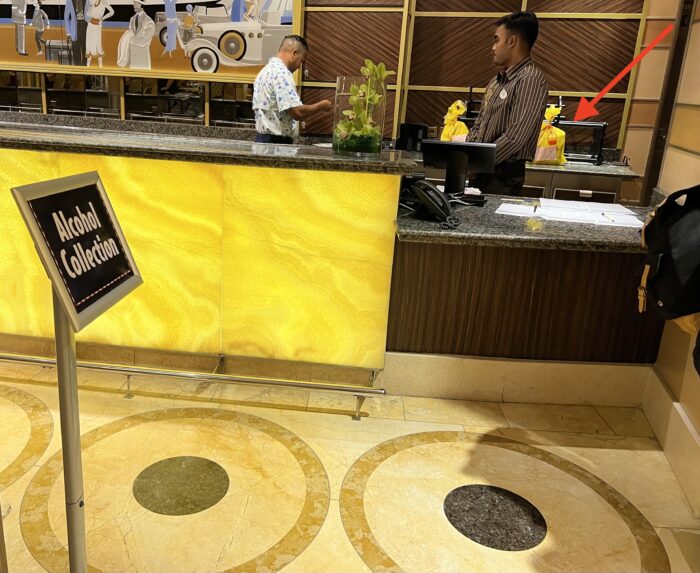 In addition to the items above, there is an even more extensive list of prohibited items posted on the DCL website. I encourage you to take a quick glance at the list prior to every sailing, even if you're an experienced cruiser. The list does change from time to time, you might find that something you were allowed to have in the past has now migrated onto the banned item list. For example, some toy weapons that had been allowed in the past are now banned.
How will DCL know what I'm bringing onboard?
Much like at an airport, all luggage and people are screened as they enter the port terminal. Your bags will be x-rayed and you will walk through a metal detector. Additionally, there are security staff and trained dogs at ship embarkation points.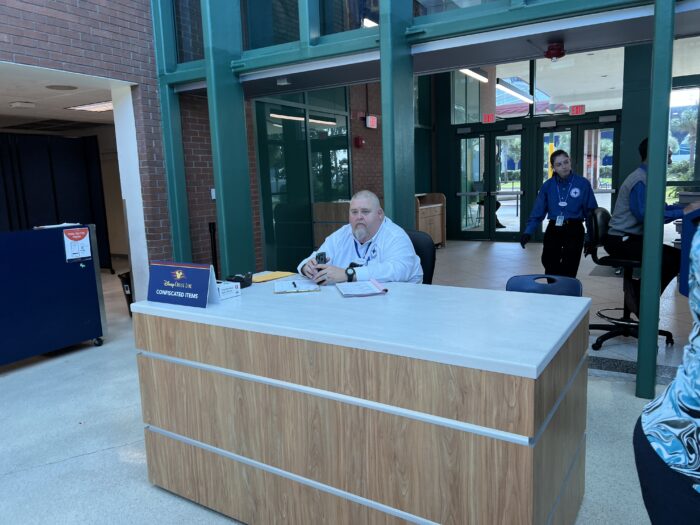 What happens if I try to bring these items onto the ship?
If you attempt to board with egregiously problematic items such as hard drugs or large weapons, you will likely be denied boarding and, depending on the item, you may be referred to the police or be subject to legal action.
If you attempt to board with otherwise innocuous items (a fishing rod or an electric blanket, for example), you may be asked to leave these in your car (if you've driven to the port) or DCL may confiscate them at hold them in a secure area until the end of the sailing. There will be a table at the port where you can reclaim your items.
If you happen to purchase a banned item while you are in port, you should declare these to the ship's security staff as your reembark. They will give you a receipt and hold the items for you until the morning of debarkation. The most common prohibited items purchased in port are hard alcohol (you want to bring home the local firewater from a port's distillery tour) and musical instruments (you buy a ukulele from a local artisan on a Hawaiian port stop).
If you're looking for advice and planning assistance with any Disney Cruise Line sailing, be sure to check out the Unofficial Guide to Disney Cruise Line or ask for a free quote from one of our expert travel agents.