The Best Way to Spend $50 at the 2021 EPCOT Food and Wine Festival
Going to EPCOT's Food and Wine Festival can get pricey really fast. With so many great foods and drinks, it can be easy to spend a small fortune on even smaller plates. If you were looking to buy just one of each food item on opening day, you'd spend $565.
To help with your planning, we put together a tasting sampler to come in under $50. This sampler includes our top two picks for meat, vegetarian, seafood, and dessert options.
Meat Course
Hearty flavor is the name of the game here. We especially loved the poutine option because the portion size was hefty enough to easily share.
Roasted Porchetta, $6.25 (Roasted Porchetta with Pork-fat Roasted Rosemary Potatoes and Lemon-Parsley Salsa Verde), The Swanky Saucy Swine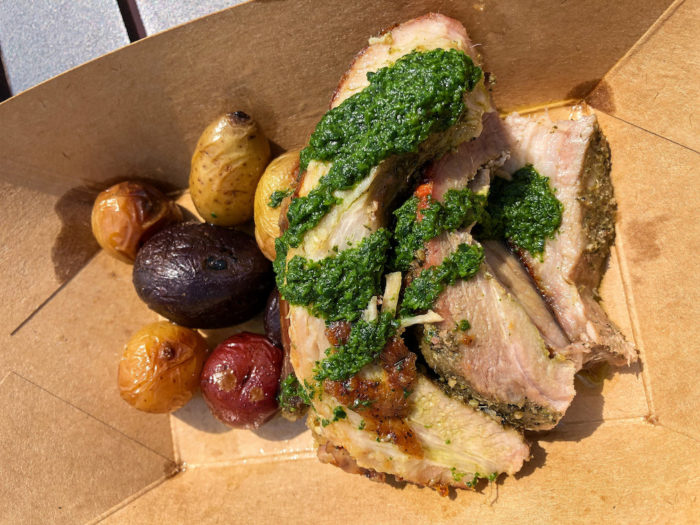 Braised Beef Poutine, $9.50 (Braised Beef in Gravy with French Fries, Boursin Garlic & Fine Herbs Cheese Sauce, Cheese Curds, and Gherkin Relish), Refreshment Port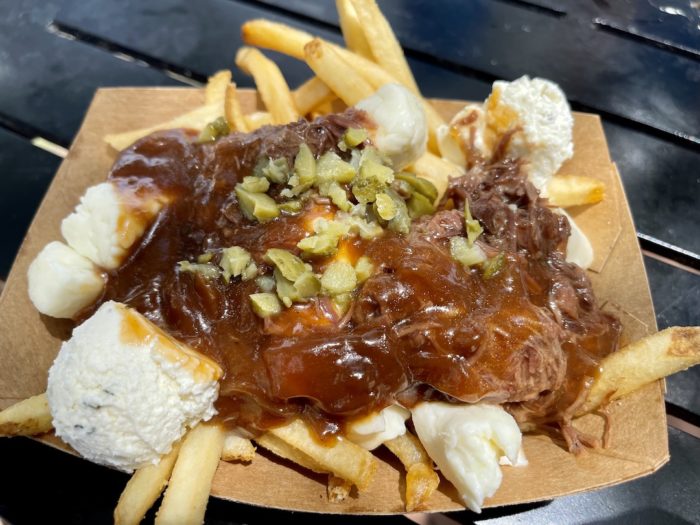 Vegetarian Course
One option is fully plant-based, and the other is a good option for lacto-vegetarians (with the inclusion of some milk-based ingredients), but both have satisfying flavors.
Wild Mushroom and Truffle Tart, $5.00 (Wild Mushroom and Truffle Tart with Gruyère and Crème Fraîche), The Rotunda Bistro
Tofu Pho, $5.50 (Tofu Pho with Enoki Mushrooms and Thai Basil), The Noodle Exchange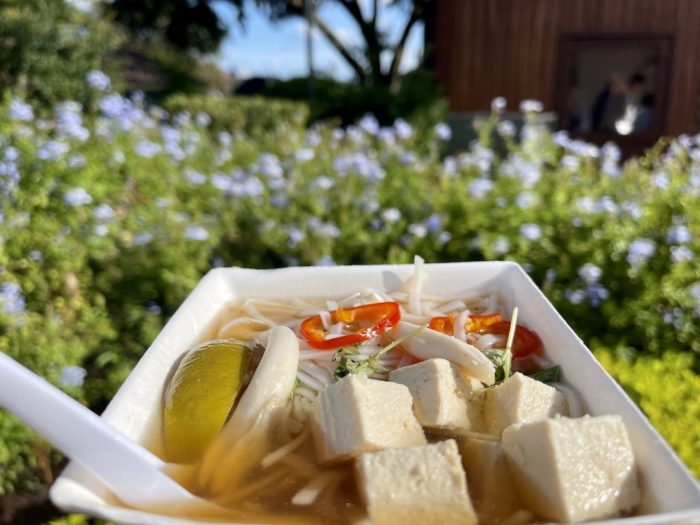 Seafood Course
Sometimes seafood at EPCOT's festivals can be hit or miss in preparation. We found these items to be fresh and properly prepared, with great flavor.
Tuna Poke, $7.00 (Tuna Poke with Eel Sauce, Spicy Mayonnaise, and Crispy Shrimp Chips), Hawaii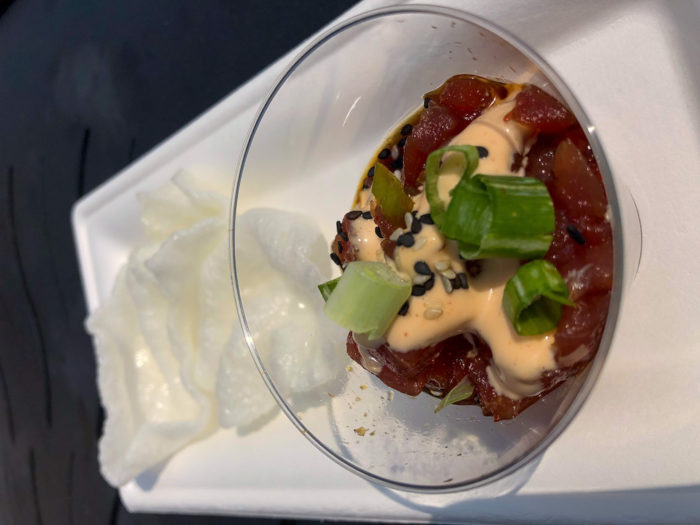 Grilled Sweet and Spicy Bush Baby Shrimp, $6.00 (Grilled Sweet and Spicy Bush Berry Shrimp with Pineapple, Pepper, Onion, and Snap Peas), Australia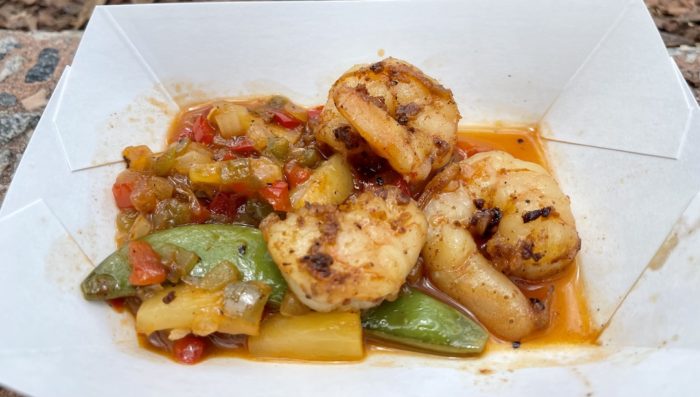 Dessert Course
Life's short — eat dessert first (and second, and third, if you're at EPCOT). Here's our top picks.
Capriotada de Chocolate, $5.50 (Abuelita chocolate bread pudding served with a chocolate crème anglaise), Mexico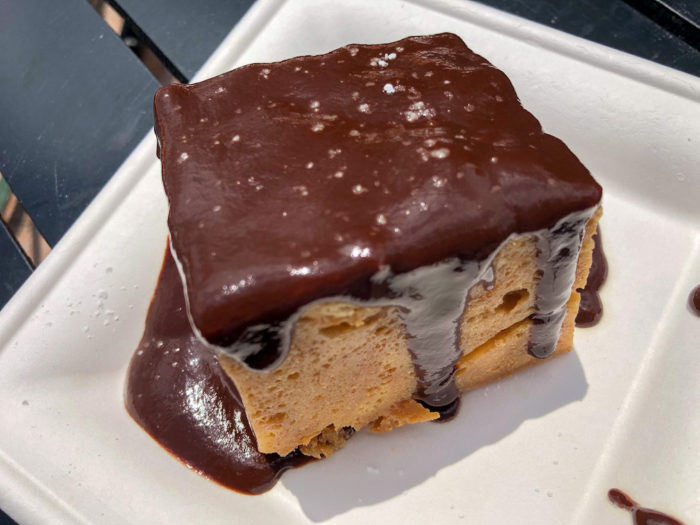 Candy Jar Donut, $5.00 (Candy Jar Donut made with M&Ms, Snickers, and Twix), The Donut Box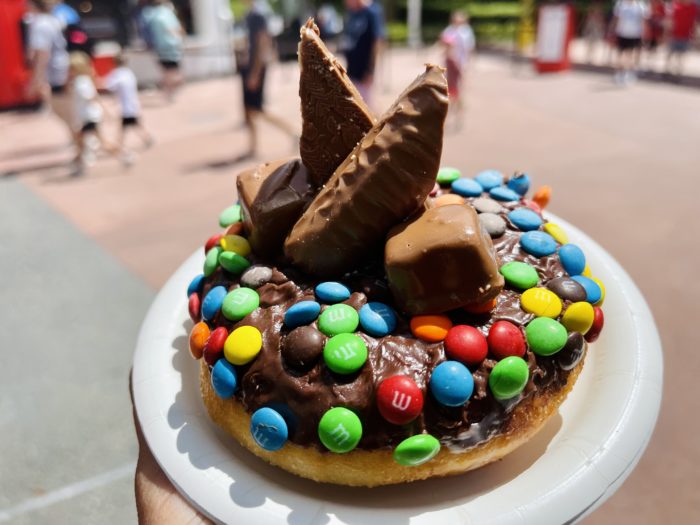 In all, if you order these items, you'll come in just under $50 at $49.75.
We'll have more reviews and suggestion lists in future blog posts. In the meantime, have any questions you want answered about this year's Food and Wine Festival? Let us know in the comments.