Toledo: Tapas, Steaks & Seafood Serves Up Spanish Flair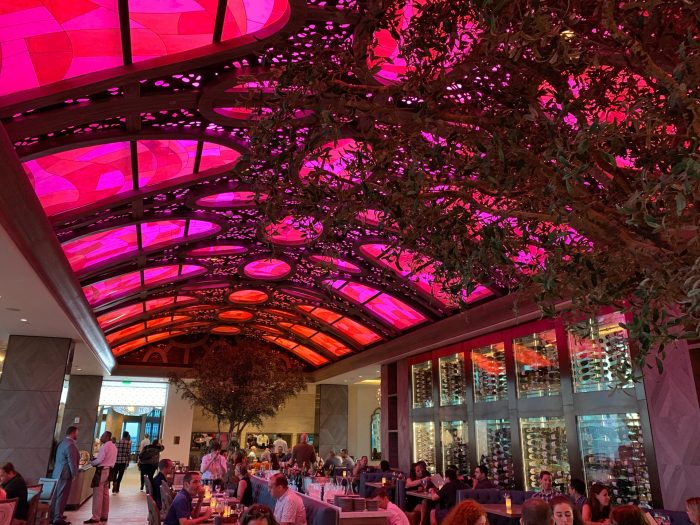 Along with the opening of Disney's Coronado Springs' newest expansion, the Gran Destino Tower, the hotel also recently christened several new dining and lounge locations. Today, we'll take a closer look at my visit to Toledo: Tapas, Steaks & Seafood during opening week.
In this visit, I tried to sample across the very large (and kind of complicated, honestly) menu – we tried a few tapas, a few appetizers, some entrees, and dessert. Overall, I loved the entrees we tried, and will definitely be back for these again soon, but Toledo, on the whole, is a little pricey considering it is a non-signature restaurant. Let's take a look at how the menu plays out!
Tapas
First up, a few tapas. Toledo's menu features pintxos, which are one to two-bite dishes (all priced around $3), and cazuelas (sharable sized traditional tapas, from $10-18), as well as some house boards featuring cheese and charcuterie to share ($15-35). We stuck to the cazuelas section of the tapas menu for this visit, ordering the Tronchon Cheese Gratinado ($10) and the Rioja-braised Chorizo ($15).
The Tronchon Cheese Gratinado was essentially Spanish Tronchon cheese slightly melted on toast, with tupelo honey and lavender drizzled on top – it's a fairly simple dish, but for cheese lovers, it's a fine way to start the meal. My dining companion and I both found the bread under the cheese a little tough (it was bordering on stale), but the nutty, twangy cheese and the unctuous honey paired with the lavender (which really brings out the natural floral notes in the cheese!) more than made up for it. We nearly finished this plate off, even knowing how much more food we still had yet to come.
The Rioja-braised chorizo with field onions was just as successful, for me – the braise on the chorizo takes the chew out of it, rendering it down to pure "sausage" texture like a cooked smoked sausage you might be more used to. The alcohol flavor the Rioja was long braised away, leaving behind a sweet and smoky jus that complemented the sausage and onions quite well. This was also served with toast, though I was content eating it on its own. At $15, this is a little pricy for the portion, but if chorizo is your thing, it's worth the taste.
Appetizers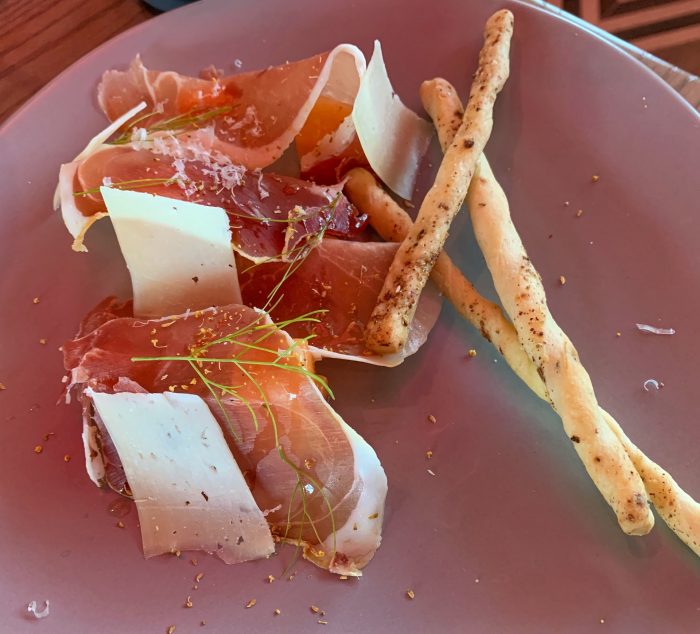 Oddly, Toledo's menu also features standard appetizers, aside from the sharable tapas – again, the menu is a bit confusing here and I would not be shocked to see it simplified in the coming months as the restaurant settles in. The appetizer section houses a good portion of the salad options the restaurant offers, as well as a few other savory small bites that somehow don't count as "tapas".
I was pretty excited to order the Serrano Ham and Compressed Melon salad ($12), but ultimately a tad disappointed when it arrived. On the plate? Four slices of ham and 8 cubes of melon (that didn't taste any more flavorful or robust than your grocery store cantaloupe, frankly), with a sprinkling of fennel pollen and some greens dressed in oil. It was… sparse, if I'm honest, and while tasty, with classic salty-sweet juxtaposition, I don't think it's substantial enough to count as a salad at this price, especially compared to the similarly priced, larger sized tapas we sampled.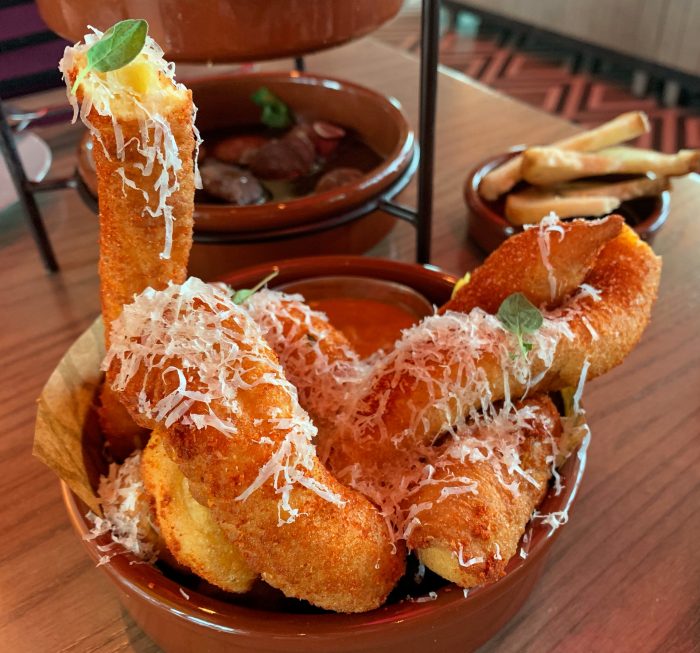 Next, we tried the savory churros, billed as "chorizo, oregano, romesco, lemon", for $10. This is certainly $10 worth of carbs, but your mileage may vary as to how fresh they are. Ours arrived somewhat crispy on the outside, but fairly doughy and heavy inside, with none of the characteristic true crunch you'd expect from a churro. I also felt none of these flavors really popped as described – the strongest notes came from the smoked paprika sprinkled on top. After sitting on the table a bit while we sampled each appetizer, the churros ultimately became a bit soggy, which is understandable but can make them a tad underwhelming if you aren't sampling the whole plate right away.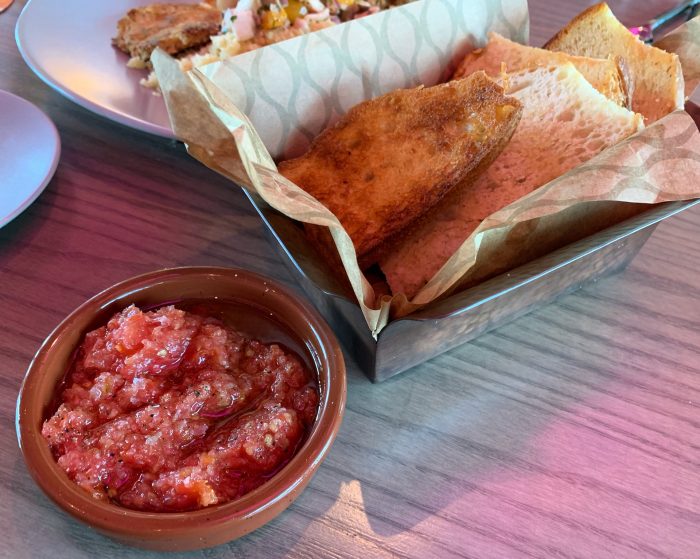 More successful was the pan con tomate, the classic tomato-olive oil-garlicky spread atop crusty grilled bread ($10). I loved the acidic freshness of the tomato balanced with the rich olive oil bathed in garlic, but the bread tended to be a little too thickly sliced, so it was tough for the tomato to shine over the dense toast. Ultimately, I found myself craving the pan con tomate from Jaleo, which I routinely dream about – the bread there is a little less thick, full of crannies for all the tomato to soak in and really take center stage.
Entrees
As I said earlier, the real stars of dinner at Toledo were our entrees; after a few missteps in the tapas and appetizers, it was great to see some fantastic food on display here. We sampled three entrees, trying to get a sense of the "seafood and steaks" part of Toledo's title: Scallops ($32), Manhattan Filet ($36), and the Plant-based 'Seafood' dish ($30). You might be surprised what my favorite was…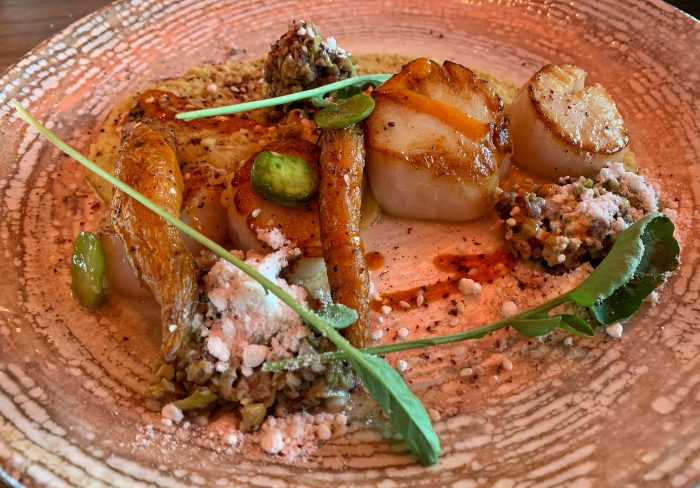 The scallops entrée arrives with four fairly large scallops seared atop a fava bean hummus with several dollops of olive tapenade, yogurt powder sprinkled atop, alongside a few roasted carrots. Overall, the plate was bursting with flavor – subtle hints of the sea from the sweet and perfectly seared scallops, with a rich hummus acting as a side and sauce, almost. The olive tapenade's brininess really punched up the flavor on the plate, but ultimately we both craved texture – everything here is homogenous in "mushy", which isn't bad, but makes it tough to eat a whole plate. A crisp cracker or even a piece of crusty bread would've paired well here, on a fairly light plate considering the price tag.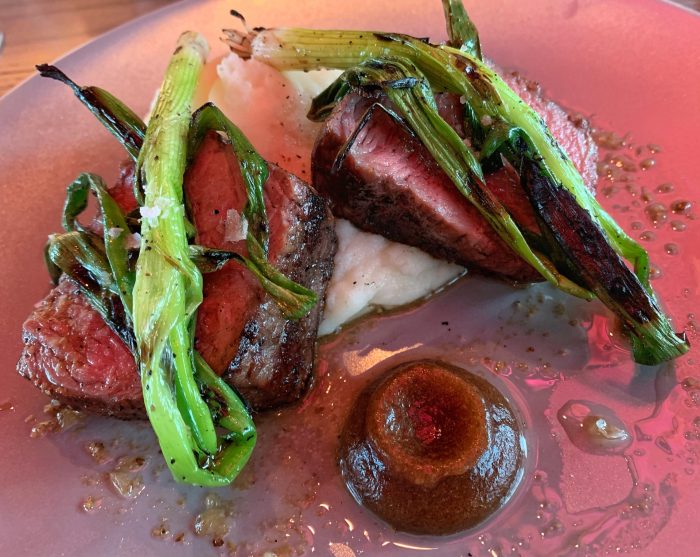 The Manhattan Filet is, on the other hand, the biggest bargain for a quality steak you'll find nearly anywhere at Walt Disney World. I hesitate to say that, knowing prices on it will likely skyrocket as a result, but this plate of food is truly underpriced for what you get. A perfectly seared (and I believe sous vide, by the looks of the inside) filet weighing around 5-7 oz arrives atop Manchego and olive oil-drenched mashed potatoes (over which you'll likely see fork-fights over for the last bite). On the side, a sweet and slightly tangy date jam, kissed with vinegar, brings a little balance to the otherwise rich plate. It's simply steak and potatoes, but jazzed up and very well-executed.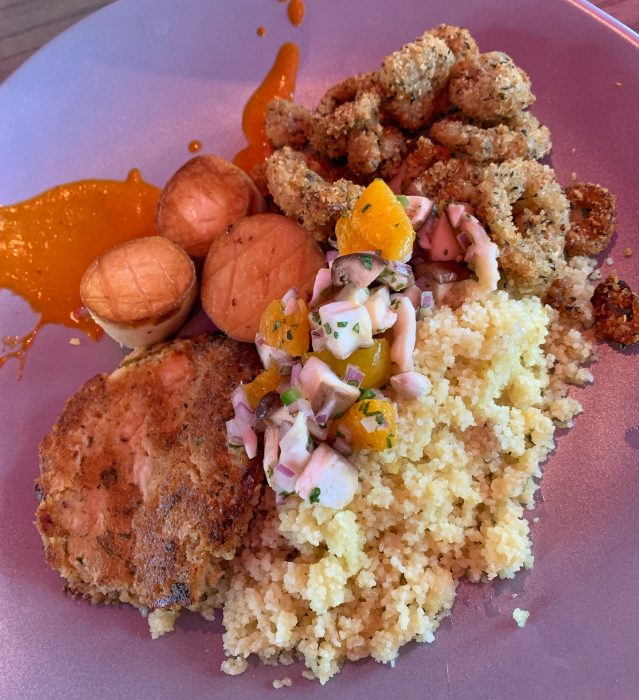 The last entrée we tried was easily my favorite (which is saying a lot, considering how quickly I devoured the steak entrée and how many raves we both had over the scallops). The plant-based movement at Walt Disney World is only growing, with most restaurants now offering several options for diners in search of non-meat options. Toledo comes out of the gate here with a truly fantastic offering that wowed me – here, we see "scallops" from mushroom stems, "calamari" breaded mushrooms, a hearts of palm "crab" cake, and "ceviche" made from mushrooms, onions, and oranges, served atop a lemon couscous. The mushroom scallops were our least favorite here – while they match in texture to true scallops, they really didn't have a ton of flavor other than meaty mushroom, which was fine but not new. The calamari were more breading than mushroom, but the crisp and seasoned breading was certainly successful when paired with the "chewy" mushrooms inside in convincing you this was calamari.
The true stars of this plate, though, were the crab cake and ceviche. The hearts of palm in the crab cake had the exact same texture as crab, and though there was more bready filler than you'd normally see in a quality crab cake with real crab, it had the most astounding taste of "seafood" without being seafood that I've ever encountered. My guess is that some nori or some kind of briny seaweed plant sneaks in here to bring that flavor facet in, but it really was remarkable, and tasty – I could've easily eaten a plate of these crab cakes and called it a day.
The ceviche was equally delectable, bright and acidic with the fresh vinaigrette and pops of red onion and orange segments atop the diced mushrooms. My one quibble with it was that it was not served cold, as I'd expect from a normal ceviche; this is likely a byproduct of it being served atop a warm couscous, which, while perfectly paired with its base lemon and olive flavors, did not do favors to the temperature of the plate. Overall, though, a minor complaint, and one I'm willing to forgive on future visits to Toledo, just to have this plate again.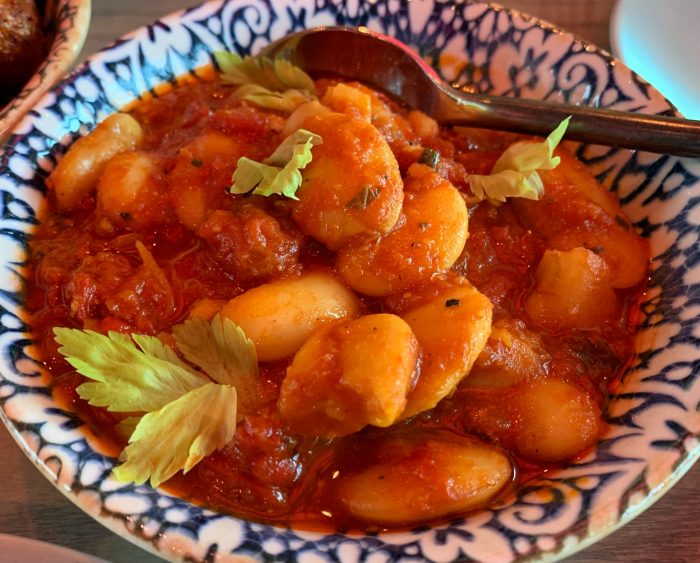 Alongside our entrees, we also sampled a handful of sides. The sautéed broccoli with raisins pairs classic Spanish "green" and sweet flavors to mild success. The patatas bravas were less interesting to me – while the sauce was classic tomato goodness, I found the potatoes too large, and the ratio of sauce to potato too low. Unfortunately, Jaleo wins again on this front. Our favorite, by far, of the sides was the braised gigante beans, served in a bright tomato sauce with an aged sherry vinaigrette. Overall, at $8 a side dish, I'd stick to the olive oil-potato puree (the same Manchego and olive oil mash from the filet dish) or the gigante beans – these were our favorites for flavor and portion for price.
Desserts
We had a chance to sample all four desserts currently available at Toledo at the end of our meal. First off, we started with the restaurant's signature dessert, the Toledo Tapas Bar ($12), a chocolate wafer mousse bar topped with dollops of cheesecake, lemon curd, raspberry mousse, milk chocolate, and espresso covered chocolate. The quality of the chocolate here really shines, but unfortunately, none of the bar's toppings have enough flavor to meet that dominant flavor. Even trying them on their own, most of them were very mild and mostly just sweet.
The Café con Leche Choux ($9) features a dark chocolate cream puff shell filled with coffee chocolate mousse atop a whipped cream base. The coffee flavor here is not at all predominant – again, unfortunately, we mostly encountered "overly sweet" over anything else. The texture of the mousse and whipped cream were excellent and smooth, but I would just order a Café Bombon to fulfill your coffee craving.
The Chocolate-Avocado Mousse (A Plant-Based Dessert) ($10) was the most successful chocolate dessert, in our eyes. Served alongside a delectable strawberry-basil sorbet – perfectly sweet and tart with hints of herb – and a coconut crumble, this was a tiny portion but a great ending to a meal. The avocado base for the mousse was silky smooth, and you'd never know it was the base for this dessert without reading the menu first – the flavor blends seamlessly into the rich chocolate.
Our other favorite dessert was the Classic Crema Catalana ($8) – this is a Spanish take on crème brulee here, with a thick caramelized sugar crust sitting atop a rich, vanilla and orange custard. Candied and fresh Valencia orange amplify the fruitiness on the plate, and helped tone down the overwhelming sweetness from the sugar crust. We couldn't finish this dessert, due to the richness, but it's certainly a great representation of the classic Spanish dish.
Overall Thoughts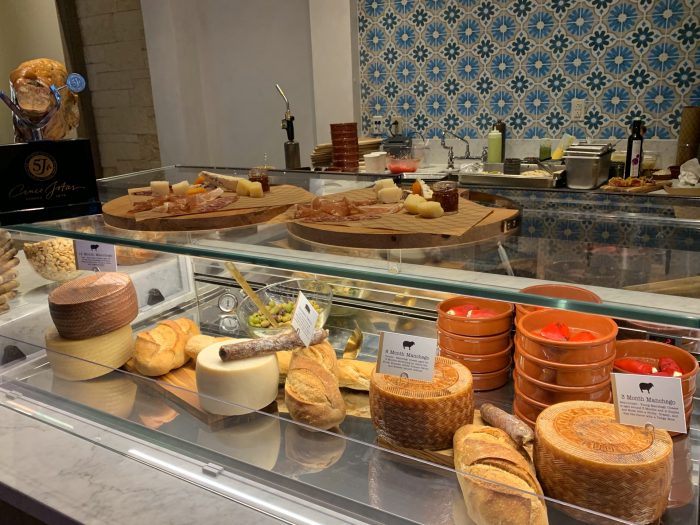 Toledo was definitely most successful for us with their entrees; while I enjoyed most everything we tried, I felt the consistency of the desserts and tapas/appetizers was lacking. As a result, I think we'll likely see quite a bit of menu changes as diners dictate successful dishes here, with the menu likely simplified in the next few months.
Overall, it's hard not to draw parallels to Jaleo when you've dined at both – it's almost not even fair, but in price point, menu, and dining guest demographics (largely adults-only, likely conventioneers), the two are pretty similar. Jaleo definitely takes the cake in the tapas category, though, which isn't to say that Toledo isn't worth a visit; I'll likely return soon myself just to try the "Seafood" entrée or steak again! Toledo is a quality option compared to every other dining location at Coronado Springs, too, which marks it as a successful entry in to the dining landscape, in my book.