Top 3 Things to Know about the Disney Skyliner
The Disney Skyliner opened this weekend, and I've been excited to get on board ever since it was announced. During its limited previews, I got to ride on all of the different lines, and there were three key takeaways I discovered.
Make sure you know where the Skyliner line goes.
There's a segment that goes between Disney's Hollywood Studios and Disney's Caribbean Beach (with Caribbean Beach as a transfer hub of sorts). There's a second segment that goes between Disney's Caribbean Beach and Disney's Art of Animation/Disney's Pop Century resorts. There's a third segment that goes between Disney's Caribbean Beach and Epcot, passing through the not-yet-opened Disney's Riviera Resort. If you're looking to go to any of those places, it is an ideal choice as it is a continuously loading system — no waiting 20 minutes for a bus to show up! That said, if you are looking to go to the front of Epcot, you may still be better off taking a bus, as the Skyliner station for Epcot is located at the International Gateway at the back of Epcot. One benefit for the resorts that are on the Skyliner system is that you can access other resorts at Crescent Lake far easier than in the past by taking the Skyliner system to the Epcot station and walking over the short distance to Crescent Lake. Worth noting is that during its early operation, the Skyliner gondolas seem to make frequent stops for a minute or two quite frequently along their travels. As with any mode of transportation anywhere, if there's somewhere you have to be at a certain time, allow extra time for transit.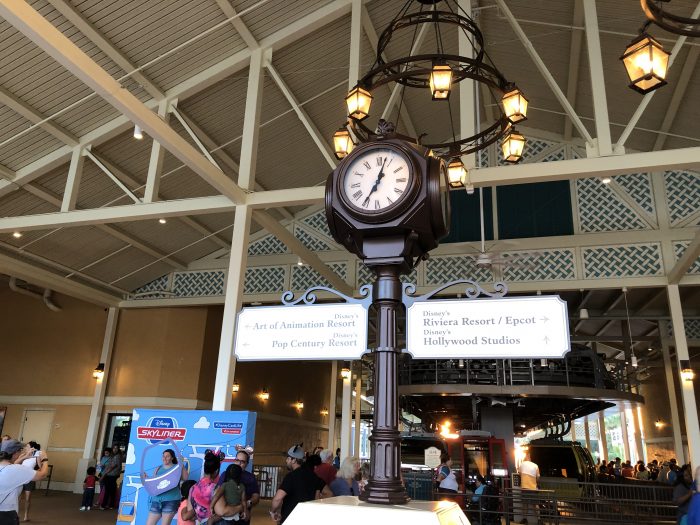 It goes higher than you expect, and faster than you expect.
From the ground, the gondolas don't look like they're going *that* high in the air. Once on board, you get pretty high up, and being above the tree line in some cases fools your mind into thinking you're REALLY high up. It's 60 feet up in the air–or about 5 1/2 stories. And because the units feel so open, with doors that are see-through from top to bottom, and ventilation that gives you the wind in your face feel, those with a fear of heights may find it a little bit unnerving. For me, the fact that in the gondolas it's also incredibly quiet–you don't hear noise from the units aside from a little "thump" as you go past the support towers–was a bit unnerving. For a test, take the line between Art of Animation/Pop Century and Caribbean Beach. It goes lower than the other lines. I also found that the height didn't seem quite as unnerving at night as it did during the day. If you're afraid of heights, remember not to look down. I was also surprised how fast the gondolas move. Although we did have several times when the units slowed down and a couple times where we were stopped for a minute or two, when you're in motion, you're really moving. One other thing to note as you pull into the station, it looks like you're going to crash into the gondola ahead of you. Feel free to do your best Star Tours impression–Brakes. BRAKES!!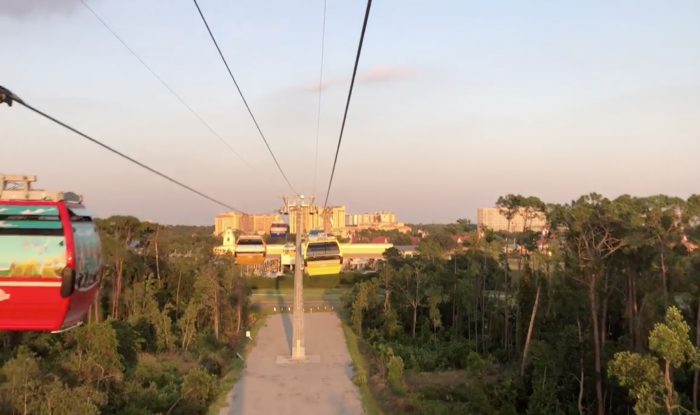 It's a very comfortable ride, even when it stops.
It's still in the 90s here in Florida during the day, and one major concern that has been raised is that the Skyliner gondolas would be like small ovens. While they are in motion, there's an amazing bit of cross-ventilation that goes on, making it very comfortable. For the strongest breeze, ride facing forward. The people riding backwards will still get some breeze, but not as much. There are times when the units come to a temporary stop, sometimes multiple times in a trip. (We found this to be especially true on the Epcot line.) Although it never got hot in the units, you could definitely tell a difference between being in motion and stopped. For comparison, riding the gondolas in the afternoon was much more pleasant temperature-wise than riding a Friendship from Epcot to Hollywood Studios that evening. For some of the lines, you'll only be on the gondolas for about 2 minutes, or up to about 12 minutes for the Caribbean Beach-Epcot line. If you can handle sitting on a parking tram or riding a Friendship, the Skyliner gondolas won't be a problem.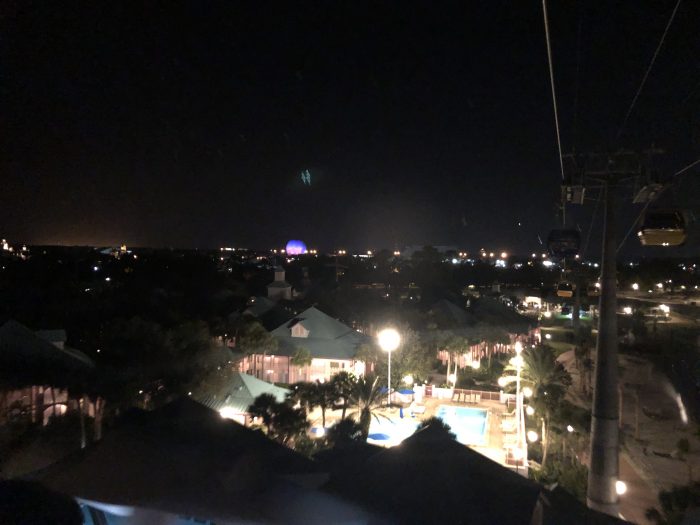 Have any questions about the Skyliner system? Let us know in the comments.
There's so much to see and do at Walt Disney World. Want to be able to see and do more? Try a Touring Plans subscription. A subscription can help you save time and save money while you stress less and have fun. Read more here.