What to Know When You Need Wheels at Walt Disney World
Walt Disney World is a VERY big place. The average guest walks five to ten miles a day. For so many reasons, that isn't feasible for a lot of guests. Some guests need mobility help in their everyday lives, others have injuries, or need assistance because it's simply a lot more walking than they can handle. Some of Disney's youngest guests may need strollers or wagons that can go everywhere a wheelchair can. Thankfully Disney has several ways to meet everyone's needs.
Disney World requires a bit of a learning curve; adding a mobility device bends that curve some more. We have discussed how to rent an ECV or wheelchair before. This time, we'll talk about navigating the parks, transportation, and the rest of the World using wheels. Whether you use a wheelchair, an ECV, or need support for your child with disabilities, we have all the information you need! We'll cover the following topics; tap any link below to go directly there.
What you might need to go with your wheels
Using wheelchairs and ECVs in the parks
Using Disney World transportation with wheelchairs and ECVs
List of Disney World attractions and their disability access, by park
What You Might Need To Go With Your Wheels
We covered renting an ECV or wheelchair, but do you have everything else you need? Even if you use wheels regularly, Florida and the parks could be a different ball of wax.
Rain gear – one thing you can count on in Florida is rain, so pack a tarp or fitted rain gear for your wheels.
Any extra battery and charging cords; you may be spending longer than usual between charges
Accessible parking placard – if you are renting a car, do not forget your placard so that you can park in handicapped spaces. The placard will also allow you valet parking at your resort for free (although gratuity is not included)
You might also need some practice. Many of the guests using an ECV haven't ridden one before. Even those who have may not be experienced with the crowds and tight queues and spaces they'll need to navigate at Walt Disney World. My best suggestion is to practice before you get there.
If you use a scooter regularly, you will probably benefit from practicing in crowds and maneuvering in tight spaces with ninety-degree angles. If you don't, then going to a supermarket that has ECVs is an easy way to practice. If driving an ECV is new to you then go the first time when it's not very busy, continue to practice when there are many people around; think Saturday morning.
Using Wheelchairs and ECVs in the Parks
First things first: let me take a second to make sure we're all on the same page about mobility device definitions. 
Standard Wheelchair: Any wheelchair, electric or not, that sits like a chair.
ECV: Electric Convenience Vehicle, these are often referred to as scooters
Strollers or Wagons with Red Tag/ Blue Tag: If your child or pre-teen has a medical condition requiring a stroller and/or a push wagon (not a regular wagon) at all times, Guest Services will identify it with a red or blue tag.
If you are using a stroller or push wagon as a wheelchair in the parks, you will need a specific sticker (Red Tag or Blue Tag) that you get at Guest Services. Push wagons are only allowed to be used for medical purposes, so make sure to visit the Guest Services window outside the gates. If you go to the tapstiles (the gate) before you have your sticker, they will not allow you to enter. Also, make sure the family member that needs the tags is with you when you see Guest Services for your sticker. (Tip – it helps if everyone you are traveling with is with you.)
Driving an ECV or Wheelchair in the Parks
My first tip is to get a Guide for Guests With Disabilities map when you enter the park. Maps are located just inside the entrance of each park in a tall display. Look for "Guests With Disabilities" written across the top. Each dining and shopping location and any attractions with ramps or specific entrances will note the location on the map. For example, the Town Square Theater in Magic Kingdom indicates in red that the RIGHT ramp is your best entrance if you use a mobility device.
What Kinds of Disability Access Are Used for Attractions?
Disability access to attractions can feel very different depending on your level of need. Typically, shows are fully accessible, and every character Meet & Greet is accessible. Most rides will accommodate almost everyone, although they may need to transfer or use a different entrance. Then there are the fantastic rides that allow you to fly on a magic carpet while comfortably in your wheelchair! Here are the different categories you'll see on Disney's guide maps, and what they mean.
May remain in wheelchair/ECV. Good news! You can wheel your wheels right onto the ride. You may need to wait for a wheelchair-adapted car to be available.
Must transfer from wheelchair/ECV. These are rides that require you to transfer from your wheelchair or ECV to the ride vehicle. A cast member is not able to help you transfer. You must be able to transfer yourself or have help from your party.
Must Transfer from ECV to Wheelchair. These are locations where standard wheelchairs can go directly on the ride. But if you're in an ECV, you'll need to transfer to a standard wheelchair. Disney will provide this standard wheelchair at the attraction.
Must Transfer from ECV to Wheelchair, and from Wheelchair to Ride Vehicle. This designation is used for rides where all or part of the queue can't accommodate an ECV. You'll transfer to a standard wheelchair provided by Disney, then transfer to the ride vehicle. These are sometimes called Double Transfer Queues (see below).
Must be Ambulatory. These rides require you to be completely ambulatory. Remember that sometimes the reason has more to do with boarding or evacuating if the ride goes down. In the theme parks, only Magic Kingdom has rides that require you to be ambulatory.
Double Transfer Queues require a standard wheelchair (or Red Tag/ Blue Tag). If you are using an ECV, you must transfer to a standard wheelchair. A Cast Member will direct you and provide the wheelchair. If you are traveling or riding solo, it can be hard to push the wheelchair yourself. Sometimes the Cast Members are available and happy to assist you, but often they do not have enough staff for everyone and you shouldn't rely on this. If you can walk a short distance, you may be able to use your ECV for most of the queue and then take a shorter walk to the ride. Cast Members will be happy to answer questions about how far the walk is after the transfer point.
Most of the lines at Disney World are ADA-compliant (but not necessarily easy) to navigate in an ECV or wheelchair. However, some of them have restrictions that require an alternative entrance. Occasionally, depending on wait times, those entrances will give you a return time. If this happens, you'll go to the Lightning Lane entrance when your time arrives, then a Cast Member will guide you the rest of the way. To access an alternative entrance at an attraction, look for a Cast Member with an iPad, typically near a rider switch sign. They will either direct you where to go or scan your park entry media (ticket, MagicBand, etc.) and let you know your return time.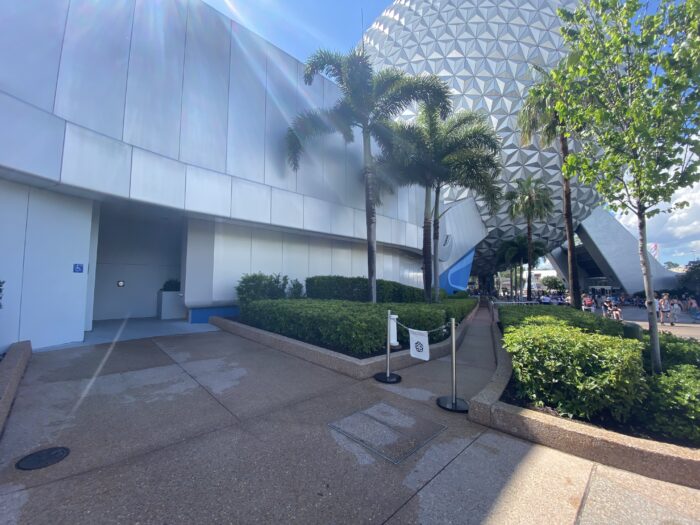 Fireworks and Parades
At both Magic Kingdom and EPCOT, there are parade and firework viewing areas that are reserved for guests with wheelchairs, ECVs, and Red Tag/ Blue Tag strollers and wagons. You should arrive an hour before the show to ensure you will get a space. During check-in, everyone in your party needs to be there. Anyone who needs to leave to use the restroom or get something to eat is welcome to come and go from the area once you are checked in.
At the Magic Kingdom, reserved viewing for Happily Ever After is in the grassy area in front of Casey's. Go to the far side, closer to Adventureland, to enter. Typically a line will form before a Cast Member opens the area. The Festival of Fantasy parade viewing is on Main Street USA near the entrance of the Emporium closest to the park entrance.
At EPCOT, there is wheelchair/ECV reserved viewing for the EPCOT Forever fireworks show in three locations: Port of Entry, Between the UK and Canada, and in front of Germany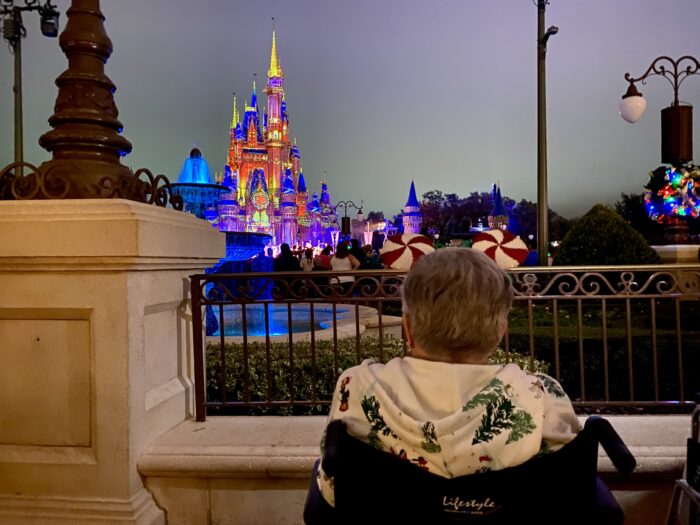 Parking Wheelchairs or ECVs
If you use a wheelchair or a Red Tag/Blue Tag, you never need to worry about parking. ECVs can be more cumbersome; if you are able to walk short distances, you may find it easier sometimes to park the ECV and walk. This is especially true if it is challenging to bring the ECV, for example at some restaurants or restrooms. Almost always it's easiest to park where the designated stroller parking is. That's the easiest way to know it will not be in the way.
If you find it easier to walk in a queue, my mom uses her cane in the queue because she gets too frustrated trying to drive in them, typically, you park in the stroller parking. TRON is an exception. At TRON, stroller parking is at the base of the canopy near the sign, but ECV parking is at the top near the test lightcycles. This allows you not to have to walk up that ramp.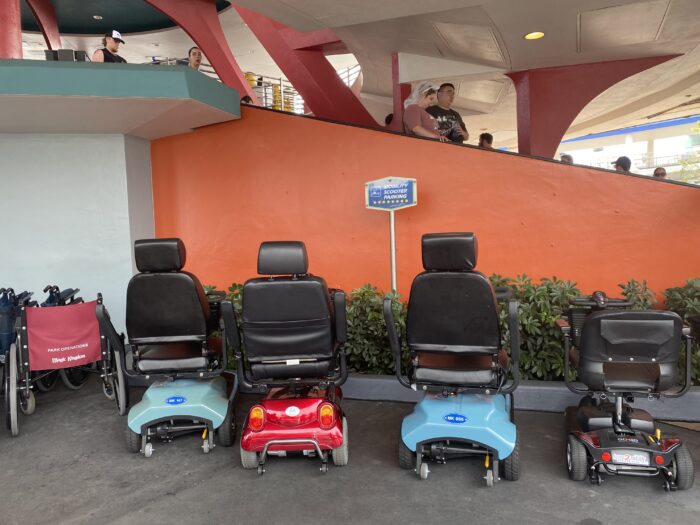 Dining with a wheelchair or ECV
All of the dining locations' seating areas are accessible but not easy to navigate. If you are able to walk a short distance, this is an area I would recommend parking your ECV if you can.
Many of the  Quick Service locations have a very tight queue where you pick up your order; if you do not have a family member that can pick up the order, see a Cast Member for assistance.
Troubleshooting
The most common problem guests run into is loss of power. If you are renting an ECV from the park and can get it to a service location before it dies, that is easiest, but if not, call the number on your receipt, and they will come to find you. Whatever the problem is, they will swap it out and send you on your way quickly and easily with a new ECV.
If you are renting from an outside vendor or brought your own, Cast Members are happy to help. Bring your ECV with charging chords to any of the rental areas at the front of the parks (EPCOT also has one at the International Entrance between France and the UK). If you have extra batteries, they are happy to charge your ECV or wheelchair for you.
Using Disney World Transportation With Wheelchairs and ECVs
One of the best reasons to stay at a Disney resort if you use a wheelchair or ECV is the ease of using their transportation. Many of the buses offered at Good Neighbor hotels or other "off-property" resorts are not accessible.
Buses
When you and your party arrive at the resort bus stop, look for either the square on the ground or a line specifically for ECVs and wheelchairs; different resorts have different setups. When the bus pulls up, the driver will come out and assist you in getting onto the bus. Then, your family will join you on the bus before the other guests. If a bus already has a maximum number of ECVs, you will need to wait for the next bus (the driver will typically call one for you). When you arrive at your destination, you wait for everyone to exit the bus, and the driver will help you depart.
When leaving a park, you park your ECV in front of the queue for your bus but stay behind the painted line on the ground. The driver will assist you in getting on the bus.
If you are using a red or blue tag for a stroller or wagon, prepare to need to fold them for safety. Many drivers approach this differently for safety reasons.
Friendship Boats
These are medium to small-sized boats that take you from a resort to a park. Some of these are tricky to navigate because the ramps can be narrow. If you are an unsure driver, you may want to let a different family member or a cast member help you. Some devices will be unable to use the Friendship Boats from Grand Floridian, Polynesian, Wilderness Lodge, or the Ft Wilderness Campground. The boats servicing EPCOT and Disney Springs areas are larger and have more room to navigate.
Monorail
Using a wheelchair or ECV on the monorail is very simple; when you reach the front of the line, the host will direct you to the door they need you to use, they will put a little ramp down for you, then you roll right in. When the ride ends, they will be ready with a ramp to help you. You may need to wait a moment; a few cars often need assistance.
Ferry
The ferry is the large boat at the TTC (Tickets and Transportation Center). You will only use it if you parked your own vehicle at Magic Kingdom. The ferry is the most accessible transportation; you roll right on just like everyone else.
Skyliner
The Skyliner has specific cabins for guests with mobility issues; these cabins remain still, allowing you to get on at your own speed. The Skyliner system then weaves your cabin into the line. Look for the designated queue marked stationary, and the Cast Member will help you. It's straightforward to use and, in my opinion, the best mode of transportation at Walt Disney World.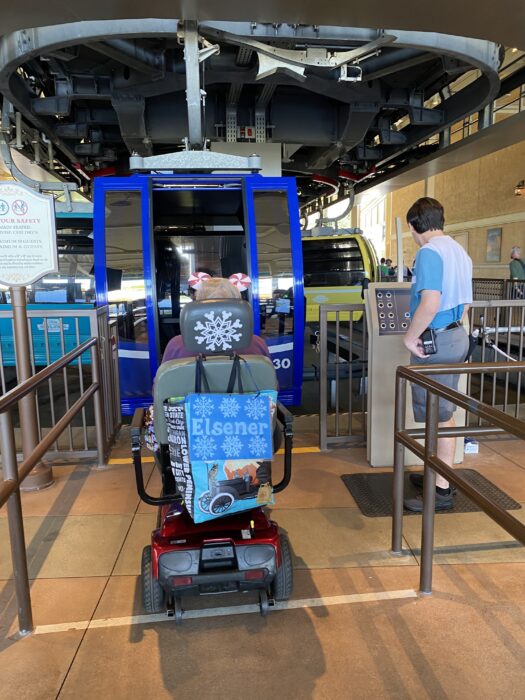 Minnie Vans
Minnie Vans are a Disney-operated ride share (think Uber) that's available only at Walt Disney World. Most of the Minnie Vans are large red SUVs with white polka dots, the accessible vehicle is a van. Disney has partnered with Lyft, and to access a Minnie Van, you will need to download the Lyft app and have an account, including a credit card on file.
Access Minnie, the name for the accessible Minnie Vans, are large vans that will hold up to seven guests. There are five seats and room for two ECVs or wheelchairs that the guest may sit in. There is also one car seat available that can be used by one of the seated guests.
Ordering the Accessible Minnie Van
While at Walt Disney World, open the Lyft app and enter your destination.
Confirm your pickup location. The app will show an estimated price, and process your payment.
Scroll down until you see Access Minnie – do not tap on the first Minnie Van option.
You can track your Minnie Van's progress. Look for the vehicle number that will show on the app to ensure your ride has arrived.
List of attractions and their disability access, by park
Magic Kingdom is first up, but you can skip ahead to EPCOT, Hollywood Studios, or Animal Kingdom. If an attraction is not listed, it is accessible to whatever form of wheels you are using, with no special measures that you need to take. If you'd like to find out more about the ride vehicles or accessibility for a specific attraction, please refer to our Attraction Vehicle and Seating Guides for Magic Kingdom | EPCOT | Hollywood Studios | Animal Kingdom
Disability Access to Magic Kingdom Attractions
Must transfer from wheelchair/ECV

Astro Orbitor
The Barnstormer
Big Thunder Mountain Railroad (has an alternate entrance)
Dumbo the Flying Elephant
Haunted Mansion
Mad Tea Party
Seven Dwarves Mine Train
Tomorrowland Speedway

Must Transfer from ECV to Wheelchair

Buzz Lightyear's Space Ranger Spin
"it's a small world" (has an alternate entrance marked at the exit)
Jungle Cruise (has an alternate entrance)
Liberty Square Riverboat
The Magic Carpets of Aladdin
The Many Adventures of Winnie the Pooh
Prince Charming Regal Carrousel
Under the Sea- Journey of the Little Mermaid
Walt Disney World Railroad

Must Transfer from ECV to Wheelchair, and from Wheelchair to Ride Vehicle

Pirates of the Caribbean
Space Mountain (has an alternate entrance)
TRON Lightcycle/Run

Must be Ambulatory

Peter Pan's Flight
Swiss Family Robinson Treehouse- An alternative entrance allows you to see some of the attraction.
Tom Sawyer Island (the raft ride to the island is accessible for standard wheelchairs, but not the island itself)
Tomorrowland Transit Authority People Mover
Disability Access to EPCOT Attractions
May remain in wheelchair/ECV

The American Adventure (has an alternate entrance, see a Cast Member at the entrance to the second floor)

Must transfer from wheelchair/ECV

Frozen Ever After
Guardians of the Galaxy: Cosmic Rewind
Mission Space
Soarin' Around the World
Test Track

Must Transfer from ECV to Wheelchair

Gran Fiesta Tour Starring the Three Caballeros (has an alternate entrance, look to the left for signs for the loading zone)
Journey into the Imagination With Figment
Living With the Land
Remy's Ratatouille Adventure
The Seas With Nemo and Friends

Must Transfer from ECV to Wheelchair, and from Wheelchair to Ride Vehicle

Spaceship Earth (has an alternate entrance through exits on the RIGHT or LEFT several steps past the entrance)
Disability Access to Hollywood Studios Attractions
May remain in wheelchair/ECV

Fantasmic! (has an alternate entrance)

Must transfer from wheelchair/ECV

Alien Swirling Saucers
Mickey & Minnie's Runaway Railway
Millenium Falcon: Smugglers Run
Slinky Dog Dash
Star Wars: Rise of the Resistance

Must Transfer from ECV to Wheelchair
Must Transfer from ECV to Wheelchair, and from Wheelchair to Ride Vehicle

Rock n' Roller Coaster Starring Aerosmith
Star Tours (has an alternate entrance)
The Twilight Zone Tower of Terror
Disability Access to Animal Kingdom Attractions
Must transfer from wheelchair/ECV

DINOSAUR
Expedition Everest- Legend of the Forbidden Mountain
Kali River Rapids
Na'vi River Journey

Must Transfer from ECV to Wheelchair

Kilimanjaro Safari
Tricera Top Spin

Must Transfer from ECV to Wheelchair, and from Wheelchair to Ride Vehicle
Wrapping Up
This is a lot of information, and hopefully, I answered all of your questions. Remember that Disney wants you to have a magical vacation, so they will help however they can. Feel confident in asking for help. And, of course, if you have questions for me, ask in the comments, and I'll try to get the answer for you.