How to Send A Hotel Room Request to Disney – Automatically!
Did you know that TouringPlans can help you request a specific room for your stay at a Disney World Resort? I'll show you how. First we'll go through the basic process, and then we'll tackle some special situations.
If you're already familiar with our room request process and have something a little funky about your trip that you're not sure how to handle, you can skip straight to the special cases and frequently asked questions. Are you thinking that you don't know why you'd want to make a room request? See Why Make A Disney World Hotel Room Request?
Getting Started
There are a few things you need in order to set up your room request.
First, you need to be a TouringPlans subscriber. Don't have a subscription yet? Click here to join.
Second: I feel like this ought to be obvious, but you need to have a reservation at a Disney World Resort hotel. And one thing that can be a point of confusion: it needs to be a Disney-operated hotel, so no Disney Springs good neighbors, no Swolphin, no Four Seasons. Our Room Finder homepage shows the list of resorts where we offer this service.
The request workflow uses our Room Finder. If you've never used it before, you might want to take a minute to look over our walkthrough.
Finally, you need to have a trip set up on your TouringPlans dashboard. In case you've never done this before, read on for a quick overview. But if you already know how, feel free to skip ahead.
Setting up a trip on the dashboard
The instructions here assume you're on the website, but if you're using the Lines app the process is similar.
When you're logged into TouringPlans.com, the Dashboard is your homepage. You can always click the logo in the top left of any page to get back to it. From there, you'll see the "My Trips" panel, and at the bottom of this panel is the button to add a trip.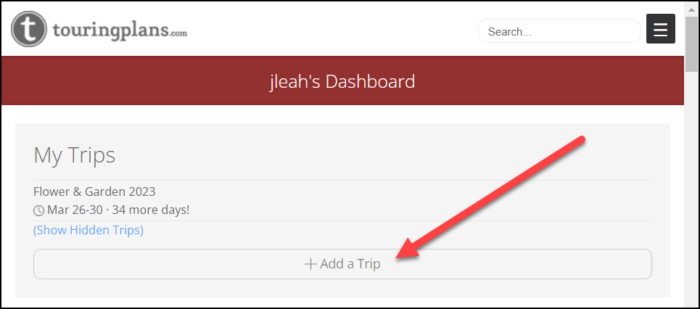 When you click the button, you'll see a pop-up to enter your trip information. You don't need to add every single thing in order to request a room, but some of the information is essential. In particular, the hotel, the reservation #, the name on the reservation, and the dates of your stay are required. Enter what you need to and click save, and you'll see the trip appear on your dashboard.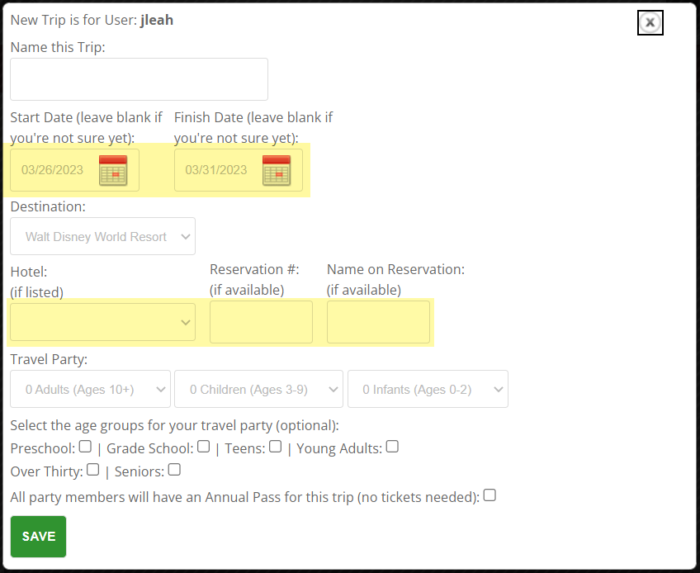 If you need to look up your reservation number, you can find it in your email from Disney (it will be called the Confirmation number and is usually in both the subject line and the email body), or click here to see where to find it in the "My Plans" section of My Disney Experience.
Making A Room Request
Just underneath your trip details, you'll see a button to request a room. If you don't see this button, then it means that we don't support requests to the hotel you're staying at. If you didn't already enter your reservation number and other info needed to make the request, you can click the "Edit" button shown on the bottom left below to add them to your trip.

When you click the "Request Room" button, you'll be taken to the hotel map on the Room Finder. Navigate to the room you want, and tap at the top to request the room. Pro tips:
If you previously stayed in a room that you loved and you have the email with your receipt from that trip, you can find the room number on the receipt.
If you'd like to request a room that you requested through us on a prior trip, bring up that trip on your dashboard (you may have to unhide it) and click on the requested room number to go directly to the room finder page for that same room.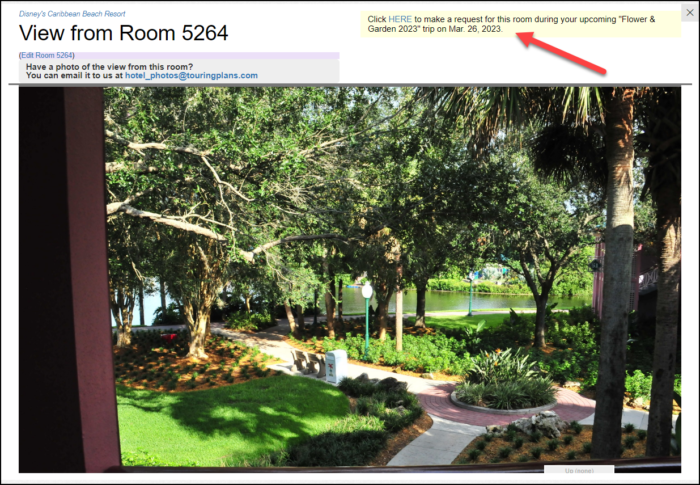 After tapping to make the request, you'll come back to your dashboard and you'll see a banner across the top confirming the room type that you requested. Now is the time to double-check that it matches the type of room you reserved, or your request is less likely to be successful. This banner will only display until you refresh the page.
You'll also see that your requested room shows on your trip details, and a banner underneath shows the status of your request. Pro tip: you can get back to the Room Finder view for this room by clicking the room number, or back to the Room Finder page for the resort by clicking the hotel name above it.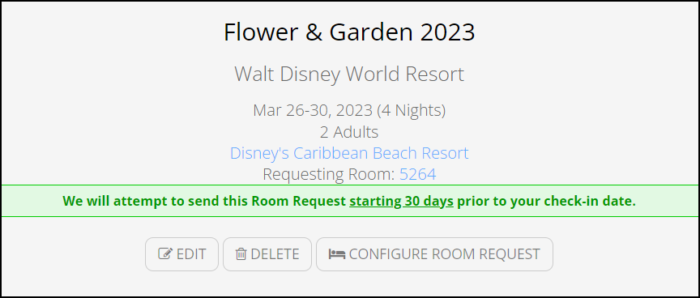 You can click on "Configure Room Request" to see exactly what we'll send to the resort. We automatically list several example rooms with the location and direction you requested, and your specific room will be the first one shown. You can edit this text to remove all the rooms other than the one you had your heart set on, but keep in mind that we once sent 12 requests for the same room on the same night from different users. Flexibility in your definition of success is more likely to lead to achieving it. 🙂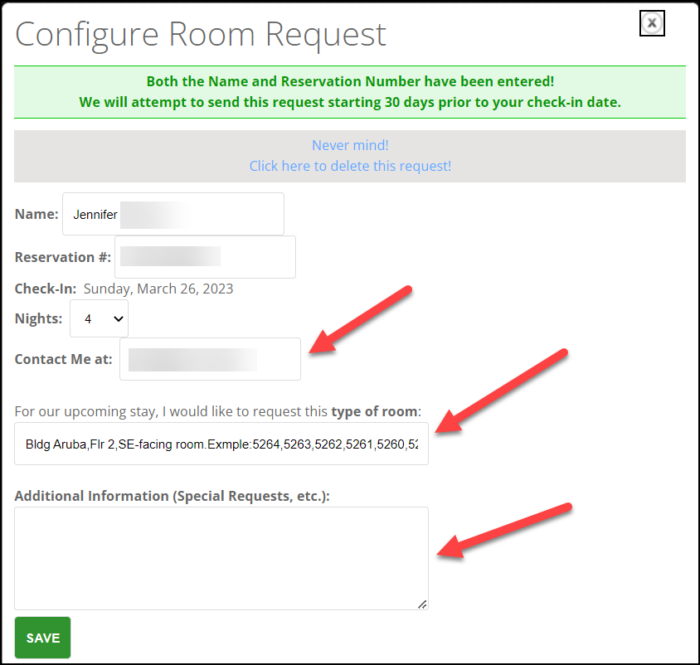 Perhaps being close to an elevator is more important to you than facing a specific direction. In that case, you can edit the text about the type of room to say that you'd like to be close to the elevator. You can also edit the list of example rooms to include ones that are near your requested room and also the elevator, no matter which way they face.
If being closer to the elevator is simply a preference and not something you'd like to give up your view to get, you should write that into the Additional Information section instead. The easier you can make it for a room assigner to understand what would make you happy, the better your chances they'll be able to do it.
Overall, the simpler you can keep your list of requirements, the more likely you are to get a room you'll like. That's just statistics, so don't clutter up your request with things that won't really make a big difference to you.
Disclaimer
In the screenshot above, I removed some disclaimer text to make it fit into the article better. But here is what that text says:
"Note that this Room Request service simply attempts to send your room request information to Walt Disney World Resort. We do NOT control what (if anything) Disney does with the request, and the hotel may deny having received the request. Although we have heard plenty of success stories, there are NO GUARANTEES, so please set your expectations accordingly."
The fact that we send the request does not mean that Disney World will give you the room you want. Think of it like an invitation: you're holding a party and you send invites to your guests. Do have any control over whether they come, or even whether they RSVP so you know that they got it? Nope – and it's the same thing here.
You should also know that the request goes to the room assignment team, not to someone whose job it is to make a note on your reservation. So when you check in, don't expect a front desk Cast Member to be able to see whether or not there was a request for a specific room. This can be true no matter if we placed the request, or if you called Disney to try to make it directly.
If you don't get your requested room, neither Disney nor TouringPlans.com has wronged you. If your request is granted, you've been blessed with some extra magic! And either way, you can enjoy your Disney World trip.
Special Situations and Frequently Asked Questions
If you're a family of 4 staying in a single room for 3 days, then you've likely already seen everything you need to know. But what if you have two rooms? What if you have two resorts? What if, what if, what if? Keep reading for our recommended answers.
What if I'm doing a split stay?
If you're staying at more than one resort, you'll need to have a trip set up for each hotel stay. If you dislike the idea of having multiple trips on your dashboard while you're on vacation, then here is how I like to do it. I'll use an example where I'm staying at Pop Century from August 4-13, then at Beach Club from August 13-15.
Set up a "master trip" from August 4-18. I'll use this trip to keep any notes that I'm making.
Set up a Pop trip from August 4-13. I'll send the Pop room request from this trip.
Set up a Beach Club trip from August 13-15. I'll send the Beach Club room request from this trip.
Right before I go on vacation, I'll delete the two individual trips for Pop and Beach Club – those room requests have already been sent, and I don't need to keep the trips on my dashboard anymore.
What if I have multiple rooms / need connecting rooms?
If you have two rooms, you will have more than one reservation number. To make a specific request for each room, you'll need to make a trip for each reservation number. But if you'd just like the rooms to be connecting or near each other, there's a better way.
If you need connecting (or nearby) rooms, you can make that request from a single trip. In the Additional Requests section, list the 2nd reservation number and mention that both reservations are in your name and you will need connecting rooms. Remember that the fewer constraints you put on your room, the easier it will be for a room assigner to give you what you want. If connecting rooms is the most important thing to you, make that clear in what you write and try to limit other requests.
What if my trip is less than 30 days away?
If your trip is 2 or more days away, we'll send your request the next morning by about 7:30 a.m. After that, it's up to Disney. We don't send requests for reservations that are checking in day-of or next-day, because the odds of success are so low.
What if I want to change the room I requested?
Go back to the Room Finder (you can do this by clicking on the hotel name in your trip details) and select another room. Your new request will replace the old one. You'll need to redo any changes you made to contact information or Additional Requests.
If it's less than 30 days from your trip and your request has already been sent, we'll send a new one by 7:30 a.m. of the following day. (As long as you're not checking in today or tomorrow.) We recommend that you make a note in the Additional Requests section explaining that you intend this to replace a previous request for the same reservation number. As previously noted, we have no insight into Disney's timeline or workflow for assigning rooms, so the only thing we can guarantee about your request is that we'll send it.
Help! I want to delete my room request!
Click "Configure Room Request" and look above the reservation information for the panel marked "Never mind! Click here to delete this request!" Note that if we already sent the request to Disney, we can't get it back.
Why does my list of example rooms include rooms that aren't my selected View/type?
From time to time Disney will change which rooms are listed under which categories and sometimes the amenities will change as well. We do our best to keep our hotel maps accurate, but the list of rooms is really meant to help the room assigner understand what you're looking for. If you booked a Preferred room, having a Standard on your list of examples is not going to keep you from getting a Preferred room. But it will help give the assigner a sense of the location and/or view that you'd prefer.
What about requests during Disney's Online Check-in?
Using online check-in (sometimes called direct-to-room service) offers you the opportunity to make some general requests like "Near the elevator" or "Near the pool".  Which options you'll be offered varies with the resort.
We don't know of any reason why you shouldn't add requests here if you've used our service to send a room request. But remember what we keep saying – the easier you make it for the room assigner to know what you want, the more likely you are to get it. If you write "I prefer a room on the lowest floor" on the request you submit with us and then select "Upper level room" during online check-in, your room assigner may throw up their hands in disgust and pick your room by throwing a dart at a map.
I didn't get the room I wanted. Is there anything I can do?
You can always visit the front desk of your resort after check-in and ask if there's a way that your room can be adjusted. Cast Members will often accommodate these requests based on space and availability. Be nice when you ask – it's the right thing to do, plus all Cast Members are people and people are generally known to try harder for people that are polite to them.
Have you used TouringPlans Room Request service? Did we miss any questions above? Let us know in the comments!