Universal Orlando Resort Fall Fun and Halloween Event
Universal Orlando's Halloween Horror Nights remain canceled for 2020, but today the resort announced a new spooky daytime event for guests.  On Saturday, September 19, and Sunday, September 20, Universal will open up two haunted houses at Universal Studios Florida, offer trick or treating in Islands of Adventure, and permit guests to partake in some costumed mischief. Plus, Universal will continue to offer the Halloween Horror Nights Tribute Store and fan-favorite Pizza Fries at Louie's.
Haunted Houses
Universal is taking the shrink wrapping off two built Halloween Horror Nights 30 houses for guests to experience during the day.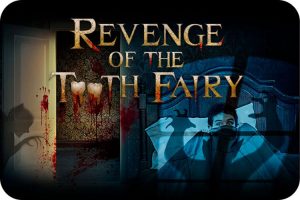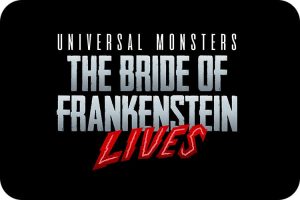 Revenge of the Tooth Fairy – The innocent traditions of the tooth fairy hide a darker ritual. All children must give up their baby teeth to the goblinesque tooth fairies or pay a gruesome price. Step into an old manor that has been overrun by yellow-clawed fiends who extract teeth by force. It's an eye for an eye, a tooth for a tooth.
Universal Monsters: Bride of Frankenstein Lives – "We belong dead." The last words of Frankenstein's monster on that fateful night when his Bride rejected him. But his end was her beginning. Now the Bride is stepping out of the shadows to bring him back. And there's nothing she won't do as she sharpens her brilliance by experimenting on unsuspecting victims. The mate will have her monster. And the monster his mate.
WARNING: Universal's Halloween haunted houses are NOT for children. Reconsider bringing kids under the age of 13 and use your judgment for anyone under 18. Houses feature low lighting, fog, strobe lights, startling imagery, mature themes, and confined spaces.
All houses will require a Virtual Line pass to access. Read our article on the Universal Orlando app and Virtual Line for more information and tips. Upon arrival at the maze entrance trusses (located in the Music Plaza stage and outside of Race Through New York starring Jimmy Fallon), Team Members will scan a QR code for entry into the socially distanced queue. While the Virtual Line will reduce the wait in line, it will not completely remove the line. We still expect queue waits to reach 20 – 30 minutes and up to an hour. Queues feature no restroom access and are completely outside, so make sure to use the restrooms and hydrate before experiencing.
Trick or Treating at Islands of Adventure
Islands of Adventure is offering a trick or treat scavenger hunt around the park. Guests 12 or younger, accompanied by an adult, can pick up a trick or treat bag (location TBA) and find Pumpkin stickers at select retail establishments for special treats. Per Universal's terms, you must use one of their supplied bags as a way to limit crowds. We suggest you get a bag immediately at the park opening on weekends.
Costumes
Guests are encouraged to wear costumes to the parks during the event. Costume guidelines do apply, but we have some ideas.
Universal is labeling this event as a "test" for September 19 and 20 only. We have heard enough through the grapevine that suggests Universal will continue the "test" on September 26 and 27 and then make it a daily offering through Halloween on October 31, 2020. TouringPlans will keep you up to date on extensions to this event.
Are you excited for this event? Would it be something you'd make a trip to Universal Orlando to experience? Let us know in the comments.