Universal Studios Super Nintendo World Review
Nintendo is one of the most beloved companies in the world and its characters are some of the most recognizable in pop culture. While their stable of characters is vast, only one stands above the rest as a global cultural icon. I'm of course talking about Super Mario, from the Super Mario Bros. series of video games. It was only a matter of time before Mario and his friends got the proper theme park treatment. Shockingly it took all the way until 2021 for a theme park to dedicate a major presence to the franchise. In February 2021, Universal Studios Japan opened the world's first Nintendo themed land, called Super Nintendo World. Similar versions of the land will open in Universal Studios Hollywood next month, Universal Orlando's new Epic Universe park in 2025, and Universal Studios Singapore in 2025. I recently visited Super Nintendo World at Universal Studios Japan, and in this post I will share my thoughts about everything the land has to offer, including a review of the headliner attraction, Mario Kart: Koopa's Challenge (which will be known as Mario Kart: Bowser's Challenge outside of Japan). This review is split into sections, with the first covering the land itself, then the two rides, photo ops, dining, and shopping.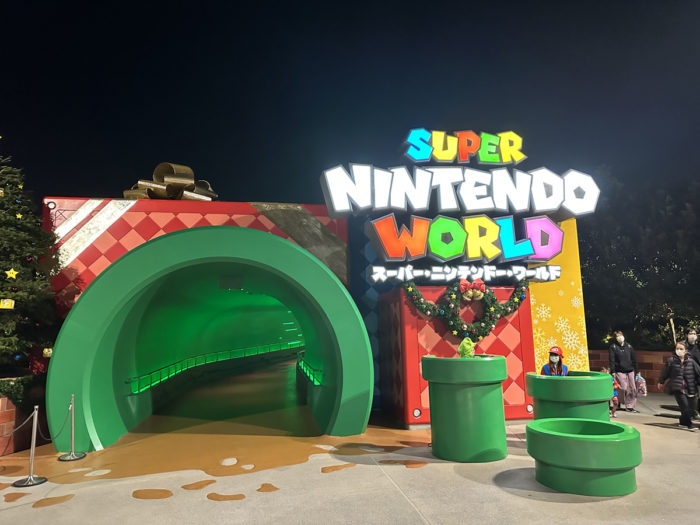 Super Nintendo World
Super Nintendo World is beautifully executed and the look and feel of the land makes you feel like you've been transported in to one of Mario's video games. It's not a big land, in fact it can be a bit cramped when its full of people, but the size does bring some advantages. There are layers upon layers of detail, ornaments, and iconography. Colors are bright and fun. Best of all, there's a ton of kinetic energy. If you're ever played a Super Mario video game and stood still for a few seconds you've probably noticed everything around you continues moving, even when Mario isn't. The game world feels alive, and Universal's creative team has perfectly captured this in Super Nintendo World itself.  Goombas walk back and forth, piranha plants bob and snap at park visitors, coins float in the air and spin, and platforms move from side to side. All of this is faithfully recreated from the video games and present in Super Nintendo World.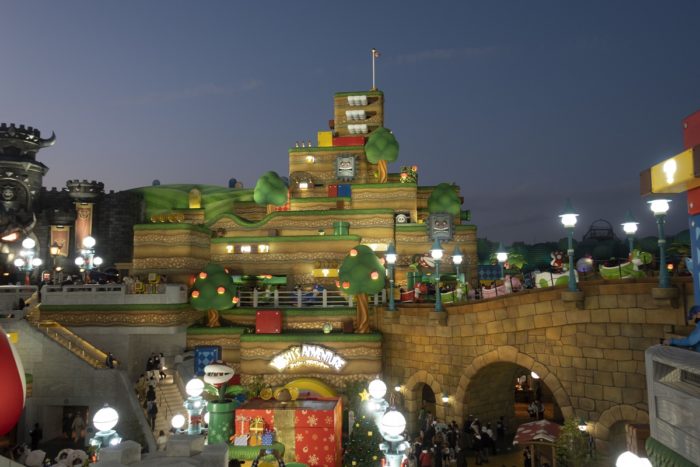 One of the signature items of every Super Mario video game since the series' creation in 1983 is the iconic green warp pipes. Just as in the games where Mario is transported from one area to another, we the visitors of Super Nintendo World are transported from the Universal Studios theme park into the Mario themed land. It's the most obvious and perfect way to enter Mario's world, and they executed it perfectly. In Universal Studios Japan there is one entrance into Super Nintendo World. After walking through the wrap pipe, you'll find yourself in Peach's castle. There's not much to explore inside the castle, only a few paintings, but it looks great inside and out.
As you emerge from Peach's castle you get a glory shot of the land's icon, which is known as Mount Beanpole. Most of the main Super Mario video games consist of Mario traversing through a level and its various obstacles, and then culminate with our hero jumping and sliding down a flagpole. It's one of the most recognizable aspects of the Super Mario franchise, and just like the warp pipes, mushrooms, and coins, its rendered perfectly in Super Nintendo World. Mount Beanpole and the flagpole that sits atop it are the tallest structures in the land. It's not grand in scale, and there isn't much of a "wow" moment when you enter the land from Peach's castle, but it's still a pretty cool reveal of the land. Especially since you can't see any of it from outside the Super Nintendo World.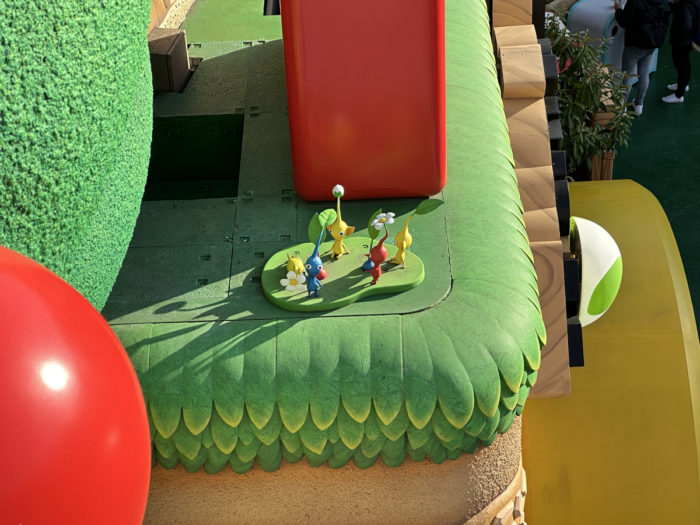 Japan's Super Nintendo World is made up of two different levels. The upper level is made up of path dotted with interactive games (more on that later), the entrance to the Mario Kart attraction, and a Mario Kart shop. Stairways at near Peach's castle and Mario Kart take visitors between the different levels. The lower level is home to the entrance to the Yoshi's Adventure ride, meet and greets, and the land's two dining locations. This brings me to my only major complaint; Super Nintendo World is cramped. Everything is packed in, and walkways are full of interactive games and people coming and going. There's hardly any room to sit and relax and take it all in. Most of the available space is dedicated to queues or traffic flow. I understand that Universal Studios Japan has limited space for new builds, and that this is a relatively new land, but it's impossible to talk about Super Nintendo World without bringing up how uncomfortably cramped everything is. It's worth mentioning that the size and configuration of each Super Nintendo World will be different. For example, the majority of Universal Studios Hollywood's version of the land will be on one single level.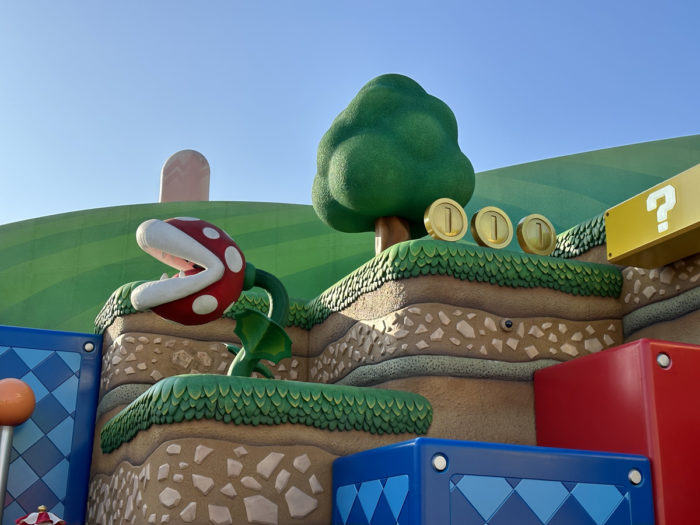 Mario Kart: Bowser's Challenge
Mario Kart: Bowser's Challenge is a fascinating ride that is hard to describe, especially to someone who may not be familiar with the augmented reality technology the ride uses. Before we get in to augmented reality, or AR, we must briefly talk about virtual reality, or VR. VR has a user strap on a headset which blocks out the environment the user is located in. Small screens inside the headset display computer generated images which simulate a virtual environment. VR games typically have the player experience the virtual world through a first-person view. Augmented reality is similar, but rather than creating and displaying an entire virtual world to the user, the real world is overlayed and enhanced with computer generated objects, characters, and scenery. Mario Kart: Bowser's Challenge uses AR technology to overlay the characters from the Mario Kart series in physical dark ride sets that exist in our world. This is done by special visors that must be worn on the ride.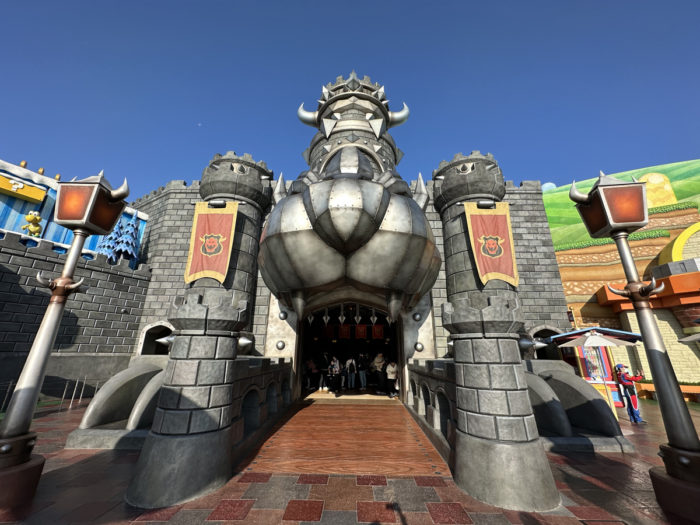 At a certain point in Mario Kart's queue, each rider is given a headset which looks like Mario's famous red hat. The visor is worn atop the head and is adjustable via a knob on the back. I found that the visors aren't the most comfortable thing in the world, but they're not too bad. Video screens and information boards display text on how to wear and adjust the visors well before you get on the ride, so I don't foresee this being a bottleneck when the ride comes to the US parks. The second phase of preparations happens when you get on the ride itself. In front of every rider is an attachment, which looks like a face shield. This attachment is the screen that will display the augmented reality images each rider sees during the ride. The attachment snaps on and off with relative ease, and I never experienced it falling off during the ride.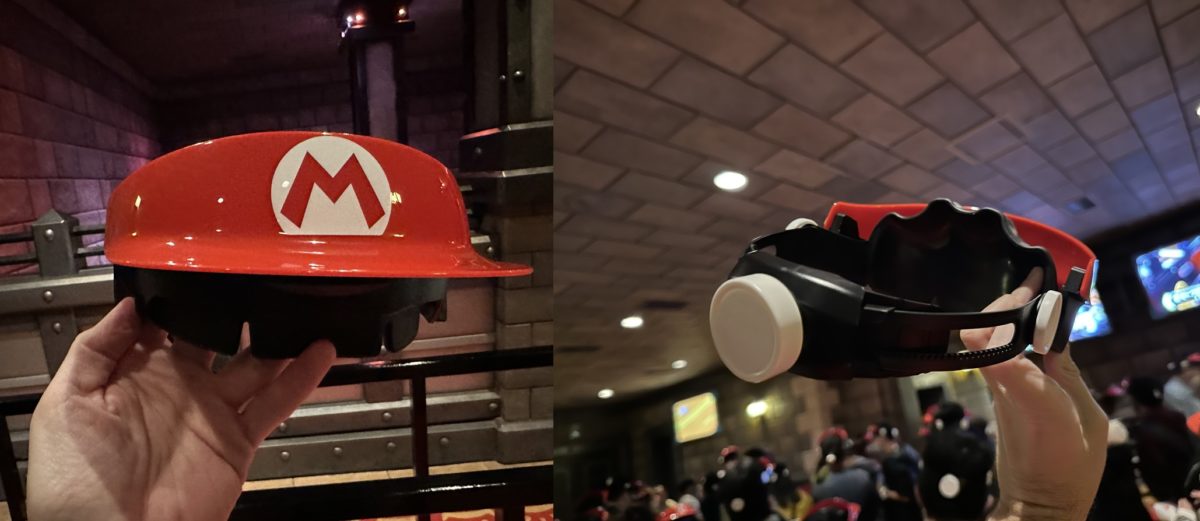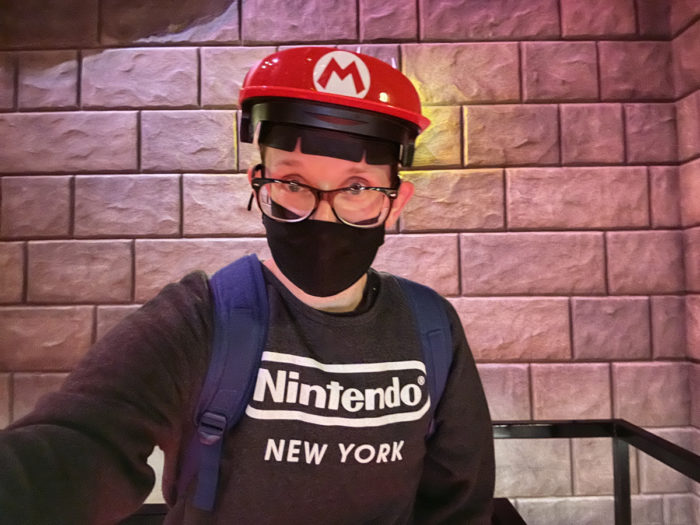 Before I tell you about the ride itself, I need to talk about Mario Kart: Bowser's Challenge's fabulous queue. The entrance of the ride is the tall and foreboding Bower's Castle. You enter through a giant version of Bower's mouth and then come upon a stone statue of Bowser himself. As you traverse Bowser's Castle you'll find detailed props, such as a stained-glass lamp that looks like a piranha plant, and fun nods to other beloved Nintendo games, like Luigi's ghost vacuum from Luigi's Mansion. The queue winds through the castle hallways where they'll see the various Mario Kart trophies, Bowser's library, which features a "handmade" model of the racetrack you're about to experience, and another room where bombs and other items are being manufactured. There's a ton of fun details to discover. It's one of those rides where the queue itself is an attraction.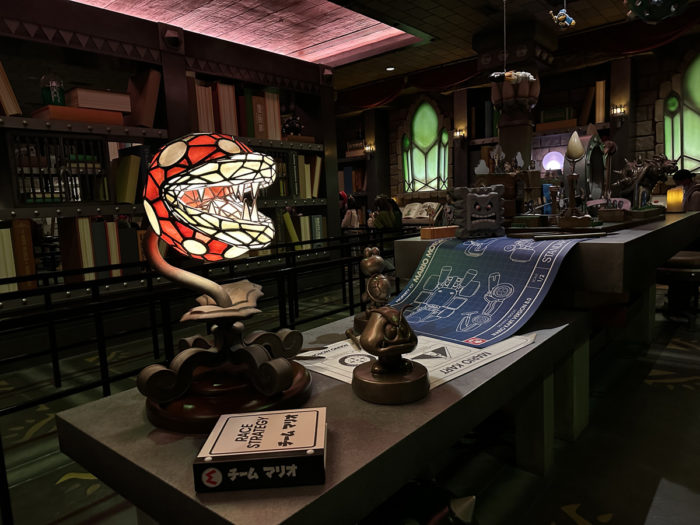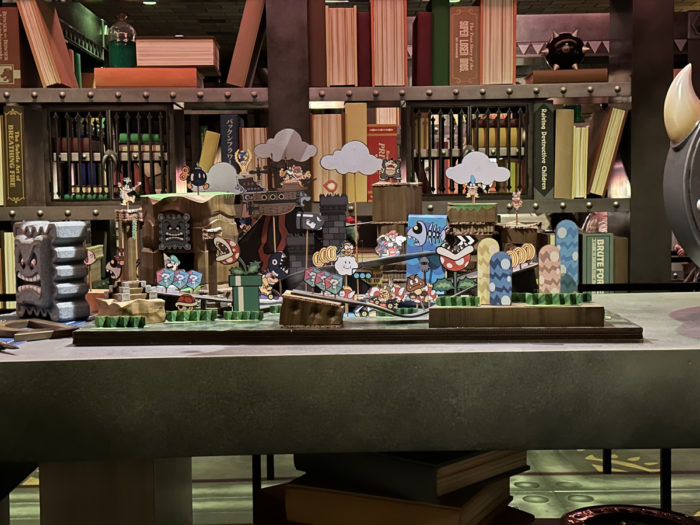 Deep in the bowels of Bowser's Castle is the ride's load area. Each kart can hold four riders, and everyone has their own steering wheel and buttons to play. That's right, Mario Kart: Bowser's Challenge is also a game. Each rider has the chance to earn their own coins (which are saved to the Power-Up Bands). Riders can still play and receive coins if they don't have a Power-Up Band, but they won't be saved after the ride ends. The ride starts with a brief training session where targets are displayed on the AR headsets. Each rider has a set of turtle shells that can be fired at targets, and the more targets you hit, the more coins you receive. Just like in Mario Kart video games, shells must first be obtained from the question mark item boxes on the racetrack. To aim you simply look in the direction of a target, and then press a button on the steering wheel. Coins can also be earned at certain points when the ride will tell you to turn the steering wheel a certain way. When this happens, an arrow will appear in front of you, and you'll have a few seconds to turn the steering wheel in the correct direction. It's all as frantic and fast paced as a race in a Mario Kart video game, so in that way they captured the spirit of the game perfectly. It's the kind of game that's easy to understand but hard to master. Everything happens fast, there's a lot going on displayed on the AR headset, and there's cool physical sets you'll want to look at. It took multiple rides, I'm talking 4 or 5, to really master the game and enjoy the scenery. It's a fun time, especially when you're with friends and everyone laughs and screams together, and while everyone has the obligatory post-ride score comparisons. During one of my rides, I hardly shot shells at all, and I focused on the scenery, which is really well done, but I think many people will focus on the game part of the ride and miss all the cool physical details. Either way, Mario Kart: Bowser's Challenge is a very enjoyable experience, one that I liked more each time I went on it.
If you curious about how thrilling the ride is, the answer is not at all. It's so slow that you can safely place your bag on the floor of the ride vehicle and not have to worry about it moving anywhere. This isn't a bad thing at all, but I know many people were curious about its thrill level.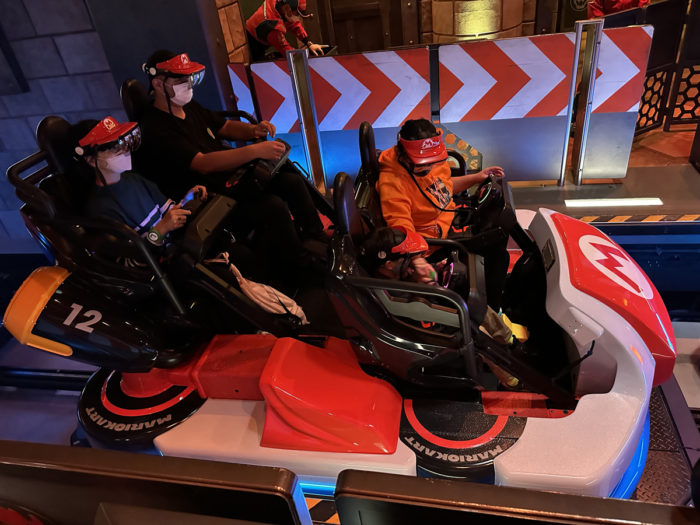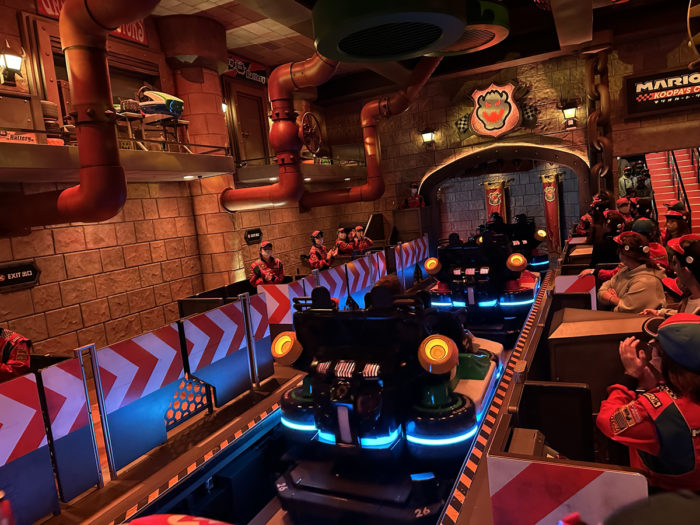 Yoshi's Adventure
I wish I had the same enthusiasm about Yoshi's Adventure as I do about Mario Kart: Bowser's Challenge. Yoshi's Adventure is a ride where each group rides inside a ride vehicle shaped like Yoshi. Cute idea, but the ride is painfully short. There's one stretch of track which gives a brief bird's eye view of Super Nintendo World, one small indoor section, and then back to the load/unload area. They did add a small interactive element where riders press the correctly colored egg button when they see the corresponding egg during the ride, but this feature isn't too fun or engaging. The ride does feature an appearance from the fan favorite character, Captain Toad, but overall, this isn't worth it if the wait is too long. Especially not the posted 60 minute wait it had during my entire visit. This ride is coming to the Epic Universe version of Super Nintendo World, but not Universal Studios Hollywood, but that's not big loss.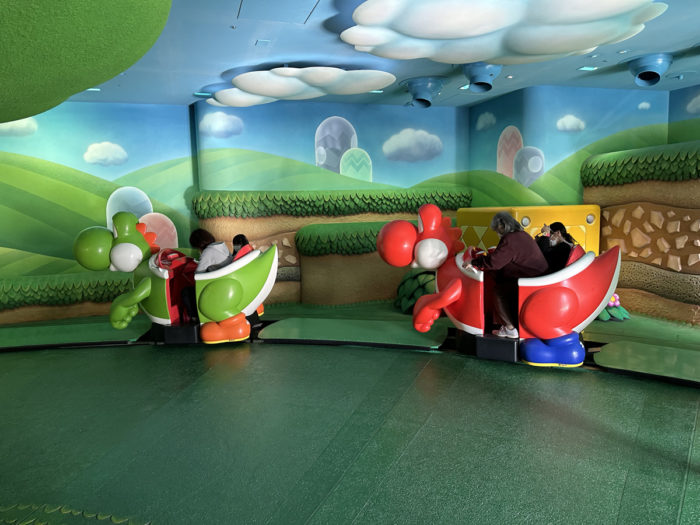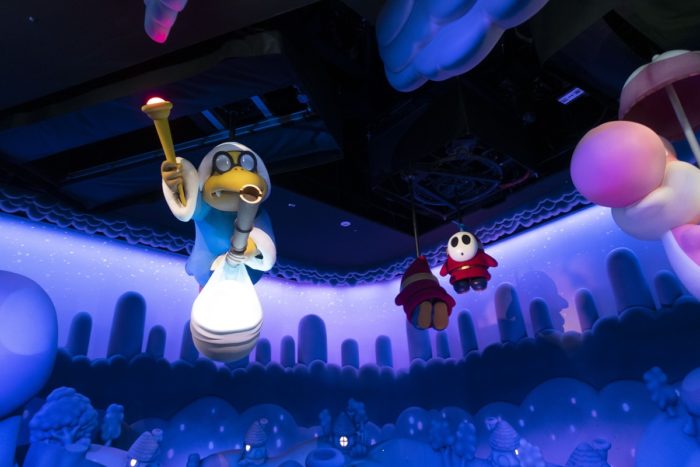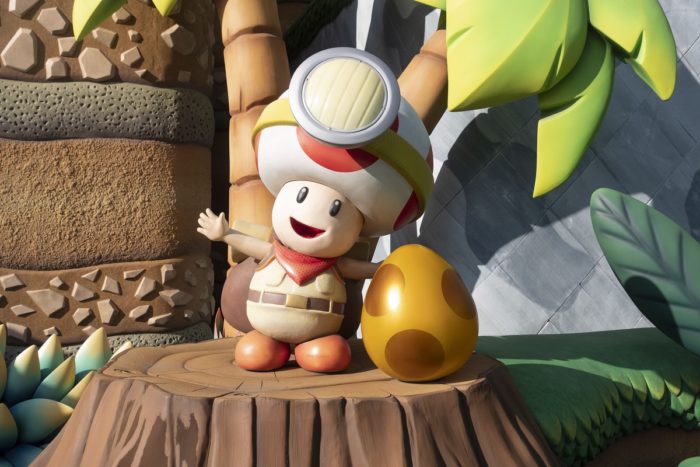 Power-Up Bands
Universal did what Disney couldn't do in Star Wars Galaxy's Edge: they crafted a fun, easy to understand, and perfectly integrated game into their new land. Unlike the Star Wars Datapad with its cumbersome user interface, and boring cellphone app-style games, the Super Nintendo World's Power-Up Bands are actually fun to use. One game had me turning a crank until a Goomba fell off a roller, another had me matching symbols on a giant slot machine. There's even a game where four players work together to turn off alarm clocks before they awake a giant sleeping Piranha Plant. Each game rewards players with a key, and after getting three keys they're permitted to enter Bowser Jr. Shadow Showdown. You may have not of heard of this until now, but I believe this will become the sleeper hit of Super Nintendo World. Anyone who has earned three keys can enter Bowser Jr's lair, which culminates in a huge multiplayer interactive game where players shoot fireballs, dodge enemies, defeat Bowser Jr, and then jump on a flagpole. There are even more games that I didn't mention here, but they're all a blast and are a must do. The downside is that they are locked behind a paywall, that being the $40 Power-Up Band, which is required if you want to play the games or experience Bowser Jr. Shadow Showdown.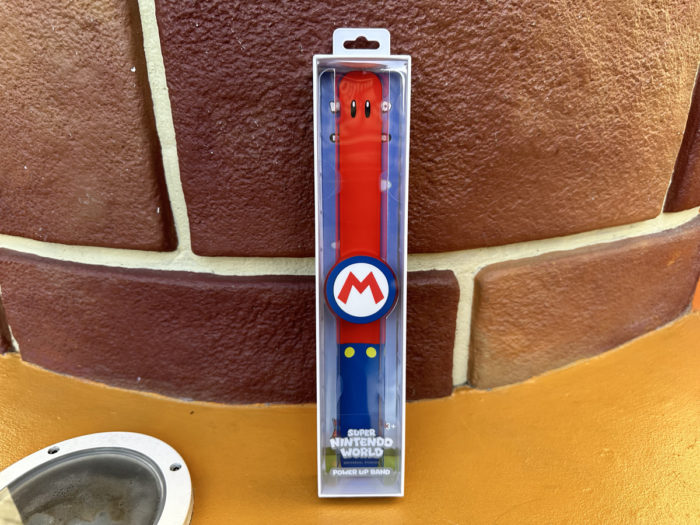 The Power-Up Band is also used to interact with object in Super Nintendo World. It would not be Mario with out the famous question mark box found in almost every Mario game. Many of these boxes can be found throughout Super Nintendo World, and each one can be hit, just like Mario does. A coin sound effect will play, and the coins you earn from these boxes are saved to your Power-Up Band. Another fun thing to discover around the land is hidden stamps, which also are saved on the band.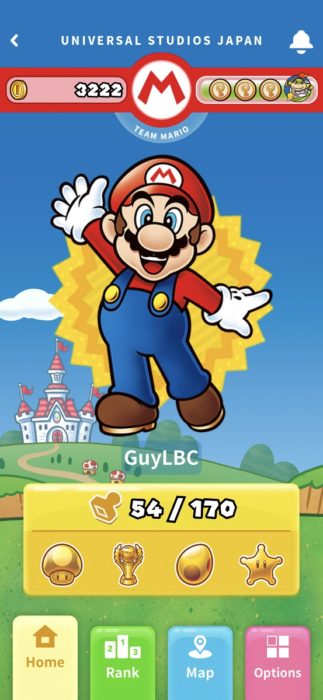 All coins, keys, and stamps you earn are saved to your Power-Up Band which is linked to the Universal Studios app. The app has a special Super Nintendo World section with fun artwork made by Nintendo themselves. The best part is that all your progress is saved between visits, so you can pick right back up where you left off the next time you visit Super Nintendo World. None of the games are particularly challenging, but they're a blast to play.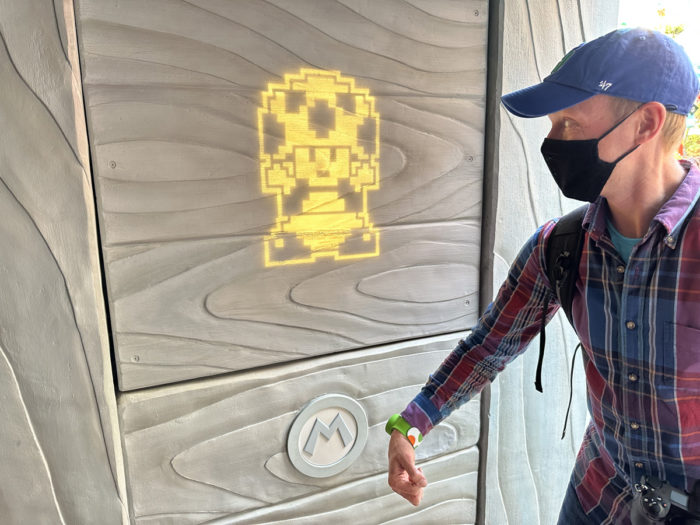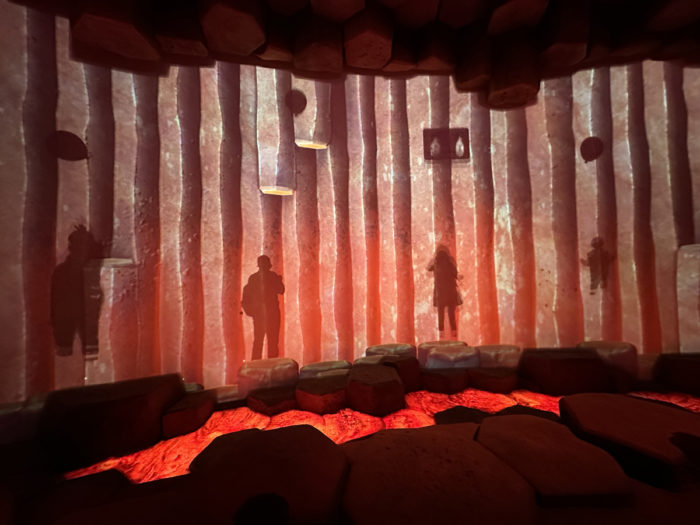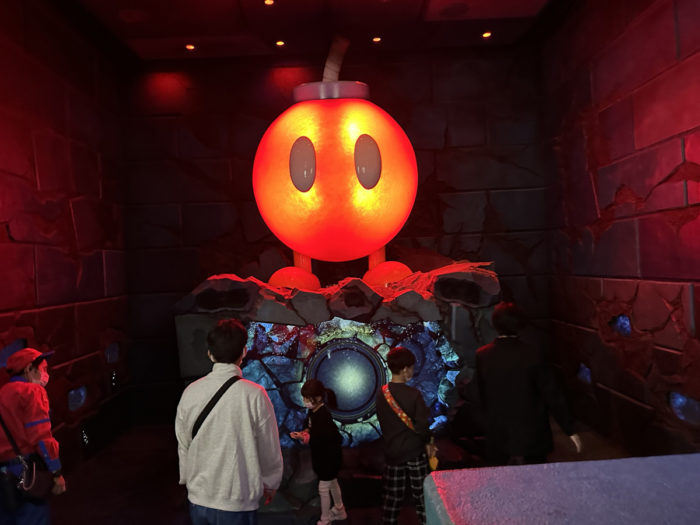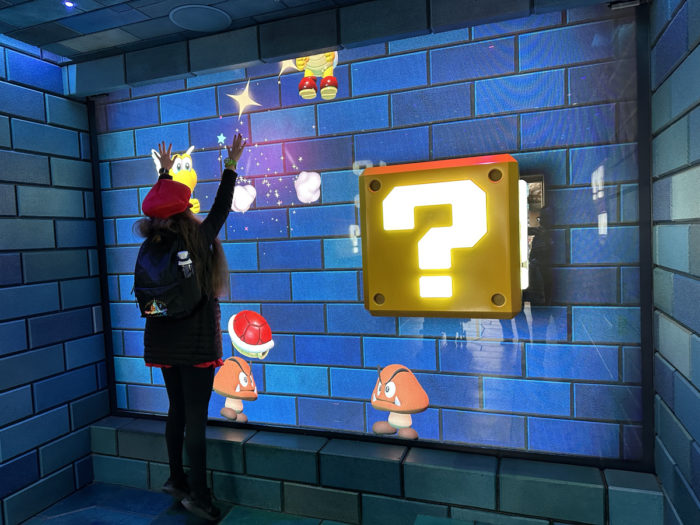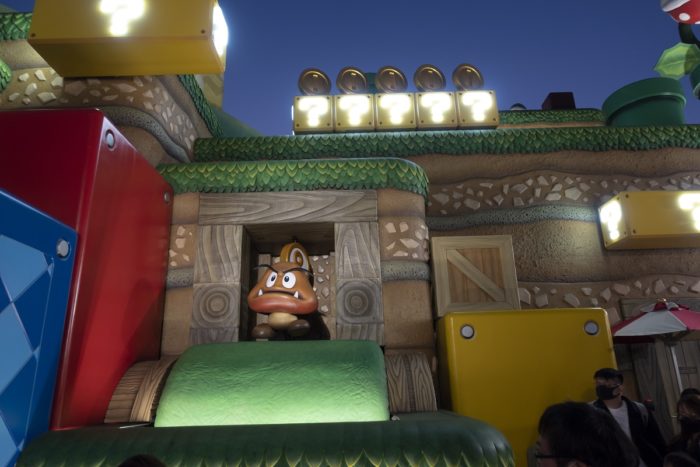 Here are a couple of my tweets containing videos of me playing some of the Power-Up Band games:
Another one, you have to time hitting the slot machine reels so they all match up. pic.twitter.com/Xbra9Izo6K

— Guy Selga (@guyselga) November 15, 2022
Super Nintendo World Photo Ops
It wouldn't be a proper theme park land without photo ops, and I'm happy to report that Super Nintendo World has some great ones. Mario & Luigi, and Peach are all interactive photo ops, meaning they will "talk" to you when meet them. It's similar to the talking Mickey Mouse photo op Magic Kingdom used to have. It's really well done and the characters themselves look fantastic. My only complaint is Universal Studios Japan's character meet and greet photography rules. You aren't allowed to use your own camera, and they only take one photo per a group, meaning no solo photos if you are with multiple people. I can't imagine that they'll keep these same rules in the US parks, but who knows.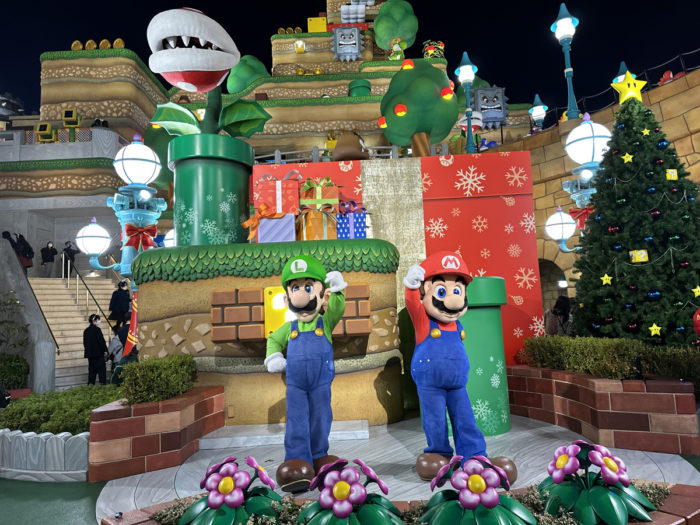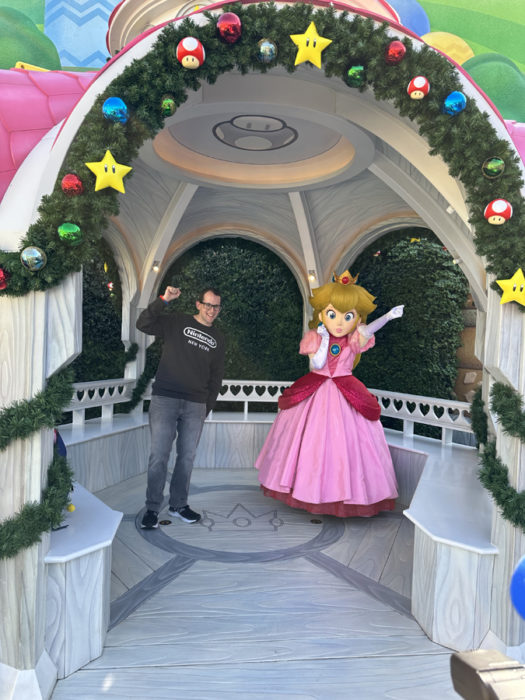 Super Nintendo World Dining
I won't spend a lot of time talking about the food since I'm certain the menu options, ingredients, and flavors will change when the stateside parks open their Super Nintendo Worlds but I will say that the land's main restaurant, Toadstool Cafe (Known as Kinopio's Cafe in Universal Studios Japan) is very cute and fun to dine in. The restaurant features windows (which are actually screens) that look out into the Mushroom Kingdom. You'll see various antics from the land's inhabitants as well as the kitchen staff (aka Toad characters from the Super Mario games) frantically preparing food for their guests. The look and décor fits right in with the rest of the land, and the food is good as well. Every item is well themed and crafted to be a hit on the various social media platforms. I tried the Super Mushroom Pizza Bowl, which looked like one of Super Mario Bros. famous mushrooms. Inside the mushroom is a deconstructed pizza which tasted great. I also got the ? Block Tiramisu which was delicious and super cute. I heard this item is headed to the American parks, which is a good sign that they plan to keep the same quality and theme with the food items that will be offered. My group, which included my friends Tom and Sarah from Disney Tourist Blog, got Princess Peach's Cake to share. This made a splash on social media when the land opened because it looks exactly like the cake from Super Mario 64 (one of the most beloved video games of all time) and its high $25 price tag. It's a very good cake, but it's too pricy to be worth it. We all agreed that the food was good, but too pricy for the small portion sizes. Overall nothing on the menu blew us away.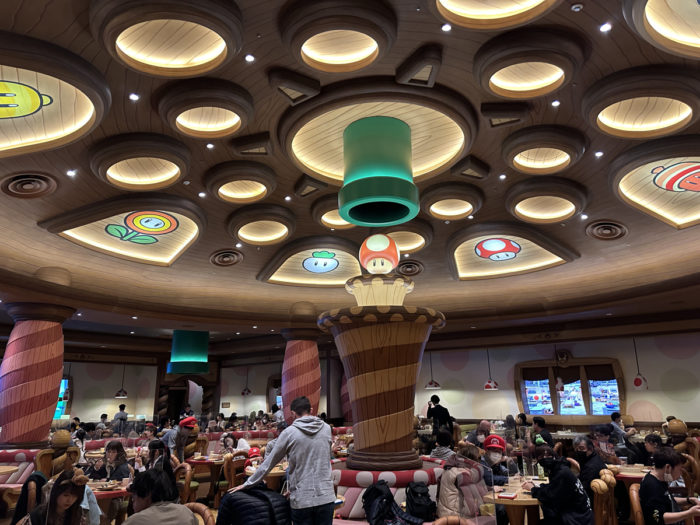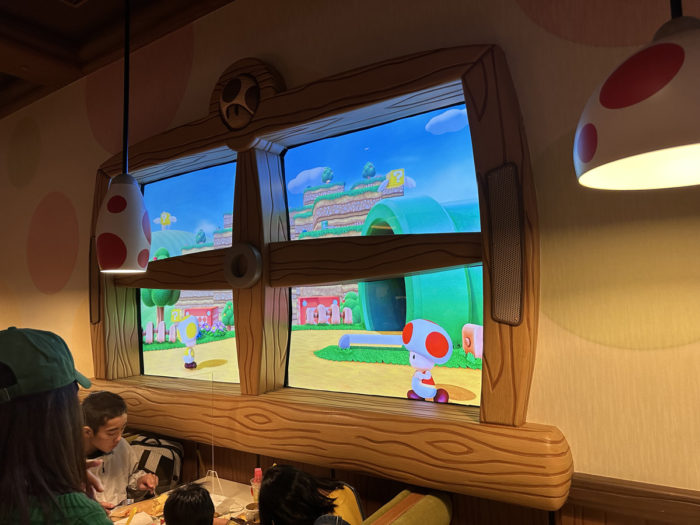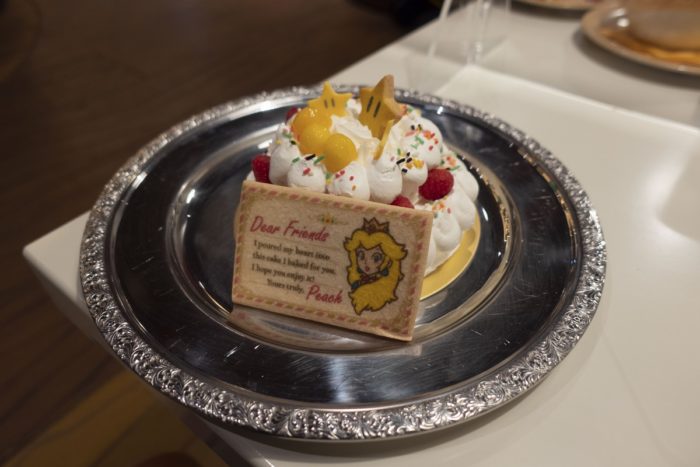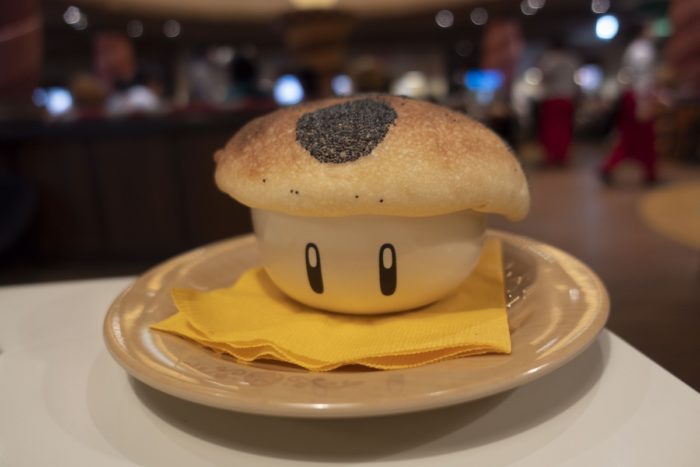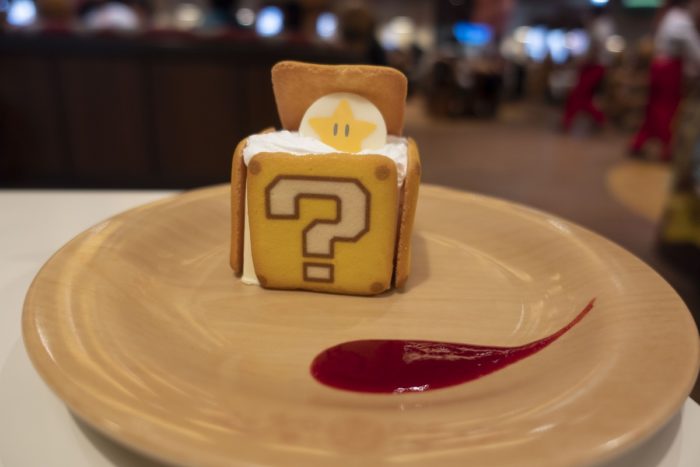 Yoshi's Snack Island is a counter service window that sells snacks that are shaped like Koopa Troopa shells. I'm a sucker for themed food and these did not disappoint in the looks department. As for the insides, there is zero chance the flavors offered in Japan will make it to the US, with one being yakisoba and the other being pasta flavored with sweet banana ketchup. Tom, Sarah, and I found the spaghetti flavor to be revolting, but I really enjoyed the yakisoba.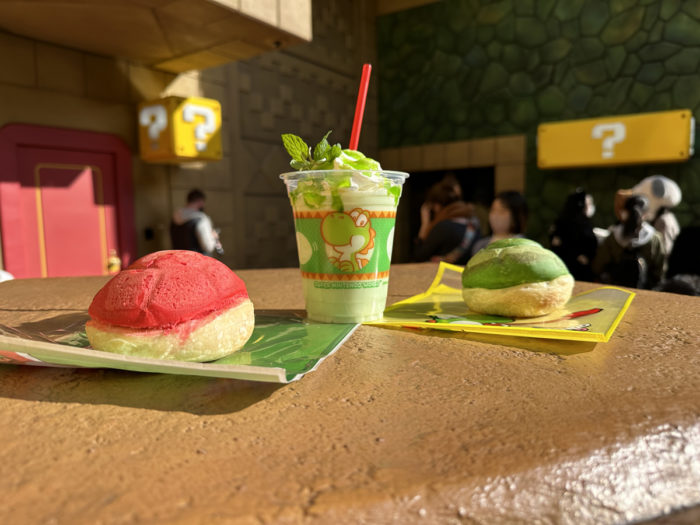 Super Nintendo World Shopping
A plethora of Nintendo merchandise is available in Super Nintendo World's two stores: Mario Motors (Mario Kart: Bowser's Challenge's exit gift shop) and 1UP Factory. The land's merchandise is high in quality and unique to the land, for the most part. Most of the items reflect the cultural preferences of Japan, for example there's gift tins full of snacks as well as tons of character charms. The typical shirts and toys are also available, but many items do not have markings or artwork that show they are exclusive to the land. I could only find a couple of shirts that specifically said, "Super Nintendo World." The only items I ended up purchasing where of my favorite Super Mario character, Shy Guy.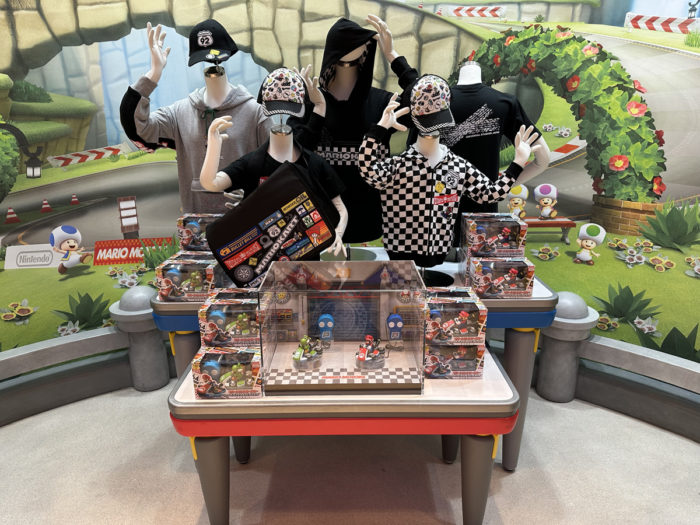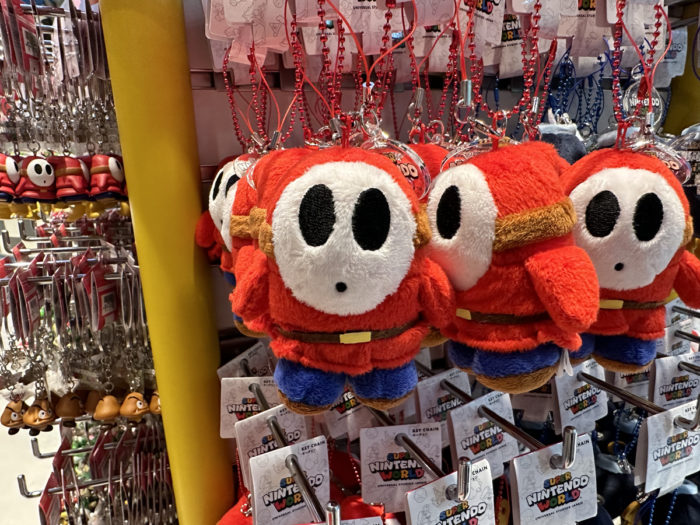 Final Thoughts
Super Nintendo World is going to be a gigantic hit for Universal. They were able to take beloved characters and iconography and perfectly implement them in a theme park environment. Mario Kart: Bowser's Challenge is a ride that takes the game-but-also-a-ride aspect popularized by Buzz Lightyear Astro Blasters, Men in Black: Alien Attack, and Toy Story Midway Mania and gives it a fresh new twist with exciting new technology. The Power-Up Band's interactive games are genuinely fun and the land itself is a joy to be in.
Super Nintendo World at Universal Studios Hollywood is opening mere weeks away as of the time this article is being published and I can't wait to have a theme park land of this quality so close to home. Universal Studios Hollywood has seen a huge transformation since The Wizarding World of Harry Potter opened in 2016 and Super Nintendo World further solidifies its status as well-rounded world-class theme park.
Our world-class travel agents are ready and waiting to help you plan your perfect trip to Southern California to visit Universal Studios Hollywood and Disneyland in 2023 and beyond. Click here to get a quote.