Dining on a Budget at Universal Studios Florida
In the not-so-distant past, one of the worst food courts ever concocted by civilization occurred at Universal Studios Florida. This food court served Asian, Italian, and America food under the odd name of International Food and Film Festival. In those days, this food service place was one of many below-average theme park food options that were part of the Universal's Meal Deal, which got you unlimited trips back for this low-quality level of food.
As if we have gone back to the future, we no longer have an all-you-care-to-eat option at Universal Orlando. Good news is that food court has been replaced with Fast Food Boulevard. Many other food options at Universal Orlando are also exponentially better than previous versions. More good news is that many of these options will not damage your bank account as much as you think. We may not be able to pay for bad theme park food on an all-you-can-eat plan anymore, but there are several great options to help your budget while at Universal Studios Florida.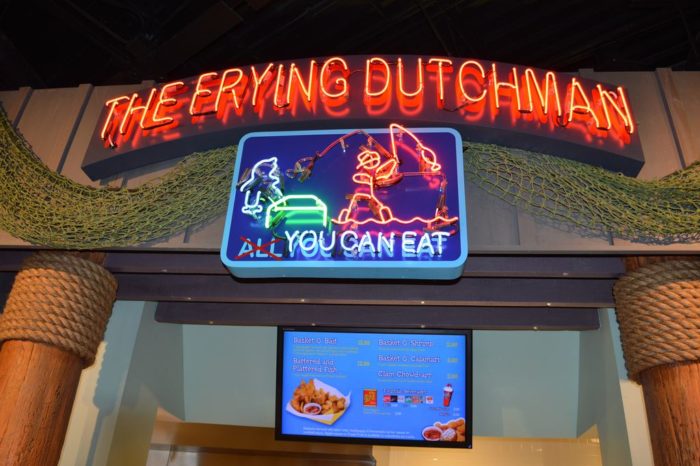 Some Universal Orlando visitors are not concerned about amount of money spent of food. However, I am not one of those visitors. I enjoy pinching every penny to maximize my theme park experience. Let me remind you of some basic food budget principles from previous articles about Universal Orlando:
You can bring in reasonable food/beverages with you
Consider a quick-service dining plan
You can split meals and adults can order kid's meals
Consider recharging a Freestyle cup and use popcorn bucket refills
Since you need to eat while enjoying your day at Universal Studios Florida, you may want to plan for when you get hungry. If looking for best value in terms of a snacks, then there are three main suggestions. One is to get a side of Scotch Eggs at Leaky Cauldron. You can just order a small side of Scotch Eggs for under $5. These are a good value but this food location does get busy, so you may want to examine another option. If so, you could venture over to Springfield area to Lard Lad's Donuts to get a donut sundae or the legendary "The Big Pink" doughnut which can feed two adults or one hungry teenager for under $8. If these snacks are not to your preference, then you could always go to Auntie Anne's to get those tasty pretzel nuggets for $7.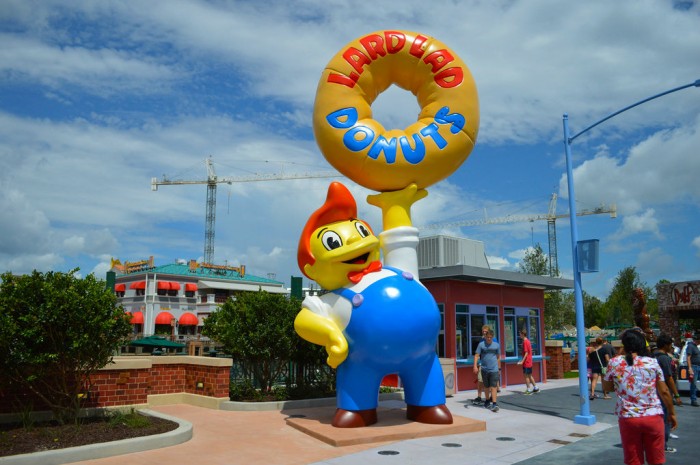 Now if you need something more substantial but do not want to break your budget, then there are still sensible options. If you are looking for standard theme park food on a lower budget, try a burger at Richter's Burger or Mel's Drive-In. These will not be the best burgers you have ever had but if the "fixin" bars (paused for COVID safety reasons) have returned then you can fill those burgers up with actual vegetables to increase your value.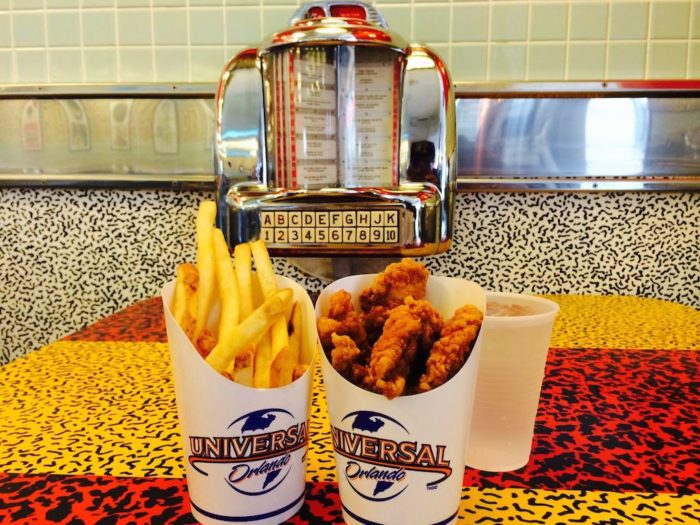 You could also simply get chicken tenders with fries from Fast Food Boulevard or Mel's. Some guests say the best in-park hot dog is the "Heat Lamp Hotdog" at Fast Food Boulevard, so consider that if looking for standard fare for picky eaters. If you do consider these options, please beware of combo meal up sell by team members. You can purchase the basic entrée with a side without adding a dessert to save a bit of money if you're not interested in the dessert.
If you want non-traditional theme park cuisine on a tighter budget, then I have three suggestions. First, you should consider the London Taxi Hut for a jacket potato. These are baked potatoes with various toppings such as broccoli and cheese, Shepherd's Pie, and beans/cheese for a filling meal for under $10. Second, you could go to Bumblebee Man's Taco Truck for their tacos. The taco varieties are chicken, carne asada, and Korean beef. These will come with tortilla chips for $11. These tacos get positive reviews from most guests. The one negative is the lack of dip to go with tortilla chips. You could bring your own cheese dip and/or salsa to go with those chips, which I have done before.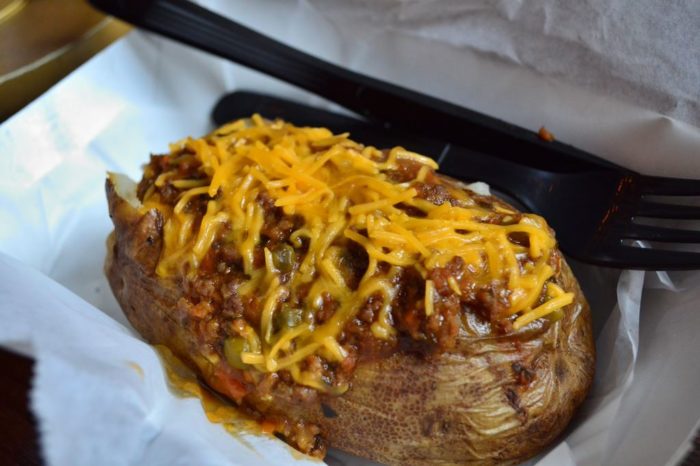 The third suggestion is to visit Central Park Crepes. This fairly recent addition to the park creates made-to-order crepes. Currently, the choices are smoked brisket, plant based chick'n, cookies & crème, lemon blueberry, and strawberry hazelnut. There is also a seasonal crepe offered. Currently, the seasonal crepe is raspberry and passion fruit cream. All of these are under $10. These are surprisingly filling but this location can be quite busy at certain times of day due its popularity.
While eating at Universal Studios Florida isn't dollar-menu cheap, there's still plenty of good options for tasty food on a budget. Enjoy you time and if you have other suggestions, feel free to message me @pastorjonself.