Universal Dining: The Cowfish in Universal CityWalk
The Cowfish was the final piece of Universal CityWalk's year long renovation that brought eight new dining venues to the resort. Cowfish joins Red Oven Pizza Bakery, Antojitos, Hot Dog Hall of Fame, Bread Box, Vivo Italian Kitchen, Cold Stone Creamery, and Menchie's Frozen Yogurt as the new kids on the block, joining longtime CityWalk restaurants such as Jimmy Buffett's Margaritaville and the Hard Rock Cafe. Cowfish is located in the former home of Starbucks, who moved downstairs to the main strip of CityWalk, next to Cold Stone Creamery.
While Cowfish arrived last, it was possibly the most anticipated of CityWalk's new locations from the minute they were all announced back in 2013. A one-of-kind dining concept that melds pan-Asian cuisine with the good ol' American burger, Cowfish was bringing something completely unique to the table. While many were expecting a mouth watering and innovative menu, what no one saw coming was the amount of humor and interactivity that debuted with Cowfish, including its photo-op outside the restaurant that allows guests to saddle up and ride a cowfish.
After several weeks of a soft open, Cowfish had it's official grand opening on December 10, 2014. We were able to visit the venue several times during softs, as well as being invited to the media preview on the grand opening night. It can definitely be said that there is no other restaurant like Cowfish on Universal property, or Disney for that matter. I was personally nervous about the fusion of a burger joint and a sushi place at first, because it just seemed too out there. My mind was put at ease even before ordering my first meal though because of the self-referential humor throughout the restaurant (including the bathroom signs.) I absolutely love the fact that Cowfish will take your cell phone number when you check in, allowing them to text you when your table is ready. This is one of those ideas that makes you wonder why it's not everywhere.
Another great thing Cowfish has going for it – especially if you dine with young children in your party – are the distractions throughout the restaurant. These include touch screen games and a make-your-own-fish app, which you can then watch swim in a virtual aquarium. While Vivo goes for the understated look in its decor, Cowfish takes it up to 11 with original art and larger-than-life displays (including one featuring Universal icon King Kong.)
Aside from table seating (both indoors and outdoors), there are multiple bars at Cowfish.
Alright, let's look at some of the food. One thing to note is the serving size of just about everything is extremely generous. Even the appetizers can be enough to share, so bring your appetite.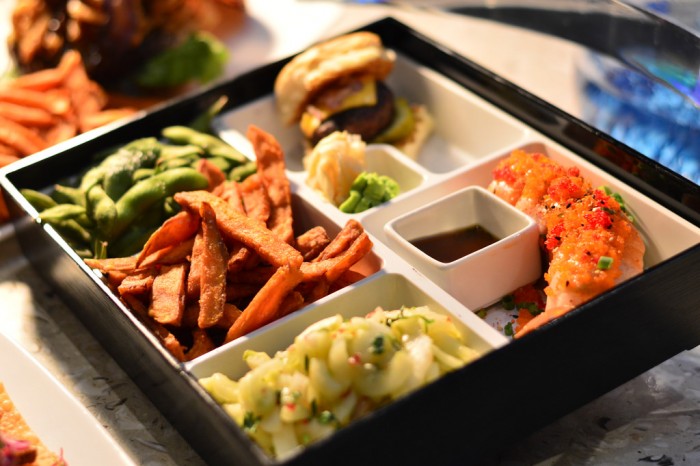 THE DRINKS. Besides having one of the best food menus of any place on property, the drink menu at Cowfish is worth going out of your way to check out, with a huge variety of unique cocktails and imported beers. First up is a drink which made our 25 Drinks of Christmas List, the Buffalos and Bacon cocktail.
Who knows how you are going to have room for them, but the dessert menu at Cowfish is absolutely fantastic. (I know, you're shocked.)
However, the true highlight of Cowfish may be their hand-spun milkshakes and their spiked shakes. Our favorites? The Marshmallow Crisp (pictured below), the P "Double B" & J (peanut butter, banana, and jelly with vanilla ice cream), and the King Lives spiked shake (Cruzan rum, 99 Bananas liqueur, vanilla ice cream, banana, and peanut butter cups.)
OVERALL THOUGHTS: The Cowfish has quickly become one of my favorite dining venues in Orlando. The menu is creative, the flavors are fantastic, and the drinks are worth going out of your way to try. I love the overall atmosphere, and the only improvement that needs to be made is how long a dinner service can take. While every server and bartender I have interacted with at Cowfish has been tremendous, the time that it takes for a meal to come out can be inexplicably long. Time is our most valuable commodity in a theme park resort, and while I don't want to feel rushed during a meal, I also don't want to repeatedly wonder if the kitchen forgot to make our food. The Cowfish is still new, though, and hopefully these are just kinks in the process that need to be worked out.
The Cowfish is one of the rare restaurants where, after every meal, there are four or five things that I'm dying to try on my next visit. At most theme park restaurants I go to there are one or two things I know I like and I stick to them, but Cowfish makes me want to explore the menu. If you're not hitting up Cowfish after a day of touring the parks, you're doing it wrong.
Other Universal Dining Articles:
Emeril's Tchoup Chop at the Royal Pacific Resort
Jake's American Bar at the Royal Pacific Resort
Character Breakfast at Jake's American Bar 
Backwater Bar at Islands of Adventure
Antojitos Authentic Mexican Food at CityWalk
Jimmy Buffett's Margaritaville at CityWalk
Special thanks to Brandon Glover, Trygve Nelsen, and Megan Stump for their invaluable assistance with this article. To see more of Brandon's photos, check out his Flickr page. For more of Trygve, be sure to check out his amazing Around the Universe photo reports at OrlandoUnited.com. As for Meg, when she's not educating the future of this country, she can be seen entertaining us all via The Twitter Machine (where you can also find Your Humble Author).