Best Waterfront Dining at Universal Orlando
The weather is starting to get fall-like in Florida, and that means there's great opportunities to dine outside. Waterfront dining isn't as plentiful at Universal Orlando as it is at Walt Disney World, but there's still plenty of amazing options. Here's my picks for the best.
Lone Palm Bar – Jimmy Buffett's Margaritaville Cafe 
There is no better place to get into the vacation state of mind at Universal Orlando than Jimmy Buffett's Magaritaville Cafe. The cafe itself does not have any waterfront seating, but its stand-alone outdoor bar does. Sit under the shade of the Lone Palm Bar's thatched roof or next to the impressive Hemisphere Dancer airplane, Jimmy's actual aircraft. The sandy beach hugs the edge of City Walk's lagoon and canal. Watch the water taxis journey back and forth as you nibble on your Cheeseburger in Paradise and sip on your margarita. This spot is spectacular at sunset.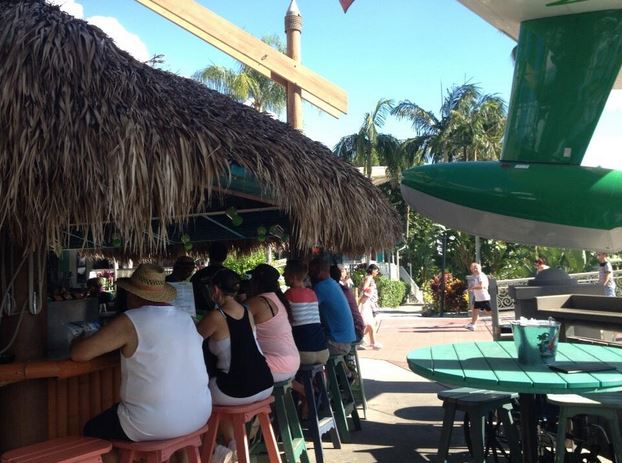 Captain America Diner – Universal's Islands of Adventure
He's the star-spangled man, and he's got his own counter service diner at Islands of Adventure. The food is basic American fare, nothing to make a special mission for, but the outdoor seating at the very back presents a panoramic view of the lagoon, enabling you to see nearly every island in Islands of Adventure. At least grab a shake here or some other snack to have an excuse to soak up that view.
Green Eggs and Ham – Universal's Islands of Adventure
First of all, if this place is even open during your visit then consider yourself among the rare and the few. This Seussian quick stop is seasonally open, in other words, almost never. Even if it isn't open, grab a snack from one of the many nearby stands throughout Seuss Landing and then steal a seat at the seating area of Green Eggs and Ham. Not only are there nice views of the park's lagoon, but you can enjoy the sights and sounds of Sneetch Beach.
Duff Gardens – Universal Studios Florida 
Any fan of The Simpsons has longed to try Duff beer and a Krusty burger and the Springfield USA area of Universal Studios is the place to make it happen. Duff Gardens is an outdoor bar that faces Universal Studios Lagoon. There aren't many food options here, but it is easy to grab some grub from Fast Food Blvd and then enjoy it at a lakeside table at Duff Gardens.
Chez Alcatrez – Universal Studios Florida
This octogonal outdoor bar is somewhat tucked away and a hidden gem. Residing near the park's lagoon and next door neighbor to Bruce the Shark's photo op, this is a great spot for a frosty drink. There are some tasty appetizers and flatbreads to nibble on too.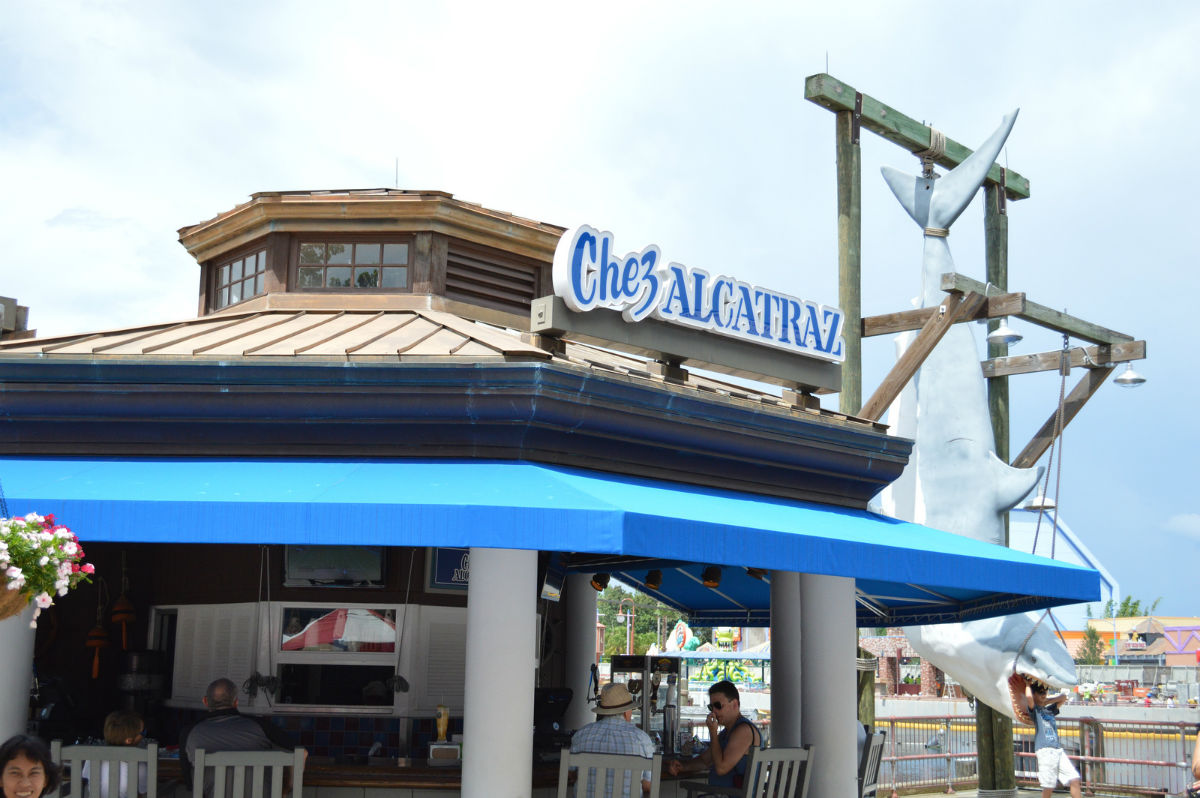 Lombardi's Seafood Grille – Universal Studios Florida
The wharf setting of this full-service restaurant has been delighting guests since the park originally opened. It is a treat to be able to dine in one of the park's original establishments, whether dining inside or outside. The outdoor seating fits the area's wharf theme perfectly and makes for a relaxing spot during a day of fun and thrills in the park.
The Thirsty Fish – Loews Portofino Bay Hotel
It's hard to beat the romantic setting of Loews Portofino Bay Hotel, especially when dining at The Thirsty Fish. This harborside bar has an extensive Italian wine list and handcrafted cocktails paired with pizzas and sandwiches. 
Strong Water Tavern – Loews Sapphire Falls Resort
Bask in the sun and sip on some incredible rum or nosh on delicious Caribbean cuisine at Strong Water Tavern. The interior of this tavern is inviting, but the outdoor balcony seating affords views of Islands of Adventure and City Walk. Soak up those vacation vibes as these water taxis pull into the resort's lagoon.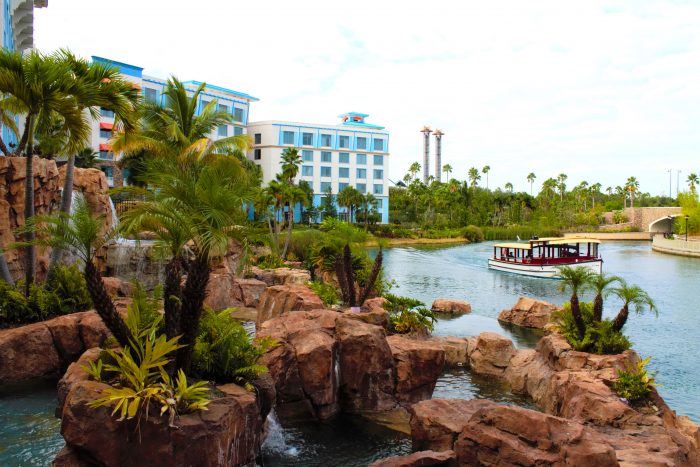 Have you dined at these locations? Do you have a favorite? Let us know in the comments.