Universal's Best Secret – Hotel Complimentary Express Pass
Universal's Express Pass is a popular splurge purchase for theme park fans who despise lines. But we are here to tell you there's a better way: stay on-site at a Universal Premier hotel. In this article, I will explain Express Pass, its variants, and show you how to price out a hotel with Express versus buying Express separately. (Last updated/republished April 10, 2023)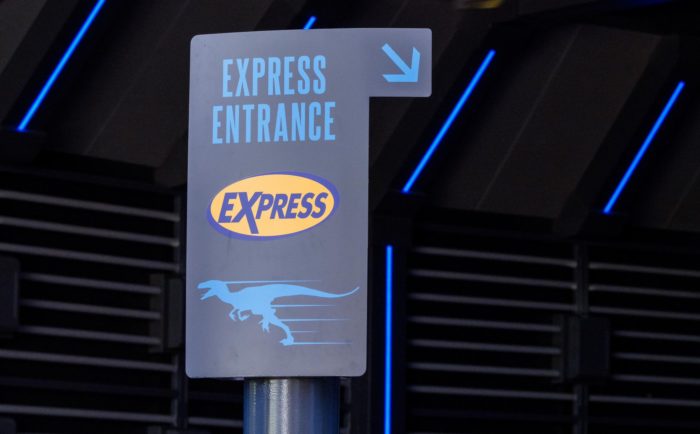 What is an Express Pass?
Express Pass is Universal's skip-the-line offering for attractions and shows. Universal promises Express Pass will cut wait times in half – a 90-minute wait for Jurassic World VelociCoaster will be 45 minutes or less.
There are two Express Pass versions: a standard Express Pass, which is valid only once per attraction, and an Express Unlimited Pass, which offers unlimited access for each attraction. Passes come in one theme park or both theme park options. Express is valid only for one day and for one person – each party member must have an Express Pass. Vaid theme park admission is still necessary for entry.
Unlike Disney's Genie+ no reservations or return times are required.
How Much Does Unlimited Express Pass Cost?
Express Pass starts at $89.99 per person plus tax for a base one-park Express Pass and $99.99 per person for a one-park Express Unlimited Pass. During holidays and weekends, these prices can inflate to astronomical amounts – during Christmas week the one-park Express Pass swells to an eye-watering $379.99 per person!
Vacation Hack – Stay at a Premier Hotel Instead
Universal's Premier hotels (Loews Portofino Bay, Loews Royal Pacific, and Hard Rock Hotel) offer complimentary Express Unlimited Pass included in the price of the room. You heard that right–this isn't just any Express, it's the highest tier, two-park, unlimited Express that costs $99.99 to $379.99 per person per day. The complimentary Express Passes are valid for each person in the room for every day of the stay, including check-in and check-out days.
Doing the Math
Let's take a look at this example a long weekend trip from September 8 – 10, 2023. We are assuming you will spend three days, and two nights at the parks for four guests. Checking Universal's booking site the least expensive Premier hotel that weekend is Loews Royal Pacific at $981 including taxes and fees for three days, and two nights.

Compare this to the price of an Express Pass on its own. Using Universal's ticket site I found the prices for the same two-park Unlimited Express Passes.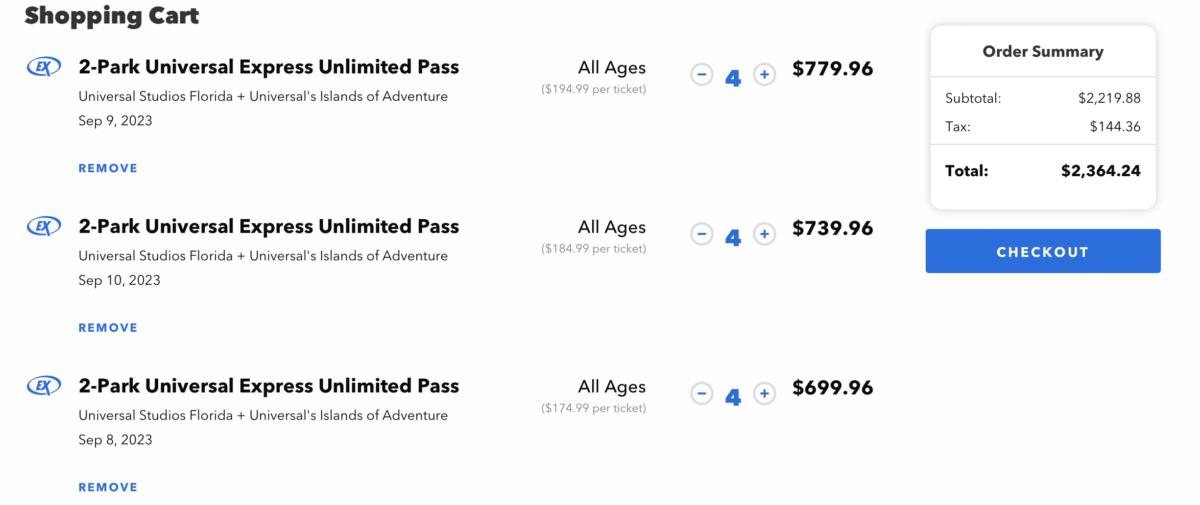 Booking a resort saves you over $1400 for the exact same tickets, and that's not including the price of a hotel!
"But Joe," you interject, "I only want Express for one day. And I can get by with one park per day and do not need unlimited access." Ok let's price that out.

Even the lowest cost Express Pass would cost $766 for four people on September 9. For $200 more you get two nights at Royal Pacific, Express Passes for two more days, and unlimited usage. It's that good of a deal.
If you are visiting the parks on check-in and check-out day it is cheaper to book a room at a Premier resort rather than purchase Express separately, even if you are not paying for accommodations while in Orlando. There are exceptions to this: if you are taking days off not to go to the parks, not visiting the parks on the check-in and check-out dates, or if you do not want Express.
If you have an Annual Pass or are a Florida resident the savings could be even greater. Annual Passholders and Florida Residents can save up to 30% off rack rates, although inventory is limited.
Do I REALLY Need an Express Pass?
No.
Express is a nice luxury and creates a more relaxed, stress-free vacation. Express does not make or break a vacation. Showing up thirty minutes to an hour before the park opening, with a Touring Plan in hand, will also let you experience the parks at a fraction of the cost.
(Originally published December 19, 2020)