Using Data to Choose the Best WDW Resort for You – Part Three
Do you choose your resort based on proximity to your favorite parks? Or the comfort level of the bed that you collapse into after a long day walking thousands of steps? Would you hate to get stuck at a resort where you wander aimlessly in the dark trying to find your room after you watch the fireworks? Good news! We have the data to match you with the right resort. Or at least tell you which resorts to definitely avoid. We've already answered a lot of personalized resort-choosing questions in Part One and Part Two of this series. Today we wrap things up by looking at satisfaction with wayfinding, beds and pillows, recreation opportunities, and transportation to the parks.
Explain the Math
In addition to rating satisfaction with their resort overall, TouringPlans users rate their stay on a variety of factors. Today we're looking at four of those factors. And for each one we can calculate a factor average. That gives us a way to compare results across multiple resorts. If Resort A has a higher average than Resort B, it probably performs better in general. But we can also calculate the standard deviation, a measure of variance. If the standard deviation of Resort A is high, people had really different experiences depending on when or where they stayed. If the standard deviation of Resort B is low, people had very similar experiences, no matter the circumstances.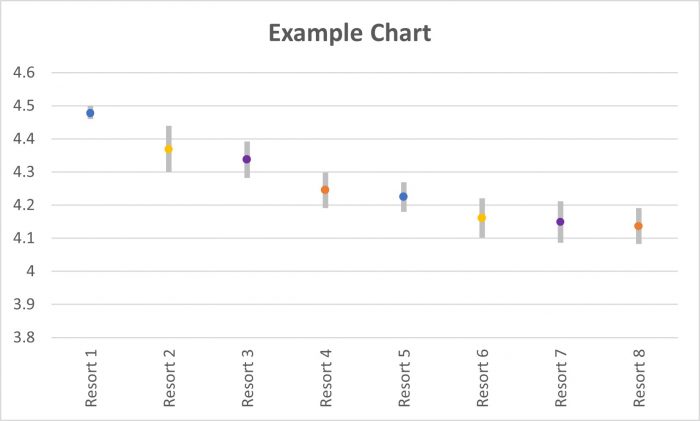 Which Resort is Easiest to Navigate?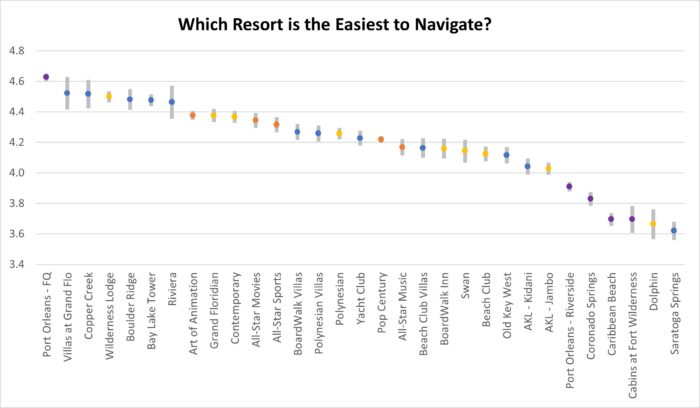 Where are the Best Beds?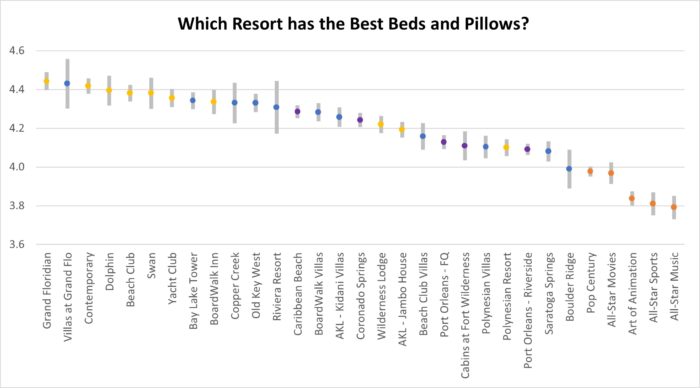 Which Resort has the Best Recreation?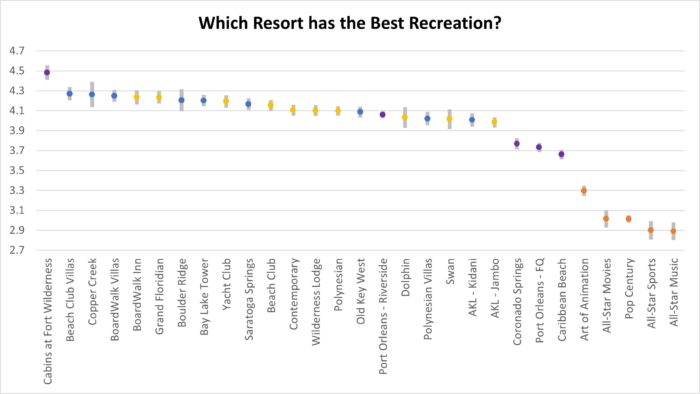 Which Park has the Best Transportation to the Parks?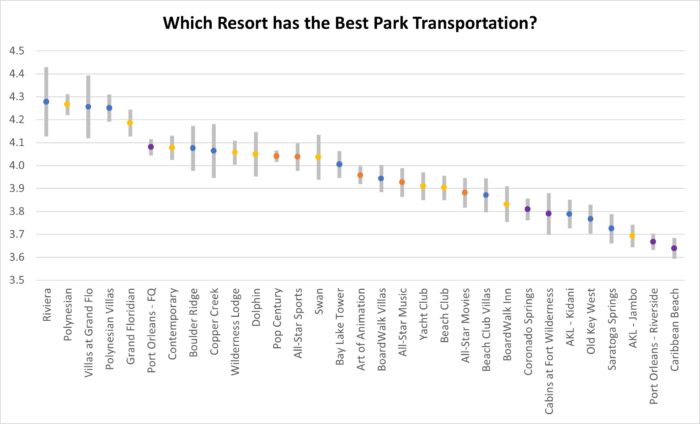 What Does This Mean For You?
If you tend to get lost, Port Orleans – French Quarter might be the spot for you. Just definitely don't get lost in the labyrinth of Caribbean Beach, Saratoga Springs, Dolphin, or the Cabins at Fort Wilderness.
Big comfortable beds important to you? Stay away from the Value resorts! Your best be are probably the Deluxe resorts.
Want recreational activities at your resort? Fort Wilderness is a great place to stay. The Value resorts will have fewer ways to spend your time than anywhere else.
If the resort is just an easy way for you to get to the parks, a monorail resort will meet those needs. A Skyliner resort won't necessarily yield the same results.
Have you ever gotten lost when trying to find your room at a resort? Or have a transportation horror story? Do you have other ways you'd like to analyze how resorts differ? Let us know in the comments!