SATURDAY SIX Explores Universal's EPIC UNIVERSE – Part One: How Does the New Park Measure Up?
This week's SATURDAY SIX takes a look at how Universal's EPIC UNIVERSE measures up! The next couple of years are going to be very exciting for theme park fans as we get to see the construction of an entirely new theme park from the ground up. Sure, a good amount of theme parks have been built in our lifetime, but Universal's Epic Universe will be the first one made in the modern era with cell phone cameras, relatively easy access to helicopters for aerial photos, and widespread internet use. This will be the first of several articles focusing on Epic Universe that you will see in this fine blog series over the next few years until the park finally opens (which could actually still be before Guardians of the Galaxy: Cosmic Rewind or the Space 220 restaurant open in EPCOT).
To start everything off, we wanted to make sure everyone knew the full scale of Epic Universe. We contacted master cartographer Tommy Hawkins to give us an easy-to-understand way of not only seeing the big picture of Epic Universe, but also to be able to compare it to other theme parks that most of us have been in many times. But first we need to answer an important question…
# 6 – What Exactly Does Universal Own?
Under the ownership of Comcast, the the Universal empire has grown substantially since the opening of the Wizarding World of Harry Potter – Hogsmeade Village. Volcano Bay, a total overhaul of CityWalk, and the addition of five hotels have turned Universal Orlando from pesky competition into a a true threat of getting the coveted "first bite of the apple" from guests who used to be Disney Only.
Before Comcast, previous owners of the Universal parks made some incredibly short-sited business moves and sold off a lot of valuable real estate in Orlando. Some of that land they will never get back, including land currently being used for houses and apartments that are so close to the current parks you can just about touch it. However, over the last decade Comcast has been in the process of buying back some of the land the previous owners sold along with acquiring other parcels. This is the land which will be used for Epic Universe. Below is a breakdown of how much land Universal owns in this part of Orlando along with a educated guess on exactly, rumors, and innuendo on how much of it is earmarked for various purposes, including our beloved theme park attractions.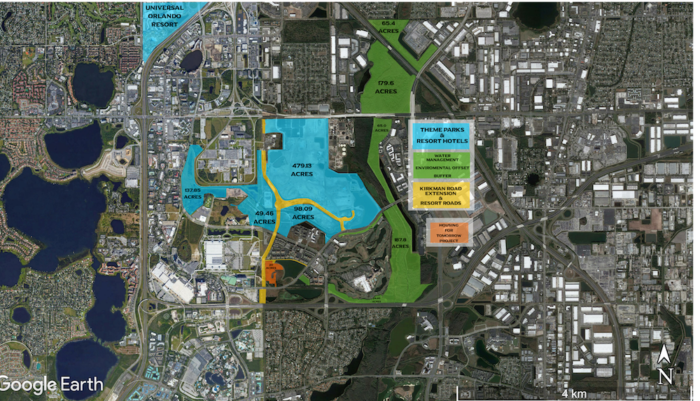 # 5 – Walt Disney World
For comparison's sake, let's take a look at the size of Walt Disney World's four theme parks along with a more closeup view of some of our favorite lands including Pandora: The World of Avatar, Toy Story Land, and Star Wars: Galaxy's Edge.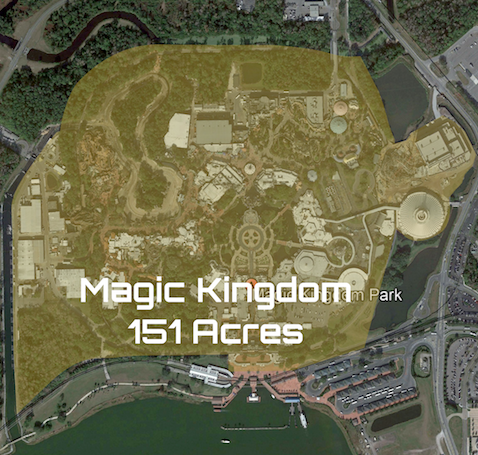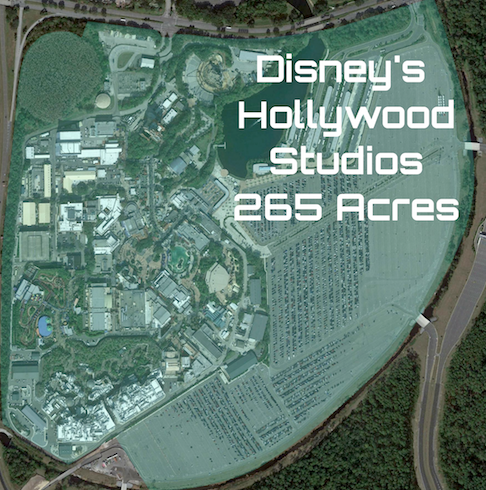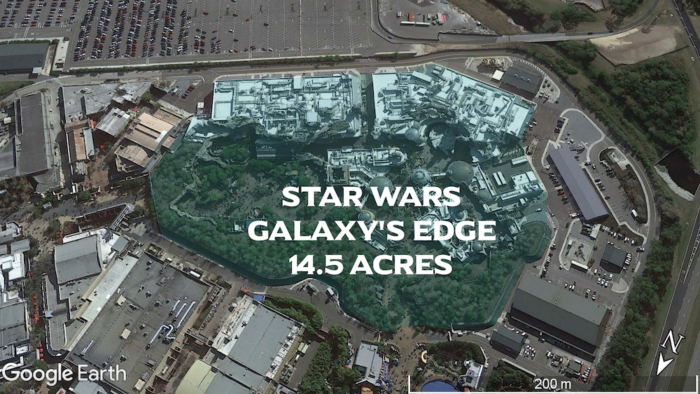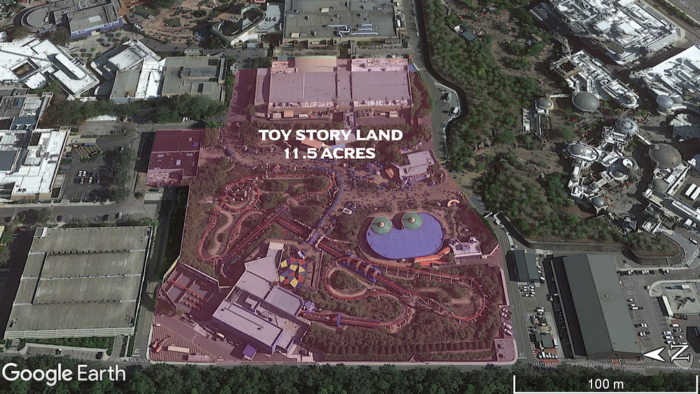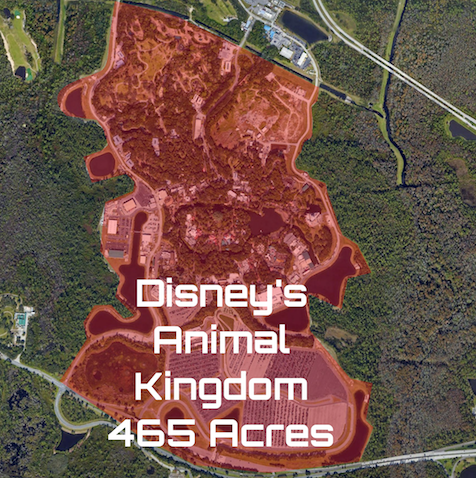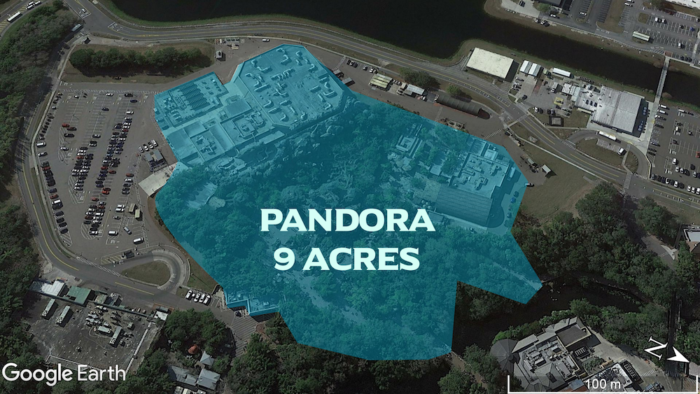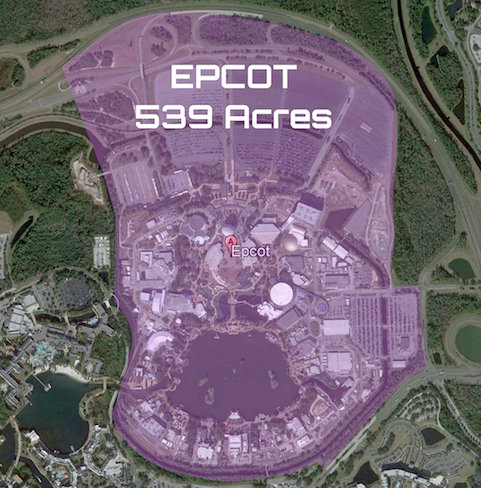 While looking at the overview of Disney Springs, it made me think of a recent thread on DisTwitter by Tommy Hawkins laying out a proposed plan for WDW's future, including some really great thoughts for a Disney Skyliner expansion.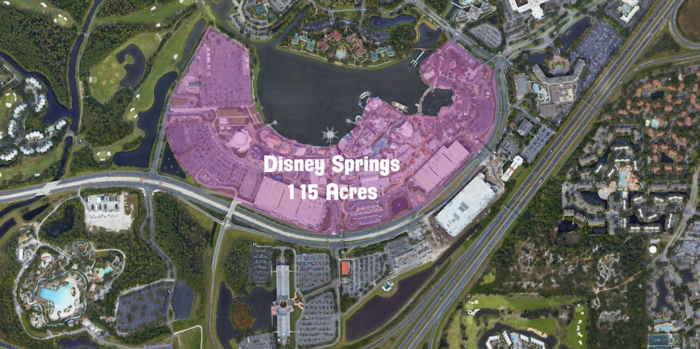 # 4 – Disneyland Resort
While Walt Disney World has the "blessing of size,' out in California the Disneyland Resort faces many of the same challenges that Universal does in Florida. Available land is scarce, and what you can get won't be cheap. While surrounded by The Real World, both Disneyland and the current Universal Orlando Resort have utilized their space constraints in ways that improve the guest experience.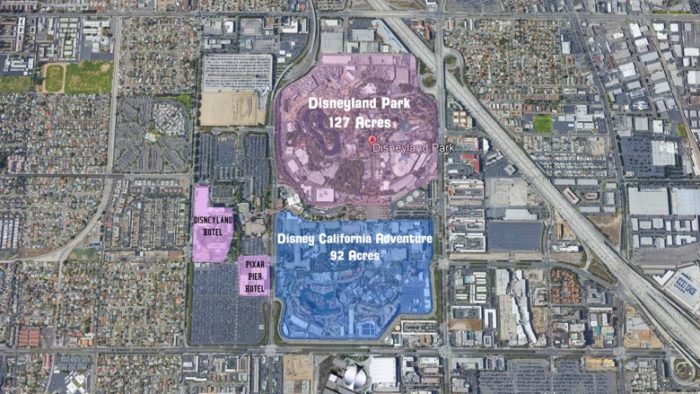 # 3 – Universal Orlando Resort
Speaking of the current Universal Orlando Resort, let's take a look at what they have. This photo below contains everything from Volcano Bay at the far left to Loews Portofino Bay Hotel at the far right. Universal's newest hotels, Endless Summer's Surfside and Dockside, are disconnected from the rest of the "onsite" Universal Orlando experience.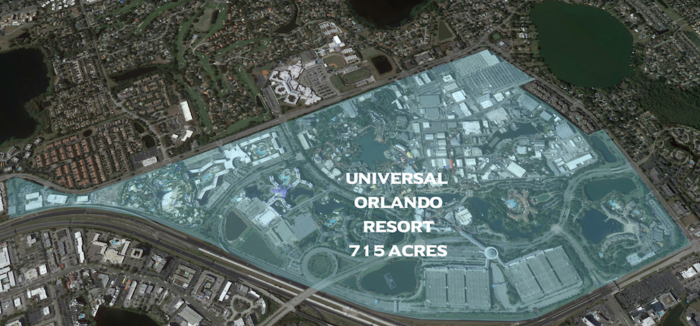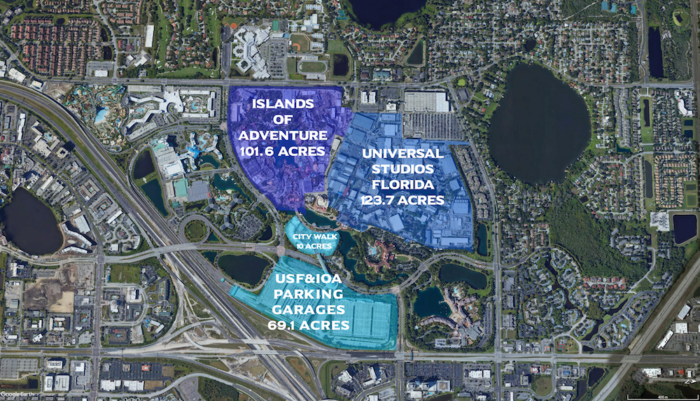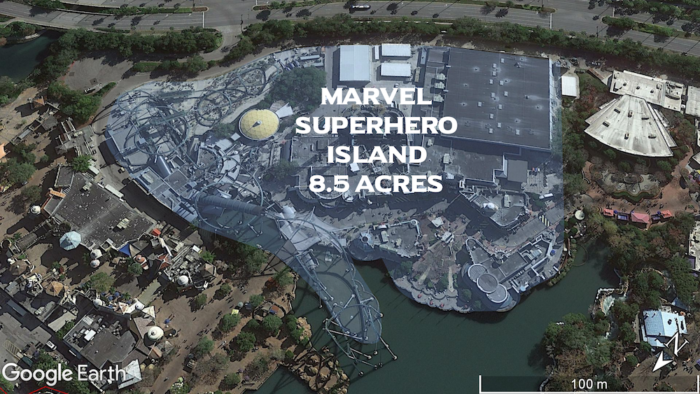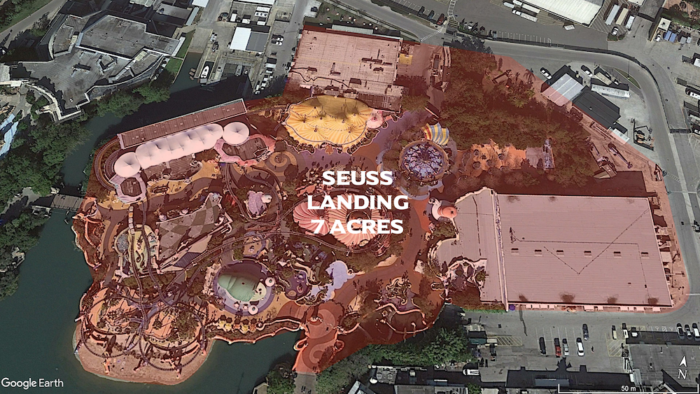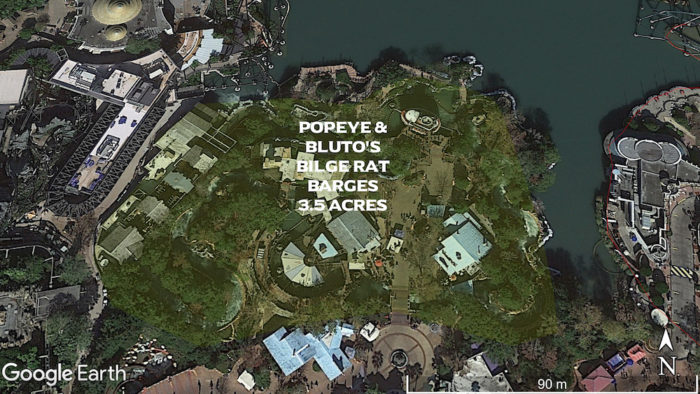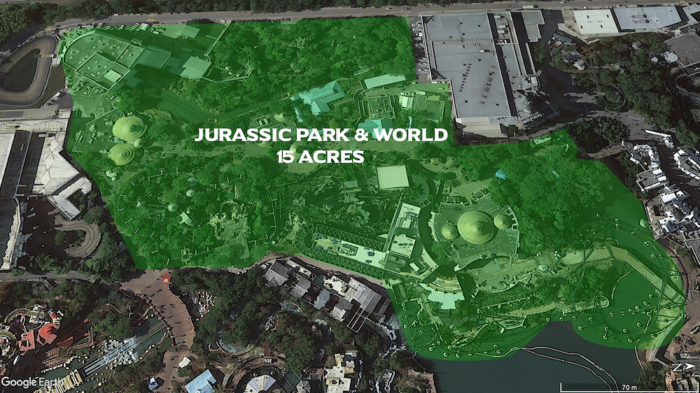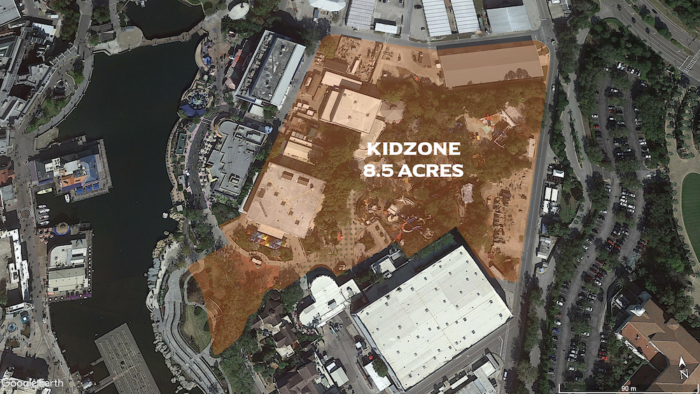 # 2 – The Wizarding World of Harry Potter
We mentioned earlier that Universal's Wizarding World of Harry Potter was the game changer of all game changers, and completely changed the way both Universal and Disney approached theme park lands going forward. Having a food and drink component was once an afterthought when creating theme park lands, whereas now – thanks to the monstrous success of Butterbeer – it's hard to imagine new lands being built going forward without that being a key guest experience.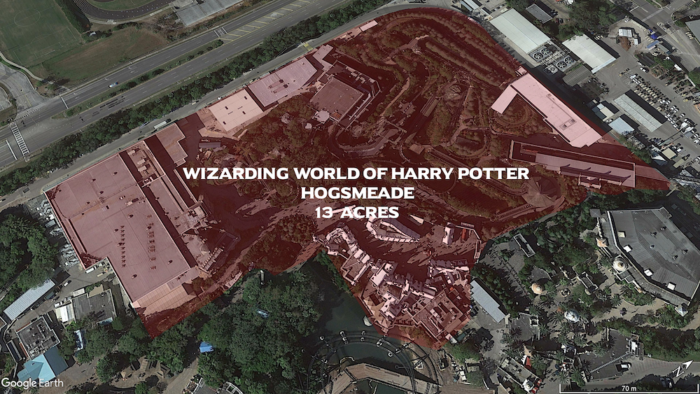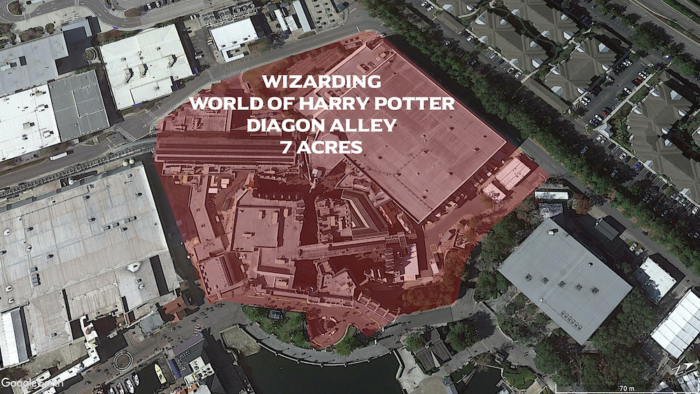 # 1 – Epic Universe
Okay, time to look at what Universal has planned for Epic Universe. To keep the most up to date on what is going on, be sure to follow Alicia Stella for some incredible reporting on Epic Universe, our blogger-in-the-sky @bioreconstruct for up to date aerial photos on Epic Universe construction, and of course Tommy Hawkins putting many of the pieces together in a way that is easy to understand.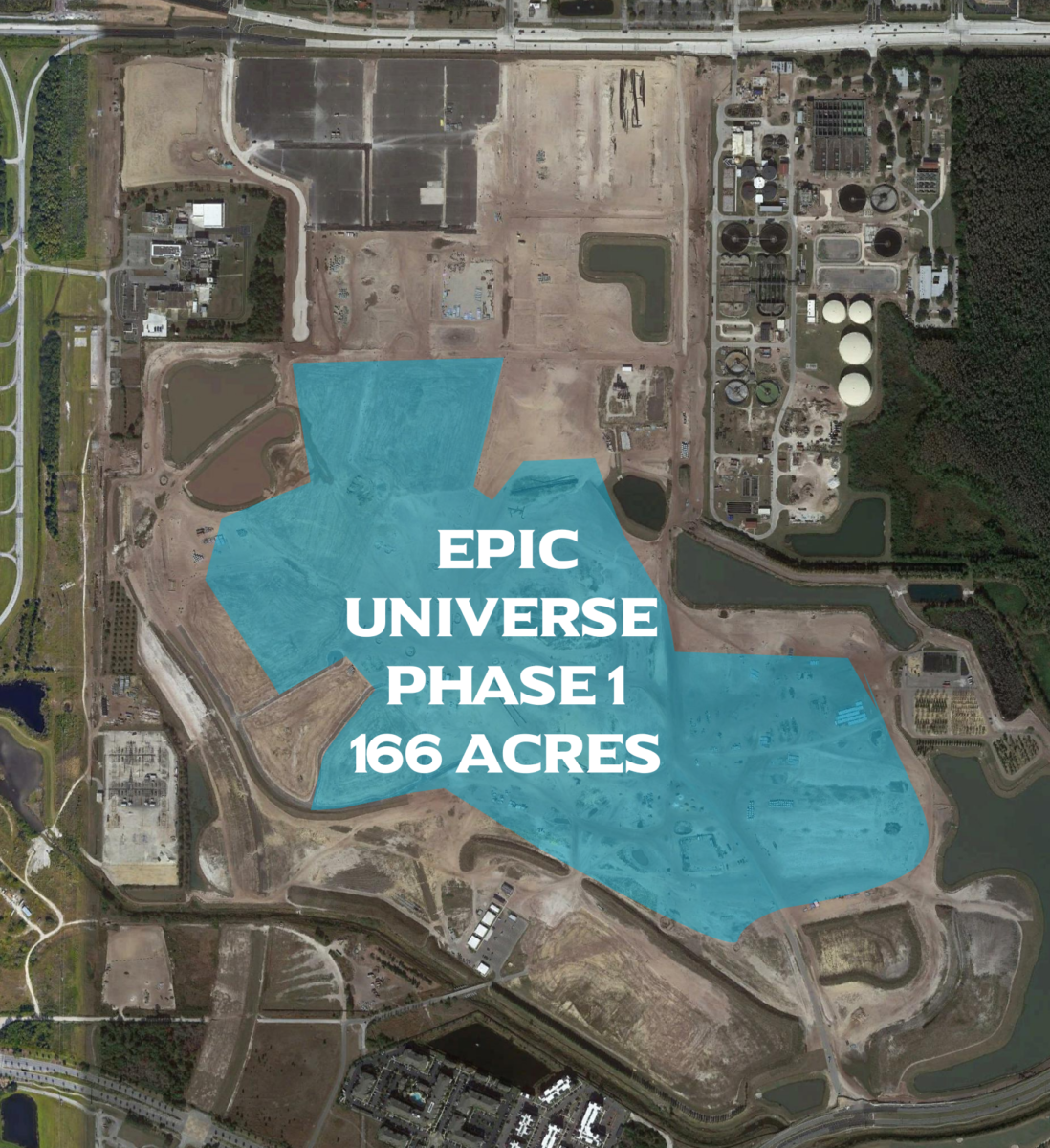 Here is the land available for Phase 2 of Epic Universe. After the marketing disaster that was Universal Studios Escape, you never want to put the cart before the horse when it comes to a theme park success story, but all indications point to a hugely popular theme park destination resort in our near future.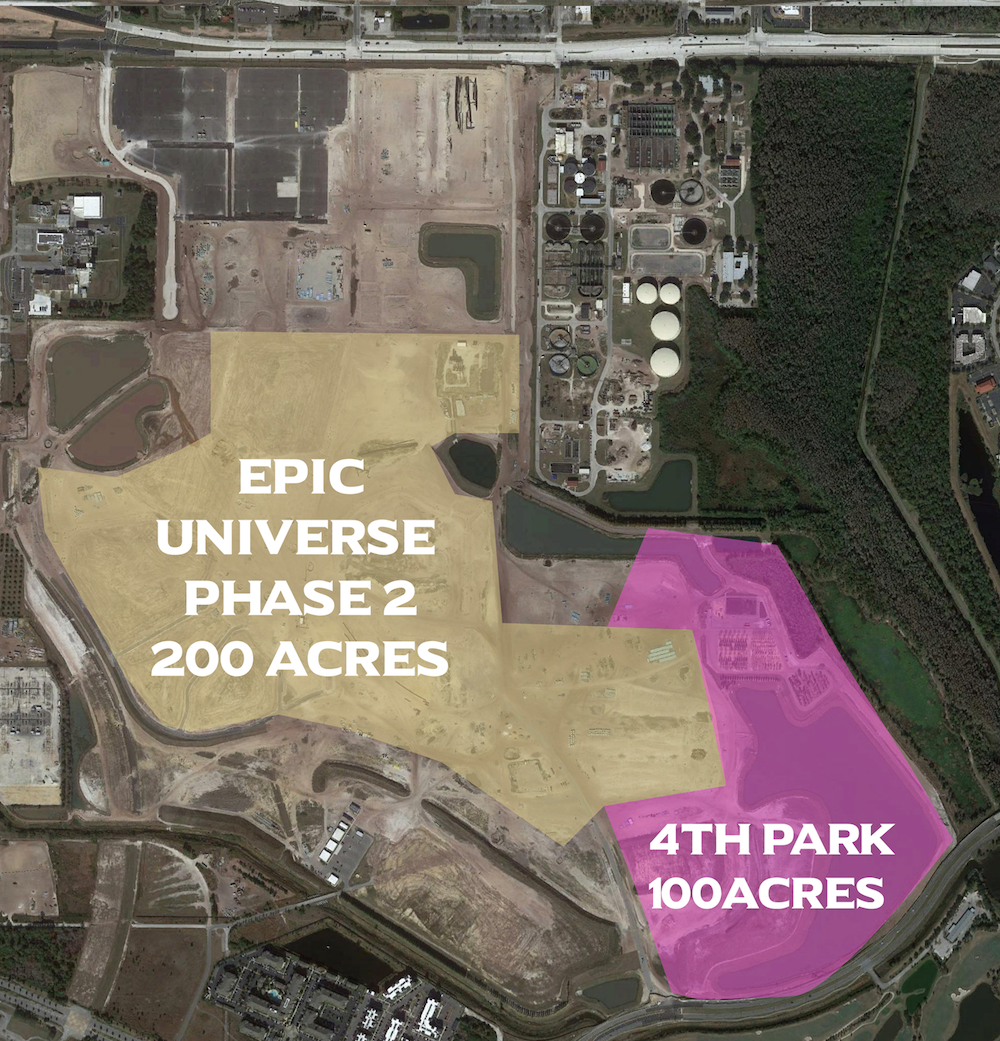 Note in the photo above that the land Tommy has projected for a 4th theme park currently contains a very large – and very deep – retaining pond. However, all of the area in the photo has been zoned for commercial use. It would take a lot of work to use this area for a theme park, but let's not forget what Florida looked like before Disney built WDW out of a swamp. Even with Florida guidelines making companies like Disney and Universal replace something that they removed (such as many trees in the Disney TTC parking area), Universal has the space to create other retention ponds if this one needed to be filled in. All of this is conjecture based on what we do know, along with maybe a dash of wishful thinking by us theme park fans sprinkled on top. Reality could be completely different.  Time will tell.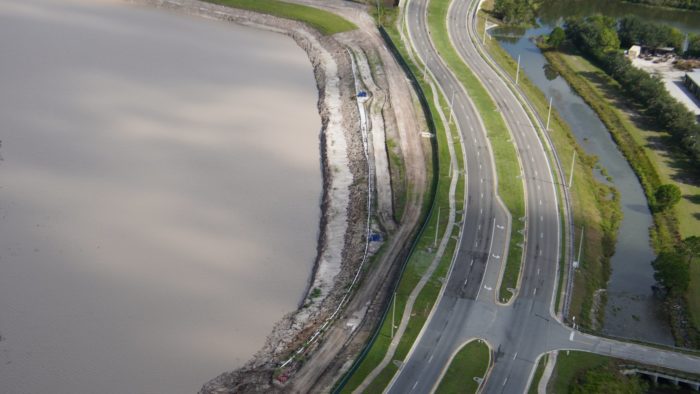 Universal generally keeps a lot of details close to the vest, so while not much is set in stone, we can only use educated guesses based on interviews, permits, and old fashioned legwork to have an idea of what's coming. In future articles of this series we'll look at the rumored attractions, restaurants, and hotel experiences we expect to arrive with Epic Universe.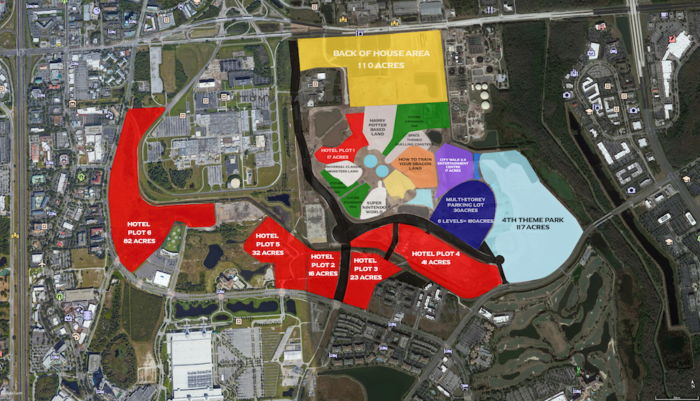 HONORABLE MENTION – The Surprising Large SeaWorld Orlando
Down the street from Universal Orlando, and even closer to Epic Universe, is SeaWorld. Like Universal, in the past SeaWorld sold a good amount of nearby land which surely they would do anything for to get back and have some onsite hotels. It's almost unfathomable to understand just how much of this part of Orlando both SeaWorld and Universal used to control but gave up for what would eventually be pennies on the dollar. To quote Jimmy Stewart in It's a Wonder Life, "Potter's not selling, he's buying!"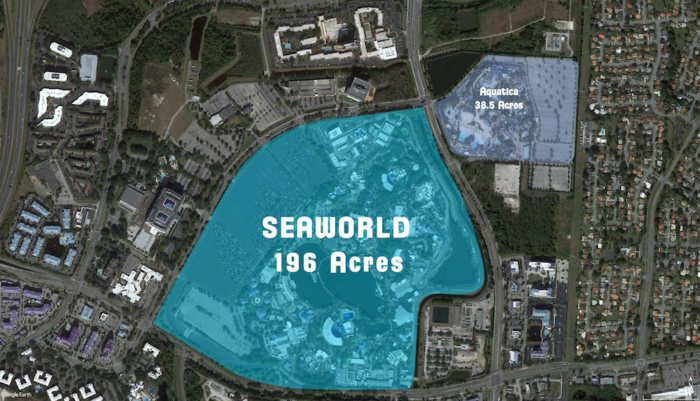 So there you have it: A look at how Universal's EPIC UNIVERSE measures up! See you next weekend for the latest installment of the SATURDAY SIX, where we'll look at something fun from the world of Disney and Universal. If you enjoyed yourself, be sure to check out The Magic, The Memories, and Merch! articles covering the latest from the Disney Outlet Stores. You can also follow Your Humble Author on Twitter (@derekburgan).
If you enjoyed this article, you will surely like the following: 
6 Reasons We Love PORT OF ENTRY at Universal's Islands of Adventure
6 "Hidden Mickeys" at the Universal Orlando Resort
6 Things We STILL Can't Believe Happened at Walt Disney World
The SATURDAY SIX Presents: @bioreconstruct's Favorite Aerial Photos
Special Thanks to The Elite Brandon Glover, the bio-est of all reconstructs @bioreconstruct, Captain Cruiseline Scott Sanders of the world famous Disney Cruise Line Blog, my personal protege Hunter "Elvey" Underwood, artist @SonderQuest, the SAT SIX Fun Squad of Parkscope Joe and "the Dadalorian" Nick, hot shot Michael Carelli, charter member of the Universal Four @Nitro230, and Hermione Granger's tutor Megan Stump for their invaluable assistance with this article. The SAT SIX is inspired each week by goofballs Aengus Mackenzie and LitemAndHyde and you Potterheads will  enjoy Meg's other blog work over at the Central Florida Slug Club.