TouringPlans WDW Resort Tournament
Today marks the last day of March Madness, when one college basketball team wins the NCAA tournament and a big fancy trophy. And maybe you've been tracking your bracket for weeks and now you're wondering what you're going to do with all of your new-found free time. Or maybe you don't care about basketball at all, and you wish there was something similarly engaging that you actually care about. Great news! TouringPlans is here to pick up right where March Madness left off with … April Absurdity!
Over the next two weeks, we're hosting our very own 32-team tournament. Nothing boring like basketball here, though. Each "team" is now a WDW resort, and they will all be going head-to-head vying for the peoples' vote. That's right – you have the power to crown the champion. The Best Resort Of All. The competition is certainly fierce. Will there be a Cinderella story? Will there be controversial calls? Stay tuned.
The tournament bracket has been seeded with TouringPlans survey data. The resort with the highest overall average satisfaction score (The Villas at Disney's Grand Floridian Resort & Spa) nabbed the top seed, while the resort with the lowest overall average satisfaction score (Disney's All-Star Music Resort) comes in with the 32nd seed.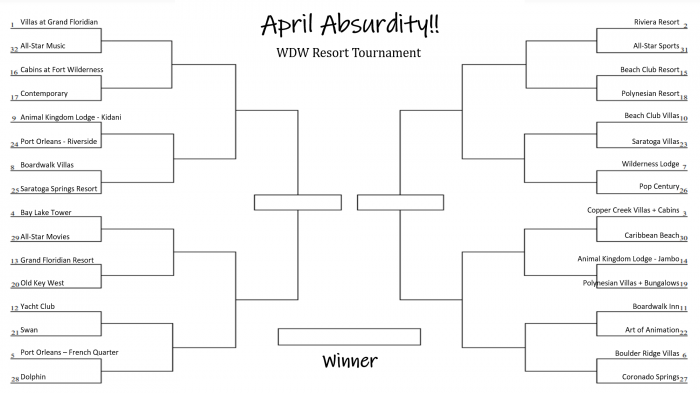 How will the tournament work?
Today, the Round of 32 survey will be open until 9:00 p.m. Eastern, allowing each of you to submit your opinions on which resorts should advance in the tournament. The rest of the tournament will proceed according to this schedule:
Wednesday (April 7th): Round of 32 results announced + Sweet 16 voting open
Friday (April 9th): Sweet 16 results announced + Elite 8 voting open
Monday (April 12th): Elite 8 results announced + Final 4 voting open
Wednesday (April 14th): Final 4 results announced + Championship voting open
Friday (April 16th): WDW Resorts Tournament Champion announced
Get those votes in to make sure your personal favorite resort makes it to the next round, and come back on Wednesday to see if other TouringPlans readers agree with you. Click here to vote for your favorites! 
Do you have any predictions about who will advance to the Sweet 16? Are there any matchups that you think will be particularly close? Let us know in the comments.