Worst Theme Park Idea Ever: Disney Value Resorts BAR CRAWL
We here at TouringPlans strive to constantly give our readers everything you need to know in order to save time and money on your Disney vacation. This past week alone, the Grand Poohbah of TouringPlans, Len Testa, had a fascinating look at The Best Walt Disney World Ticket and Hotel Prices, Liz Mangen explored the oft overlooked Walt Disney: Marceline to Magic Kingdom tour, and Daisy Lauren had an incredible look at the Disneyland's in California and Tokyo. Not to be outdone, the think tank over at the SATURDAY SIX headquarters have decided to finally take on the conundrum that faces all vacation planners: how exactly does one achieve the very best Disney vacation?  Now, many inside-the-box thinkers go with the obvious answer, "Do The Things That Are Great." Ride the best attractions, see the best shows, and eat at the most unique dining experiences. But to that we say Nay, Nay. Instead we are going to reverse engineer the problem by looking at all the truly awful ideas and explain to you Dear Reader, why you should not do them.
That, in a nutshell, is the raison d'être behind the Worst Theme Park Idea Ever series.
CHAPTER ONE: Walt Disney World Bar Crawls
No one likes Walt Disney World bars and lounges more than us*. With so many incredible choices available both inside the Disney parks and resorts, various "bar crawls" have popped up over the years. There is the famous Seven Seas Lagoon Monorail Bar Crawl, featuring bars such as Mizners, Tambu Lounge, and the Outer Rim. Drinking Around the World at EPCOT's World Showcase is super popular, and you can't forget the nearby EPCOT resort area bar crawl with places such as Crew's Cup, Belle Vue Lounge, and Todd English's bluezoo. One of the more underrated bar crawls is over in the Port Orleans area, where you enjoy a cocktail at Mardi Grogs and Scat Cat's Club at French Quarter before strolling over to Riverside for a drink at Muddy Rivers before capping the night off with a performance of Yehaw Bob at the River Roost Lounge.
Yes, no doubt there are several incredible bar crawls at WDW but the question must be asked**, what is the worst?
WELCOME TO THE DISNEY VALUE RESORTS BAR CRAWL
Stop 1: The Drop Off at Disney's Art of Animation Resort
We begin our journey at Disney's awesome Art of Animation Resort. Because we grew up on films such as The Little Mermaid and The Lion King, it is a true blast to the past walking around and seeing all the theming dedicated to some of our favorite movies. We also love checking out all the great details of the resort, such as the signed animator's sketches on Animation Hall's chandelier. Unlike the moderate and deluxe categories of WDWhotels, the value resorts  only have one bar each, and they are all located in the main pool area of each resort.
AoA's bar is the cleverly named The Drop Off, as it sits directly next to the largest pool on Disney property, the Big Blue Pool. As theme park bloggers, when we go to Disney bars, we generally gravitate to drinks exclusive to that particular bar or – even better – served in a souvenir cups. Unfortunately, The Drop Off had a strictly by the books drink menu and no souvenir cups.  We went with a Banana Cabana mixed drink, solely because it looked the  most colorful, along with a Kona Longboard draught beer.
–
STOP 2: Petals at Disney's Pop Century Resort
One of the neat features of Art of Animation is the ability to easily walk over to nearby Pop Century.  In a recent article on some of the best Family Friendly Desserts at WDW, we discussed how much we like going to Pop Century just for the food court. We also love taking the walk down memory lane in the lobby (where else can you see pop culture icons such as Star Wars, Elvis, and Wendy's Where's the Beef woman in one place?) and no other resort has free arcade games.
Petals pool bar did have one big difference over The Drop Off, it has its own exclusive drink. The Lava Lamp is "a groovy mix of Bacardi Limon, Blue Curacao, Sweet-and-Sour, Sprite, and a float of Grenadine." It was ok, nothing worth going out of your way for.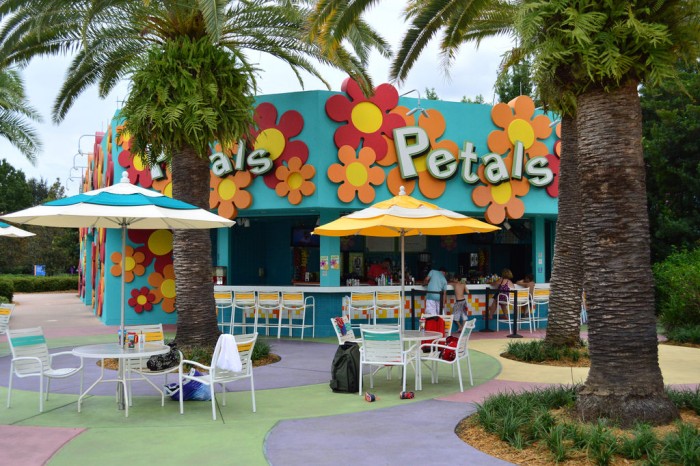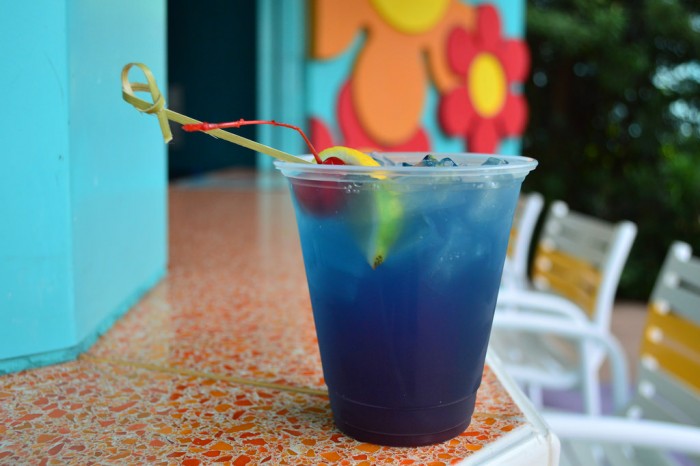 While at Pop Century we did have to stop inside and get a sloppy joe.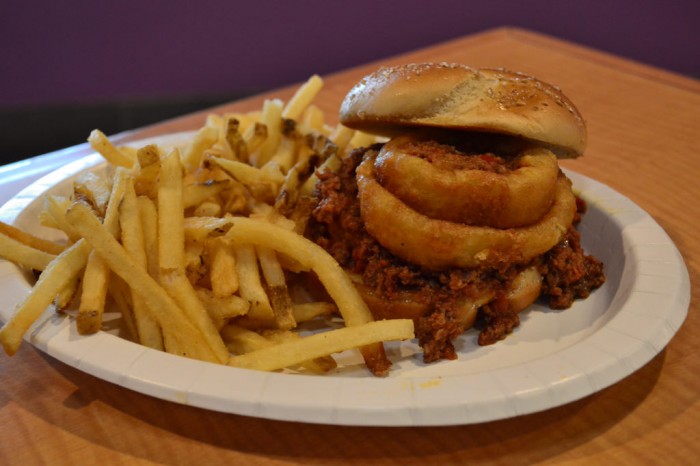 –
STOP 3 Grandstand Spirits at Disney's All Star Sports
We had to get an Uber*** for a drive over to our next stop, the wild wild west of Disney's All Star Resorts. Located to the East of nowhere, the All Stars sit down the street from possibly the most expensive and least clean McDonald's in the United States. You can walk to all the pool bars at the three All Star properties (Sports, Music, and Movies) but it is nothing like the gingerly stroll from AoA to Pop, so get your walking shoes on. We parked at Sports, so our first bar was Grandstand Spirits.
There were actually several sports related drinks on the menu, including the Slam Dunk and the Major Leaguers Colada, but we went with the Bases Loaded featuring Sky Vodka, Midori, DeKuyper apple puree, sweet & sour, with a splash of Sprite. We also went with a great tasting Black Cherry Lemonade that had Grey Goose Cherry Noir Vodka, Odwalla Lemonade, fresh Lime Juice, and Grenadine topped with Sprite. The Black Cherry Lemonade was one of the drinks that was on the menu at every single one of the bars we went to. Strangely enough, the Major Leaguers Colada looked exactly like the normal Pina Colada that was also on every single bar menu that we went to except Grandstand Spirits. Hmmmmmmm…..
–
STOP 4 – Singing Spirits at All Star Music
We then walked over to Singing Spirits, whose menu was exactly like The Drop Off and only contained  the most basic of drinks. We went with the Frozen Moscato Colada and a Lynchburg Limeade. Both were unremarkable, but we did like heading into the Intermission Food Court and getting a Pub Burger. You have to like any burger that is served on a pretzel roll and is topped with house-made beer cheese, onion strings and a fried pickle. The pool area at All Star Music also gets bonus points for having The Three Caballeros, something we loved about Coronado Springs too.
–
STOP 5: Silver Screen Spirits at All Star Movies
Our last stop was over at All Star Movies' Silver Screen Spirits and we finally found something interesting. The bar offers three "sharable" drinks that are served in a giant margarita glass (which you can't keep.) The three choices are Take Two!, the Stunt Man, and our choice the Director's Cut with 2oz Chutty Shark, 2oz Malibu, 3oz lime juice, 3 oz agave syrup and 10oz of pineapple juice.
CONCLUSION: Why is the Disney Value Resort Bar Crawl a bad idea? Simply put, it's a value resort bar crawl with deluxe resort prices. No drinks in souvenir cups. No special effects, or fun chants like you would get at Trader Sam's Grog Grotto. The theming of the bars themselves is – at best – minimal. In fact, there is so little going on at any of these bars it made us think for a second of It's a Wonderful Life, when George Bailey entered a bar and saw how life would be different if he had never been born…
"Hey look, mister. We serve hard drinks in here for men who want to get drunk fast, and we don't need any characters around to give the joint "atmosphere". Is that clear, or do I have to slip you my left for a convincer?" – Nick, It's a Wonderful Life
One thing all the great bar crawls at Disney have is that "atmosphere." Whether it's the detailed backstory and effects of AbracadaBar, the gorgeous woodwork of Territory Lounge, or the intimate feel of La Cava del Tequila, WDW is filled with fantastic options to have a great night out with friends doing your own bar crawl. In fact, with the new and improved Disney Springs now quite operational, we're looking forward to a new bar crawl featuring the shine bar at Art Smith's Homecoming, Jock Lindsey's Hangar Bar, and any combination of the bars at The BOATHOUSE, Morimoto Asia, Paradiso 37, Raglan Road, or Frontera Cocina. Heck, even T-Rex Cafe has an awesome bar area with some interesting drinks!
With so many options to choose from, the Disney Value Resort bar crawl is not just a bad idea, it is the Worst Idea Ever.
FOOTNOTES:
* Well, maybe that Drunk@Disney guy likes the bars more, but that's it!
** It absolutely did NOT have to be asked.
***Yes, a typical bar crawl has you walking to each location (hence, the "crawl") but since we can use monorails to get from The Contemporary to the Poly, we're gonna cheat a little on this one too.