Vegetarian Options at Universal Orlando-Full-Service Restaurants in Park
A tough place to get a quality full-service vegetarian meal can be a theme park. Historically, theme parks focus on easy-to-prepare food that can be quickly given to patrons. My vegetarian friends grumble about being forced to eat a below-average salad with very little toppings because the protein was removed. The frustration of vegetarians increases when they get charged same price for that salad. Yes, vegetarians can turn to below-average theme park pizza for variety. Fortunately, this trend of ignoring vegetarian diets has faded away at Universal Orlando. Thankfully the full-service (sit-down food service with a waiter/waitress) has broadened the options for vegetarians in recent years.
Universal Orlando has four full-service dining options within their theme parks. The vegetarian menu options have been reduced since the closure in March 2020. However, the menu at all the full-service dining options is slightly smaller now. In some cases, this was a good thing. Now, of course, you can settle for a scaled back salad or something like that at any of these four places. If you want more, then Universal Orlando full-service dining has some nice surprises for you.
On this dining escapade, we will start in Islands of Adventure. Our first stop will be Confisco's Grille located in Port of Entry area. Though many guests walk right past this dining location never noticing it, it offers several vegetarian options to consider. If you are choosing to dine vegetarian and occasionally find yourself jealous of people who just get appetizers and a drink at full-service locations then Confisco's might be a remedy for you. The current menu features: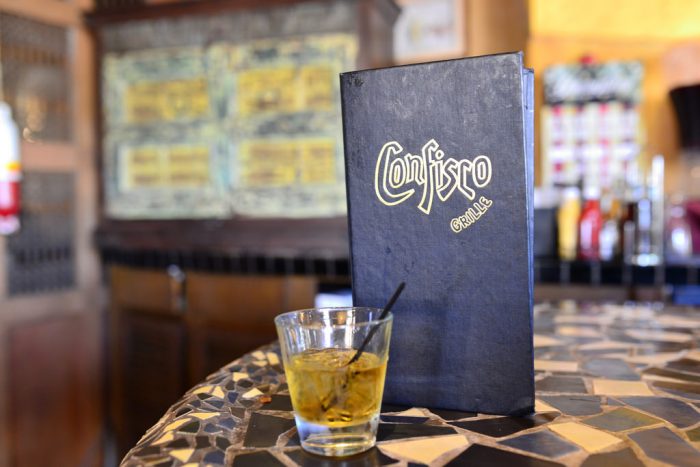 -Thai Summer Rolls, which are vegan, for $13 that are mixed greens, marinated tofu, shredded carrots, and cellophane noodles served with peanut sauce and sweet chili sauce.
-Hummus for $10 which is house made with heirloom cherry tomatoes, cucumbers, red onions, roasted chickpeas, sumac, and a baked pita.
-Pot Stickers for $10 which are pan fried vegetable dumplings, shiitake and beech mushrooms, baby bok choy, red curry broth and chili threads. This appetizer can also be made vegan style by replacing red curry broth for the chili sauce.
My personal suggestion to dine vegetarian here is the Pad Thai, which can be requested to be prepared vegan style with tofu and vegan peanut sauce. You can also opt to order it vegetarian style without chicken and shrimp for $18 versus the normal $21. I have done this a few times myself at Universal Orlando.
Your other full-service option in Islands of Adventure is Mythos. Mythos also offers the Pad Thai which might be a little better here in my opinion. Mythos offers bread to go with your meal, but you must request it so be prepared for that. Mythos features two vegetarian appetizers which are: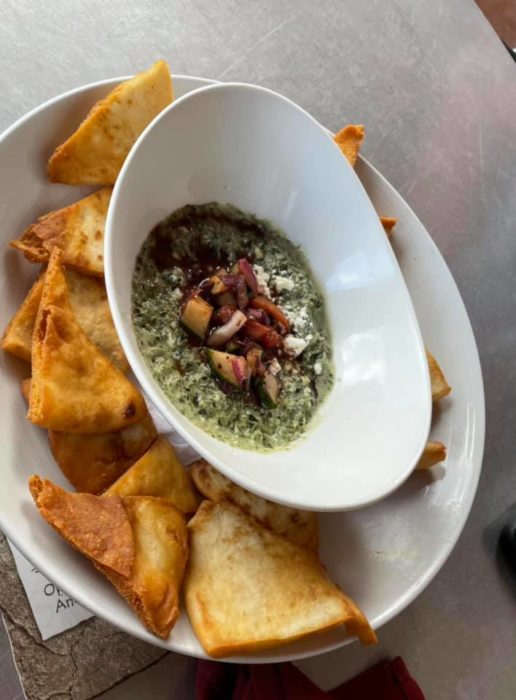 -Spanakopita Dip for $10 which is a blend of spinach, feta cheese, lemon, fresh herbs, served hot with fresh pita chips seasoned with za'atar spice, with fresh cucumber, tomato, and olives
-The Mezze Platter for $11 which is a tasting of house made hummus, baba ghanoush, marinated fennel, and Kalamata olives served with charred pita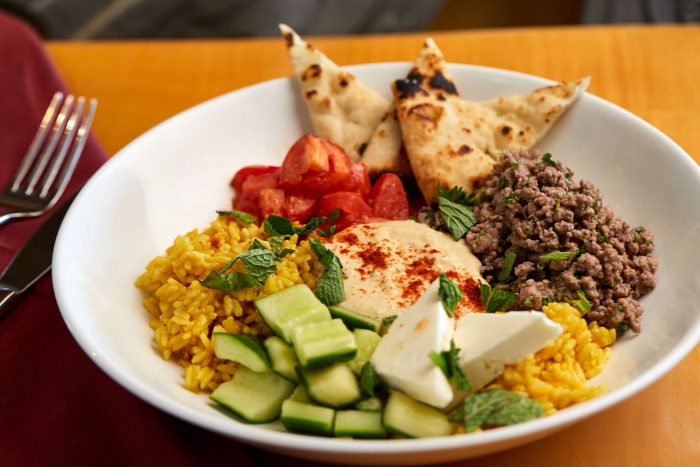 For an entrée, if you are not fan of the Pad Thai, then you can enjoy the Souviaki Couscous bowl with tofu which will currently cost you $19. This dish features za'atar spiced Israeli couscous, diced tomatoes, wild mushrooms, cucumber, roasted red pepper, marinated chickpeas, tzatziki, crumbled feta, and basil oil. You can get this item prepared vegan style with choice of tofu or cauliflower instead of the feta or tzatziki.
On our vegetarian sit-down dining excursion, the next stop is Lombard's Seafood Grille in Universal Studios Florida. This is the weakest choice for a vegetarian.  Now, if you sometimes enjoy a pescatarian diet then this place is perfect. This menu has some appetizers that work well for a vegetarian diet but if dining with friends enjoying seafood entrees you will most likely feel disappointed.  Of course, you can get a salad and/or a pasta dish made vegetarian or vegan style. On the menu before March 202, there was a plant-based pasta dish. Based on some guest reports you can have that plant-based protein added to pasta dishes and salads but this is not clearly stated on menus.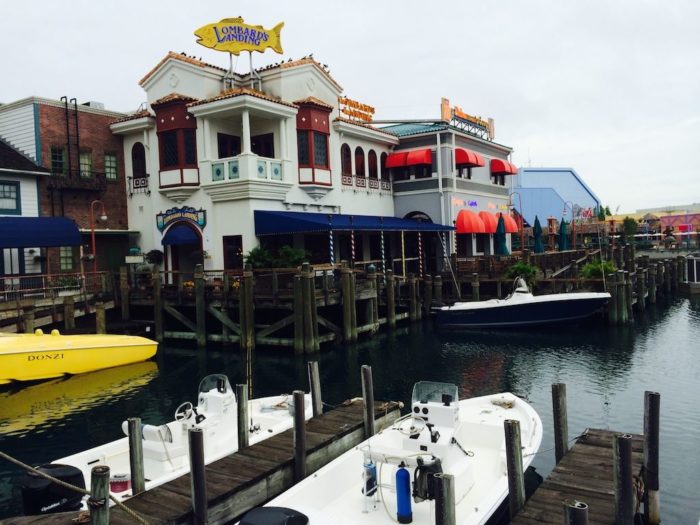 The good news is that Universal Studios Florida has another full-service option. Finnegan's Bar and Grill is popular for many reasons. There is often live music. The beverage options are top quality, and it is a favorite place for veterans of Halloween Horror Nights to stay as they prepare to scream. Finnegan's features two highly rated vegetarian items. The appetizer option is the Finnegan's Potato and Onion Webb. This is enjoyed by carnivores and herbivores alike. As the name implies, it looks like a web and is described as thinly sliced potatoes/onions hand dipped in beer batter then crisply fried golden brown. This will not help your low-fat diet, but it is worth enjoying.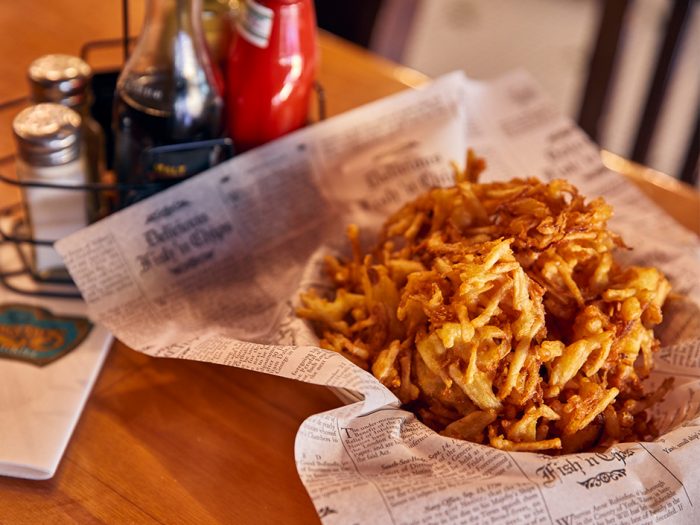 Finnegan's may have the best vegetarian/vegan entrée at Universal Orlando. The Beyond Burger Vegan Shepherd's Pie will cost you about $18 but if looking for vegan items especially this may be worth far more to you. This plant-based shepherd's pie contains green peas, carrots, celery, onion, mushrooms baked in casserole topped with vegan red bliss mashed potatoes. Personally, I am very indifferent about shepherd's pie but my one tasting of this dish was satisfying despite not preferring the "Beyond Burger" brand.
As always, if these options are not what you are looking for, Universal Orlando includes many high-quality full-service dining options in CityWalk. The vegetarian, and even vegan options, have matched the overall improvement in food quality at Universal Orlando. With a little planning, you should not feel like you are sacrificing quality for a specific dietary style.
What is your favorite sit-down meal for a vegetarian at Universal Orlando? Let us know in the comments.