Vegetarian Quick Service Dining Options at Universal Orlando
Not too long ago at a theme park located within Orlando city limits, there was a horrible vegetarian food desert. Sure, you could get cheese pizza and below average salads but not much more. However, in 2009, a great and powerful new owner cast its immense technological power over Universal Orlando to create the version of the park we have today. In addition to many fabulous improvements with Universal Orlando, the food is more diverse and improved. More important for this discussion, the vegetarian options are exponentially superior. There are even vegan options though that will not be primary focus of this blog.
Now you could get cheese or veggie pizza as before, but theme park pizza in Florida is not very good. I rarely recommend in-park pizza and in-park burgers. However, if you are looking for a vegetarian burger, then Universal Orlando theme parks have several better-than-average options. Several of the quick service options I discourage guests to patron for meat-based options have decent plant-based burger options. The burger options currently at Richter's Burger, Mel's Drive-In, and Captain America's Diner include a plant-based Beyond Burger. However, my preference for Wimpy's Burger should be no surprise. This food stand in Toon Lagoon area offers a vegetarian burger which is not simply a Beyond or Impossible patty. Several of my vegetarian friends have recommended it to me. To finish discussion of burger options, even Burger Digs has a vegan cheeseburger with a brown rice and mushroom patty (with vegan cheese).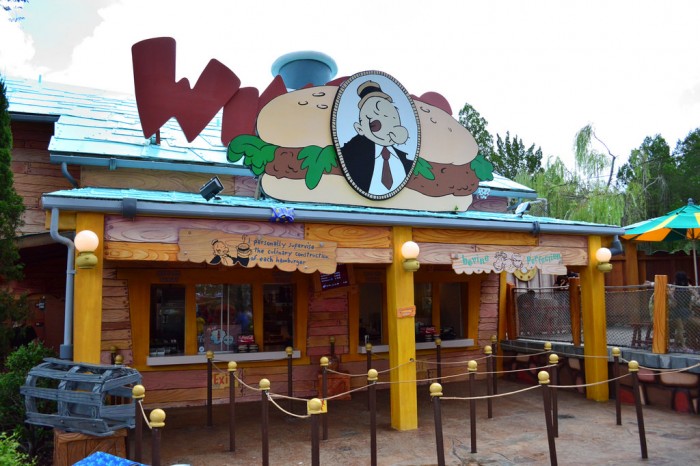 If sandwiches are your favorite food, then Universal Orlando parks have two quick service options to consider. At Mel's Drive-In, there is the plant-based chick'n & avocado sandwich. You know times are changing when Mel's has two vegetarian options. Your other sandwich option is the Mummy from Universal Studio's Classic Monster's Café. This sandwich is made with jackfruit, crispy onions, and slaw on a Kaiser roll. My vegetarian friends appreciate this BBQ option. However, if you are used to texture of meat, then the texture of the jackfruit may not fit your style.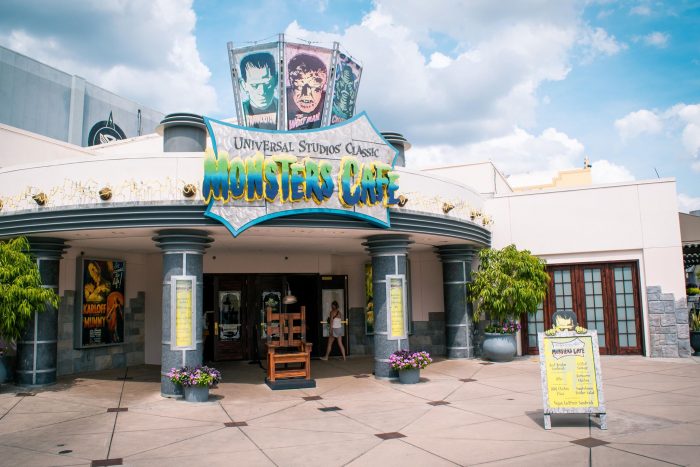 Another sign that a plant-based food renaissance is happening is at Café 4 in Marvel Super Hero Island, where you can find pizza and two plant-based vegan pasta options. There is a vegan Eggplant Parmesan which is breaded eggplant, spaghetti, sliced tomatoes, sautéed veggies topped with marinara and vegan cheese. The second pasta option is Spaghetti Bolognese with plant-based Gardein Italian sausage crumbles. The guest reviews reflect the sauce portion being good, especially for a theme park. Sadly, the noodles do not meet that same quality, so buyer beware.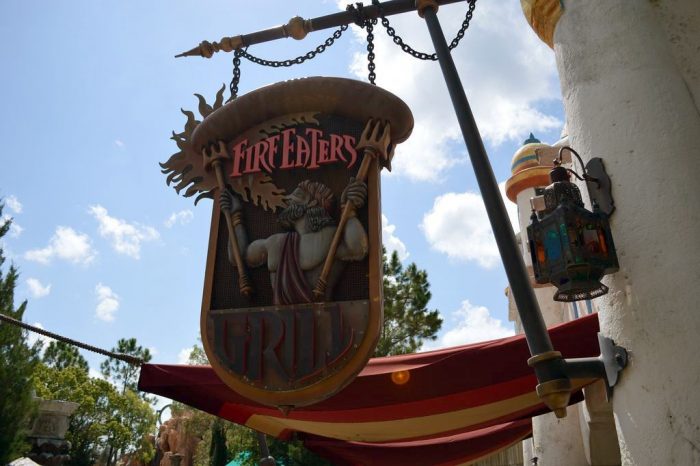 There are several smaller vegetarian quick service meal options that do not fit a common theme park food category. For example, there Is a falafel gyro at Fire Eater's Grill in Lost Continent. In London waterfront area, there is the London Taxi Hut. You can buy jacket potatoes here with vegetarian options of broccoli and cheese or bean and cheese toppings. Central Park Crepes would fit into this grouping with the current option of a plant-based chik'n crepe.
To round out this survey of Universal Orlando vegetarian options, we have three stars left to shine. First, in Fast Food Boulevard, a bastion of unhealthy grub, is Lisa's Teahouse of Horror. Despite the name being more fitting for Halloween Horror Nights, there are several vegetarian options such as salads, veggie sandwiches, hummus, fruit plates, fruit cups, and assorted yogurts. Reviews are not great, but many guests just want simple tasting food so more vegetarian options might hinder that theme park mentality.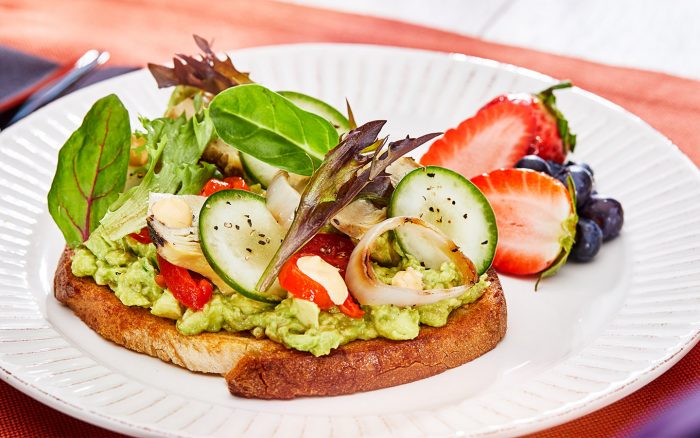 Second is the Today Café. There are several vegetarian options here and plenty of treats to distract you. To me, the most obvious vegetarian choice here is the Park Avenue avocado toast. This is smashed avocados, toasted cashews, shaved fennel, roasted tomato puree, lemon vinaigrette, arugula, radicchio served on toasted artisan French bread with a side of fresh fruit. In another example of the times are changing, I cannot imagine a chef being told to create this menu item 12 years ago, but we are fortunate to have these high-quality items at Universal Studios Florida today.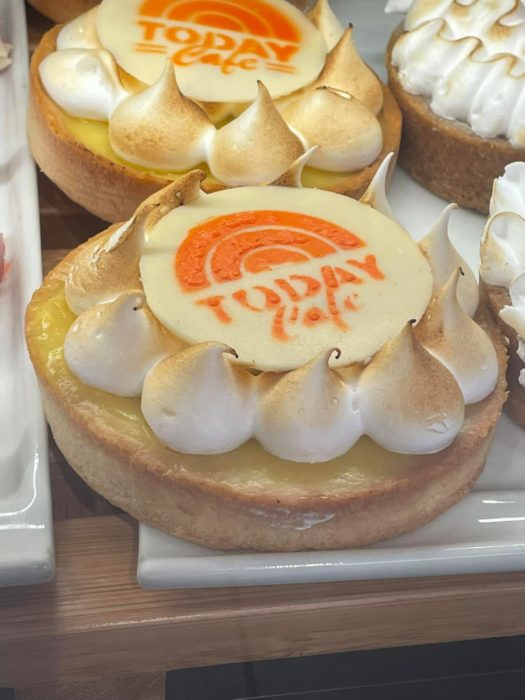 If you feel eating vegetarian is important to you but you think you are giving up too much dining enjoyment, then the last option is for you. I would suggest you not eat all of this option in one sitting though. At Voodoo Doughnut, they have a "Vegan Voodoo Dozen." Yes, there are that many vegan donuts at this location (actually 13 currently). The vegan options are:
Vegan Cake
Vegan Glazed
Vegan Maple Bar
Vegan Portland Cream
Vegan Voodoo Doll – Vegan cake filled with raspberry jelly topped with chocolate frosting and a pretzel stake
Vegan PB&J – Raised yeast shell filled with raspberry jelly, topped with peanut butter and a side dip of peanuts
Vegan Dirt – Vegan yeast doughnut with vanilla frosting and crushed Oreo cookies
Vegan ODB – Raised yeast doughnut with chocolate frosting, Oreo cookies, and peanut butter
Vegan Sprinkle Cake – Vegan plain cake doughnut with vanilla frosting and sprinkles
Vegan Chocolate Ring
Vegan Chocolate Frosted
Vegan Coconut
Vegan Apple Fritter – Vegan fried dough with apple chunks and cinnamon covered in glaze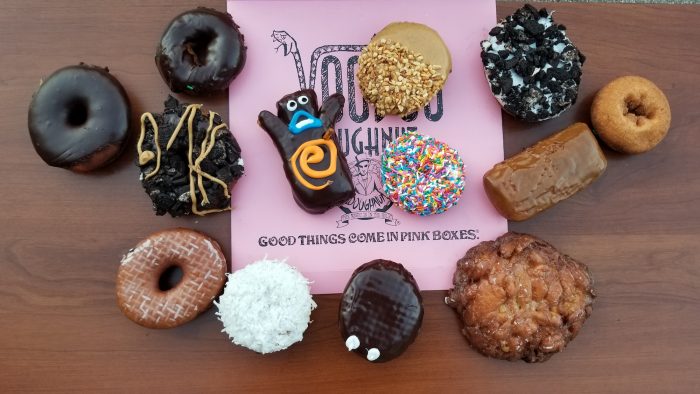 If you are dining plant based and cannot find a donut to love at Voodoo Doughnut then you probably just do not like doughnuts, which is okay.  However, if you a vegetarian version of Derek Burgan (scary thought by the way) then you will love these treats with no guilt. Whichever way you prefer to vegetarian dine at Universal Orlando; be glad we live in time where there are so many options.
What are your favorite vegetarian options at Universal Orlando? Let us know in the comments.