Homeschooling Ideas Using Disney Theme Park Data
This thread on our Lines Chat caught my eye: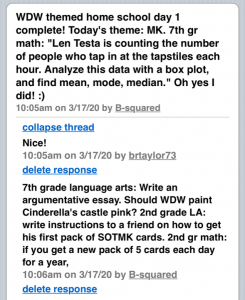 I think it's the first time I've ever been mentioned as a positive example in education. (True story: My first grade teacher once told my parents I was destined to be the Pope, because only God and I could read my handwriting.)
While I don't plan to visit the Holy See any time soon, plenty of folks are looking for ways to continue their kids' studies at home.
If you're looking for theme park-related things to do, we've made our attraction wait-time data available for free here.  It's in a comma-delimited format, which can be imported directly into Excel and other software.  Each file contains the posted wait time, and any actual wait times we collected, along with the date and time we collected it:

where SPOSTMIN is the posted wait time in minutes, and SACTMIN is the actual wait time someone waited, in minutes.
Depending on how old your kids are, you may want pull samples from the data, to make the problems easier.  For example, you could pull the wait times on the hour from, say, Slinky Dog Dash, on December 31, 2019, and find the lowest and highest times: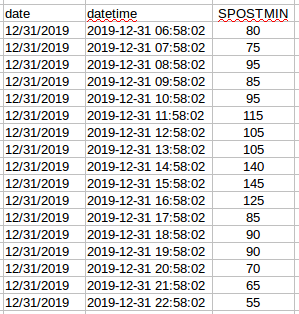 Older kids might try to calculate the average, mode, and standard deviation, or plot the wait-time curve throughout the day. Or you could ask them to compare the wait times at different days throughout the year.
There's enough data for more advanced problems, too.  In those data is a file of metadata, containing everything from park operating hours and Extra Magic Hours schedules, to public school data, and weather.
Some high school kids are taking programming classes in Python, too, and these data files can be used for everything from data analysis to machine learning problems.
We're happy to make other data available, too.
If you've got ideas for using theme park data for home schooling, leave them in the comments below.  And thanks!