When Will My Child Be Tall Enough to Go to Disney World?
I'm a strong proponent of bringing even the very youngest children to Walt Disney World. My twins made their first Disney visit at nine months old and we had a blast meeting characters, riding It's a Small World, watching the ubiquitous ducks, and splashing in the resort pool. There is, however, a substantial subset of vacationers who choose to wait to visit Disney World until their child is able to experience ALL the rides. What does this mean exactly? And how does this impact your ability to book a vacation in advance.
Some potential Disney World guests may have a misconception that there's not much to do at Walt Disney World if you're not "tall enough." Let's debunk that right away. A peek at the official online Magic Kingdom map shows 40 attractions at the Magic Kingdom. Filtering by height and clicking "any height" results in 31 attractions remaining. So, 3/4 of the attractions at the Magic Kingdom are available to anyone, even babies and toddlers, regardless of height. Among these are favorites like Pirates of Caribbean, Jungle Cruise, Haunted Mansion, it's a small world, and Buzz Lightyear's Space Ranger Spin. The situation is similar at the other WDW theme parks, with many attractions available to all.
But those guests who want to wait to visit Walt Disney World also have a point. If you're making just one trip, you may want to make sure as much of it as possible is available to your children.
There are several attractions at each theme park that, for health and safety reasons, do require participants to be a specific height to ride, with height requirements ranging from 32″ (Alien Swirling Saucers at Hollywood Studios and ride-alongs at Tomorrowland Speedway at Magic Kingdom) to 54″ (driving at Tomorrowland Speedway). Note: there are also a few attractions, particularly at the water parks, that have a maximum height, rather than a minimum height, to prevent older, larger children from overwhelming small fries.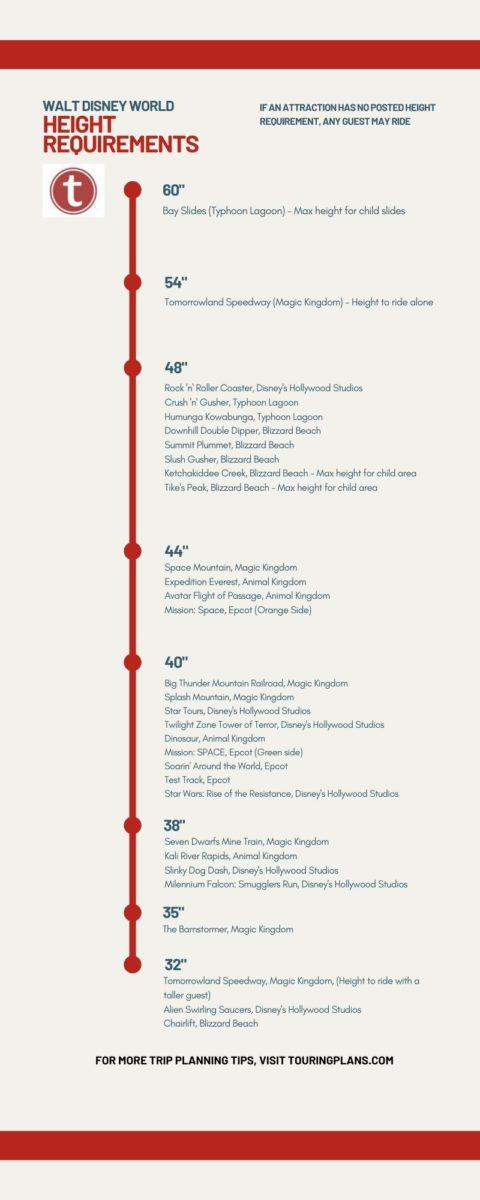 If you plan your visit for when your child is 40 inches tall, you can have them ride with you on every attraction at the Magic Kingdom other than Space Mountain. Waiting until they're 44 inches tall will put everything at the Magic Kingdom within reach, and all but two attractions at the other theme parks (plus a few big slides at the water parks).
Take a look at the standard growth charts for U.S. boys and girls, published by the CDC.
I've plotted points on the growth charts where WDW height requirements intersect with the 50th percentile age of reaching that height. For example, on the boys' chart, the 44″ Space Mountain height requirement will be reached when approximately half of U.S. boys are age 5 1/2. The vast majority of even the smallest boys will be tall enough for Space Mountain by age seven. The girls' chart is similar, varying by just a few months in most of the relevant places.
Working with your health care provider, you can make an educated guess about your child's likely growth curve to see where their path aligns with Disney's requirements. Nothing is guaranteed, but knowing approximately when your son or daughter will be tall enough to participate in a particular attraction can help you take advantage of hotel or ticket pricing for a trip that's a year or more away.
Also consider that when children are measured at the attractions, the measurement will be taken while the child is wearing shoes. While never recommend extreme steps to circumvent safety measures, a choice between flat sandals and chunky sneakers could make all the difference for a child's participation on certain attractions.
Of course, even if your child is technically tall enough for an attraction like Space Mountain, he or she might not yet be emotionally ready for it, but that's another story. An additional confounding factor involves the timing of a trip when multiple children are involved, with different height levels and different growth paths confusing matters.
What are your thoughts? Is it worth it to wait until your child is tall enough for all the attractions, or is it better to go sooner rather than later? Let us know in the comments.

First published June 3, 2021. Updated October 10, 2021.